Honeywell Condition MN12CES is the best portable air conditioner to use in an environment that encounters weather fluctuations. Nothing beats owning this powerful unit with a cooling capacity of 12,000 BTUs. On top of that, this unit has a compact body with a sleek modern design. This makes it ideal for use in larger rooms of up to 550 Sq. Ft.
One of the benefits of using this air conditioner is its 3-in-1 technology. This technology offers you three functionalities in one system. Apart from working as an air conditioner, it works like a fan and dehumidifier. Therefore, if your house is musty, humid, and hot, this system solves all three issues.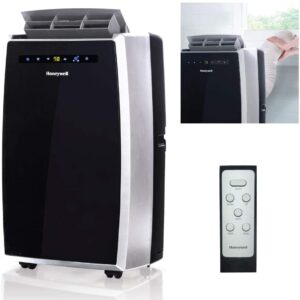 ---
The other advantage of using this air conditioner is its amazing features. This air conditioner has many amazing features that make it unique from its competitors. This unit has gained popularity among users due to these amazing features. These features include four caster wheels, exhaust hose, auto-evaporation, and others.
Pros
It has an affordable price for three functions.
Easy to install and use.
Highly portable.
Operates without noise.
It provides fast cooling within minutes.
Cons
Honeywell Company is popular for quality products, but they have an issue when it comes to honoring warranty for parts.
---
Honeywell Condition MN12CES 12,000 BTU Portable AC Design, Size & Warranty
This portable air conditioner has a sleek modern design. This makes it easier to keep in your desired room without problems. In terms of colors, you can choose either a black, white, or silver and black air conditioner. Besides that, Honeywell Condition MN12CES has strong and durable built materials.
This unit is among the best portable air conditioners due to its control placements. It features an LED display with feather-touch controls. In terms of size and weight, this unit weighs 68.3 pounds, with dimensions of 15.7×16.5x 29.3 inches. However, despite its heavyweight and big size, the caster wheels make it easy to move.
Although Honeywell MN12CES is a quality and durable air conditioner, it comes with a limited one–year parts and labor warranty. This means you can return it to the manufacturer within one year if it breaks down.
---
Honeywell Condition MN12CES 12,000 BTU Portable AC Features
Digital LED display and touch control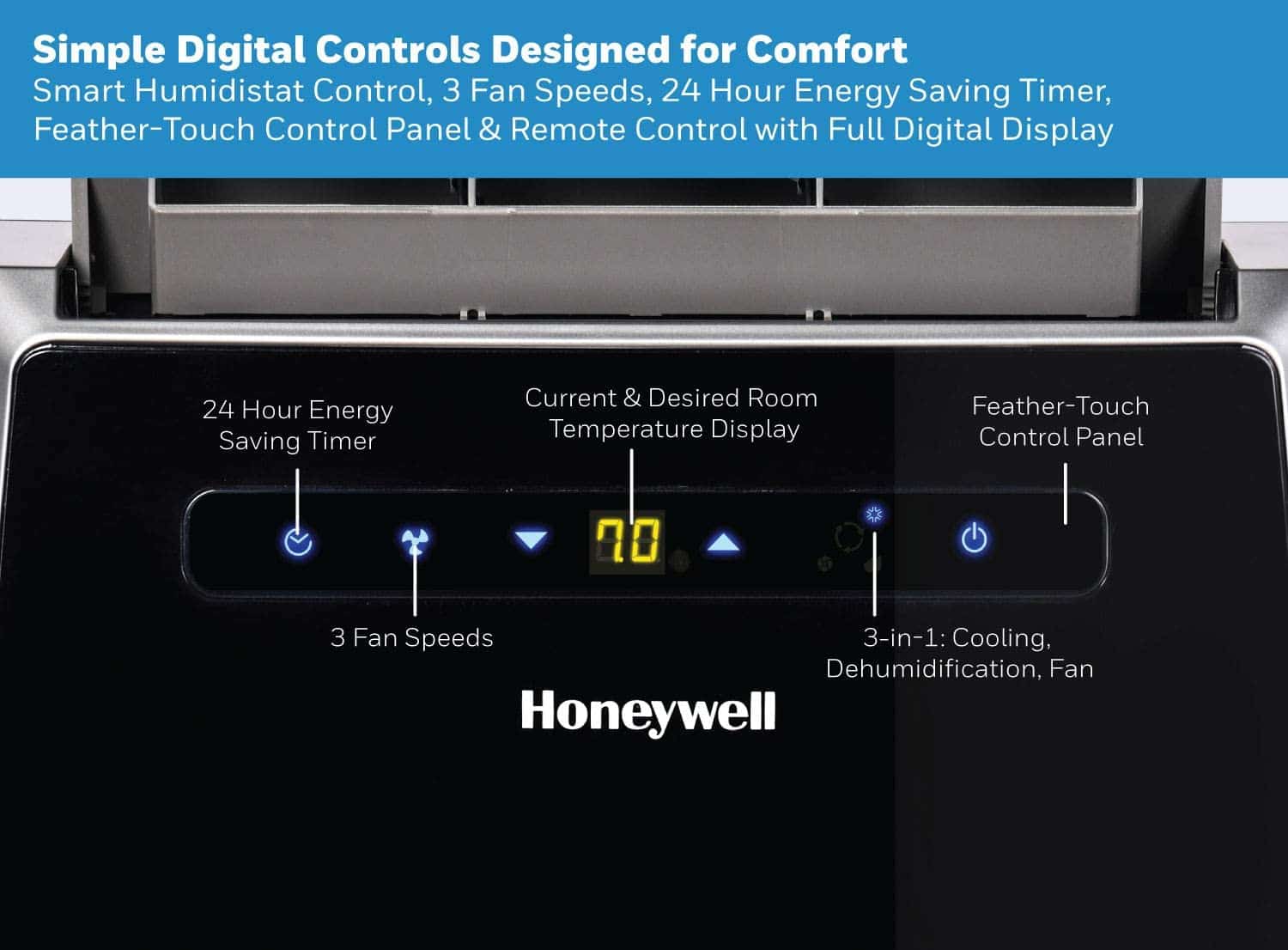 This portable air conditioner has a digital display to offer convenience. It enables you to confirm the temperature or mode of your air conditioner without any difficulty. Besides the digital LED display, this unit boasts of a feather-touch control. With this feature, you can easily control the settings of your air conditioner. It also comes with a full-function remote control. This enables you to change the settings of your conditioner from across the room.
Automatic Evaporation System
Unlike other air conditioners, this unit features an auto-evaporation system. This means you do not need any drainage of water. Instead, it recycles all the moisture it has generated during operation. Also, it dehumidifies a total of 75 pints in a day.
Honeywell MN12CES ranks among the best portable air conditioners because of this feature. It has four caster wheels, which makes it easier to move from one to the other. Since this unit is not fixed, you need to buy other units to cool your entire house.
One of the most unique and attractive features of this portable air conditioner is the 3-in-1 technology. This feature offers you three functionalities in one system. These include dehumidification, fanning, and cooling.
Among the things that make MN12CES air conditioner easy to install is the window venting kit. The design of this window vent makes it easier to fit on any standard window without modifications. Furthermore, this window vent is not permanent. This means you can remove it anytime you are not using the system.
This unit has an up to 24hours programmable timer. This functionality enables you to use the air conditioner for a duration that you desire. Besides helping you achieve the amount of cooling you need, you save on utility bills.
Washable Electrostatic Filter
The Honeywell MN12CES has a washable dual filtration system. This 3M electrostatic filter is efficient in attracting particles. It does so using electrostatically charged fibers, which holds pet dander, pollen, and dust in the filter to make your air clean. Also, it is easy for this filter by running it under a faucet. This type of filter is better than another type of filter in most air conditioners.
Most air conditioners produce cool air using an ozone-depleting refrigerant. On the contrary, this system uses an eco-friendly refrigerant known as RA10A. This refrigerant enables your air conditioner to function as expected.
---
Honeywell Condition MN12CES 12,000 BTU Portable AC Noise Level
All Honeywell air conditioners use dual motor technology to ensure their noise levels are lower. While on the highest mode, the noise level of this unit does not exceed 55 decibels. Although this is a quiet operation, this noise can be loud in rooms that need total silence.
---
Honeywell Condition MN12CES 12,000 BTU Portable AC Energy Efficiency Ratio (EER)
The energy efficiency ratio of this portable air conditioner is 9.6. This ratio is high, which means this air conditioner is efficient when it comes to power. It uses less power to produce 12,000 BTUs, thus saving your utility bill.
---
Honeywell Condition MN12CES 12,000 BTU Portable AC Installation and Usage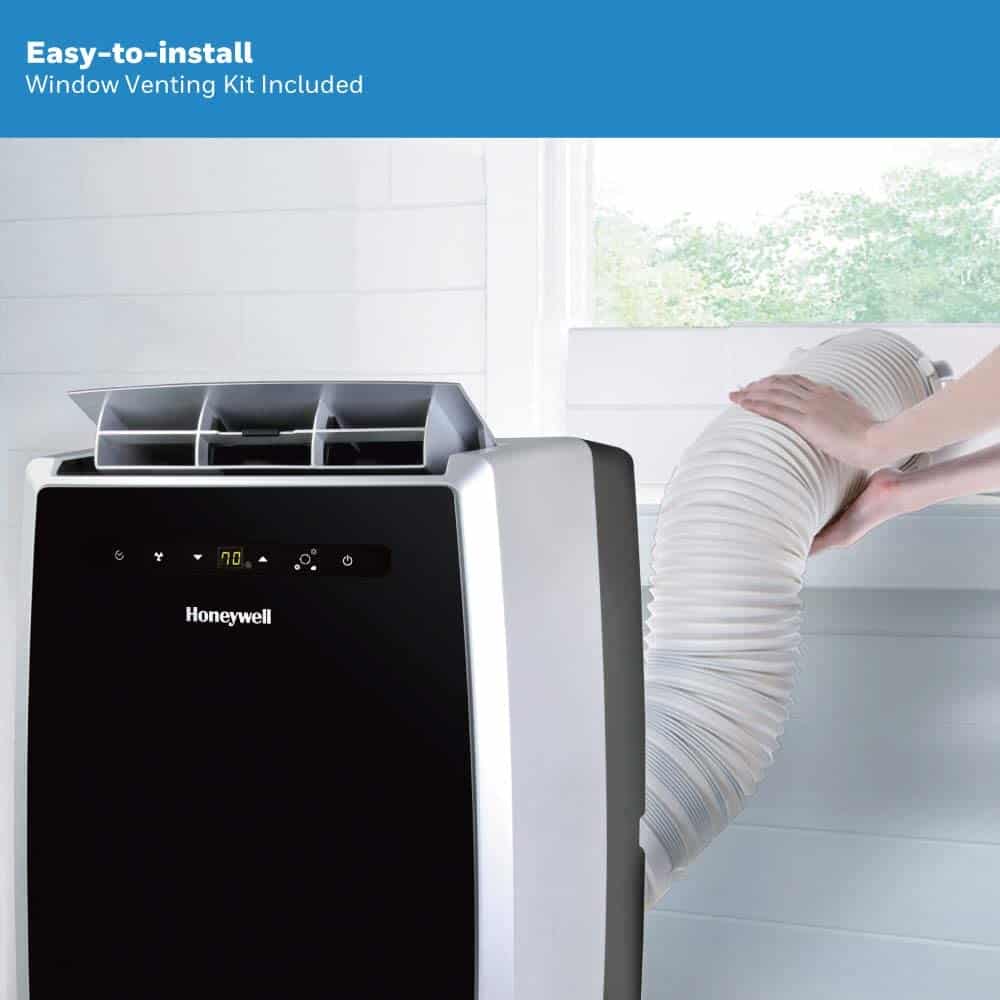 Honeywell, MN12CES, is easy to install. It comes with a window venting kit that you need to install and remove when not in use. Moreover, it comes with an easy to understand manual guide.
Likewise, this portable air conditioner is easy to use. The front-face of this unit has an LED display and feather-touch control. Therefore, you can see what any setting that you make. Alongside these is a full-control remote, which you can use instead of manual settings.
---
---
---
Final Thoughts
Honeywell MN13CES is a portable air conditioner for use if you live in a rented apartment, your job is transferable, or your room size is up to 550 square feet. Apart from its amazing features, it offers three important functions. These are fanning, dehumidification, and cooling. All these alongside the sleek modern design and an affordable price attracts may users. This does not translate to the Honeywell MN12CES being the best in the market. However, it is one of the best portable air conditioners.