Of all the air conditioners in the portable category, not so many can rival the JHS A001-10KR/D as it delivers as expected. With its 10,000 BTU swift cooling capacity, this product can provide instant cooling for an area that is as big as 300 square feet. For those with relatively small areas like the office, kitchen, bedroom, or even a garage, this is a perfect choice – efficiency and quality all rolled into one!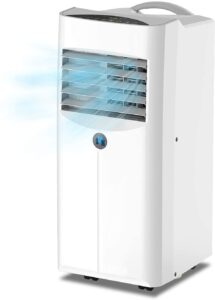 Pros
Multifunctional Nature: The perfect thing about this portable air conditioner is that it can also function as a dehumidifier and a two-speed fan. The embedded dehumidifier is so good because it can eliminate as much as 50.7 pints of moisture every day. In other words, if you want to keep your room dry and cool always, this is the product for you.
Portability: This air conditioner's portable nature is not in doubt as it is designed to be ideal for temporary installation. To ensure maximum portability, the air conditioner has multidirectional stainless castors alongside a handle, and so, you moving it around will not be difficult at all. Hence, if you want to move the air conditioner from place to place, it can be done, so you can keep any of the rooms you want cool and dry at any time.
Ease of Use: The portable air conditioner comes with a 24-hour programmable timer and a thermostat easy to adjust to meet your exact needs without using too much energy. You can stay on your couch or even on your bed while you get to control all parts of the air conditioner using only your remote control unit. You can also set it into the sleep mode in which the temperature rises by just one degree in sixty minutes, and it is maintained after a couple of hours – this ensures you get the most comfortable sleep every single night.
Maximized Efficiency: The unit has a built-in auto-evaporation system whose function is to recycle practically all the condensed water. This way, it can increase its overall cooling efficiency and decreases the need for water drainage. The embedded tank can take up to 0.7 liters, and once it is full, a reminder alert lets you know that it is time to drain it. It also comes with dual drainage options, which are auto and manual drainage options. There is also a drain hose that can be put to use in a matter of minutes.
Cons
Noise Issues: A few users have complained that their units are a bit louder than they expected.
Cost: Since one unit costs hundreds of dollars, some customers have complained about how pocket-friendly the product is.
---
JHS A001-10KR/D 10,000 BTU Portable AC Design, Size & Warranty
This product's unit dimensions are 14.6 X 12.6 and 28.8 inches, and these are for the width, depth, and height measurements, respectively. It has a flexible exhaust hose with a diameter of six inches. The power cord is 60 inches long, and the unit weight is 53 lbs. The default color for the JHS A001-10KR-D 10,000 BTU portable air conditioner is white.
Warranty
This portable air conditioner comes with a warranty that lasts for one year. However, it must also be stated that it is for parts (manufacturing defects) only. As a customer, the brand will replace the defective product with a repaired or new one.
---
JHS A001-10KR/D 10,000 BTU Portable AC

Features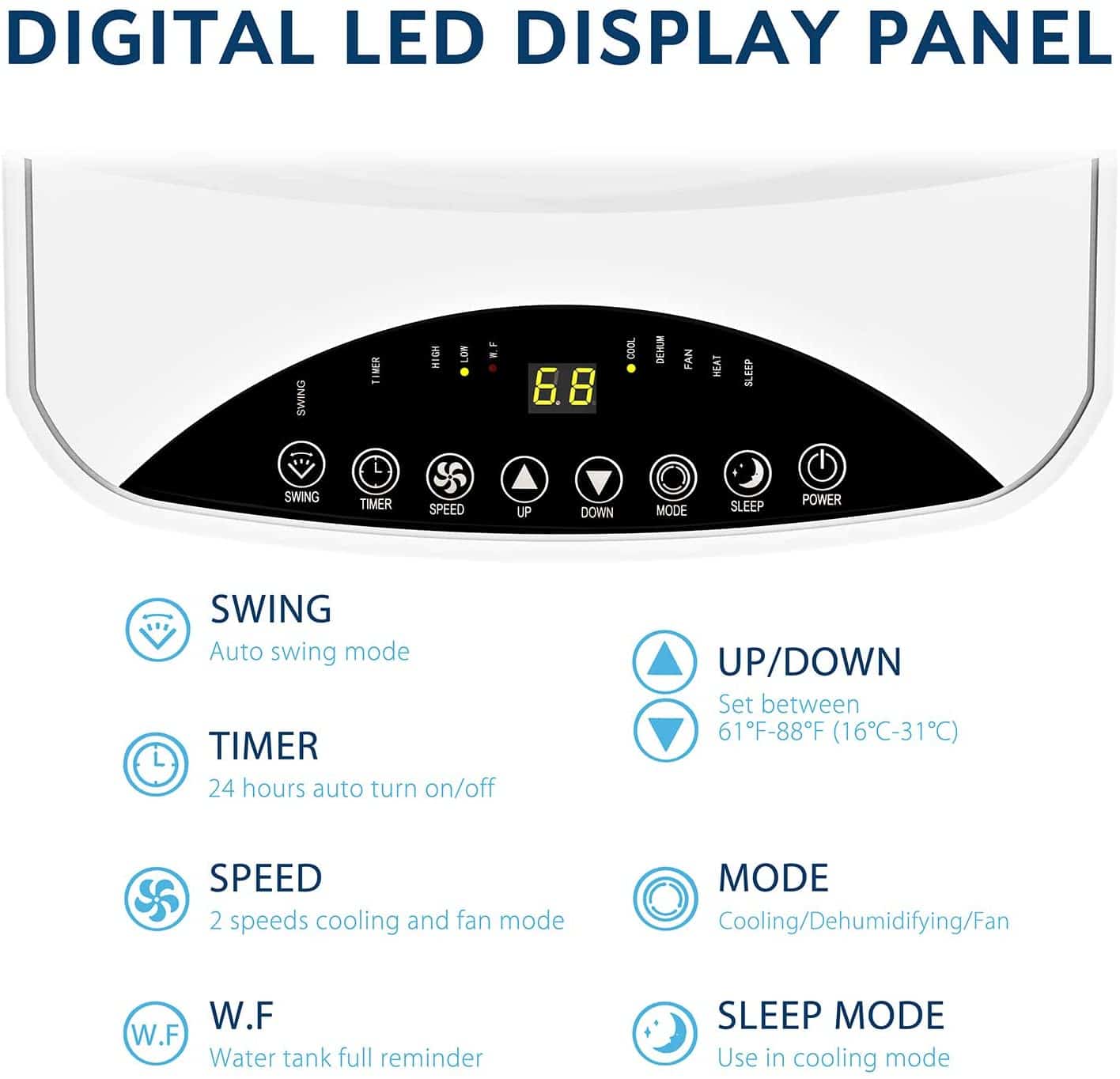 Large Area Capacity: This air conditioner can provide cooling for an approximate area of 300 square feet.
Environment-Friendly: The refrigerant that is used in this product is an eco-friendly CFC-free green R-410A.
Protective Function: This JHS portable air conditioner has frost and overflow protection functions.
Multiple Drainage Options: There are the manual and auto-evaporation drainage modes.
User-Friendly Control Panel and Remote Keypad: The control panel and remote keypad include power, sleep mode, down, up, fan, timer, and swing buttons. Others include indicators for when the water tank is full, low fan, high fan, timer, fan swinging, dehumidification, cooling, and several others.
---
JHS A001-10KR/D 10,000 BTU Portable AC

Noise Level
Compared with the regular central air conditioners that work outside the home, a portable air conditioner placed inside the home will generate some white noise. But that is nothing to worry about with this product, and that is because it is so quiet that you can have a very peaceful night of sleep even with the portable AC unit in full operational mode. The noise level comes in at a very decent 54 dBA.
---
JHS A001-10KR/D 10,000 BTU Portable AC Energy Efficiency Ratio (EER)
The energy efficiency ratio (EER) is 2.79 Class A. The importance of the energy efficiency ratio is to identify which of the units will be the most cost-effective when it comes to the amount spent on energy while making use of the air conditioner.
---
JHS A001-10KR/D 10,000 BTU Portable AC Installation and Usage
If there is any portable air conditioner that is super easy to install, it will be this one. All that is needed to get the installation done completely is just five to ten minutes. This is made possible because of the inclusion of the exhaust hose and window kit.
For users who may have any issues regarding the installation, JHS has a perfect support line for such customers as the brand can be reached via email and expect a prompt response. In addition, maintaining this portable air conditioner is very easy, as all you need to do is take simple steps like cleaning the filter.
---
---
Final Thoughts
Even though this portable air conditioner has a few cons, there are generally many more pros, so it is a good investment. For those who want the best of comfort with the coolest combination of quality and excellence, the JHS A001-10KR-D 10,000 BTU portable air conditioner is the best. It is very convenient to use, and you can get real value for every cent you spend on it.