LG is an industry leader in manufacturing some of the best portable air conditioners in the market. In this review, the focus is going to be on LG LP1417GSR 115V Portable Air Conditioner.
Some of this product's best features include its sleek design and brilliant LCD remote control unit, making it a lot easier to operate.
But that is not all; this review will provide more information on this product.
An impressive product comes with 14,000 BTU ASHRAE, dehumidification (pt/hr) 3.1, and can provide cooling for an area as much as 500 square feet (or room size of 20'' by 25'').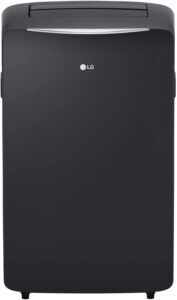 This product is discontinued and no longer being produced.
So alternatively, check the newer model: JHS 3-in-1 14,000 BTU Portable Air Conditioner.
Pros
Functionality: This is one portable air conditioner that works. This is the product to go for if you want the proper cooling of your living or working spaces on hot days.
Quality: One of the most impressive things about this LG air conditioner is that it embodies quality and excellence at every level. The quality is evident from the materials used to the items that make up its inner systems.
Cost-Effectiveness: The price for this product is reasonable but even more interesting for the customers because it is very affordable to maintain on an annual basis. As a result, it is very efficient as far as energy consumption is concerned, maintaining it is quite pocket-friendly.
Outstanding Features: The design is so comprehensive that there is virtually no feature that it does not possess. Some of these include Water Full Indicator, Auto Swing, Auto Door Open/Close System, Timer, Thermostat Control, and others.
Cons
Lack of Extra Smart Features: Customers will love it if it comes with a Wi-Fi plug compatible with Alexa.
---
LG LP1417GSR 115V 14,000 BTU Portable AC Design, Size & Warranty
This LG air conditioner is truly portable in every sense. The product dimensions measure 29.53'' by 17.44'' and 14.76 '' (for width, height, and depth, respectively).
The shipping dimension (weigh, height, and depth, respectively) comes in at 19.69 X 35.04X16.65 inches; the shipping weight is 87.7. The net weight is 75 ounces. 
The product typically comes as black or graphite gray, complete with its installation kit, which guides the user on every necessary step for the fixing. It also comes with a washable air filter.
This portable air conditioner comes with one-year parts and labor warranty – a good deal by any description.
---
LG LP1417GSR 115V 14,000 BTU Portable AC Features
3-in-1 Operation: The LG LP1417GSR 115V Portable Air Conditioner has three modes (Cool, Fan, and Dry).
The first one is the cool mode, and it is perfect for effective cooling and appropriate dehumidification, making it indispensable on hot, sunny days.
The second mode is the fan mode, which is ideal for air circulation, and the third mode is the dry mode, perfectly designed for you to cope on rainy and wet days.
Full Usability: This product has been designed so that users can enjoy the greatest level of usability with it.
Operation is flawless as it comes with an LED display unit alongside an easy-to-use selection control panel, but that is not even all.
There are also up and down temperature adjustments and fan speed selection.
Ease of Use: The full-featured remote control unit means you can use the unit without having to leave the comfort of your couch, even for a moment.
Auto Evaporating System: This is an amazing feature but not seen in all air conditioners. With this feature, it becomes straightforward for the drying function to continue functioning on its own for as much as 10 minutes, even after the power has been turned off.
24-Hour On and Off Timer: You can set the product to work for 24 hours, and while you are at it, the unit can be set so that the air conditioner can be on or off whenever you want to.
Auto Restart: This is very useful when there is an interruption in the power supply. With this feature, the air conditioner unit can restart its operation quickly after the energy source becomes functional again.
---
LG LP1417GSR 115V 14,000 BTU Portable AC

Noise Level
This portable air conditioner from LG is one of the most silent in the niche. While operating, the sound level is at an excellent 52dB (functioning in a low mode).
The technology behind this device allows it to get rid of extra and unneeded noise, so it works on without making any noise – it is so quiet that you will not observe that it is even on.
At 52 decibels, it is more silent than being inside a car and closer to being in a library.
---
LG LP1417GSR AC Energy Efficiency Ratio (EER) And Cooling Capacity
It has a modest energy efficiency ratio of 10.1, meaning it will cost a little over $100 to maintain annually – not bad at all. So for those who want a cheap portable air conditioner, this is it.
Only one model – Whynter ARC-14S – has more – 11.2 EER.
LG LP1417GSR's cooling capacity is 14,000 BTU ASHRAE (10,000 BTUs DOE Standard), making it powerful to cool rooms up to 500 square feet large.
hOmeLabs 14,000 BTU and Whynter ARC-14S have the same capacity. 
---
LG LP1417GSR AC Installation and Usage
Installation is not difficult at all, as each product comes with an installation kit. These installation kits contain everything needed for a user to do a step-by-step installation of the device.
As for usage, features like the remote control unit make it very smooth to use, and maintenance is also straightforward and pocket-friendly.
This product is discontinued and no longer being produced.
So alternatively, check the newer model: JHS 3-in-1 14,000 BTU Portable Air Conditioner.
---
Final Thoughts
LG is known and respected for manufacturing portable air conditioners that offer outstanding cooling power, which is in no way an exception.
So if you want yourself, friends, and family to enjoy real cool comfort, LG LP1417GSR Portable Air Conditioner is the product to go for.
UPDATE!
LG LP1417GSR Portable Air Conditioner is discontinued, so instead, choose LG LP1021BSSM 14,000 BTU Wi-Fi Portable Air Conditioner.
This model has Wi-Fi, so you can control it using your phone. It is also compatible with Amazon Alexa and Google Home.