SereneLife is a reliable and trustworthy brand when it comes to the production of portable air conditioners.
The model that will be reviewed in this piece is their 10,000BTU version. This air conditioner is lightweight and truly portable, ideal for stress-free room cooling and heating.
Moreover, its setup is made easy with its specific electric plug-in feature.
Pros
Weight: When it comes to a genuinely lightweight, portable, and compact air conditioner, the SereneLife 10,000BTU is in a class of its own. This freestanding room air conditioner and heating unit are easy to carry around.
Multiple Operation Modes: This air conditioner has four functional modes, making life a lot easier for you as the user. These modes are as follows: Heat, Air Conditioner Cooling, Fan, and Dehumidifier.
Portability: Unlike some other air conditioners that are only portable in name, the SereneLife 10,000 BTU portable air conditioning unit is truly portable and compact. It also comes with rolling wheels to make mobility as easy as possible.
Cons
Noise: In some instances, some customers have complained about the noise coming from both the fan and the compressor. If the noise is extreme, it is understandable that things can get uncomfortable for the user.
---
SereneLife 10,000 BTU Portable AC Design, Size & Warranty
Dimensions: For this air conditioner, the dimensions for the length, width, and height are as follows: 17.4''X13.4'' and 32.1''.
The air conditioning unit is designed to make life as easy as possible for the user. Hence, it comes with a comprehensive control panel and a remote controller.
The controller features a temperature/time adjusting key, which allows for cooling function, reduced temperature, and even adjusted timing.
Furthermore, this same key allows for simultaneous switching between Fahrenheit and Centigrade degrees.
Rolling Wheels: It is fitted with wheels for easy portability. Hence, you can use it stress-free at home, in business spaces or school, and so on.
Durable Construction Material: Engineered ABS Housing is used.
Warranty
The SereneLife 10,000 BTU portable air conditioner comes with a full one-year warranty. There is also a 30-day return policy if the customer is unsatisfied with the purchase.
---
SereneLife 10,000 BTU Portable AC

Features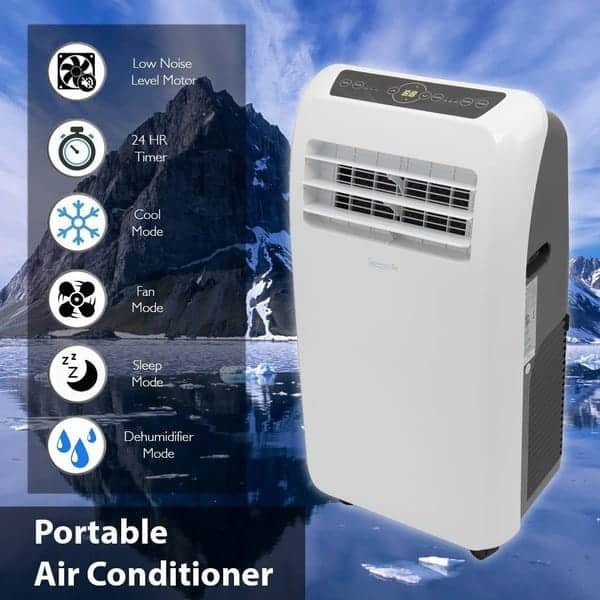 Dehumidifier: This air conditioner comes with a built-in dehumidifier. With the mode key, the user can select the dehumidification mode via the remote controller. In addition, there is a dehumidification indicator lamp that signifies when it is on.
Auto Mode: This is a handy feature with the cooling model. The auto indicator light comes up when the user presses the mode key or selects auto mode via the remote controller. Once the auto mode has been selected, the auto indicator lamp comes on. The operation state in this mode works with the temperature of the environment.
Timer Mode Feature: As the name implies, this feature allows you to time the air conditioner unit's functioning. You can do it in a way that will follow your schedule, thus increasing productivity for you.
Digital LED Display: This allows you to instantly know what is going on with the unit by just taking a glance.
---
SereneLife 10,000 BTU Portable AC

Noise Level
The air conditioner is not noisy as it comes with a low noise level motor. Its operating noise level is 56 dBA (+/-3), and that means you can have a good night's sleep even when it is in fully functional mode.
The highest operating noise level can go 59 decibels, which is still very manageable for you and other people in the building with you or your neighbors.
---
SereneLife 10,000 BTU Portable AC

Energy Efficiency Ratio (EER) And Cooling Capacity
It is very energy efficient and is one of the lowest-consuming air conditioners in its range. EER rating is 9.6. Similar to popular manufacturers like Homelabs and Honeywell.
Serenelife air conditioner cooling capacity is 10,000 BTU ASHRAE (6000 BTU CEC/DOE) which is enough to cool spaces up to 350 square feet large.
That's the same as JHS A001-10KR/D can cool, but this model has a significantly higher EER rating. 
---
SereneLife 10,000 BTU Portable AC

Installation and Usage
The details on the placement and installation are provided in the product manual. The product is placed on an even and dry surface and should be at least half a meter from any surrounding object. After installation, the operation mode can be activated immediately.
Usage and maintenance are easy as a producer manual comes with each unit, and it contains very detailed instructions on how to get the best of this air conditioner.
For repairs, you will need to get the help of professional maintenance personnel.
Maintenance is also made easier as the unit comes with an automatic water vaporization system as its drainage method.
As for the condenser, the cooling is done via the circulation of condensing water. This improves the cooling efficiency and also minimizes the usage of energy.
---
Final Thoughts
If you desire to get the most excellent and quiet 10,000BTU compact and portable air conditioner, this is the real deal for you.
With its acceptable noise level of about 52 decibels, you will have an excellent time using it. As it is very portable, moving it around your home or office space is without hassle – it even comes with rolling wheels to help.
Here is a perfect choice if you want that ideal compact and freestanding room air conditioner and heater.
Even though its hose installation can be challenging to some, you will quickly get a grip on it. This is one of the best investments anyone can make in terms of value derived from the amount spent on the portable air conditioner.
The SereneLife 10,000 BTU portable air conditioner is highly recommended.