Are you looking for the best portable air conditioner to use in a small room? Then, Koldfront PAC802W will serve the purpose.  A compact but powerful air conditioner to use in rooms of up to 150 square feet. This unit's cooling capacity is 8,000 BTU, making it ideal for use in small rooms like the living room, bedroom, offices, and others. This model has a small size unit with a 4,600 BTU cooling capacity.
The main advantage of using this conditioner is its ability to dehumidify. Koldfront PAC802W has a built-in dehumidifier. This enables it to remove moisture in your room at a rate of 61pints per 24 hours. By removing excess moisture in your air, this conditioner ensures your possession does not rot. Besides that, it ensures your air circulation is cool and fresh.
Koldfront PAC802W is easy to install and use. Unlike traditional in-window air conditioners, this unit comes with a window venting kit. It is easy to install and works by venting excess moisture from your room. You do not need to call an expert to do the installation because it is direct. The window kit provides multiple placement options, yet it requires a small window space.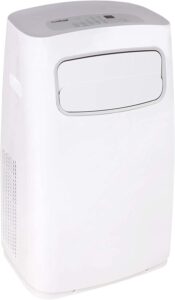 Furthermore, this portable air conditioner is user-friendly. It has an attractive control panel with a digital display. This offers you convenience as you can see and read your settings. On top of that, it comes with a remote control that you can use to control your settings across the room.
Pros
It is easy to install and use.
Offers value for your money through performance.
It provides optimal comfort through moisture removal and efficient cooling.
Highly portable. You can easily move it from one position to the other.
Super responsive remote.
Cons
Too small for use in big rooms.
The exhaust hose has a poor design that might not fit in some windows.
---
Koldfront PAC802W 8,000 BTU Portable AC Design, Size & Warranty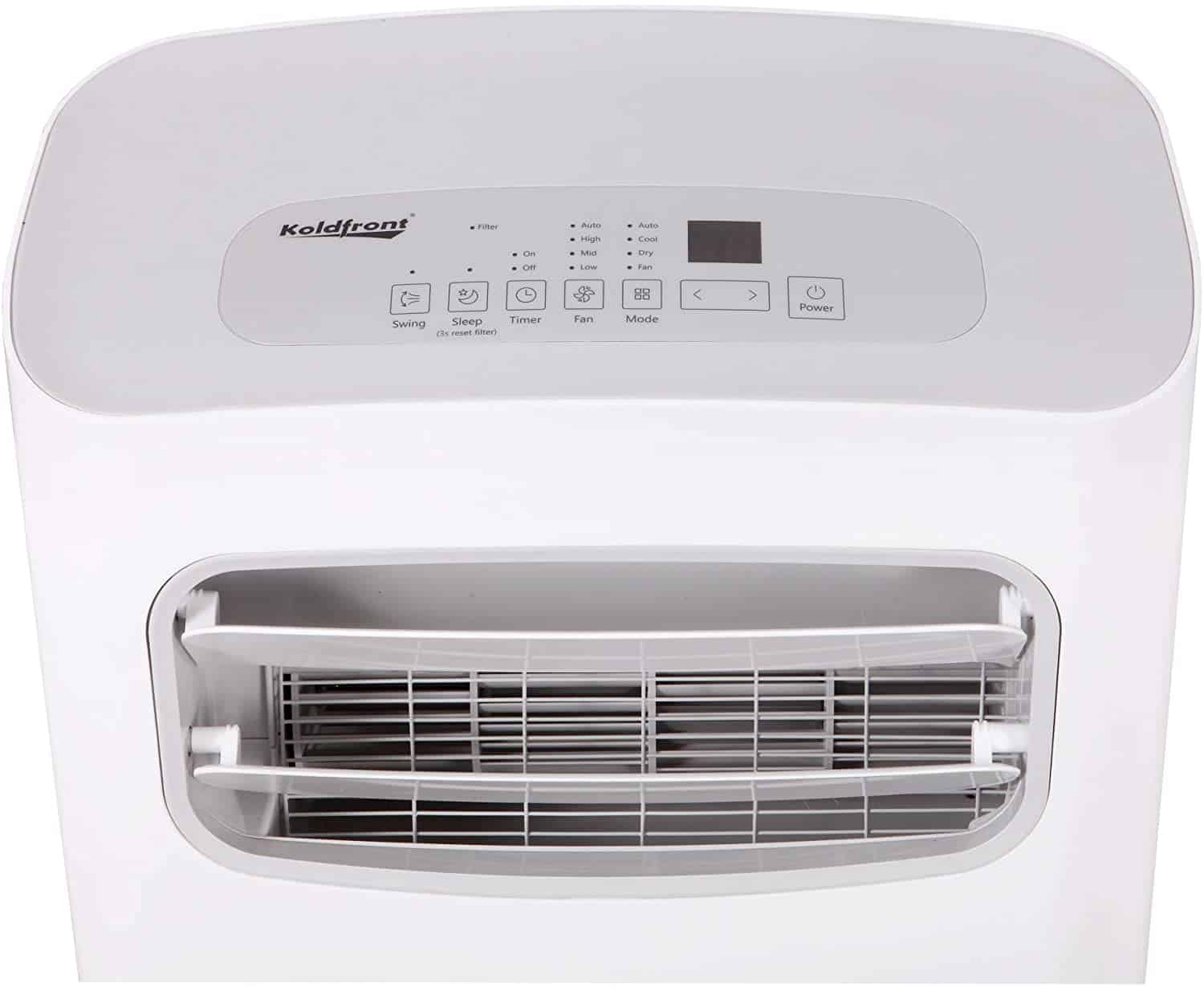 The Koldfront PAC802W air conditioner has a compact unique design. This design makes it good for use in small-sized rooms because it takes less space. In terms of colors, you have no options, as the unit is available in white color. With its unique design, the control panel of this unit is top-facing.
In terms of size, this unit has small size. Its dimensions are 13.4 x 17.1 x 28.9 inches, and it weighs 57.2 lbs. However, this unit has many useful features, like a washable pre-filter for easy maintenance despite its small size. Furthermore, it has built-in wheels that make it easy to move from one room to another.
Also, this unit comes with a limited warranty of 1-year parts and 90 days labor. This means the manufacturer accepts returns within one year.
---
Koldfront PAC802W 8,000 BTU Portable AC Features
This portable air conditioner has a built-in dehumidifier, which uses the auto-drain method to remove the condensate. Therefore, you do not need to do manual drainage. This system comprises an extendable exhaust hose and gravity drain connections. To minimize the user maintenance of your air conditioner, drain the condensate using this direct option.
A full-function remote control is included in the box. It enables you to select and adjust your comfort settings from the comfort of your seat or bed. Therefore, you do not need to make your adjustments by hand. Also, you can use the "Follow Me" mode to maximize your comfort. This model depends on the location of your remote to measure the temperature. It then adjusts fluctuations based on your location.
In case of a power outage, this portable air conditioner stores your settings. This means you will not need to reset your unit afresh after power restoration. Instead, the auto-restart function empowers this portable air conditioner to restart automatically.
The 24-hour programmable timer on this unit enables you to start or switch off your air conditioner at a particular time. This means all you need is to program the unit to work or turn it off even in your absence.
The PC802W features an R410A refrigerant that is non-ozone depleting. Alongside this, the refrigerant is energy-saving functions. Therefore, you do not need to worry about emissions.
Control Panel and Digital Display
At the top of this unit is an attractive control panel alongside a digital display. The control panel features intuitive controls to adjust your settings. The digital display is easy to read, and it enables you to view your settings. For example, the controls enable you to adjust the louver swing and speed fan and choose the right temperature.
Among the coolest features of this system is the option to auto swing the louvers. Most air conditioners in this price range do not have this feature. However, you can switch this option to static mode if you want the airflow direction to remain unchanged.
---
Koldfront PAC802W 8,000 BTU Portable AC Noise Level
Although some users complain that this unit produces loud noise, it has a quiet operation compared to other air conditioners. The lowest noise level is 43 decibels, while the highest noise level is 49 decibels.
---
Koldfront PAC802W 8,000 BTU Portable AC Energy Efficiency Ratio
Koldfront PAC802W has an energy-efficient ratio of 8.9. This value is higher, which means this unit is efficient when it comes to energy consumption. The input power of this portable air conditioner is 900W.
---
Koldfront PAC802W 8,000 BTU Portable AC Installation and Usage
The installation process of this air conditioner is easy. Likewise, it is easy to use. You will need less than 20 minutes to install the system. Then, all you need is to fit the window venting kit. The manufacturer of this unit says the hose fits in many standard windows. However, it has a poor design that makes its attachment difficult.
The PAC802W is user-friendly. You can use either the remote to operate or the manual touch buttons. The digital display shows all your settings and changes.
---
---
Conclusion
Koldfront PAC802W is one of the best portable air conditioners to use in small rooms. Apart from cooling your room, this unit dehumidifies your air. In fact, it is suitable for removing excess moisture in your room. Furthermore, the air conditioner is high-powered, and it offers many features for optimal comfort.
In short, you should consider Koldfront PAC802W if you are looking for an affordable small-sized portable air conditioner that is user-friendly.