LG LP0817WSR is among the best portable air conditioners on the market. An original product from LG that is cost-effective.
Despite its affordable cost and small size, this unit is powerful and provides a cooling capacity of 8,000BTUs. Good for cooling a room of up to 250 square feet.
Also, you can use this unit as a dehumidifier in your space. It removes moisture from your air at the rate of 1.8pints/hour.
One of the benefits of using this unit is that it has two cooling speeds and two fan speeds. Therefore, hot spots should not be a concern to you.
It also features a series of louvers with an auto swing. This ensures cool there is the distribution of cool air in your entire room within a short time.
The second advantage of this unit is that it has a compact design and size. This means it can get through any doorway.
You can set up this conditioner almost anywhere because it occupies very little space. Being close to a window for venting is the only setup requirement.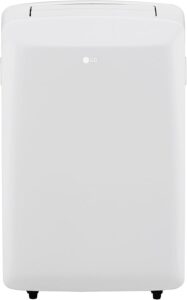 On top of that, this unit is lighter than many other portable air conditioners. As a result, you can move it from one room to another without difficulties.
Thanks to durable caster wheels, you can push it if lifting is not your thing.
Pros
Attractive and well-designed.
Easy to use.
Powerful and cools fast.
It is easy to move around.
Great design for use in small rooms.
Cons
It does not feature a sleep setting.
Setting up the window vent takes more time.
---
LG LP0817WSR 115V Portable AC Design, Size & Warranty
LP0817WSR has a sleek contemporary design, suitable for use in small rooms because it occupies a small space.
Despite its sleek design, you have no choices regarding color selection because the unit is available only in white color. Nonetheless, the materials used in building the unit are strong and durable.
This AC is easy to move because of its sleek design and presence of caster wheels. Its dimensions are 16 x 18.7 x 23.7 inches, weighing 58.4 pounds.
You can either lift or push the air conditioner. Furthermore, the manufacturer of this unit offers a one-year warranty. The warranty covers the parts and labor within one year.
---
LG LP0817WSR 115V Portable AC Features
There is a series of automatic louvers on the side of the area from where the air blows. These louvers can swing automatically.
However, you can move them using the remote control. When moving, these louvers offer better air circulation in your room. Consequently, they prevent the occurrence of uncomfortable hotspots in your space.
This portable air conditioner has an auto evaporation system. Thus, this unit is capable of getting rid of extra moisture by itself. It does not need a drip pan or drain hose.
It comes with a drain tray to use if you live in a very humid environment. In such a case, you need to empty the tray.  However, the unit alerts when the tray is full or empty.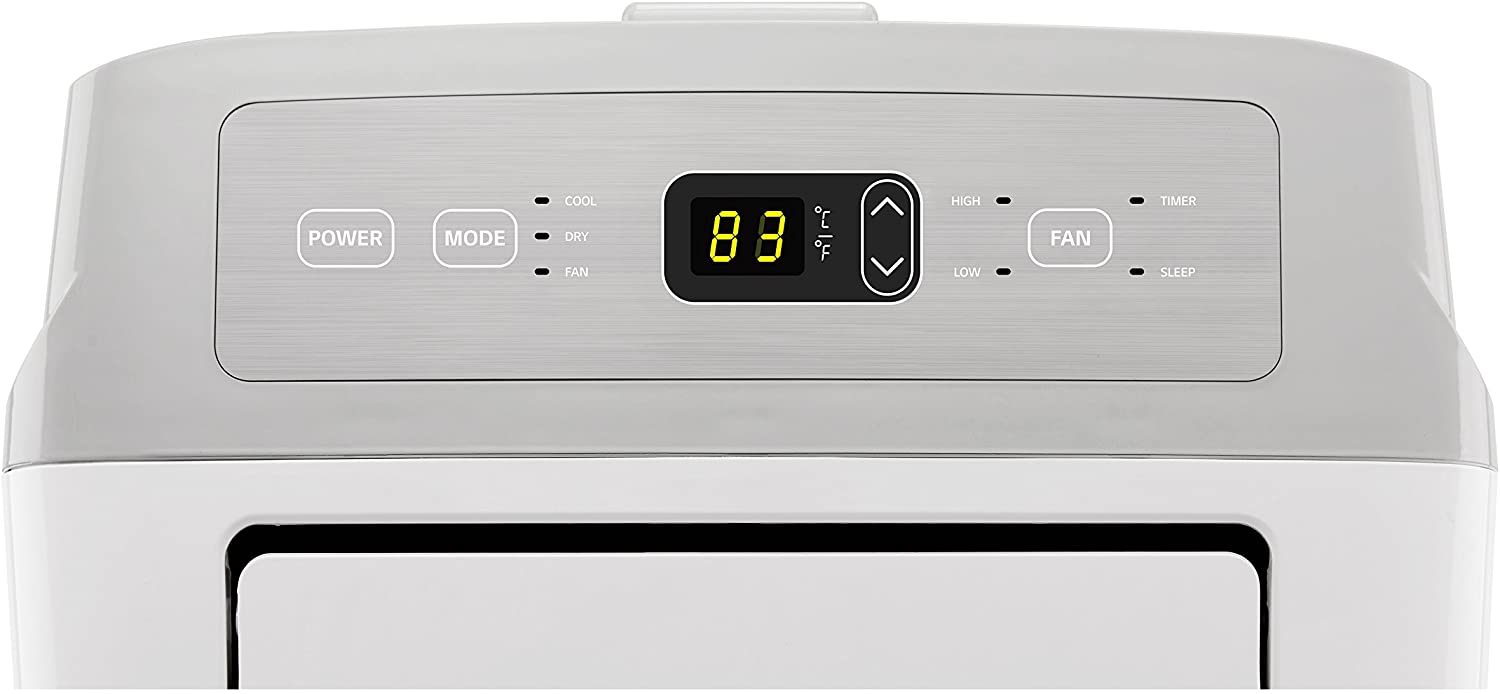 The top of this AC features a control panel that has an LED display panel. Besides that, the side of the LED display has three buttons.
The buttons enable you to control the fan, change your mode, set the timer, switch your system ON/OFF, and decrease or increase temperature.
You can see all these changes/settings on the LED display.
If you are not ready to press the buttons, you can use the LCD remote control that comes with the unit.
LG LP0817WSR has washable air filters, enhancing the air quality of your space by capturing all common household allergens.
Maintenance of the air filters is easy because you can access them from the back of the unit.
However, you should clean them after three weeks of use to prolong their use.
The air conditioner has a programmable 24-hour timer that allows you to set a specific time for the unit to turn off or on for up to 24 hours.
Program the AC as you like. It will automatically turn ON or OFF, even when you are away from your room.
Because of this functionality, you do not need to reset your unit during a power outage. Instead, it resumes operation using its previous settings after the restoration of electricity.
Lightweight Design and Caster Wheels
It is easy to move this unit from one room to another because of its lightweight design. On top of that, it has durable caster wheels that make it easy to push to your desired room.
---
LG LP0817WSR 115V Portable AC Noise Level
Portable air conditioners from LG have a quiet operation. This avoids unnecessary noise.
51dB is the lowest noise level, while 53dB is the highest noise level. Indeed, the noise level of this air conditioner is similar to that of a ceiling fan.
Some people consider this noise level high because the unit is for small rooms. However, LP0817WSR is among the quiet portable air conditioners.
---
LG LP0817WSR 115V Portable AC Energy Efficiency Ratio (EER) And Coverage
LP0817WSR has an energy efficiency rating of 9.2. With a voltage of 115V and amperage of 15A, this unit is energy efficient. Therefore, using it will not rapidly increase your utility bill.
Only a few models have higher EER ratings – hOmeLabs 14,000 BTU, Honeywell MN12CES, SereneLife 10,000 BTU, and Zero Breeze Mark 2, but the last one has a significantly lower BTU rating. 
LG LP0817WSR portable air conditioner coverage is around 250 square feet; it has 8,000 BTU ASHRAE (~4000 BTU CEC/DOE). 
---
LG LP0817WSR 115V Portable AC Installation and Usage
Setting up this air conditioner is not that easy for some users. Installation of the Window kit takes more time than expected.
However, you do not need to call a professional to do the setup. Instead, you can use the manual guide or visit the LG official website for proper installation.
Despite the difficult installation process, this air conditioner is easy to use. It has user-friendly features that give you convenience and the ability to control the settings.
---
Conclusion          
The LG LP0817WSR portable air conditioner is among the best single-room units in small to medium-sized rooms.
Although the installation of this unit is a bit difficult for some, it is easy to use and has an affordable price.
Nonetheless, the unit has a powerful cooling and dehumidifying performance. Furthermore, it is highly portable, and it consumes less energy. A good unit to buy if you are on a tight budget.