This 8,000 BTU 3-in-1 portable air conditioner is one that everyone will find very useful. This is a truly outstanding product with its three modes (Cool, Fan, and Dry) and a dehumidifier that clears up to 60 pints per day. In addition, its digital display, complete with the 24-hour timer and other features, makes it easy to use.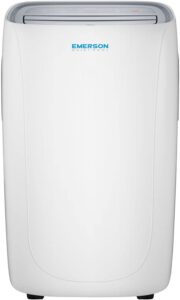 Pros
Ease of Use: This portable air conditioner has several features like remote control, sleep mode, 24-hour on and off timer, and many other features specially put in place to make using the unit very easy for you. The timer allows the user to fix the time to switch on or switch off the unit. A remote control allows you to conveniently control and operate it from any location in your space.
Multimode: This air conditioner has several modes you can select from. These include the Fan, Dry and Cool modes.
Impressive Dehumidification: It can perform dehumidification to as much as 2.5 pints in sixty minutes.
Choice of Multiple Fan Speeds: The user can select three fan speeds with this air conditioner unit. These include high, low, and medium, and it allows you to get an optimal level of comfort for yourself and your family.
Cons
Limited Colors: The Emerson Quiet Kool EAPC8RD1 typically comes in just white, and some users have complained about not having more color options for their favorite portable air conditioner.
Cost: Several customers have also expressed the wish they would have loved if the air conditioner was offered a much more pocket-friendly price.
---
Emerson Quiet Kool EAPC8RD1 Portable AC Design, Size & Warranty
It is designed to provide ideal cooling for a room or space up to 300 square feet in size. The dimensions are 27.360 inches in height, 12.800 inches in depth, and 17.320 inches in width. The A/C cooling rate is 8,000 BTU per hour. The default color is typically white.
Warranty
As for the warranty, this is one of the most comprehensive offers in the market. It has a valid labor warranty for one year, a parts warranty valid for two years, and a valid compressor warranty for five years.
---
Emerson Quiet Kool EAPC8RD1 Portable AC Features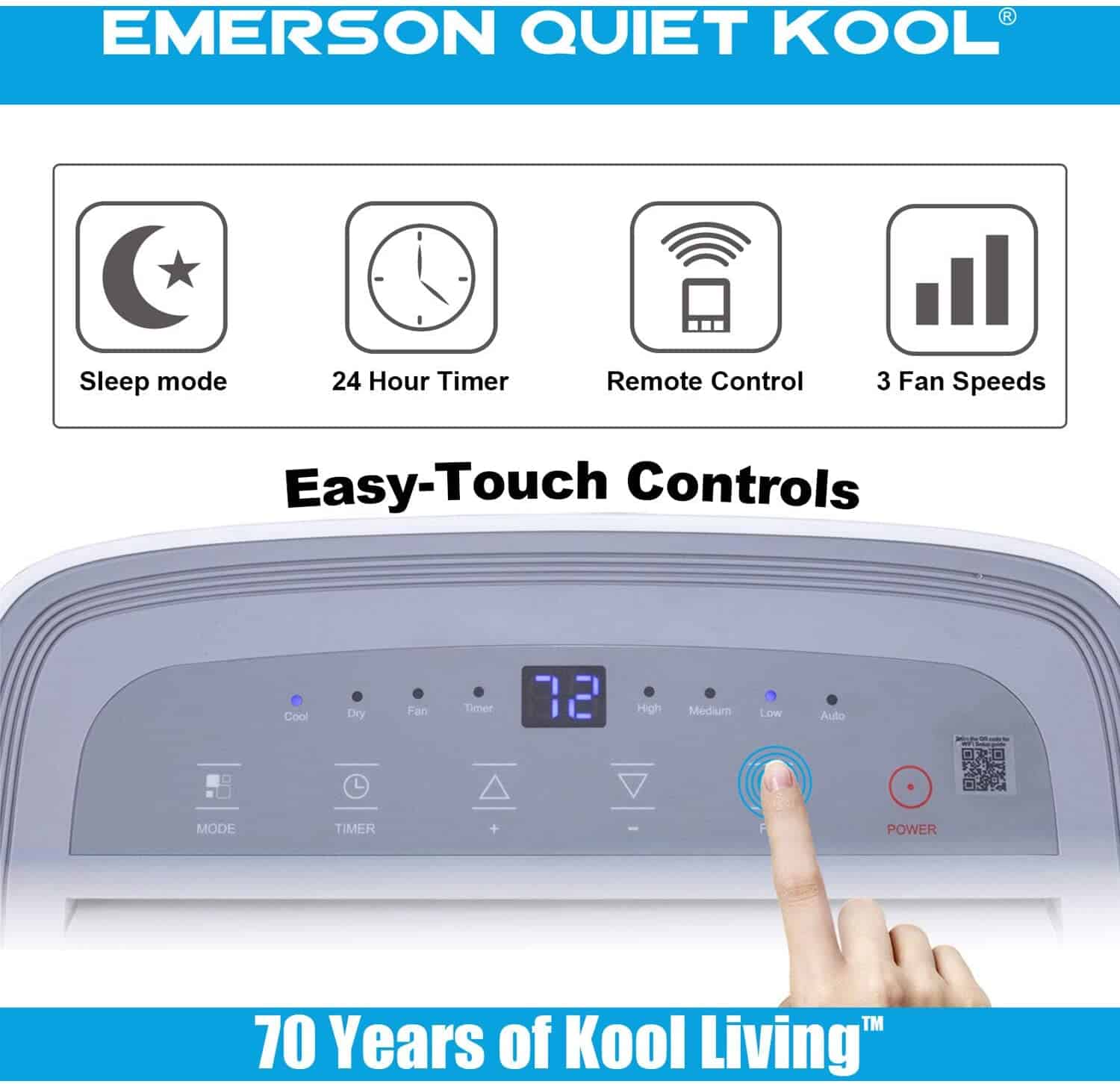 Excellent Dehumidifier: As a result of the fact that it comes with the latest auto evaporation technology, this portable air conditioner can work well as a dehumidifier. Hence, it can eliminate unwanted moisture in the air without the need for any extra drainage.
Auto Restart Function: This option allows the unit to automatically start on its own again from where it stopped whenever there is a restoration of power.
Filter Option: There is also a filter that eliminates microorganisms like bacteria, contaminants, pollutants, dust, particles, room odors, and several others.
ECO Mode: This is one of the air conditioners in the market that can run on in the energy saver mode (also known as the ECO mode). While running in the ECO mode, the fan will operate for a few minutes after the compressor stops functioning. The fan is then going to function for one and a half minutes at regular intervals. This continues until the room temperature is fixed above the set temperature, and it is at that point that the compressor becomes active again.
Sleep Mode: The sleep mode can be activated when the air conditioner is in the ECO or cool mode. When in the sleep mode, the fan speed can be fixed in the 'low,' and it remains like that. You can also deactivate the sleep mode by just pressing the fan speed or sleep mode button.
---
Emerson Quiet Kool EAPC8RD1 Portable AC

Noise Level
The portable air conditioner is far from noisy, and you can have a very peaceful night's sleep even when it is in full operation mode. With an indoor decibel rating of only 52 dBA, this is a very quiet air conditioning product. It might not be the quietest in the market, but it is not the noisiest at all – it is perfect for use in the home and corporate spaces like offices.
---
Emerson Quiet Kool EAPC8RD1 Portable AC Energy Efficiency Ratio (EER)
One of the most important and relevant factors that must be considered when selecting an ideal and portable air conditioner. For this Emerson Quiet Kool EAPC8RD1, the energy efficiency ratio (EER) is an impressive 8.9; the higher the energy efficiency, the better the product, and even the lower maintenance cost.
---
Emerson Quiet Kool EAPC8RD1 Portable AC Installation and Usage
Everything has been put in place to ensure that this air conditioner's installation is as easy as possible. For instance, a window venting kit comes alongside the unit itself, which allows for quick and straightforward installation. It is also effortless to move around as it comes with omnidirectional casters, which move a lot easier – the same thing applies to the side handles, making them comfortable to carry.
When cleaning the unit, you need to dust off the front and the cabinet with a clean cloth or a wet cloth put in a detergent solution. Cleaning the filters is also straightforward. Finally, the user can clean the filter by making use of a vacuum cleaner.
---
---
Final Thoughts
Of all the portable air conditioners out there, the Emerson Quiet Kool EAPC8RD1 is an outstanding one. Apart from the flexibility it offers the users; this air conditioner provides the best spot cooling. The installation comes with no stress, and it is worth every penny that is spent on it. Operation is seamless, and you get to enjoy the best of the latest air conditioning technology. Maintenance is made very easy with the washable filter.