Goodman is a brand that is widely respected within the air conditioning niche. It is known for making some of the most reliable central air conditioners known for their outstanding efficiency, cost-effectiveness, and overall superior performance. The focus of this review is the product GSXC18 of this timeless brand.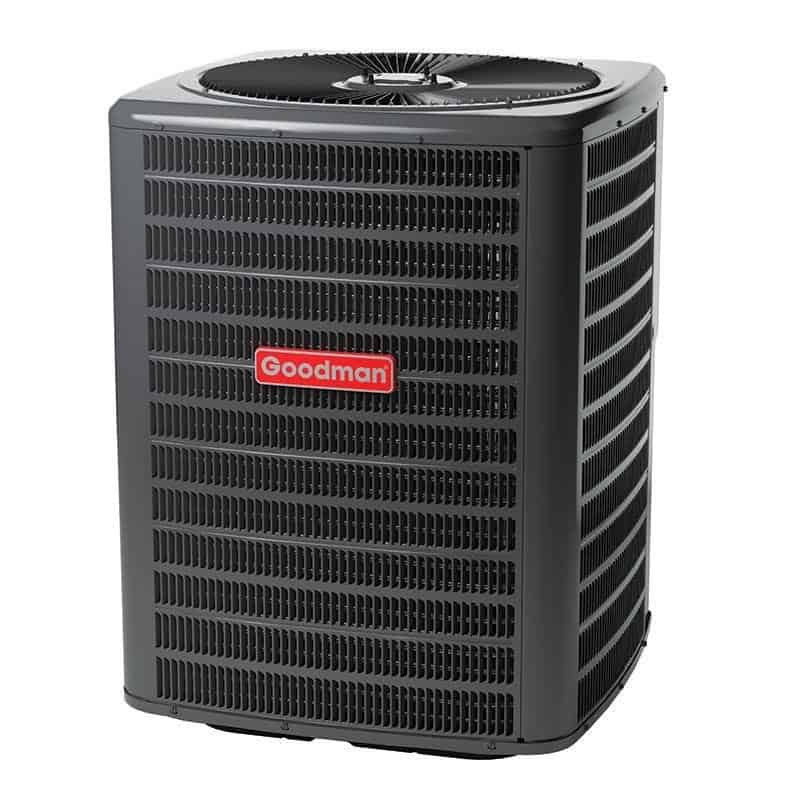 ---
---
---
Pros
Efficiency: As an ENERGY STAR product, this central air conditioner prevents greenhouse gas emissions by meeting the very stringent energy efficiency guidelines outlined by the United States Environmental Protection Agency.
First-Class Customer Care: Customers are often excited about how fast the Goodman brand responds to their problems. Issues are swiftly resolved for any owner at any point in time. Unlike some other brands that take forever to respond, Goodman is totally in a class of its own.
Real Value for Money: The Goodman central air conditioner has an excellent combination of cost-expended features. Many other similar central air conditioners cannot match this. So if you are looking for massive savings on a high-quality central air conditioner, this is the real deal.
Quality and Reliability: When it comes to trusting and relying on a central air conditioner, the Goodman GSXC18 central air conditioner is the real deal.
Cons
Installation Issues: When it comes to the installation, some users have complaints. This is because appropriate sizing and installation of the equipment are important before optimal performance can be achieved. The units also have to be matched with the right coil components that meet the requirements outlined by relevant government agencies.
---
Goodman GSXC18 Central AC Design, Size & Warranty
The cooling capacity BTU is 23400 Btu/H, and the tonnage varies from two to five tons. The product shipping weight is 226.000 lbs. The dimension measures 40 inches in height, 35-3/4 inches for width, and 35-3/4 inches for depth.
Warranty
The Goodman GSXC18 central air conditioner comes with a comprehensive warranty package covering defects in the materials and artistry encountered under standard use and routine maintenance. If unregistered, the warranty can last for as long as five years after installation.
---
Goodman GSXC18 Central AC Performance (Compressor options)
The Goodman GSXC18 central air conditioner comes with a two-stage scroll compressor. Depending on heating or cooling demands, the two-stage scroll compressor can operate at either full capacity or even 65% capacity.
Whichever one the user wants, they will get optimal cooling or heating performance from this central air conditioner. Moreover, the unit can offer a very energy-efficient alternative against conventional, single-stage air conditioners because of this impressive operational flexibility.
Another thing that must be stated about the compressor is that it has a high-pressure switch that stops the system from working when the pressure is too high. This it does by closing off the compressor circuit if the pressure is beyond what it was designed for. The low-pressure monitor is activated not to freeze the compressor unit when the refrigeration system is working at a lower pressure than the designated point.
---
Goodman GSXC18 Central AC Features
High-Level Performance: Because it comes with an electronically-commutated motor (ECM), this air conditioner ensures two modes when it comes to operation. The mode of operation is going to be dependent on the amount of airflow that is needed. This also contributes to its energy efficiency compared with similar models and versions in the same range.
Ease of Control: This unit has been designed to regulate and communicate flawlessly with the ComfortBridge Controls System, allowing you to monitor and coordinate the cooling and heating systems management remotely. All this can be done with the click of a button as long as there is Internet access. In other words, it is straightforward to use and manage from practically anywhere.
Stress-Free Maintenance: This air conditioner unit has a filter drier that allows for proper absorption and filter of all the extra moisture and contaminants. Because these filter driers play an important role in refrigeration and air conditioning systems, they contribute significantly to the unit's durability.
---
Goodman GSXC18 Central AC Noise Level
This unit is designed to keep noise to the barest minimum, and many features are put in place to ensure this. A good example of this is a high-density foam compressor blanket that reduces noise when the compressor is at work.
---
Goodman GSXC18 Central AC Energy Efficiency / SEER (seasonal energy efficiency ratio)
As far as efficiency is concerned, this is one of the best in its range. Its SEER rating is an impressive 18, and it is energy certified. In addition, it is an ENERGY STAR-certified product, which means it is recognized by the United States Environmental Protection Agency and has been given certification by an EPA-approved certification agency.
One of the reasons it can achieve this level of energy efficiency is its design. It comes with coil tubes made from copper alongside improved aluminum fins. These dramatically increase the surface area available for heat absorption, leading to an excellent and energy-efficient performance as far as heat transfer is concerned.
---
Goodman GSXC18 Central AC Installation and Usage
Many measures have been put in place to ensure that the installation is as easy as possible. For example, the unit comes with enough refrigerants needed for all the tubes while installing. When fixing, wires are typically connected using big screw lugs, which speeds up the overall installation and wiring time. The color-coded strips at the terminals also assist the technicians in making a swift installation.
---
---
---
---
---
Final Thoughts
For central air conditioners, there are several options. However, the Goodman GSXC18 central air conditioner is truly in a class of its own. From superior performance to maximal efficiency, this is a central air conditioner that you will get maximal value for the money spent.