Amana is a very reliable brand when it comes to central air conditioners. Of all their models, the ASXC18 stands out as one of the most efficient, budget-friendly, and easy to maintain. The Amana ASXC18 central air conditioner is going to be the product of this review.
Pros
Outstanding Technology: This central air conditioner employs ComfortSpeed technology, which allows the optimal performance of the product.
Durability: If there is any central air conditioner that you are sure will serve you for years upon years in the most reliable manner, then this is it.
Reliable Brand: Over time, Amana has established itself as one of the most reliable and trustworthy brands with its very customer-friendly services.
Efficiency: The cooling capacity of this air conditioner is in a class of its own. The 5mm, refrigeration-grade, high-quality copper tubes and aluminum fin condenser coil system ensure it gives the most efficient cooling services using the R-410A refrigerant.
Noise-Free: It has been acoustically engineered with a high-density sound control cover, minimizing noise levels compared with other models that do not have this feature.
Cons 
Installation: Some users find the central air conditioner installation quite hectic.
Price: Not everyone thinks the Amana ASXC18 central air conditioner's price is pocket-friendly as far as price per unit is concerned.
---
Design, Size & Warranty
The air conditioner has an equipment weight of 214 pounds but a shipping weight of 236 pounds. As for the size, the dimensions are as follows: 35.75 inches for the width and depth and 40 inches for the height.
It is designed to look like a compact but highly-efficient box. It also comes well-equipped with other accessories like the freeze protection kit, hard-start kit, anti-short cycle kit, anchor bracket kit, liquid line solenoid valve, and TXV kit.
Warranty
There is a product limited warranty for the product.
Performance (Compressor options)
Probably the most impressive thing about this unit is its compressor. Amana brand air conditioners are known for having some of the very best compressors. They are of the highest efficiency and are designed to give you nothing but years of trustworthy cooling comfort.
The compressor is embedded with the latest technology, design, and even overload protection. A long-lasting and high-efficiency condensing coil complements all these. The latter is made using corrugated aluminum fins and refrigeration-grade copper tubing.
One of the main features of this unit is the high-efficiency and two-stage scroll compressor. It is also equipped with a high-density foam compressor sound blanket, and it has the following variants: 10 RLA and 62.9 LRA, respectively. There is also a smart relay for the compressor, but it is optional, and the same goes for the start capacitor.
The condensing units and heat pumps with reciprocating or rotary compressors need start-assist parts when used alongside an indoor coil utilizing a non-bleed thermal expansion valve refrigerant metering device or liquid solenoid kit.
---
Product Features
This unit is integrated with the latest ComfortBridge technology. This implies that the performance information derived from the split system can be collated and utilized to make pre-programmed adjustments that minimize energy usage.
As with the other models from Amana, this central air conditioner is a product of advanced engineering. The ComfortBridge technology that it is embedded with ensures that your HVAC unit cannot only work at peak performance, but it is also cost-effective for you.
This unit comes with a heavy-gauge and galvanized steel enclosure with a sound-control top. Because it also comes with its own sophisticated fan design, there is a reliable and noiseless airflow via the condensing coil.
If you desire real indoor comfort in your home and not just thermostat changes, this is the air conditioner for you. This product generates only pure and clean air for you.
Exquisite Post Purchase Service
Amana is known for delighting its customers even after the purchase of the product. Take the product warranty, for example. This product has a limited warranty, but the compressor in it is backed with an impressive Lifetime Unit Replacement Warranty. This deal remains valid as long as the buyer is the owner of his or her home.
In a case where the compressor breaks down while it is being used at the initial registered owner's address, the brand is going to provide a new one, and this will be done free of charge. The other functional parts of the unit are adequately covered by a parts limited warranty that lasts for one decade. For those who want to get even more information regarding the warranty and another post-purchase package, all they need to do is to visit their local Amana brand representative or dealer.
Noise Level
If there is anything Amana models are known for, it will be the quietness that comes with its central air conditioning. If you pick up the Amana ASXC18, you can be very sure that you will enjoy a noiseless operation all through. Also, to ensure that you enjoy the most noiseless operation, the unit is fixed with enhancements like
Energy Efficiency / SEER  (seasonal energy efficiency ratio)
With the ComfortBridge technology that the unit works with, it becomes easy to work nonstop in the most energy-efficient ways. This is possible because of the single-stage thermostat that has been embedded to allow you to enjoy programmable comfort for you and your loved ones. Its seasonal energy efficiency ratio (SEER) ranges from 15.0 to 19.0, which means that it uses far less energy than many other models in the same niche.
Installation and Usage
Even though this central air conditioner's installation can be quite cumbersome for users, usage and maintenance are without a sweat. Its high-efficiency, two-stage scroll compressor, and condenser fan motor and its unique ComfortBridge technology ensure flawless and reliable performance.
It also comes with service valves with sweat connections and gauge ports that are easy to reach – all making maintenance fun and stress-free. This is in addition to the fact that the screws last long as they are made to resist rusting and other environmental damage forms.
---
Final Thoughts
Without a doubt, the Amana ASXC18 central air conditioner is highly recommended. Its best selling point is the very high-efficiency level that allows it to function perfectly for years.
---
Read also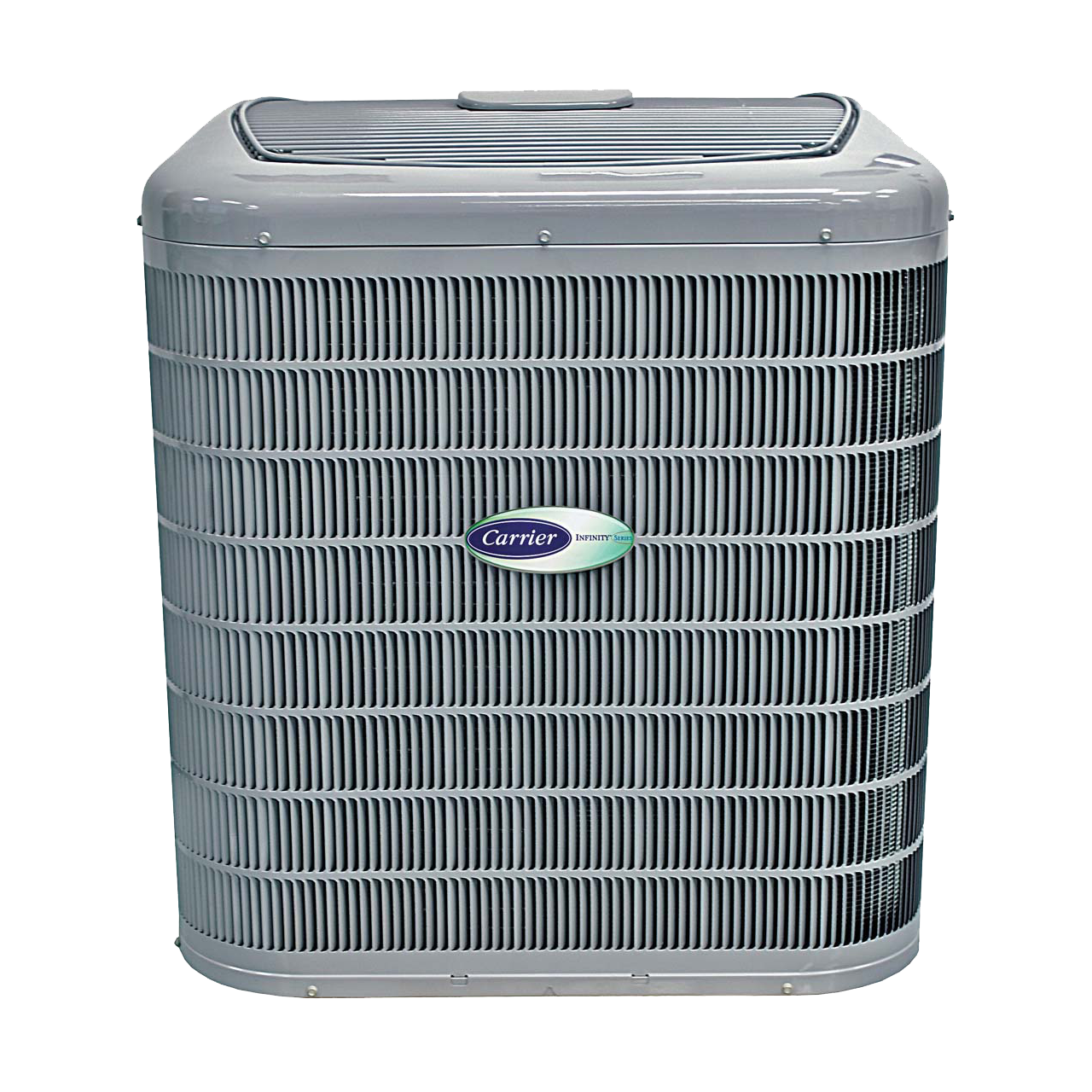 There are many central air conditioners in the market. Still, not many can be compared with the Carrier Infinity 21 central air conditioner, which will focus on this review. From outstanding performance to really advanced technology that sets it apart, it is clear why the Carrier Infinity 21 central air conditioner is a popular choice […]
0 comments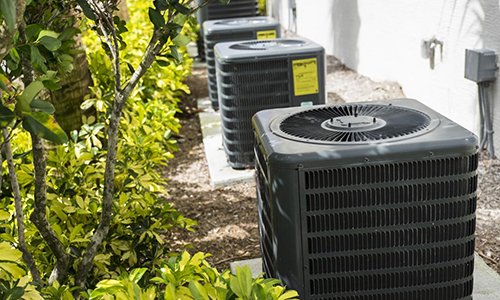 The Goodman GSX13 central air conditioner is truly in a class of its own. From its high level of energy efficiency to value for money spent to optimal cooling capacity for all your spaces, this is a product that can be trusted. It will be the focus of this review. Pros Cons  Design, Size & […]
0 comments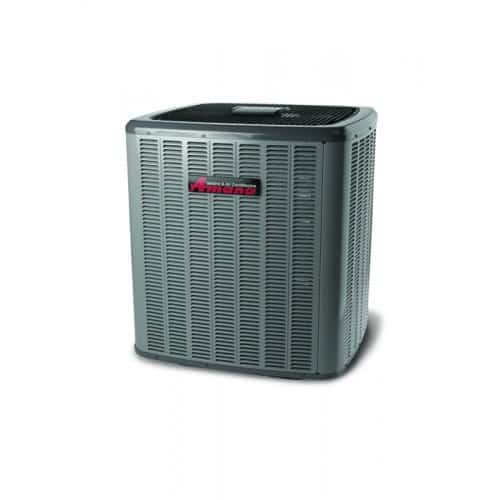 Amana is a very reliable brand when it comes to central air conditioners. Of all their models, the ASXC18 stands out as one of the most efficient, budget-friendly, and easy to maintain. The Amana ASXC18 central air conditioner is going to be the product of this review. Pros Cons  Design, Size & Warranty The air […]
0 comments