If you are reading this review, we can imagine that it is summer or close to summer, and you are looking for the best small window air conditioner. Are you wondering to yourself if the Frigidaire FFRA0511R1E window air conditioner is made for you or not? Let us tell you that the Frigidaire FFRA0511R1E is a bestselling window air conditioner designed to deliver a stellar performance. This ac window unit comes with a high capacity cooling unit that quickly lowers the temperature in your room. Multiple questions must be coming across your mind, but don't worry because this guide will answer all those questions.
Quick Summary
Before we start with the guide, let us tell you about the company. You must have heard of Frigidaire before, but if you don't know about this company, where have you been? Frigidaire has been around for over 100 years and was one of the pioneers in the early refrigeration industry.
This window air conditioner has a 5000 BTU capacity, which means that it can easily cool your room of up to 150 ft square. The dehumidification capacity of this ac window unit stands at 1.1 pints per hour. This will surely help you set the ambiance of your room hassle-free. This window air conditioner offers you two different cooling levels to choose from. In addition to this feature, this small air conditioner offers two different fan speeds, set by the user.
You will easily be able to control this window air conditioner. The EER rating of the Frigidaire ac window unit is 11.1. This means that this window air conditioner will not consume a lot of electricity. Features like these make this product one of the best air conditioners to choose from. Moreover, you are offered instant cooling, which is an added advantage of this product. The air conditioner comes with the window mounting kit, which makes it easy to install. However, there is still a scope left for the company to work on the noise generated by this ac window unit.
Pros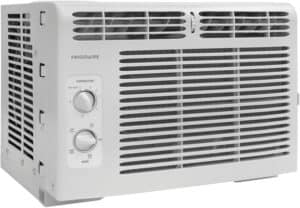 This window air conditioner is capable of cooling a room of up to 150 ft square.

It comes with a dehumidification capacity of 1.1 pints per hour.

The window mounting kit is included in the packing to offer an easy installation.

Mesh filters of this air conditioner are washable, which means you can detach them and wash them with water easily.

The filter inside this ac window unit reduces bacteria to provide healthy cooling.

The AC is effective in killing unwanted room odors and particles.

Consumes very less amount of electricity, hence save more.
Cons
The AC is incapable of cooling rooms that are larger than 150 ft square. The cooling range could have been more.

Cooling settings that are offered with this AC are minimal. You don't have access to multiple cooling settings.

The company could still work on reducing noise levels.

No remote control feature is given with this product.
---
Product Features
In this section, you will learn some of the features that are offered with this window air conditioner:
Easy Cooling – More Comfort
This air conditioner comes with a dehumidification capacity of up to 1.1 pints per hour and is capable of cooling down your room of up to 150 square feet. Two cooling speeds and two fan speeds are offered on the control panel.
The antibacterial mesh filter kills harmful bacteria and bad odor in your room, providing you a clean and healthy air to breathe. You can even slide out the filter to clean it.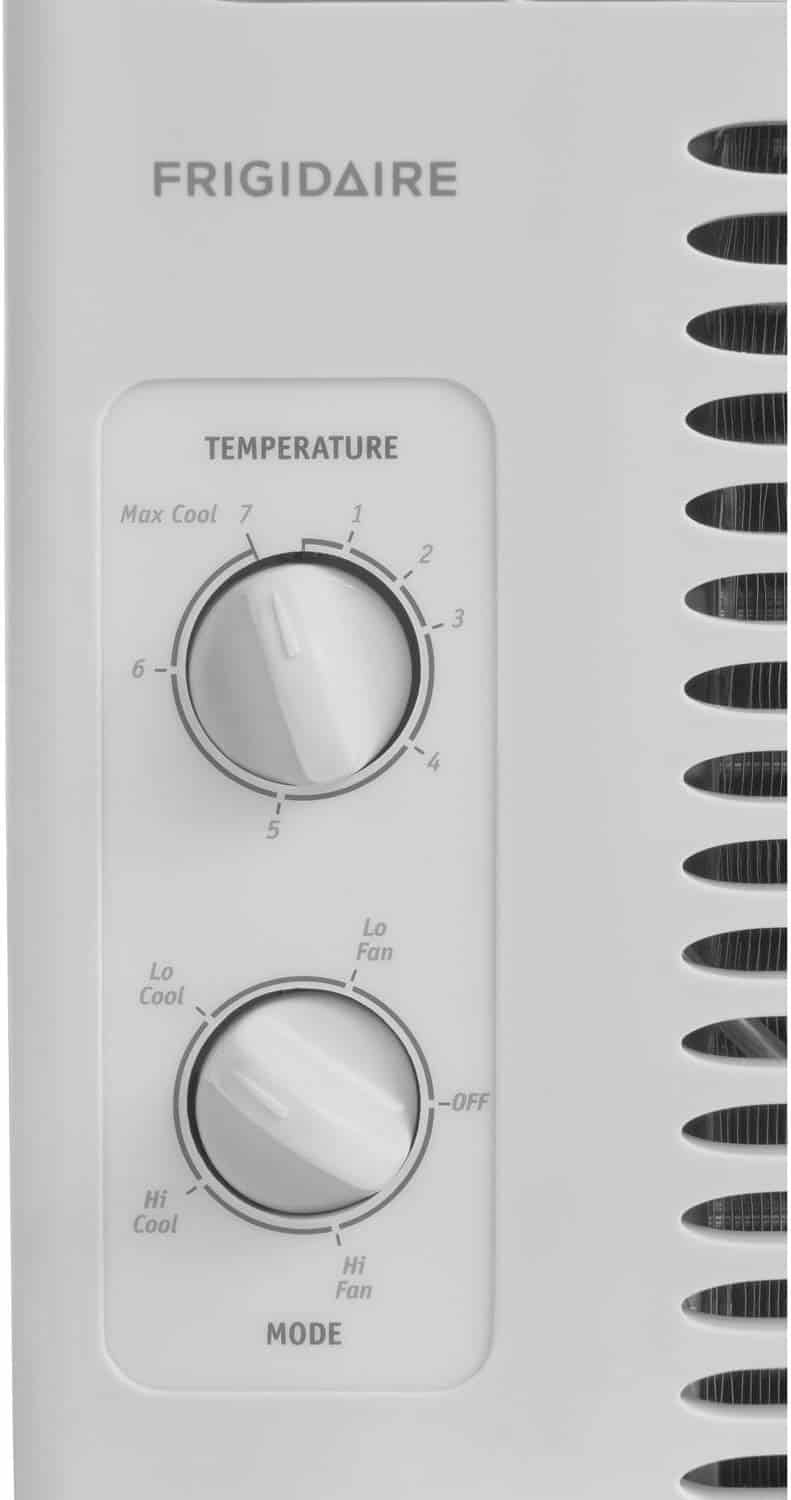 The mechanical rotary controls on this air conditioner allow you to control cooling and fan speeds. You can easily direct the air wherever you want.
The ac window unit comes with a mounting kit, which makes it easy to install and run. This window air conditioner runs on a standard electrical outlet of 115V.
---
Warranty
You are offered a limited two-year warranty on the product on a limited 3-5 year warranty on compressor, condenser, evaporator, and tubing. The warranty starts as soon as you purchase the product from the store. In case your product faces any issue, you can get it repaired for free from the company.
Design
If we talk about this AC's design, we would say "simplicity at its finest." This AC window unit comes with a simple air conditioner design, feature vents on the front panel, and dial on the left side. The air vents are adjustable, which means that you can direct the air wherever you want to. The top dial on the left side allows you to set the temperature and the bottom dial offers five options: low cool, low fan, high cool, high fan. This model allows you to access the slide-out washable mesh filter.
Size
The unit is 16 inches wide, 12 inches tall, and 14 inches deep. You can fit it anywhere, and the left out space can be closed with cardboard or some other similar item. The unit weighs 28.1 pounds.
---
Noise Level
Throughout our research on this product, we found that most people complained of the noise that the unit was making when cooling. Some users say that it is just a white box of noise. More users have stated that as the product becomes old, it makes more and more noise making it difficult to sleep. But let us remind you that this is a budget air conditioner, so you need to oversee some things like this.
Energy Efficiency Ratio (EER)
EER rating is the measure of BTUs for each watt of power consumed. Simply put, it tells how efficient your air conditioner is. The standard energy efficiency ratio for most AC's is 10, but this Frigidaire AC is rated at 11.1. So this means that the unit is very efficient in terms of electricity consumption and operation.
Installation & Usage
The main selling point of this air conditioner is the ease of setup. It just takes a few minutes to set it up and make it operational. You don't have to go through the fuss while setting up this unit.
---
Final Thoughts
Finally, we would say that the Frigidaire FFRA0511R1E air conditioner a great idea to buy only if you are looking to cool your small room or small office cabin. In case you are looking for an air conditioner that will cool your large office or room, this won't do justice to your expectations. As far as this product's quality is concerned, more than 2000 people have reviewed this product with an average rating of 4 out of 5 stars.
---
Read Also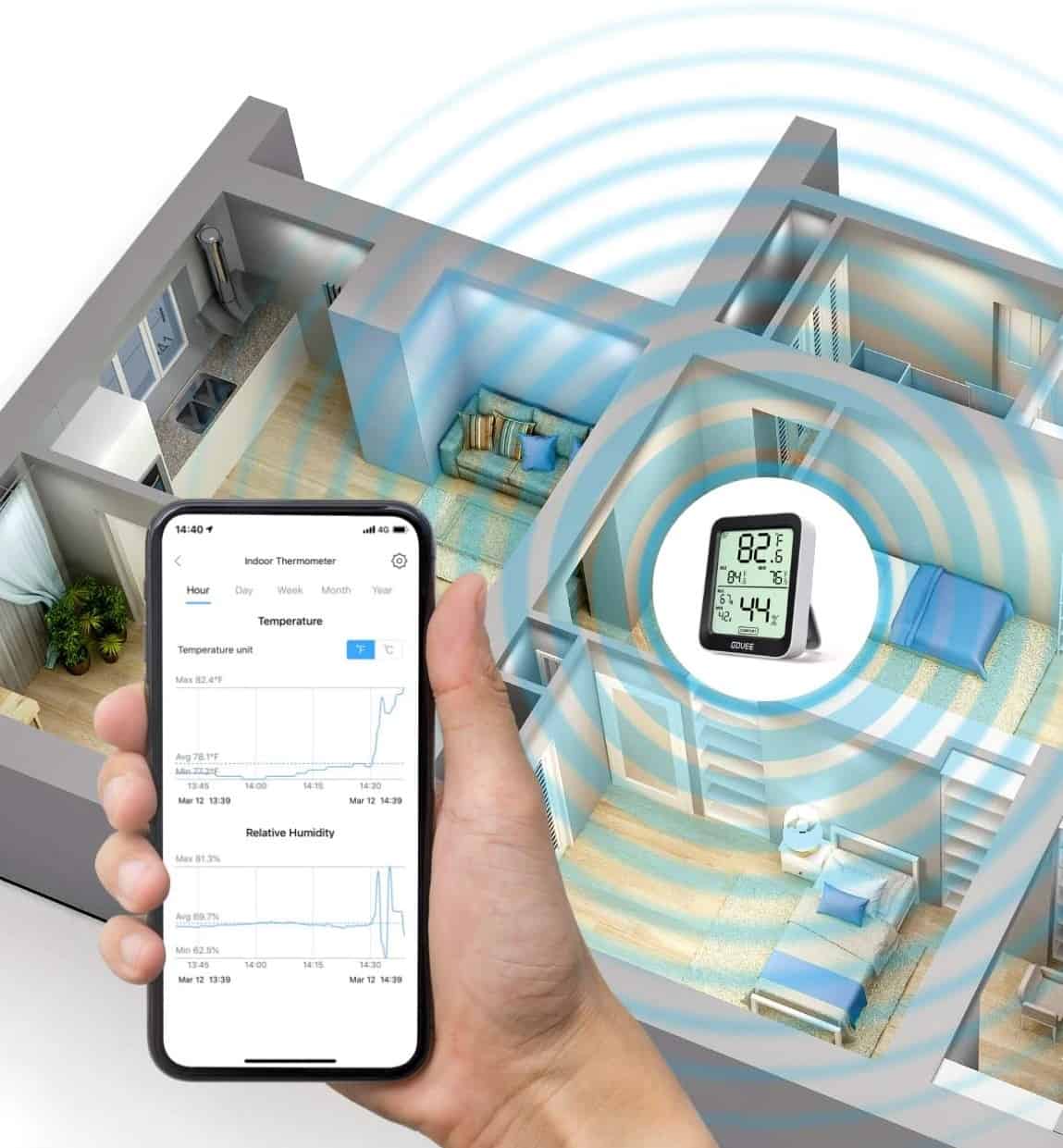 If you are using your iPhone for everything these days, you will want to know if you can figure out the room temperature with it, which means knowing what your phone can and can't do. However, if you purchase the right sensor or temperature system for your house, you can easily see the temperature at […]
0 comments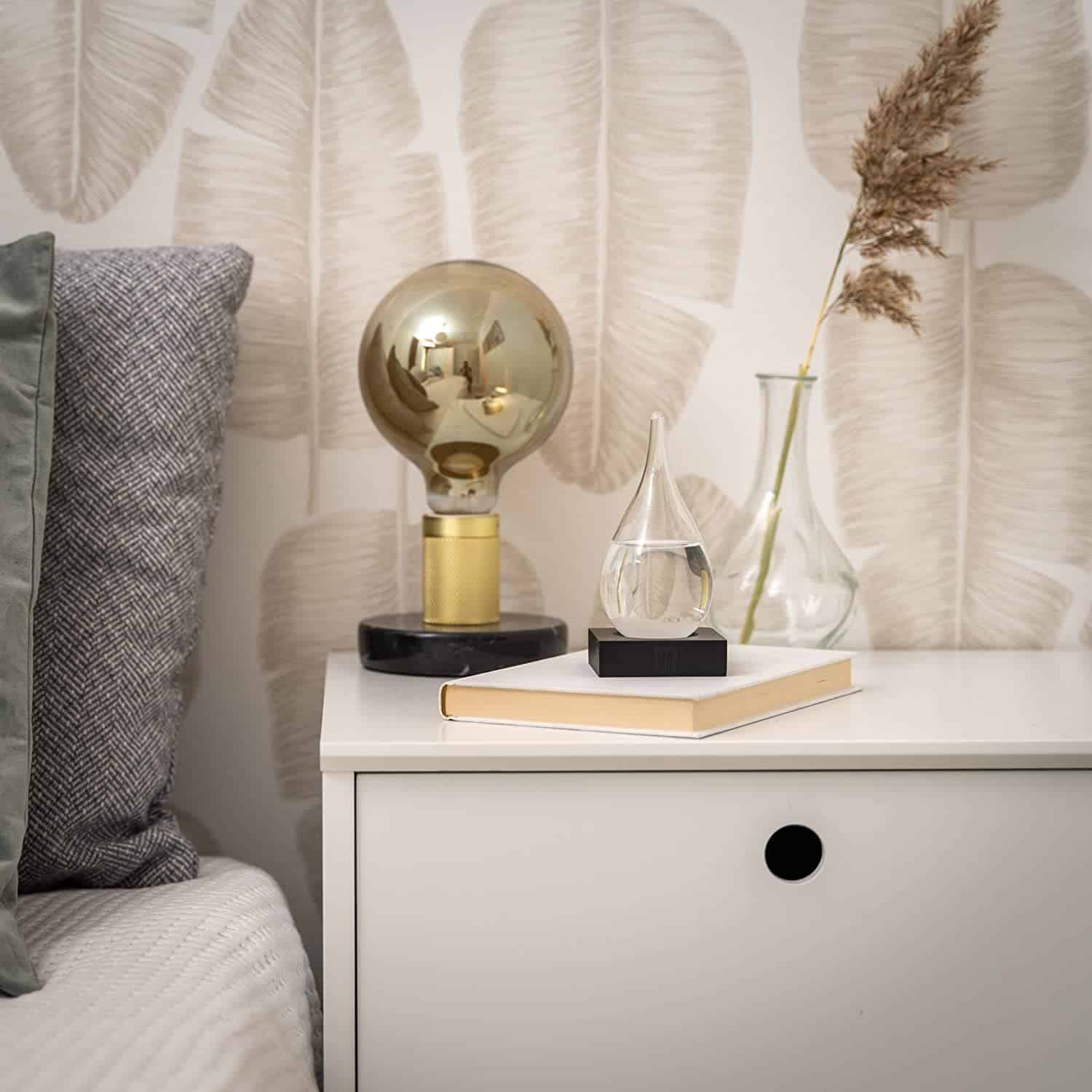 Have you ever looked out the window and wondered what the weather would be like for the day or wish that you could predict it on your own? If so, then you want to have one of the top weather predicting storm glasses that you can look at to see what the weather might be […]
0 comments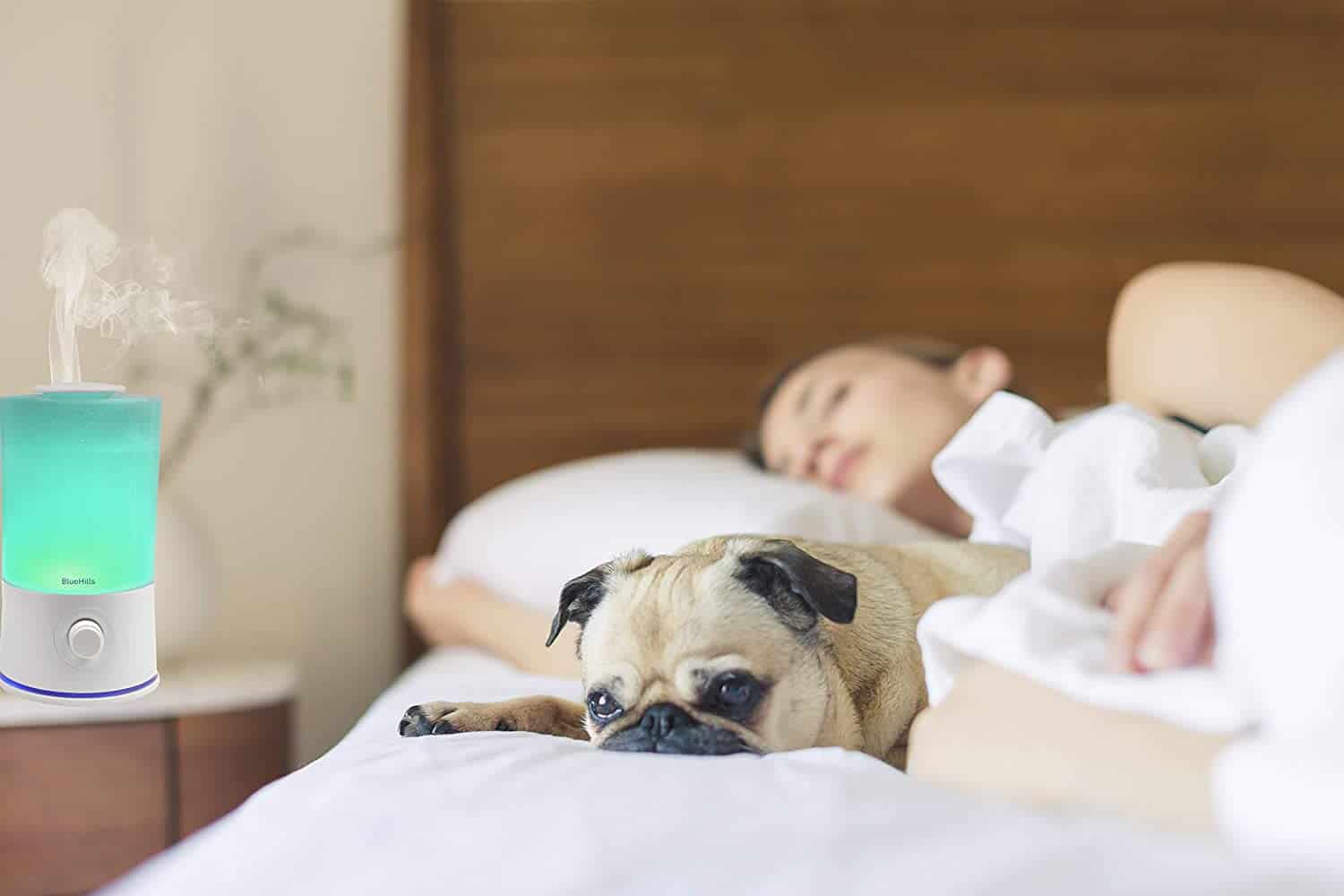 You would be able to use numerous essential oil diffusers for large rooms or spaces, and you should know all about them. There are so many options that sometimes it can be hard to decide which one would work the best for you, but if you know what is, then the decision can be made […]
0 comments