If you are worried about viruses or bacteria in your home's air, you will need to get an air purifier that will help keep everyone healthy. These are great machines that would filter all of the debris, dust, bacteria, and even viruses out of the air and then push fresh, clean air into the rooms. Ensure that you are reading our comprehensive guide on the top ones if you think about purchasing one of these machines.
---
Top 10 Air Purifiers for Bacteria Reviews
---
If you aren't sure what some of the top air purifiers you can purchase, we can help. Here are our top 10 models that you should check out, so keep reading on to find out more about them, including:
1. Best Overall: SilverOnyx Air Purifier for Bacteria and Viruses
If you are only interested in the best, this is the right model for you since it uses a HEPA filter to ensure that everything is removed from the air. It has a sleek and elegant design that will fit in anywhere you want it to be placed, and it can handle a room of up to 500 square feet. This model has 5 filtration levels that ensure that all of the debris, no matter the size, is removed and all of the buttons are placed on the top, so they are easy to see.
Pros
Easy to use
Lightweight
HEPA filter replacements easily available
Verdict
When it comes to air purifiers, this will be one of the top models on the market, so if you want the best, this will be the model for you.
---
2. Runner Up: Molekule Air Purifier for Bacteria and Viruses
If you are hoping for something with a modern and elegant design, this model would be well-suited for your needs. It is a cylindrical design made of silver. It uses PECO technology to eliminate any mold, bacteria, viruses, allergens, and even pollutants in the air. This is great for larger rooms, and it can handle up to 600 square feet, and it can be connected to the internet and your smartphone to make it easier to handle and use.
Pros
Can be connected to the internet and smartphone application
The leather handle makes it easy to move.
Lightweight
Verdict
If money isn't an issue, this should be on your list since it is a high-quality and easy to use air purifier you can place anywhere in your home.
---
3. Best Budget Option: Pure Enrichment PureZone Air Purifier
When it comes to getting an air purifier, if you want something that you can easily mount on the wall, which won't look out of place, this would be the ideal model. It has a 2-in-1 filter to ensure that smoke, pet dander, dust, pollen, bacteria, and viruses are completely removed from the air. This will be very easy to use, and it has 3 automatic settings you can use for the timer if you want to save energy or if you want to run continuously.
Pros
Affordable
5 year warranty
3 settings for timings
Cons
Heavier than the other models
Verdict
If you aren't worried about the weight or how to mount it, this will be the perfect air purifier for your home.
---
4. Airmap PuriDoc H13 HEPA Filter Air Purifier
If you live in a smaller space, this might just be the perfect model since it can handle a room of around 215 square feet. This means you can use this in your small apartment or bedroom without worrying about anything and it is very quiet. It has the HEPA filtration system that will give you confidence in the machine and what it will filter out of the air. It even has an indicator light that would tell you when the filters need to be changed out.
Pros
Lightweight
Sleek design
Very quiet
Verdict
If you are looking for something to use at night or even in your office during the day, this very quiet machine would be ideal.
---
5. Himox AP01 Medical Grade Air Purifier
If you are highly sensitive to dust and allergens in the air and want something that will be medical grade to purify it, this model is great. It uses the HEPA H13 filters that are medical grade, including a pre-filter and even one using activated carbon to eliminate any extra debris. This is extremely quiet, and it will let you know when the filters should be replaced; it is perfect for any bedroom or office where the noise level is important.
Pros
Affordable
Quiet
Sleek design
Cons
Must be unplugged to turn it off
Verdict
Those who need something better than the average filtration system would be ideal with the HEPA H13 filters.
---
When it comes to your home, you want to ensure that you have the best air purifier, and this is an 8-in-1 system that you can use for your office or the bedroom. It uses the PM 2.5 sensor to monitor the air in the room and lets you know the quality through various colors. It uses the HEPA filtration system with H11 filters, and it has 3 speeds that you can choose from; and you can set the time you want it to run for, and there is also a child lock that can be activated.
Pros
Child lock can be activated to avoid changes
Sleek design
Quiet
Cons
Have to know what color represents what air quality level
Verdict
If you don't want to use something overly complicated and want to keep your pets and children from making any changes to the settings, then go ahead and check this model out.
---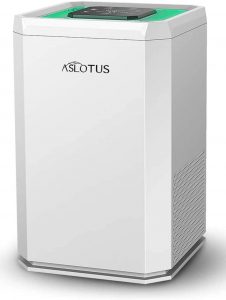 This model would recirculate all of the air at least 5 times per hour, which means nothing will be missed when it is filtered through. It has a contemporary and sleek design that would allow you to place it in any room without looking out of place. It will also be very quiet, so you can use it in your office or even while you are trying to sleep without disturbing you. This also has a child lock and sleep mode that you can act as needed.
Pros
Child lock mode available
Contemporary design
Lightweight
Verdict
If child lock mode is something important to you, especially if your children are curious, this model will be one of the top ones for you to check out.
---
Are you looking for something with a unique and sleek design? If you are, this model would be great, and you would easily read and reach the screen on top to make the necessary changes. This also has a 3 stage system for filtration to ensure that nothing gets missed, and it will be very quiet, which makes it ideal for sleeping with or even operating in your office. It will work for an area of around 160 square feet, so go ahead and enjoy the fresh air.
Pros
Affordable
Lightweight
Filters last a long time
Cons
Can't turn off the lights at night
Verdict
If you have a smaller room or apartment that needs extra help with the air, this purifier would be great and can be placed anywhere.
---
If you only want something that uses the H13 HEPA filters, this might be one of the models to put at the top of your list. It has a simple design, and this model can deal with a room of 200 square feet in around 30 minutes and a larger room of 470 square feet in an hour. This has 3 buttons on the front that makes it extremely simple to operate, and you don't have to worry about misreading anything.
Pros
Easy to operate
Uses H13 HEPA filters
Simple to set-up
Verdict
If design doesn't really matter to you this simple machine might suit your needs, especially if you have a small room that needs help.
---
10. KVV Air Purifier
If you have a larger room of around 800 square feet, this will be the right model for you, and it has a sleek yet elegant design. It has an intelligent sensor that will know when the air quality level has gone down, and it will automatically adjust the fan speed. It uses the HEPA filters and some of the top activated charcoal filters to ensure that everything is taken out of the air before being put back.
Pros
Great for larger rooms
Quiet
Lightweight
Verdict
If you are searching for something that you can use in your office while working or sleeping, this model is very quiet.
---
Air Purifier Buying Guide
You should always ensure that you know what comes to buying an air purifier, including knowing how the viruses and bacteria would spread. The more you know, the easier it is for you to make the best decision for your needs, including what model to purchase, so keep reading on to find out more.
How Bacteria and Viruses Actually Get Spread
The first thing you need to know is how the bacteria and the viruses can be spread, including sneezing or even breathing. This would allow the viruses and bacteria to go through the entire home, so if you aren't using an air purifier, they would be allowed to spread. This means that the particles could then settle on your body or even on surfaces and then be transferred further.
Most Common Airborne Bacteria and Viruses
You are also going to want to ensure that you know what some of the most commonly spread airborne viruses and bacteria are, including:
Influenza or the flu
Common cold
Measles
Whooping cough
Chickenpox
Ensure that you know these conditions that can be spread and take all necessary precautions to keep your family safe and healthy.
Why It's Important to Use an Air Purifier in Your Home
If you are still on the fence about purchasing an air purifier, you need to know some of the top reasons that you are going to want to have one, including:
It gets rid of all viruses and bacteria floating in the air
Reduces the allergens, toxins, dust, and debris in the air
It gives your family a higher quality of air to breathe
If you want to keep your family healthier longer, you need to know these reasons, and you should make sure that you have one ready and set-up to use.
---
Top Features to Look for in an Air Purifier for Viruses and Bacteria
You want to make sure you definitely have a few features for those looking at the air purifiers. Some of these includes:
Ultraviolet light – If you don't think the air filtration system is enough itself, then you should look at having an ultraviolet light on the machine. This will help with inactivating the various pathogens in the air and other microorganisms that can cause people to get sick.
HEPA filter – Another feature to look for is the HEPA filtration system since this is the world's best system. You want to ensure the type of filter it would have and how many filtration levels it would have.
Heat Sterilization – Another good way that all bacteria and viruses can be eliminated while using your air purifier is by heat. The extreme heat that would be released would be beneficial in killing what wouldn't be filtered out of the air using the filtration system.
Make sure that you are aware of what these features are and that you are seeing if the models you are looking at has them or not.
---
Additional Benefits of Using a Germ Air Purifier
If you are still trying to justify an air purifier's expense, then you will want to know a few more of the top benefits that you would get when you have one. Some of these include the following:
Reduction of allergies
Helps to fight asthma along with other respiratory issues
Reduces odors and smells
Cleans pet hair from the air
Creates calming noises to help you sleep
Kills bacteria, germs, viruses, and other toxins
Protects the walls from mold exposure
These are just a few of the top benefits that you should be aware of when using an air purifier in your home, so make sure to consider them when you are deciding.
More Ways to Prevent the Spread of Bacteria and Viruses in Your Home
For those who want to be a bit more careful than just using an air purifier at home, there are a few more ways that you can prevent these from spreading, including:
Washing your hands thoroughly with soap and warm water
Wipe down all areas of the home when someone is sick
Clean the door handles with a cleaning solution to get rid of the germs
Ensure that you are putting these methods into use at your home, so keep everyone healthy and prevent further spreading of viruses and bacteria.
---
FAQ
How often should I be using my air purifier?
If you are suffering from allergies, you will want to have it running all day, every day. However, make sure that if you aren't home, it is off, and the power cable is unplugged to keep it from getting damaged and lasting longer.
How often do the filters need to be replaced?
It really depends on the machine you have since some of them have indicators that would let you know when it should be changed. However, if your model doesn't, you should ensure to change them out at least every 6 months.
How long would it take for my machine to clean the air in the room?
Depending on the size of the room and space the machine can handle, it can take anywhere from 30 minutes to 1 hour. Make sure you think about how much your machine can handle before putting it into a larger space.
Where should I be placing my machine?
You will want to put it somewhere where it isn't going to be blocked by any furniture. It needs to have space for the intake valve to work, so make sure it isn't blocked in and that it has a few inches around it to work properly.
---
Conclusion
You must be choosing the right air purifier for your home if you want to keep everyone healthy. You should find one that uses various methods of getting rid of viruses and bacteria and any other allergens and toxins. You also need to consider the size of the room it can handle and what type of filtration system it uses before you make any choice, including from these top models.