If air conditioners provide great comfort during challenging weather conditions, the portability adds tremendous convenience and flexibility to these coolers.
A portable AC has many advantages over the fixed ACs.
In a fixed AC, you have to move towards the place where AC is installed. However, with the AC on wheels, you can be at your home and roll the AC close to you.
You can use a single AC in multiple rooms at different times. So, if you use one room as your working place and another room for resting or sleeping, you can use one AC for both the rooms at different times.
In many cases, this may save on the cost of investment in buying an additional AC.
In any AC, the effect of cooling depends on the distance between your place and the AC. With fixed AC, in most situations, you do not have the flexibility to reduce this distance.
While with a portable counterpart, you can keep the AC as close to you as you wish.
This way, with less cooling, you get more effect. Therefore, you save on your power bills as well.
With so many advantages to offer, many sellers have flooded the AC industry with numerous brands. And when each of them claims their appliance to be better than others, you get confused completely.
So, to help you find out the best AC for your purpose, we are sharing with you the top 8 best ACs among the lot.
Top 8 Best Small Portable Air Conditioners
Honeywell MO08CESWK portable air conditioners are compact ACs that cool rooms of sizes up to 350 square feet.
The four smooth wheels offer great portability to the AC and make it highly flexible in moving it from one place to the other. The long cord connected with the AC perfectly supports the portability of the unit.
The multiple color options allow you to select the unit that matches perfectly with your room interiors.
Being in the affordable price range, the AC offers a highly cost-effective alternative to the customers. Also, the powerful features make it one of the most popular ACs in the portable AC category.
The washable filter makes it easy to maintain the AC, and the filter change alert adds further to the user's convenience. 
The AC can also be used as a dehumidifier to slurping 44-pint of water per day.
It has a remote control that provides great convenience as you can control various AC functions from a distance. 24-hour energy-saving mode saves on your power bill, thus adding to the cost-effectiveness of the unit.
Pros
Very smooth wheels

The power cord is quite long.

Affordable

Lightweight

Power saver features
Cons 
Only 1-year warranty 

Has two fan speeds only
Verdict
Overall, this portable AC is a real value for money. It is practical, efficient, and has all the features to provide you required comfort and convenience.
---
The Whynter AC can cool areas up to 500 square feet. This makes it a highly effective ACs for drawing rooms, bedrooms, bigger office cabins, etc.
The AC showcases its commitment towards environmental protection by using CFC free Green R-410 refrigerant. Besides, all the components used in manufacturing the unit are lead-free and have RoHS compliance.
The patented auto drain technology used in this advanced AC allows it to use and recycle moisture to generate cool air during the cooling phase.
The dual hose function further enhances the cooling speed.
Pros
Highly effective for medium to big room sizes

Advanced AC

Eco-friendly refrigerant & components

Auto drain technology

Dual hose function
Cons 
A little expensive 

Big size & heavier
Verdict
The green and efficient Ac is a cooling giant. If you, too, are an environmental lover and wish to have comfort as a responsible human being, this highly advanced portable AC is just the right cooling appliance for you.
---
High maneuverability, powerful yet highly affordable, Black+Decker offers you many qualities in a single unit.
Its highly efficient and effective performance keeps it ahead of many ACs in the portable AC category.
It is a beautiful AC for small spaces giving perfect and most comfortable cooling to areas as big as 150 square feet.
The Black+Decker is versatile. Apart from cooling, it can dehumidify and keep your comfort levels at maximum during the most scorching summers.
The unit features straightforward & user-friendly electronic controls. The low noise producing AC allows for a cool, sound full-night sleep without any disturbance.
Pros
Highly Versatile

Great maneuverability

Quick cooling

Very easy to install

Highly affordable
Cons 
The dehumidifying function is not as effective
Verdict
If you are looking for a small size, low-cost portable AC, your search ends at Black+Decker.
---
This feature-rich, highly powerful AC is a perfect cooling appliance for those who love technology comfort.
RolliCool is versatile. With its five functions, it can cool down your room, heat up to your comfort when needed, and slurp out the excess moisture when the high humidity-level itches your body.
It can, besides, ventilate your packed rooms and allow you to have sound refreshing sleep all through the night.
So, it provides comfort around the year, through the day, and with its smooth casters wheel, at all places in your home. The AC is filled with some unique & beautiful features. 
The remote control is the minimum among the many rich advanced features. The app control and control through the more advanced Alexa makes it a modern air conditioner while maintaining the traditional cooling effectiveness.
Pros
Highly versatile with five functions

Very advanced features like Apps and Alexa

High maneuverability

Comfortable in all weather conditions
Cons 
Verdict
If you want to have a modern AC equipped with advanced gadgets and at the same time provide effective cooling all around the year, RolliCool Cool208-19 is the AC that you would love to have in your room.
---
Midea MAP08S1BWT is yet another highly advanced and excellently performing AC in the top 8 best small portable ACs.
The 3 1 air conditioner is quick to cool AC and reach the desired temperature in no time. It can also dehumidify spaces quietly and efficiently.
It allows you to control the unit through the smart app or the Bluetooth device. This voice control feature makes it a highly convenient device to operate. You can connect the unit through Wi-Fi and Alexa.
The 8000 BTU AC is capable of cooling between a temperature ranges from 62 to 95oF. You can adjust settings through the control panel quite easily. And for even more convenience, you can use the remote control provided with the unit.
The clean filter alert and proximity sensor on the remote add to the convenience of the cooling appliance.
Pros
Connectivity through Smart App

Voice control through Bluetooth

Alexa and WiFi connectivity

Remote control sensing

Clean filter alert.

Quick cooling

Can also be used as a dehumidifier
Cons 
A shade expensive

The cooling area is too small as compared to the BTU rating
Verdict
The 3 in 1 AC is a highly advanced cooling appliance with connectivity through Bluetooth, Wi-Fi, Alexa, and Smart App, one of the most modern ACs available in the market.
---
The high-tech JHS A016-10KR/B1 AC is one of the most innovative portable AC category models. The AC can cool an area of up to 300 square feet. 
It is smart and uses the most modern mobile technology in all its functions. Distance is no constraint to control this cooling appliance. You can control the device from far distances through the Smart App available on both Android and iOS.
You can use the smart app to customize the cooling timing, duration, and schedule.
The effective AC comes in a sleek design and can also function as a dehumidifier. Through its free-flow caster wheels, it can roll smoothly from one place to the other.
Pros
Compatible with Smartphone

Far distance control

Customized cooling function through Smart App

Can also work as a dehumidifier
Cons 
Verdict
A highly advanced smart air conditioner is an attractive choice if you want a highly efficient AC and dehumidifier with a high-tech control system that can control over long distances. 
---
The quiet, quick, and low current operations are the key features of this portable AC. The power-saving AC is another class product from the house of LG.
The washable filter does not need any special to remove and clean, making it a highly convenient cooling appliance to maintain.
The sleek impressive design blends very well with any room, and the smooth caster wheels can roll it smoothly to any room of the house. 
The auto air vent technology ensures uniform cooling in the entire room. The auto evaporation system helps in improving the efficiency of the unit. In the dehumidification mode, it slurps 74.4 pints from the room per day.
Pros
Quick cooling

Low current operation

Tool-free filter removal and cleaning

A high rate of dehumidification
Cons 
Does not have a sleep mode
Verdict
The highly stylish and sleek portable AC from LG's house is highly effective and is an ideal cooling device for 150 square feet of room sizes.
---
A quiet and convenient AC that efficiently cools your surroundings, the Haier HPP08XCR is one of the most smoothly performing ACs in the market. It is an 8,000 BTU AC that can cover areas as large as 250 sq ft. 
Also, it is an environment-friendly appliance free from any lead and mercury. This makes it RoHS compliant.
The feature list of this AC includes a 24-H timer, window exhaust kits, multi-weather operation, and much more. In the dry mode, this AC cum dehumidifier is capable of removing up to 70 pints of moisture content from your surroundings. 
It is a lightweight, compact, and portable AC. Thanks to its ergonomic handle and smooth caster wheels.
Pros
Quiet operation

Lead and mercury-free

Effective dry mode

Lightweight and portable
Cons 
Requires manual draining of the water tank
Verdict
Overall, this quiet and lightweight AC that offers a wide variety of features coupled with high portability suits perfectly well for small to medium-sized rooms.
---
Conclusion
These were the top 8 best small portable ACs with detailed features and Their Pros & Cons.
Hopefully, this would help you to choose the right portable AC best suitable for your purpose.
---
Read Also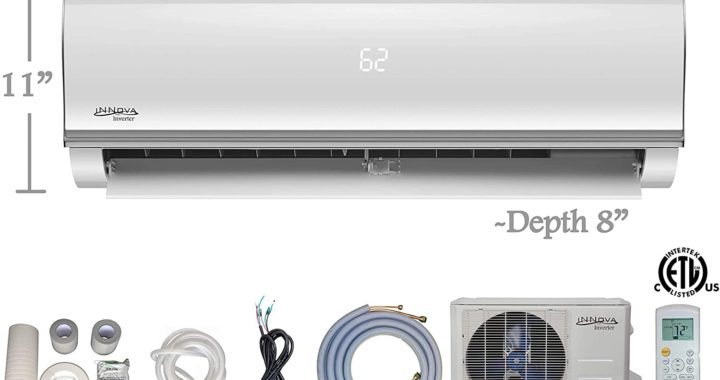 Summers can be really harsh. And to bear the smashes of summers, we take the help of one of the most comfort-offering appliances that humans have ever created, the AC. In recent years, a heap of companies has stepped in to put their AC on the block. Innova is one such trendy company building ACs. […]
0 comments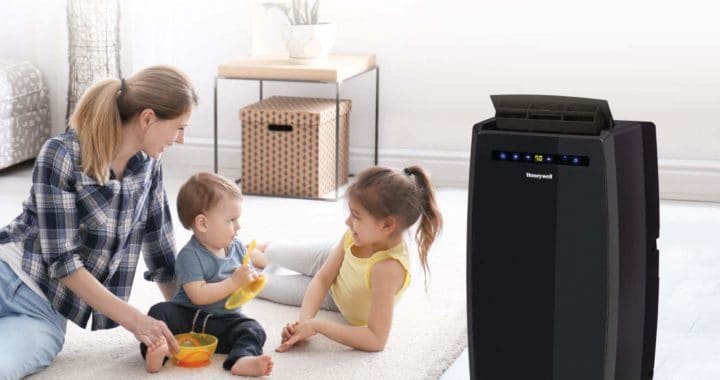 Honeywell MN12CESBB portable air conditioner is a product that has been designed with world-class technology and is made for those who want a product bundled with several features and functions. This Honeywell portable air conditioner comes with 12,000 BTU power and can easily cool your room up to the size of 500 square feet. This […]
0 comments
Haier is a well-known brand that manufactures air conditioners, and the window-mounted AC is one perfect choice for people who stay in cozy apartments. The air conditioner for the window is suitable when the room is not too big as the window AC spreads cool air evenly in the rooms around 250 sq. Ft. With […]
0 comments