Many people worldwide in our time use a high-quality humidifier and recommend this device to their kith and kin. This is because they understand the importance of maximizing moisture level in the residential or commercial building. These days, many hospitals use medical ventilators, including an appropriate humidifier to increase the patient's overall comfort.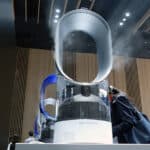 Different brands of humidifiers are available on the market. You have to consider your requirements to humidify your room or build at first and start a step towards humidifier shopping. This is worthwhile to note the overall features of the most modern yet affordable Dyson AM10 Hygienic Mist Humidifier available for sale online. If you read honest reviews about this product and listen to testimonials from users of this product worldwide, you can get an overview of how you can take advantage of this device in the upcoming days.
Pros
Bladeless fan
No filters
Quiet
The best auto-mode
Sleek design
Clean as well as add moisture to the air
Cons
White residue
Expensive
Mold in reservoir
Leaks
Frequent refills
Blue light
---
Dyson AM10 Design
As a beginner to the humidifier, you may get confused with loads of complex features and various choices. The majority of the Dyson AM10, Hygienic Mist Humidifier features, are similar to the air multiplier technology used for distributing air all through the room. If you have bought and used the hot + cool fan from Dyson, then you can easily understand how this humidifier works.
This humidifier's aesthetic and functional design grasps the attention of almost everyone who seeks a brand new humidifier. This device is manufactured of white polycarbonate with a silver formation.  An area called the loop amplifier performs the blasting open cool air and disperses the humidifying mist.
All users of this humidifier are satisfied with the remote control facility, which magnetically connects to the loop's top. The handle of the water drum is detachable and enhancing the overall convenience of every user. There are bacteria blasting UV light in this device. However, users require manual cleaning weekly to keep the UV sensor free from limescale and grime.
Dyson AM10 Size
Dyson AM10 Hygienic Mist Humidifier is standing 23-inch tall with its water drum, which has a 27.5-inch circumference. This water drum can hold a 3-liter of water.  The overall weight of this product is 3.4kg.  The dimensions of this product are 22.1 x 23.9 x 57.9 cm. This humidifier is available in a white/silver color.
---
How does it work?
Dyson AM10 Hygienic Mist Humidifier is scientifically proven to hydrate the air and keeping the overall environment comfortable as expected by every user. The ultraviolet cleanses technology plays a leading role in the most outstanding performance of this product. This technology is effective in channeling every drop of water in the overall tank. The UV-C bulb with the cold cathode nature is specially designed to enhance the performance of this humidifier.
A nice little remote control makes users of this humidifier satisfied day after day. There are some essential buttons available in this remote. Some of these buttons are as follows.
Power button

Sleep Timer

Automatic mode

Humidity settings

Airflow settings

Fan modes

Switch to change between the fan and humidifier modes
This remote is magnetically attached to the loop's top. There is no need to use a remote at all times. This is because users of this humidifier can press the power button and turn the device on.
Many users of this humidifier press and hold this button to adjust humidity settings in this device manually. On the other hand, they cannot change airspeed due to 5 by default and use the fan mode and sleep timer.
Once users of this device turned it on, they have to wait a few minutes to complete the water treatment procedure. The tap water passes over the UV-C emitter and kills up to 99.9% of bacteria. If the water is purified, it will vibrate at the ultrasonic frequency and produce a fine mist. This fine mist will be drawn to this device's loop and then dispersed into the air indoors.
---
Dyson AM10 Features
There are loads of attractive features of the Dyson AM10 Hygienic Mist Humidifier. However, the foremost features are as follows.
Air amplification

Airflow settings with a fully variable nature

Oscillation of 90-degree span

Fan and humidifier modes

Cord length range 5.9ft – 2m

Ultraviolet cleanse technology

User-friendliness

Ease of cleaning

Durable

Bladeless fan

Indicator for empty tank

Automatic shut-off when empty
---
Dyson AM10 Noise level
The humidifier's noise level is entirely based on the sound level and indicated in the decibel at the unit's highest operating setting. Dyson AM10 Hygienic Mist Humidifier works without any noise.
If you get much difficulty with the ever-increasing noise level in your outdated humidifier, then you can explore the overall specifications of this product and decide between buying this affordable humidifier. You will be satisfied with this advanced humidifier's quiet operation and confidently recommend this device to others.
---
Dyson AM10 Maintenance
There is regular maintenance required for every user of this humidifier. Even though this humidifier user can conveniently maintain this device, they have to spend enough time in their busy schedules to keep this device clean and functional for a long time.
---
Summary
Dyson AM10 Hygienic Mist Humidifier is the best in class humidifier available on the market and recommended by almost every satisfied user. This device looks like a piece of contemporary art and works as efficiently as possible. You can explore every feature of this device in detail and discuss it with the customer support team before buying it. You will be satisfied with the most outstanding humidifier with a fan as an additional benefit.