There is a lot that you will need to think about when it comes to which humidifier you are going to purchase. First, it would help if you thought about what the reviews say about the various machines, including the VIPEX cool mist ultrasonic humidifier, to make sure that you are making the perfect choice for your needs. You should make sure that you are thinking about the pros, the cons, the size and design, the performance, and the features. Here is everything you would need to know to make the right decision about this machine.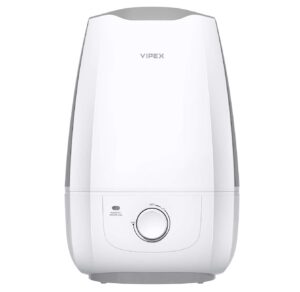 Pros
Extremely quiet machine
Adjustable mist range
Larger opening to make the filling and cleaning easier
Simple to clean
Lightweight
Small in size
Cons
No ability to aromatherapy oils
---
Design, Size
The VIPEX cool mist ultrasonic humidifier is a relatively small machine that you can purchase for your home. It is 9 by 7 by 15 inches, and it only weighs 4.95 pounds, which makes it extremely easy to move it around whenever you need to. The design is also simple and modern, which means you aren't going to have to worry about it clashing with anything in your home. This is ideal if you are looking for a small machine that would easily shift from one location to another without lumping something heavy around.
Performance and How it Works
This machine is straightforward to use, and there is a nozzle that would let you change up how much mist is being released into the room. It is also effortless to use since you need to plug it in and change how much you want. You would also need to refill the water when it is going low, and there is an LED indicator that would let you know when it is low. This can handle a large room, and it has a tank of 1.5 gallons that would run for around 80 hours, depending on the mist level.
Main Features
You will want to think about so many main features for any machine, especially the VIPEX cool mist ultrasonic humidifier. You need to know what these features are so that you can make the right choice for all of your needs, such as:
Easy to clean – You should think about something that will be easy to clean and doesn't require numerous steps to take care of everything. This one only has 3 steps you would need to follow, so make that you are looking for this.
Quiet – This has a quiet feature, which means that you can use it in any room without worrying about it is not quiet. This is also great to use at night without worrying about waking up you or even the kids when it is in use.
Large tank – This machine also has a large tank, which means it can not only handle a large room easily, but it can also last for longer. This one can last you for around 80 hours in any room, so ensure that you regularly check the water levels.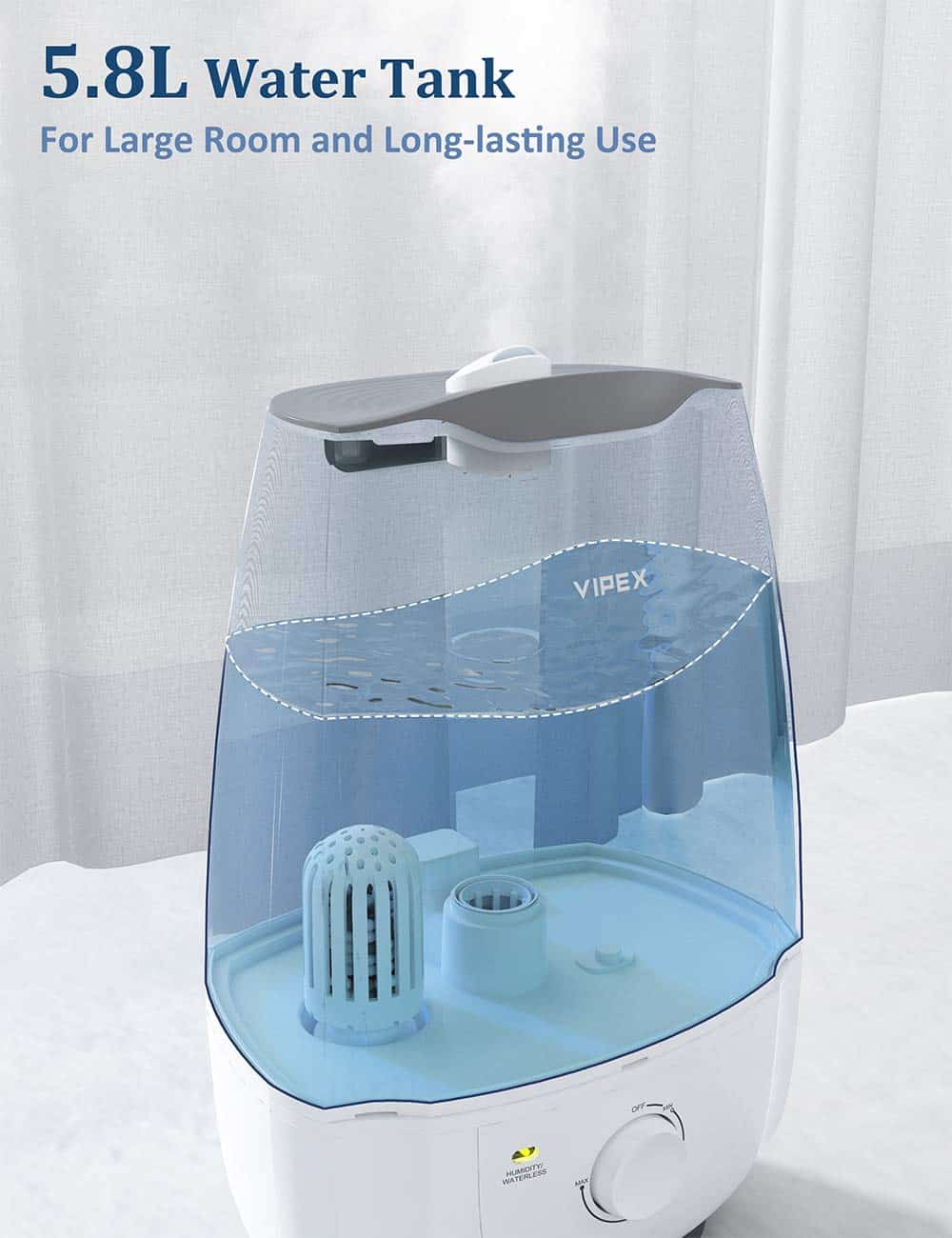 Automatic shut-off – The machine will automatically turn itself off when the water level is low, which means that it won't damage itself. This is great since you never know when the water will stop, and it can be while you are sleeping or even when you are out of the home.
Large opening – There is also a large opening on the tank, helping you clean it out and refill the water. This is important if you are looking for something that will prevent you from spilling more water than is needed and make it easier to use the faucet to fill the tank.
Mist adjustment – You can also adjust the amount of mist you want to spray into the air using the nozzle easily. This can change the amount of mist that is given from low to medium and even high.
This is extremely important, and you always want to ensure that you are checking out the features of every machine you are looking at. If you are looking at the features, you can compare them and decide which one will be the best for your needs, especially if there are a few machines you are looking at.
---
Noise level
If you are looking for something quiet, then the VIPEX cool mist ultrasonic humidifier will be an option for you. This one is very quiet, and you would never know that it is running, especially if you make sure to fill the water tank before you go to bed. This will be perfect for use in any room when you need some extra moisture in the air, so go ahead and consider purchasing it for your needs if you want something that will be good for your home.
---
Maintenance and Upkeep
The VIPEX cool mist ultrasonic humidifier is a bit more complicated when it comes to maintenance and upkeep. First, you should make sure that you know what this process is, and it includes 3 steps, which are:
Filling the tank half up with water and pouring in a small amount of white vinegar, and then shaking it for around 15 seconds after you have put the cap back on. After this, let it sit for around 15 to 20 minutes before you pour the water out.

Take off the cap for the tank, drain the water, and wipe down the floater and atomizer using a soft cloth to eliminate any loosened deposits.

The final step is that you need to rinse both of the parts, including the water tank and the reservoir, with some water until the vinegar smell has left.
Other than this, this machine's maintenance is straightforward to use, and you should do it every few months. There will also be another filter that you can place when the original one becomes dirty, and you can replace it and then change it.
---
Final Thoughts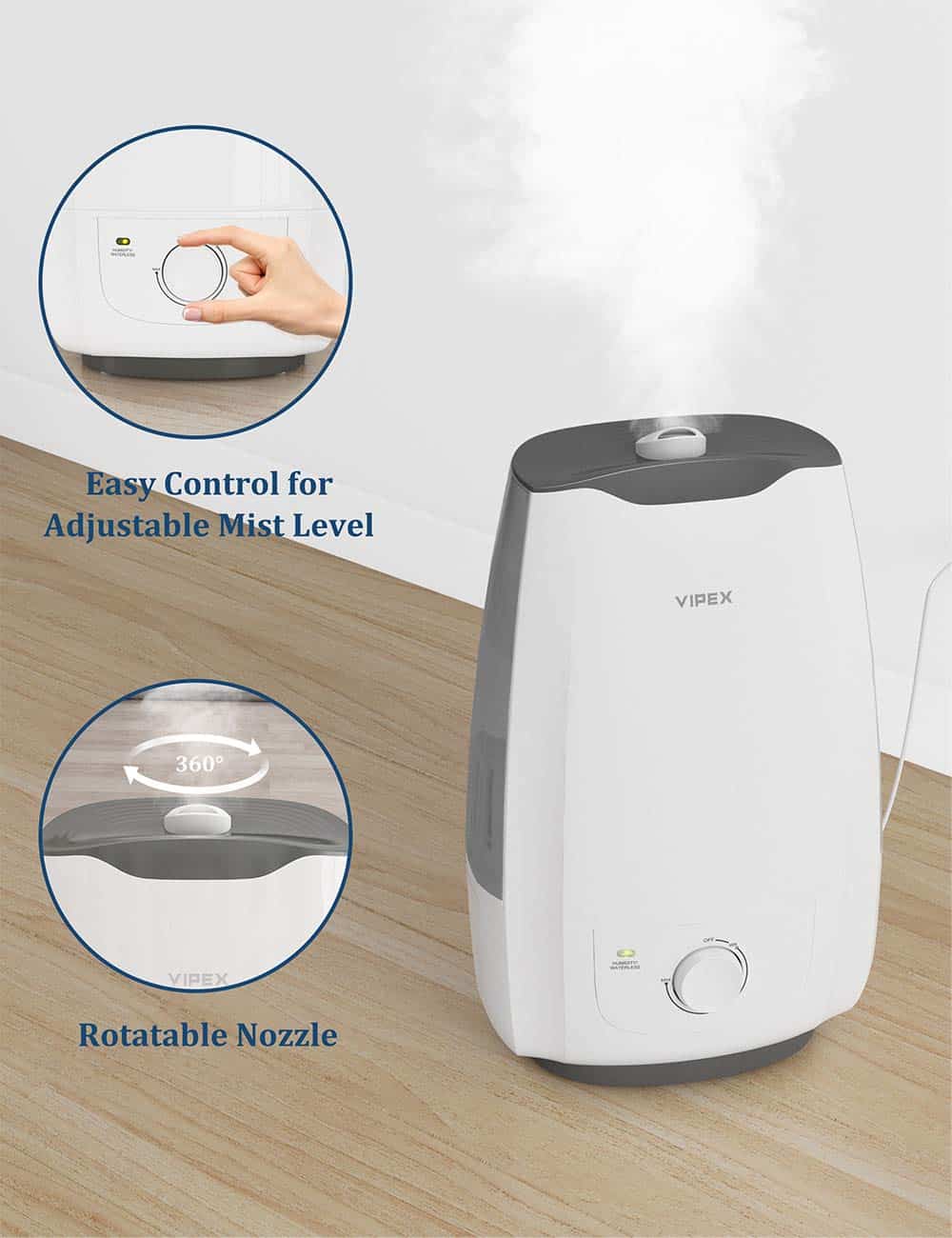 For those who want an easy-to-use and maintain machine, you will want to consider the VIPEX cool mist ultrasonic humidifier. It is effortless to use, and it can handle a large room easily while lasting for a long time, making it a good option. It is also very quiet, which means it won't affect how you are sleeping, and it won't wake you up or even your children while it is being used. It is also effortless to change the water, which makes it simpler to use it, and this is a machine that we would definitely recommend to those looking for one of these machines.