Here we go with another lovely product from a renowned brand, SEAVON, which is always on the top list of new impressive products.
The small SEAVON Electric Mini Dehumidifier is a wonderful option for small spaces and rooms, such as bedrooms.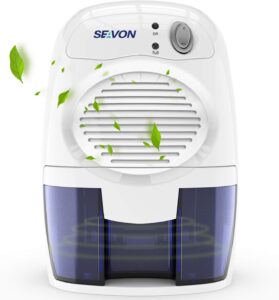 Pros
It is portable, making it easy to move around different rooms
It has an added LED indicator that makes it convenient for various purposes
Automatic shutdown function. Once the tank is full, the dehumidifier will always shut off instantly.
It is simple and easy to use
The dehumidifier requires very minimal maintenance.
It is affordable
Cons
Below 41F, the unit may fail to work as desired
It has a short cable
---
SEAVON Electric Mini Dehumidifier Design
The dehumidifier is designed to allow an aspect of portability. Therefore, it has the potential to be moved from room to room. Its modern design features among the best dehumidifiers of the current age.
The SEAVON Electric Mini Dehumidifier has neutrally colored palettes that rhyme with any décor in a home, making it a perfect fit for your daily life.
The appliances for this dehumidifier have undergone a thorough test to ensure proper working. This helps to curb any other mechanical or design issues that may arise.
Generally, the design is unique and updated to give you a new and added user experience.
---
SEAVON Electric Mini Dehumidifier Performance
Regarding energy, the SEAVON Electric Mini Dehumidifier will serve you greatly. It will help you save an extra coin for other uses.
It stands out with the wonderful properties of saving your energy. Therefore, your energy expenses will be cut off to some extent. It consumes only 23 watts. Same as Afloia T8 Plus, but it provides twice as much moisture removal. 
Besides saving power, it is special because of the lowest level of noise. There is the total assurance of a peaceful, quiet, and noiseless night as you enjoy your sleep. It is an ultra-quiet unit that will not have to bother anyone around during its operation.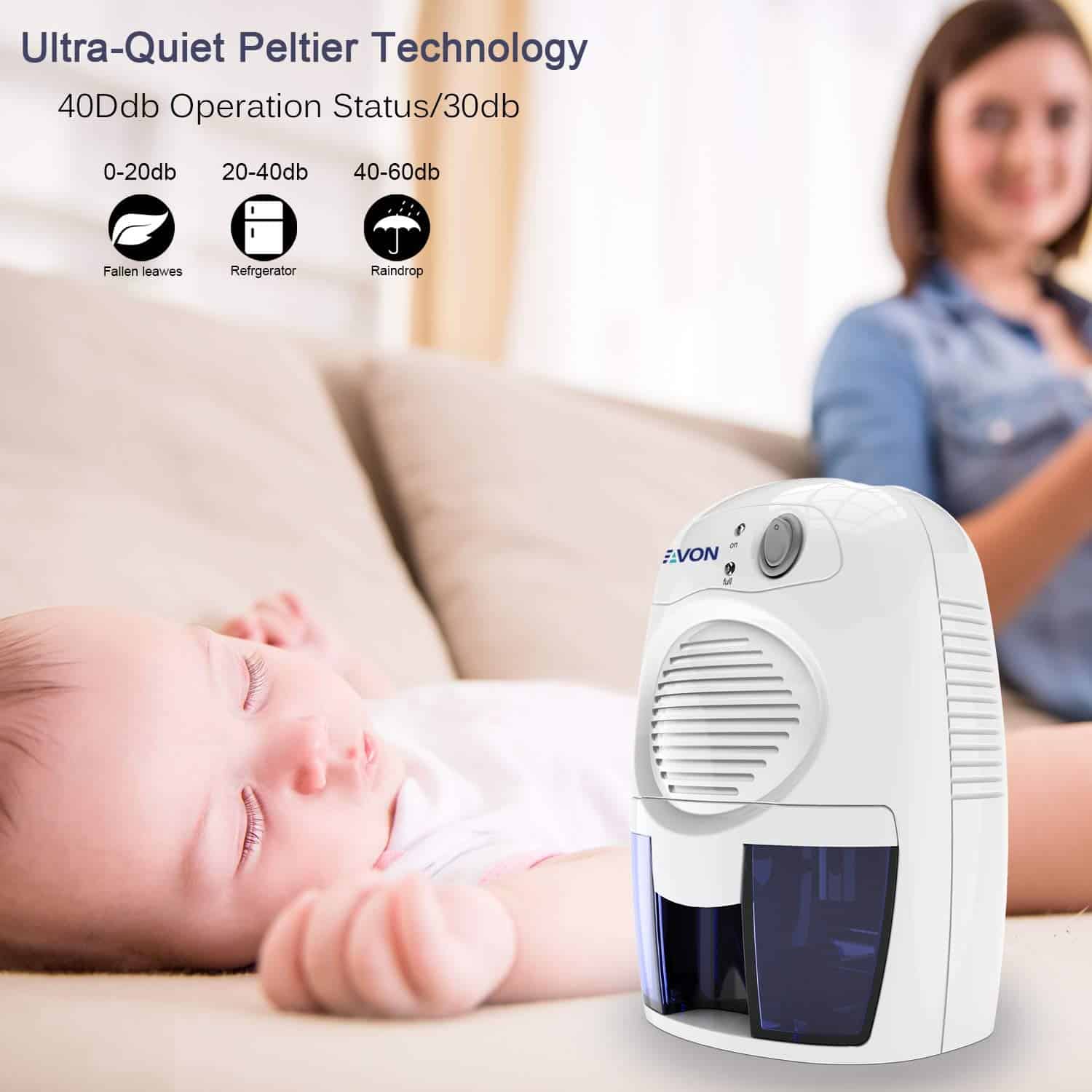 Therefore, you can operate it the whole day without encountering any other interference.
The extent to which the SEAVON Electric Mini Dehumidifier can work out for you is amazing. The small dehumidifier has the capacity to extract a total of 0.73 pints of moisture from a small space or room daily. That's a bit more than Afloia 600B Small Dehumidifier can dehumidify. 
---
SEAVON Electric Mini Dehumidifier Key Features and Functionality
Transparent Tank
The water tank capacity is 1 pint. The tank is transparent, hence checking the current water level.
It is also easy to use, especially when the need for dispensing the water arises.  You only need to pull out the plugin and empty the water into your desired vessel.
LED indicator
The unit also features an LED indicator as a signal to the user. The dehumidifier is designed to perform automatic operations, especially when urgent situations like overflowing occur. This triggers the LED light indicator, creating an alert to remove the water.
Operation Under Optimal Temperature
Like any other dehumidifier, the SEAVON Electric Mini Dehumidifier operates at an optimal temperature ranging from 590F to 860F. If the temperature falls below 410F, the unit will stop functioning.
The dehumidifier optimally functions in rooms of about 1500 cubic feet. It will always keep your home as clean as possible and leave you enjoying a healthy work environment.
Compactness
It is compact with a weight of about 2.4 pounds. It can be used from any place provided that correct use is observed.
Despite having a short cord that can sometimes be a barrier, you can opt for the closest socket around or use an extension cable.
The energy-efficient dehumidifier minimizes power; thus, the result is a noticeable difference in your periodic bills.  
Inbuilt Thermoelectric Cooling
The inbuilt thermoelectric cooling technology that underlies this dehumidifier is also extraordinarily amazing. 
It supports an operation that is quiet and friendly to the environment around. This makes it an excellent and powerful dehumidifier for use at night in bedroom and office environs.
---
SEAVON Electric Mini Dehumidifier Ease of Use, Maintenance, And Upkeep
The use of this dehumidifier has been simplified to a greater extent. This minimizes the number of operations done by the user.
In addition, some functions have been adjusted to make it simpler and easier during usage. Its simplicity will develop your interest in it. You will not have to strain harder in switching from one operation to another as everything is already made easier for you.
The ease of transferring it from one place to another, using it overnight, and minimal surveillance of the dehumidifier make it the best. Anyone else can use the dehumidifier even without undergoing any instructions or guidance.
The maintenance of this unit is quite easy. All you need is to keep it as clean as possible and be careful when draining the water from the full tank. Always keep track of its performance and respond to its alerts accordingly.
Good maintenance of this unit will help you save a lot because it can provide many stated functions. The dehumidifier will take good care of and protect everything surrounding you, hence the best dehumidifier for your home.
---
Final thoughts
For an impressive and stylistic unit that will greatly rhyme with your house or room décor, the SEAVON Electric Mini Dehumidifier is a perfect option. The dehumidifier comes with several unique features that will greatly help you out.
It will leave your environment cool and nice to stay in. If you desire a dehumidifier that neither disappoints nor fails, then opt for the SEAVON Electric Mini Dehumidifier.
Your periodic bills will be cut off, that is, if you initially had a huge bill. Enjoy the effectiveness of this dehumidifier in the market.