Go ahead and start thinking about which of the many humidifiers you will use, especially if you have children.
One of the top ones you can get is the TaoTronics cool mist humidifier for babies [BPA-free], which will be straightforward and affordable.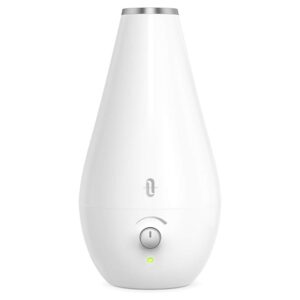 Pros
Easy to fill with a single hand
Simple to use and operate
Extremely quiet for small spaces
Adjustable mist in 360 degrees
BPA-free, so great for using in a room for small babies
Cons
You can't use essential oils with the humidifier
It shouldn't be placed on the carpet due to the fan being on the bottom
---
TaoTronics Cool Mist Humidifier Design, Size
If you are looking for a unique design, the TaoTronics cool mist humidifier is excellent. The design is upright, which is good for saving space, and you can pick it in 2 different colors, including black and white.
It weighs only 2.4 pounds, which is perfect for carrying around to different rooms in the home; it is 8.4 by 5.1 by 10 inches, and it will fit in any room or small space you have.
No more worrying about whether or not it will look out of place since this machine's design is elegant and sleek.
---
TaoTronics Cool Mist Humidifier Performance
One will always want to think about the performance, and this humidifier is easy to use. Not only does it work well, but it can also be maintained easily with just a few steps.
The TaoTronics cool mist humidifier is good. You can take it out of the box, set it up within 5 minutes, and enjoy having more moisture in the air at your chosen level.
It has a 0.4 gallons water tank and mist output of 0.1 to 0.44 pints per hour. So it is suitable for small spaces up to 150 square feet, the same as Pure Enrichment MistAire Cloud, Levoit Dual 100, and Homasy Cool Mist humidifiers. 
---
TaoTronics Cool Mist Humidifier Main Features
When looking at humidifiers like the TaoTronics cool mist humidifier, one should always make sure that you are thinking of the features.
Here are just some of the main features that this humidifier has, such:
Sleek design – This humidifier's sleek design is done to save space, and it is a vertical design. This makes it so that the TaoTronics cool mist humidifier can fit wherever you need it to, including on desks, nightstands, and other spots where there isn't much space.
Dial knob – The humidifier humidity level is controlled using a single dial knob control on the front of the humidifier. This makes it easier to change the humidity levels at any angle and easily change them while lying down.
Easy to refill – This humidifier will also be easy to refill since you can pick it up using a single handle. This is great for medium-sized rooms or even a bedroom or office where you might not have the use of both hands when you need them.
BPA-free – This will be good for use in a baby's room since the humidifier is BPA-free, so you don't need to worry about any chemicals going into the air surrounding them. If you are concerned about the ingredients in the produced humidifier, then this is one that you can use without worries.
Simple maintenance – This will also be easy to maintain, and you won't have to do much other than clean the tank a few times a year. Ensure that you are doing this properly and avoid using any essential oils to keep it running smoothly.
---
TaoTronics Cool Mist Humidifier Noise level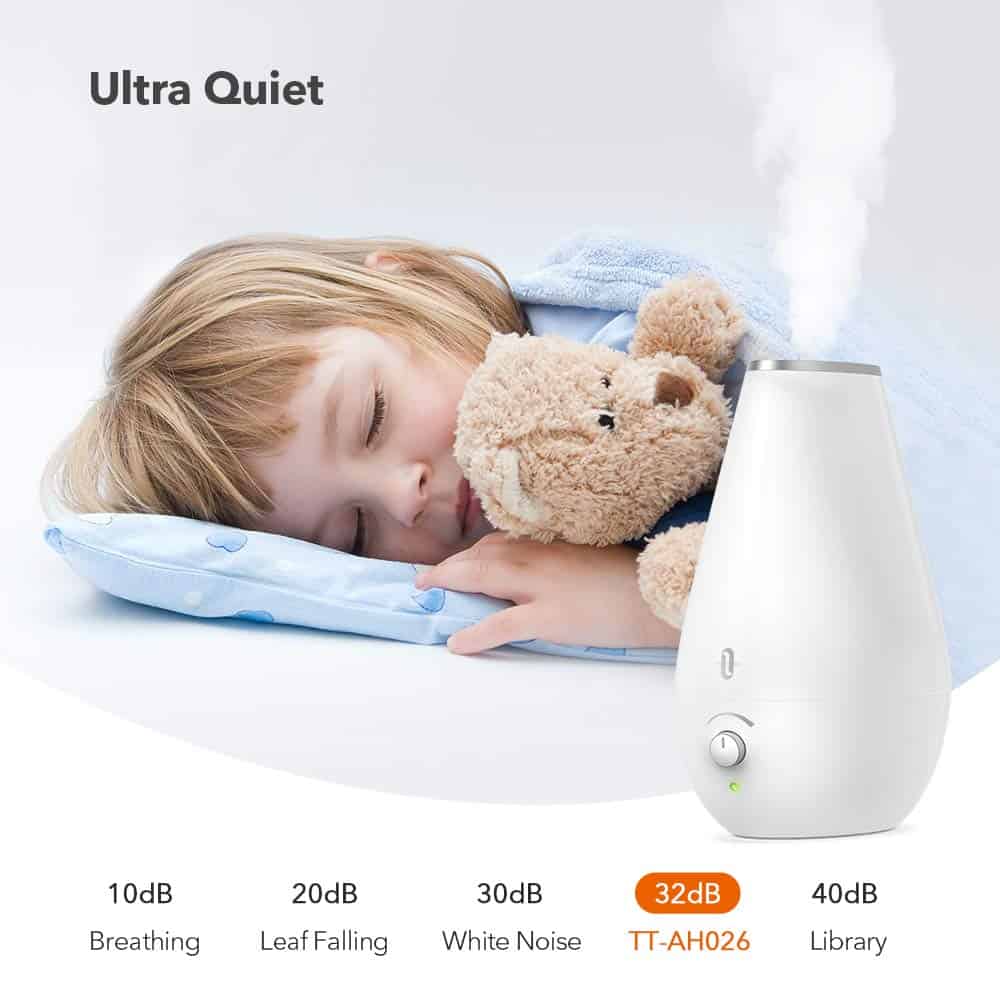 If you are searching for something you can keep in your room without worrying about the noise it will create, the TaoTronics cool mist humidifier is ideal. It is tranquil at around 32 dB, so you can keep it in any space without hearing it.
This will also be great for keeping in the child's room without worrying if it will wake them up or keep them from falling asleep.
This would be great for use in any room where you might not want loud noises running, including in your office, and you can put it anywhere you need it.
---
TaoTronics Cool Mist Humidifier Maintenance and Upkeep
This humidifier requires maintenance if you want it to work properly for a long time, and it doesn't take a lot of effort to keep it clean and work right. You should make sure that you know what the steps are, and they include:
Adding diluted vinegar with a 1 to 4 ratio

Shaking the humidifier for 15 seconds

Use the long brush to clean the inner part.

Clean the base with the small brush
These are the only things that you will need to know about when it comes to maintenance, and you should do this every few months if you want to make sure that the humidifier functions correctly; you need to make sure that you aren't adding essential oils, which can cause problems with the humidifier.
---
Final Thoughts
If you are looking for a good design humidifier that would easily fit into a small space, then the TaoTronics cool mist humidifier is great. Make sure to think about this when looking at the extremely affordable options.
It will work great in any room since it is noise-free, giving you the humidity you need at the level you want without sacrificing anything. It is also effortless to maintain and clean when required, so why not get this since we recommend it for babies?