Danby Premiere DDR070BDWDB 70-Pint Dehumidifier is portable and highlights a smooth and compact surface along with "Smart Dehumidifying" technology for easier-than-ever moisture control.
A dehumidifier removes 70 pints of moisture and can handle 2,200 square feet in large spaces or even more if the room is not very humid.
This product is discontinued and no longer being produced.
So alternatively, check the newer Delonghi model: Danby DDR050BJWDB-ME 50-Pint Energy Star Dehumidifier.
Pros
Energy Star-rated
Full Bucket/Auto Shutoff
3 draining options
Excellent display with electronic controls
A lot of features, including timer, auto mode, and more
Casters and carrying handles
Quiet operation
Automatic Defrost
Cons
No Internal Pump
Drain Hose Not Included
---
Danby Premiere DDR070BDWDB Design and Size
Danby Premiere DDR070BDWDB has a compact design with a control panel positioned on the top of the unit. The control panel is easily reachable and understandable.
The water bucket is installed at the bottom of the unit, and it is easily removable from the front. The water bucket has a water level window.
The dehumidifier has casters and carrying handles. That makes it very easy to carry this 45 pounds heavy unit from space to space.
At the back of the unit are an air filter, a continuous drain hose outlet (unfortunately, the drain hose isn't included), and a power cord buckle. The air outlet grill is positioned on one side of the dehumidifier.
Measurements:
Height: 24.5 inches / 62 cm

Width: 16 inches / 40.5 cm

Depth: 12 inches / 30.5 cm
---
Danby Premiere DDR070BDWDB Features
Danby Premiere DDR070BDWDB is equipped with a lot of features.
Available 3 draining options – manual, gravity, and condensate pump.
Manual draining is draining using a built-in bucket. The bucket is quite small for powerful moisture removal, so you must empty it often.
Gravity Draining works with an attached drain hose (as mentioned before – not included) or garden hose.
Condensate Pump. The dehumidifier doesn't have an internal condensate pump, but you can add an external pump, which costs around $60. Another option is to buy other Danby models – DDR070BDPWDB 70-Pint Dehumidifier with Pump. It has the same functions as this model but arrives whole with a built-in condensate pump and costs only $30 more.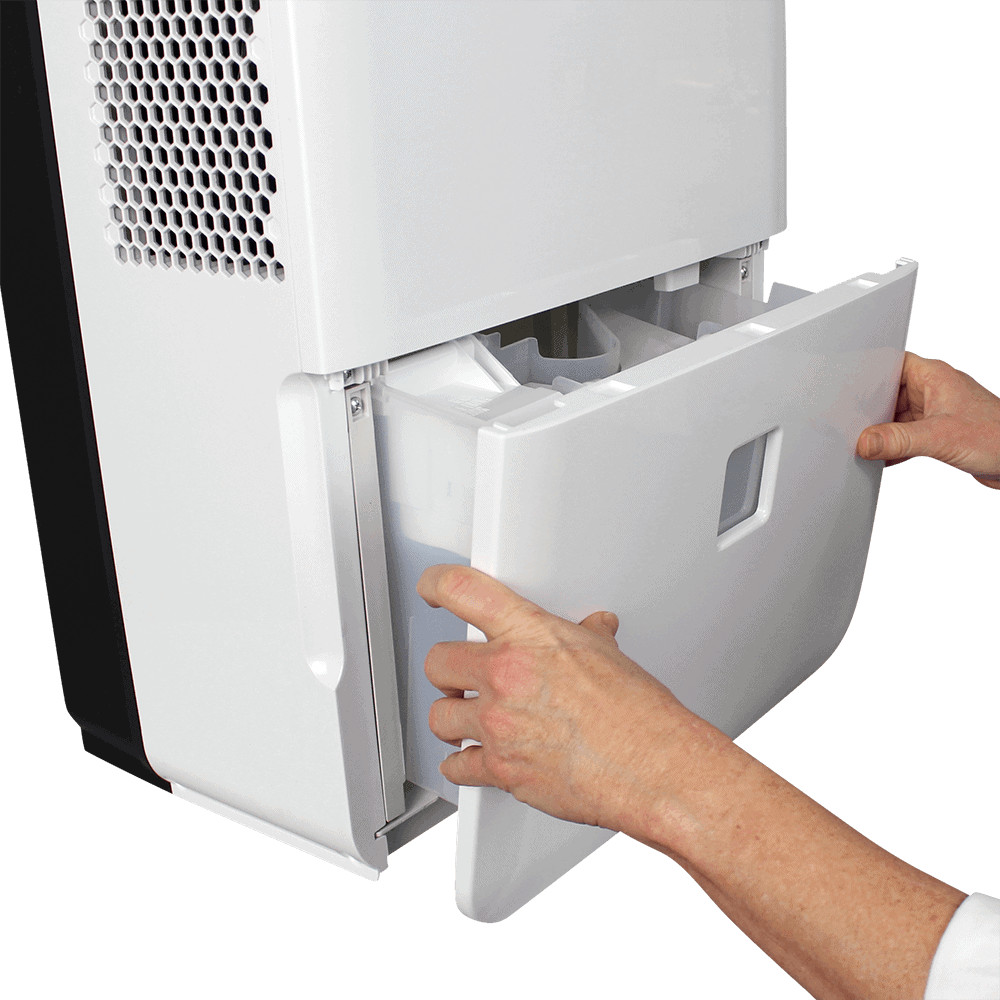 The control panel has a lot of electronic buttons.
Continue Button. With this button, you can switch between manual and continuous mode. With continuous mode, a dehumidifier works actively without delay, despite the ambient moisture or temperature. You can set humidity level and fan speed with manual mode- everything is under your control.
Filter Button has only one function. Push it only when you need to reset the filter light. Do it after filter cleaning. This light will illuminate after every 250 hours of operation.
Fan button for fan speed choice. The dehumidifier has 2 fan speeds.
Power Button to turn on or off the dehumidifier.
Up and Down Arrow Buttons. These are to set the desired humidity level. You can set it between 30% and 90% with a step of 5%.
Timer Button. With this button, you can set the dehumidifier's start or stop time from 0.0 to 24 hours.
The display gives the actual (± 5% accuracy) place humidity level from 30% RH to 90% RH. Otherwise, it shows a choice when programming humidity or timer.
Comfort. Use this button to adjust the humidity level automatically.
Automatic Restart on Power Failure. This feature allows the dehumidifier to resume working due to a power failure with previous settings.

Automatic Defrost function.

Energy Star-qualified
---
Danby Premiere DDR070BDWDB Noise level
The dehumidifier has a quiet operation. The Danby 70-Pint unit has a sound level of 50 decibels at its highest fan speed, similar to sounds in a normal home.
---
Danby Premiere DDR070BDWDB Performance
Danby Premiere DDR070BDWDB can handle 70 pints of moisture daily. It has only 13 pints water tank, so if you don't use the hose for draining, you will need to empty it several times daily.
Kenmore KM70 70 Pints has 19 pints water tank, and Vremi 50 Pints (70DOE) has 17.3 pints water tank if you want a dehumidifier with a larger tank. 
---
Danby Premiere DDR070BDWDB Maintenance and upkeep
The dehumidifier doesn't require much maintenance. If using manual draining, you will have to remove water from the bucket and clean the filter after 250 hours of work.
Also, you rarely have to clean the grill, case, and bucket. That's it. Not much to do.
This product is discontinued and no longer being produced.
So alternatively, check the newer Delonghi model: Danby DDR050BJWDB-ME 50-Pint Energy Star Dehumidifier.
---
Summary
Danby Premiere DDR070BDWDB is great for spaces up to 2,200 square feet. It has many features: a timer, auto mode, filter change indicator, and more.
It also has 3 draining options to pick the best for you. And the price is appropriate.
Update!
Danby Premiere DDR070BDWDB is discontinued. So alternatively, choose the Danby DDR050BJWDB-ME 50-Pint dehumidifier; it has similar functions, 12.7 pints water tank, electronic controls, powerful 217 CFM airflow, and it consumes only 420 watts of energy which is lower than competitors.