Best Humidifiers for Your Fireplace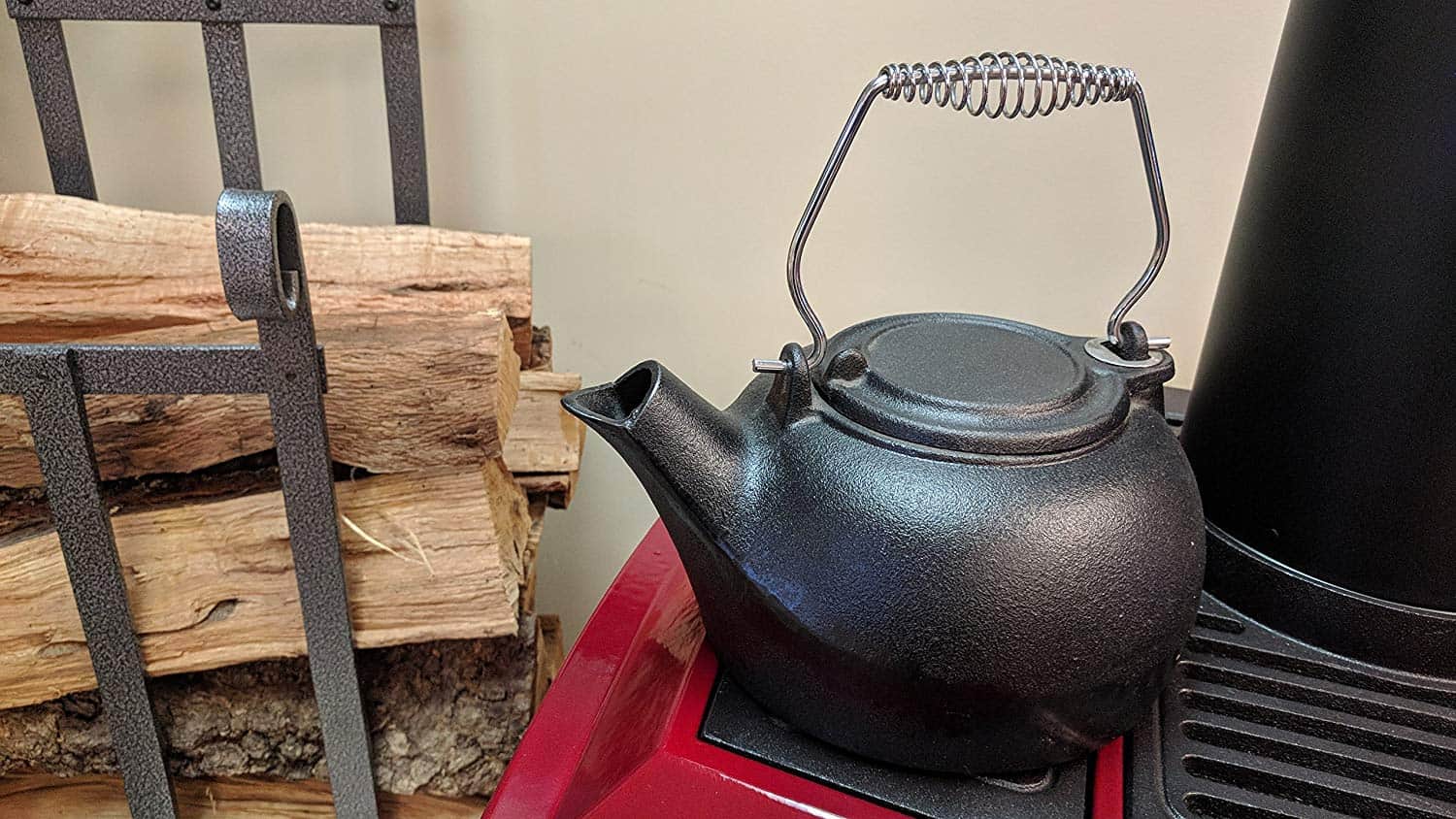 When you have a fireplace, you are going to need to have a humidifier, and there are different methods and options that you can choose from. There are cast iron humidifiers that you can use that heat the water up directly in the fireplace or on the woodstove, which would help to add more moisture to the air naturally. Due to technology and the changes, there are various machines that can do the same thing, but if you want to go with the natural route, then there is that as well. Here are 5 of the top humidifiers that you can use for your fireplace or your wood stove.
What is a Cast Iron Humidifier?
If you want to keep the rustic charm of the olden days in your home, then this is the right away to go about it. These humidifiers are made using cast iron, and they can be placed directly on the woodstove or in the fireplace to heat up. Not only will it help to heat up the entire room as well, depending on where you place it, but it is also going to be a much cheaper option.
When you heat up the cast-iron kettle, then you can not only get more steam automatically pushed into the air but also hot water. These can also add some style to your home, and they would be extremely useful along with being affordable, requires no maintenance other than cleaning, and is very easy to use. This material also deals very well with heat, which means that it will last for a long time without needing to be replaced.
---
5 Best Wood Stove Humidifiers
When it comes to your wood stove, you need to ensure that you are using the right humidifier. This means that you need to check out the reviews below to help you make the choice about which one is going to be the best.
This is something that you can put on the stove or even in the fireplace if you want to with water. The top is a lattice style design, which gives larger holes for the moisture to escape, which means more humidity being added. This is going to be a great accent piece that is going to be useful in your home, and it comes in a few different colors, including green, red, and navy blue, depending on what you want.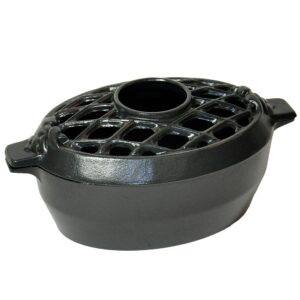 It can hold around 2.2 quarts of water, and it can be placed directly on top of your wood stove, or you can use it with a trivet. It can also be purchased in larger sizes, which means you don't have to compromise the looks for the size that you want. This is also going to be extremely easy to use since you won't have to season it, and you can use it right out of the box!
Pros:
Easy to check the water level due to the lattice design

Enameled inside to prevent rusting

Very simple to clean using a wipe or rag
Cons:
More expensive than other models

Heavy at 7 pounds
---
This is a unique wood stove steamer that is shaped like a dragon, and it has an interior made of cast iron along with enamel to make sure it doesn't rust. This is a bit heavier than some of the other models, but it will still make a statement in your house. It can hold up to around 5 cups of water while remaining elegant and fun.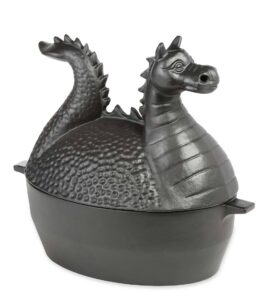 If you are looking for something that isn't just a steamer, but that would also make a statement piece in your home, then the Dragon wood stove steamer is ideal. This is really a stunning piece that would not only give your home the humidity that it needs but also give it a bit of a unique feel in terms of style.
Pros:
Large capacity for water

Rust resistant
Cons:
---
If you want something that would feel like the outdoors, then this stovetop steamer that looks like a moose is perfect. The bottom is plain, but the top has a moose that is laying down as the design, which is extremely stunning and beautiful. It can hold 3 quarts of water, which means you aren't going to be filling it as much, and the inside is covered in porcelain enamel.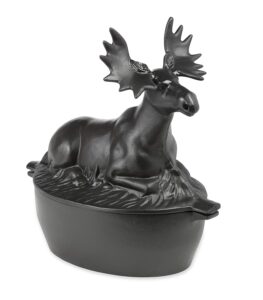 This is going to be heavy, but very useful since it is made of cast iron, which means you would need to season it before you can start to use it. This one is going to be very heavy, and it weighs around 18 pounds, which is why you would want to bring the water to it rather than trying to carry it to the sink. The nostril area is where the moisture is going to be released, which means that it won't have as much as others, so ensure that you are thinking about this.
Pros:
Rust resistant

Works with corn, coal or wood-burning stoves

Can be filled up easily once the top is removed
Cons:
Needs to be seasoned before you can use it

No handle on the top for removing it

Not a lot of area for moisture to be released
---
This is another feature piece that you can pick for your needs, and it has a log cabin as the main design. However, one of the best parts about this one is that you can remove some of the parts like the roof to allow for more moisture to enter the air. It is also made of cast iron with porcelain enamel to help keep the pot and all of the other parts from rusting from the use of water.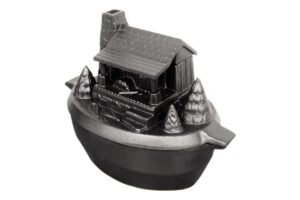 It can hold some 3 quarts of water, which means that you don't need to worry about filling it very often. If you want something that isn't just going to be a centerpiece but would also work in your home to keep the air moist, then go ahead and opt for this one.
Pros:
Parts of the log cabin can be removed to increase the moisture level

Larger water capacity than some of the other models

Works on all types of stoves and in the fireplace
Cons:
Price is extremely high

Weighs 18 pounds
---
If you are looking for a simple cast-iron kettle to use as a humidifier, then this is the right one. This one is made fully of cast iron, and it can hold around 3 quarts of water, and it has a sturdy handle. There is also wire wrapped around the handle to prevent you from burning yourself, which makes it much easier to pick up and use.
This is going to be great if you want to be able to get plenty of moisture in the air since you can easily keep the lid off to add more moisture. For those who want something simple without it being over the top, then this is the right one to go for. You can also add some cinnamon sticks or other items to help add a pleasant smell to the air.
Pros:
Affordable

Light at only 2.13 pounds

Can leave the lid off to get additional moisture
Cons:
Standard kettle design

Can ship the porcelain of the sink if you aren't careful
---
How to Use a Cast Iron Humidifier?
These are very simple to use, and once you have picked out the right design for your needs, then you are going to need to ensure that it is seasoned. This is done by covering both the interior as well as the exterior with oil and then putting it in an oven for around 1 hour with a temperature of 400°F. Once this is done, then you can easily add more water to it by using the tap and then putting it back on the woodstove. However, you are going to want to make sure that you are watching this kettle since there isn't any way to see how much water is left inside, but you should make sure to fill it up regularly, especially if you are using it all day.
Why Use a Stove Top Humidifier?
There are numerous reasons that you might want to use a stovetop humidifier, including the fact that these are much simpler to use. Also, they are going to be durable since they are more often than not made of cast iron, and you just need to ensure they are dried out. If you want to save money and go the natural route, then this is the way to go, but you should think about this. For those who want to add an element of décor and style to their home, then this is also a great way to do that. Not only that, but you can also use this to help incorporate different scents into your home like cinnamon and other spices by adding them to the water.
Pros and Cons of Using a Fireplace Humidifier
There are numerous things that you would have to think about when using a fireplace humidifier, including what the pros and cons are. Some of these include:
Pros:
Extremely affordable

Easy to use

Simple to maintain

Natural way to add moisture to the air

Adds style and décor elements to your home
Cons:
Need to pay attention to how much water is in the kettle

Extremely heavy depending on the model

Holds less water than the machine-based models
You should always make sure that you know what the advantages and disadvantages would be when it comes to having a wood stove or fireplace humidifier for your home.
Cast Iron Kettle Humidifier Maintenance
Another thing that you need to consider when you are using a cast-iron kettle humidifier is maintenance. There are a few steps that you need to follow to ensure that your cast iron kettle is being properly cared for, such as:
Empty out all of the remaining water after using it and place it upside down on a dry cloth

Use warm soapy water to wash out the kettle and a soft-bristled brush for the hard to reach areas

Use a fine piece of sandpaper to get rid of any rust that might be accumulating on the cast-iron kettle and rinse the area with some running water before patting it dry

You would need to re-season it after you have gotten the rust off and that means using 1 cup of any cooking oil and move it around so it coats the entire inside before pouring it out so it can cover the outside as well and the kettle should be placed in an oven for 1 hour at 400°F
Once this is done, then you can use it again, and you should ensure that you are storing it properly after you are using it. If you make sure that all of the water is dried up, then there are fewer chances of rust accumulating, and the less you will have to re-season the kettle.
Final Thoughts
You are going to want to find out which stovetop humidifier is going to be ideal for you, and that means looking at everything that is available. There are numerous designs that you can pick and choose from, including the standard kettles to more intricate designs like a dragon. Ensure that you understand how you use this and what needs to be done before you can use it, such as seasoning it. These are just a few of the top ones that we would recommend to our readers, so go ahead and see which one is going to be the best one for you and your needs.
---
Read also: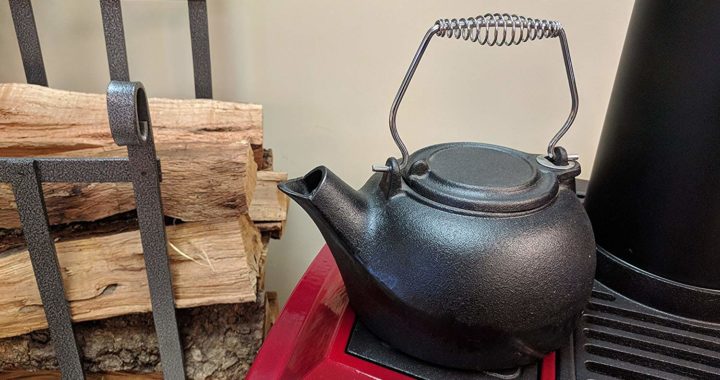 When you have a fireplace, you are going to need to have a humidifier, and there are different methods and options that you can choose from. There are cast iron humidifiers that you can use that heat the water up directly in the fireplace or on the woodstove, which would help to add more moisture […]
0 comments
You should make sure that you are thinking about whether or not you are going to need a furnace humidifier in your home. This is a system that is going to be in your home that would help to deliver some moist air into space, and it can help you to keep the right humidity […]
0 comments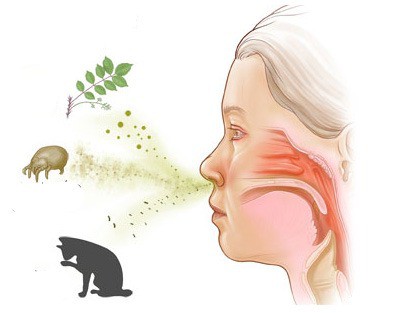 Allergies are the immune system's response to unfamiliar or unknown agents. When you come into contact with one of these agents (known commonly as an allergen), the immune system goes on high alert, reacting as if the agent could cause dangerous harm. The most common reactions to allergens are a runny nose, sneezing, itchy or […]
0 comments