The AromaTru Waterless Diffuser brings a breath of fresh air into your home. It is a unique diffuser that atomizes essential oils from the bottle directly and doesn't use any water.
Therefore, the resulting smell doesn't feel like it's been washed out somehow. It'll be as pure as it can get.
AromaTru is among the newest names on the market and is under the umbrella of Ideal Living. Ideal Living owns AirDoctor air purifiers along with AquaTru water filters.
But should you buy this air diffuser? Continue reading this review until the end and discover what makes this air diffuser unique.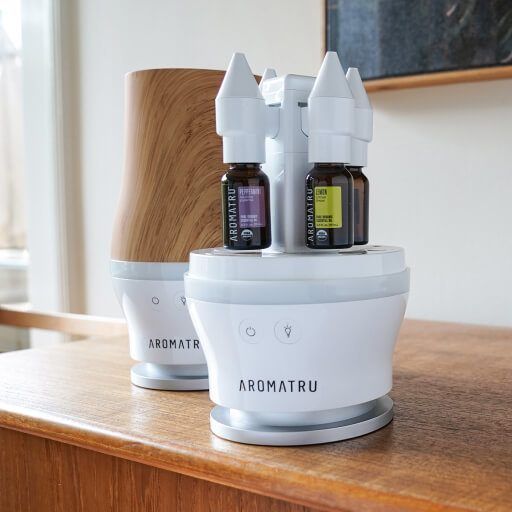 Pros
Cleaning up the diffuser is super easy.
It uses pure essential oils and saturates its fragrances.
You can control the diffuser with a mobile app.
It comes with an alarm and wifi.
You can choose your favorite fragrance from a vast collection.
Doesn't have any harmful chemicals.
Cons
Regular purchases of essential oils can be costly.
---
What is Aromatru Waterless Diffuser?
If you want to upgrade your diffuser, it's time to try the one by AromaTru. It will enable you to flood your home or office with a refreshing aroma with a push of a button.
This waterless diffuser is equipped with cutting-edge technology, and it's a unique product. This is because the diffuser only diffuses oils.
It doesn't use any water so the fragrance will be 100 percent pure. With this smart diffuser, you won't have to deal with messes or bacteria growth.
---
How Does Aromatru Diffuser Work?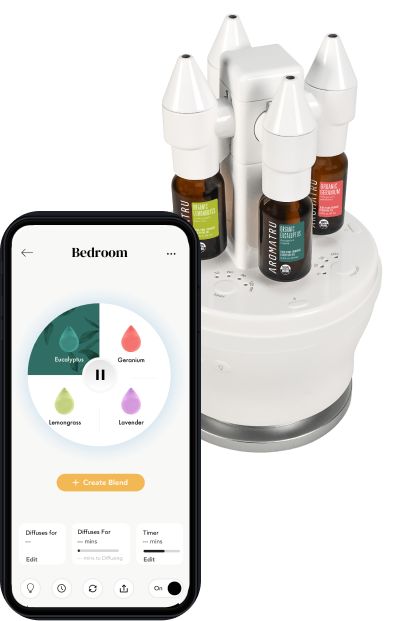 This diffuser performs differently from the traditional ones on the market. And this is all because of the way this model is manufactured. The most noticeable difference is that this diffuser doesn't use any water.
Moreover, you won't have to measure the amount of oil you need to use or mix with water for the best results. You will have to remove the protective covering of the diffuser, and you will see the atomizer post along with the head.
Take the atomizer head out and remove that empty bottle if you want a replacement. Put the new essential oil bottle into it.
Once you position it correctly and get it in, you must press the atomizer head firmly on the post. From here, you can either manually or remotely turn the power of the diffuser on and off with the help of an app.
You can customize and experiment with the schedules and work around different aromas and blends. Ultimately, you can start the diffusion process, and the diffuser will start filling your room with its beautiful scent.
---
Aromatru Diffuser: Key Features
The company has worked hard to perfect this high-quality diffuser. They have integrated smart technology into this appliance and equipped it with several unconventional features.
Using the smart diffuser, the goal here is to bring convenience to your home and make it smell beautiful with nature's scent.
The unit atomizes pure oil, and you will get a wonderfully saturated fragrance for your entire home, and that too without any chemicals. Here are five primary features of this high-quality smart diffuser.
Waterless Diffusion Technology
The most unique thing about this diffuser unit is that it has nothing to do with water. It can diffuse up to four different essential oil bottles at the same time.
These aromas will stay in their purest form as no water is used. This isn't the first unit to use this waterless technology. However, it does so in a pretty effective manner with great results.
Due to this, any toxic chemicals that might be present in tap water won't diffuse along with the scents, and they won't get spread into your indoor air. Of course, using water can be messy, and you will have to indulge yourself in content cleaning.
In other words, this unit will add to your overall comfort at home. With this trait, the unit is already one of the best options for your home, making your home a healthier and cleaner place to live.
Customizable Aroma Blends
As mentioned, this unit enables you to use four bottles of essential oils. Therefore, this unit can diffuse all four of them simultaneously.
Hence, you can choose any oil and even combine or experiment with various fragrances.
Keep in mind that these bottles have to come in 15 ml bottles. In this size, these bottles can fit perfectly inside the diffuser.
But if you want the best results, pair these fragrances with AromaTru essential oils. These oils are USDA certified and are wildcrafted.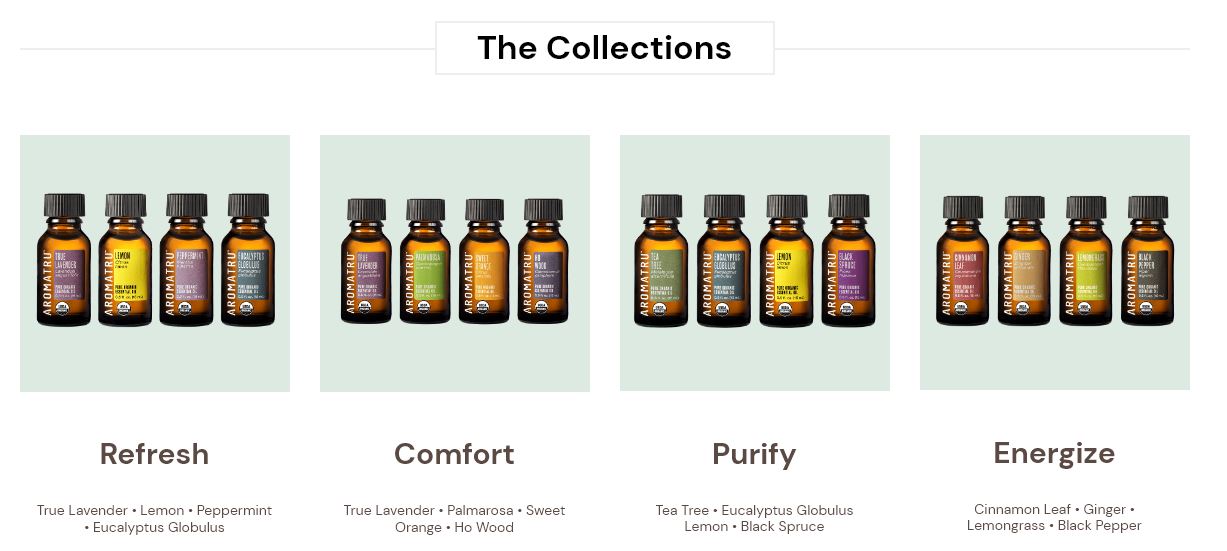 Some of the collections of essential oils by AromaTru are as follows:
Comfort – palmarosa, ho wood, sweet orange, and true lavender.
Energize – lemongrass, black pepper, cinnamon leaf, and ginger.
Purify – lemon, eucalyptus globulus, black spruce, and tea tree.
Refresh – lemon, eucalyptus globulus, peppermint, and true lavender.
In addition to these sets, you can use these scents individually. But no matter which fragrance you choose, AromaTru has made them all using the purest oils and no harmful chemicals or solvents.
If you install the AromaTru app on your phone, you can choose from a wide range of recommended essential oil combinations and online recipes.
Smart Control (Aromatru App)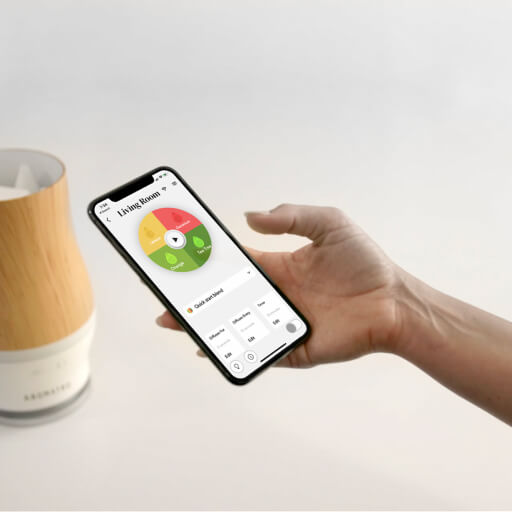 You can use wifi to connect this diffuser with your mobile phone to the Aroam app. Of course, using an appliance with your smartphone is very handy.
With this app, you can find out what essential oil the diffuser is working on and what blinds you can create for the best results. Pre-scheduling a diffusion is possible for various blends as per your requirements.
Furthermore, with the app's help, you can alter the light the unit emits per your needs. Therefore, you can conveniently control the overall ambiance of your room. The unit features a mild alarm that won't startle you and will gently wake you up if needed.
Apart from that, these diffusers by AromaTru also don't need maintenance or upkeep. You won't have to keep replacing the pills for modifying fragrances because your unit will do it for you.
The aroma can reach every cranny and nook in your home, regardless of size. So, no corner in your home will be dull and musty.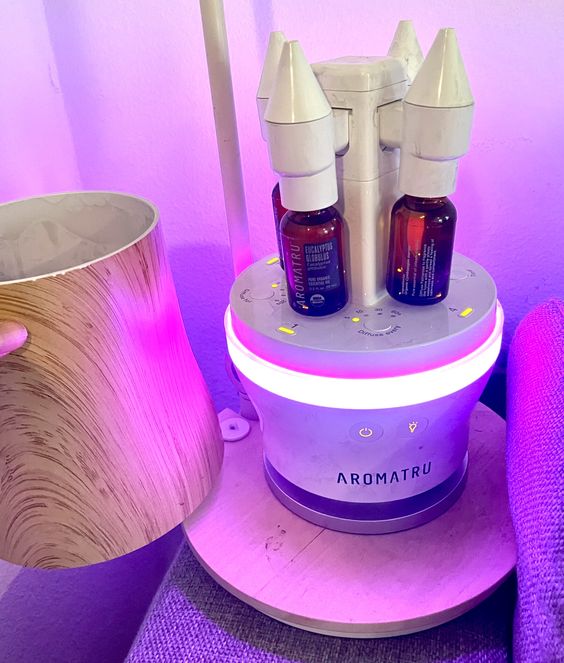 As we have already mentioned that this diffuser also comes with lighting. You can control this lightning to alter the overall ambient of your room according to your needs.
So, the unit allows you to take full control over the character and atmosphere of your room. That is why this diffuser is an excellent option for various occasions. You can use it in your home or your office, or anywhere else where you need it.
---
Aromatru With Wi-Fi Vs. Without Wi-Fi
One of the best features that make these diffusers so convenient is that they are available with wifi connectivity. Now, there are two different variants available of this diffused. You can buy the one with Wi-Fi features or go for the one without Wi-Fi connectivity.
If you want a smart diffuser, you can control it with your tablet or phone; you will need a model with Wi-Fi connectivity. However, if you think that wifi connectivity is useless, consider going for the model that doesn't come with wifi connectivity.
The biggest advantage of using the smart AromaTru diffuser with wifi connectivity is that you can control it even if you are not at home. For instance, you can control your diffuser at home using your smartphone and Wi-Fi, even if you are in your office, shopping, or running errands.
You can turn your diffuser off if you accidentally forgot to turn it off before leaving home. Plus, you can turn it on before you get back, so your home will smell nice and fresh before you enter. This way, you will be able to save a lot of utility costs.
You can control the fragrance blends using this application, and there is no need to get up from your seat or leave your bed. But if you think you can manage all that without a problem, you can go for the model without smartphone connectivity.
---
Aromatru Advantages Vs. Traditional Diffusers
One of the most significant advantages of this diffuser over traditional is that it doesn't need water. The waterless diffusers won't cause any messes and won't make the fragrances smell diluted or washed up.
This diffuser uses 100 percent essential oils that don't have any harmful chemicals, either. It means that it is a healthier option for your entire home. Apart from that, this unit comes with wifi connectivity. Therefore, you can conveniently use it from anywhere you are. You don't need to be around this unit to control it.
These are only some features that make these diffusers miles ahead of any other traditional diffuser you will find on the market. Another huge benefit that this unit has over its traditional counterparts is that it can diffuse four different essential oils at the same time.
Therefore, the unit can conveniently create different fragrance blends. And the best part is that you can control these blends from the mobile app.
These are some of the features that make these diffusers a much better option than any other traditional unit available on the market. The AromaTru diffusers aloud have different lights. Therefore, you can control your room's overall habitat and appearance according to your mood.
This unit will not only enable you to make your room smell fresher but also change the overall atmosphere of your room. Therefore, this diffuser is an excellent option for various occasions and parties at your home or any other replacement.
---
Aromatru Pricing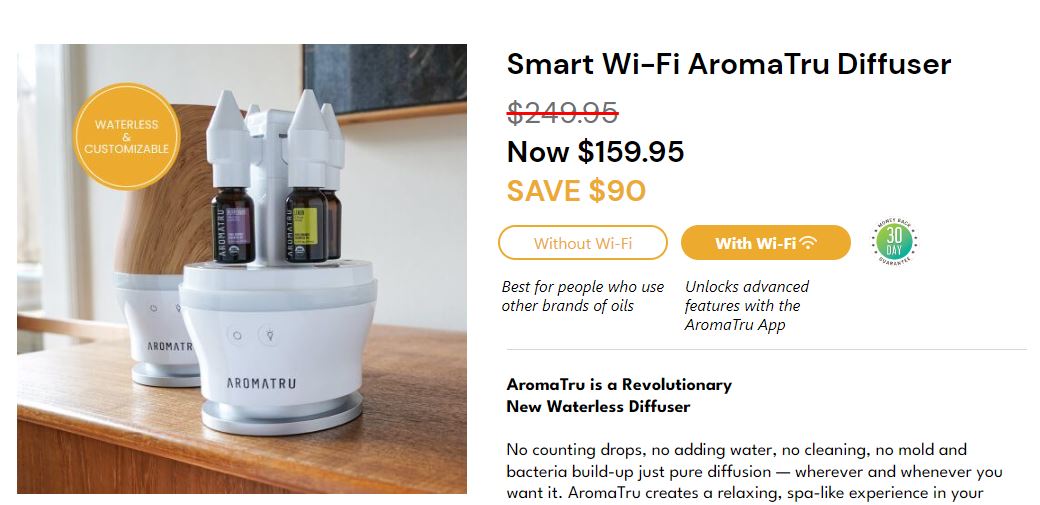 The AromaTru waterless diffuser unit is priced at USD 199.95 without Wi-Fi and $249.95 with Wi-Fi. Being a dry diffuser, this unit is more experienced than other available units.
But my blog readers can get them at $139.95 without Wi-Fi and $159.95 with Wi-Fi.
Apart from that, the company has different oil collections available for customers. We have mentioned some of the above, including Comfort, Purify, Energize, and Refresh.
You can go for various combinations according to your preferences. Apart from that, you can also buy individual 15 ml bottles. When it comes to buying essential oils from AromaTru, the sky is the limit, as the company has a wide range of essential oils available on the market.
Each of these bottles will cost you around USD 16 to USD 30. Each of the essential coil collections by AromaTru is priced at around USD 60. Therefore, overall the unit might be slightly on the expensive side.
But these essential oils will cost you more over time as you keep using them. Nevertheless, the good thing is that these are pure essential oil and don't feature harmful chemicals or even water.
---
Aromatru Essential Oils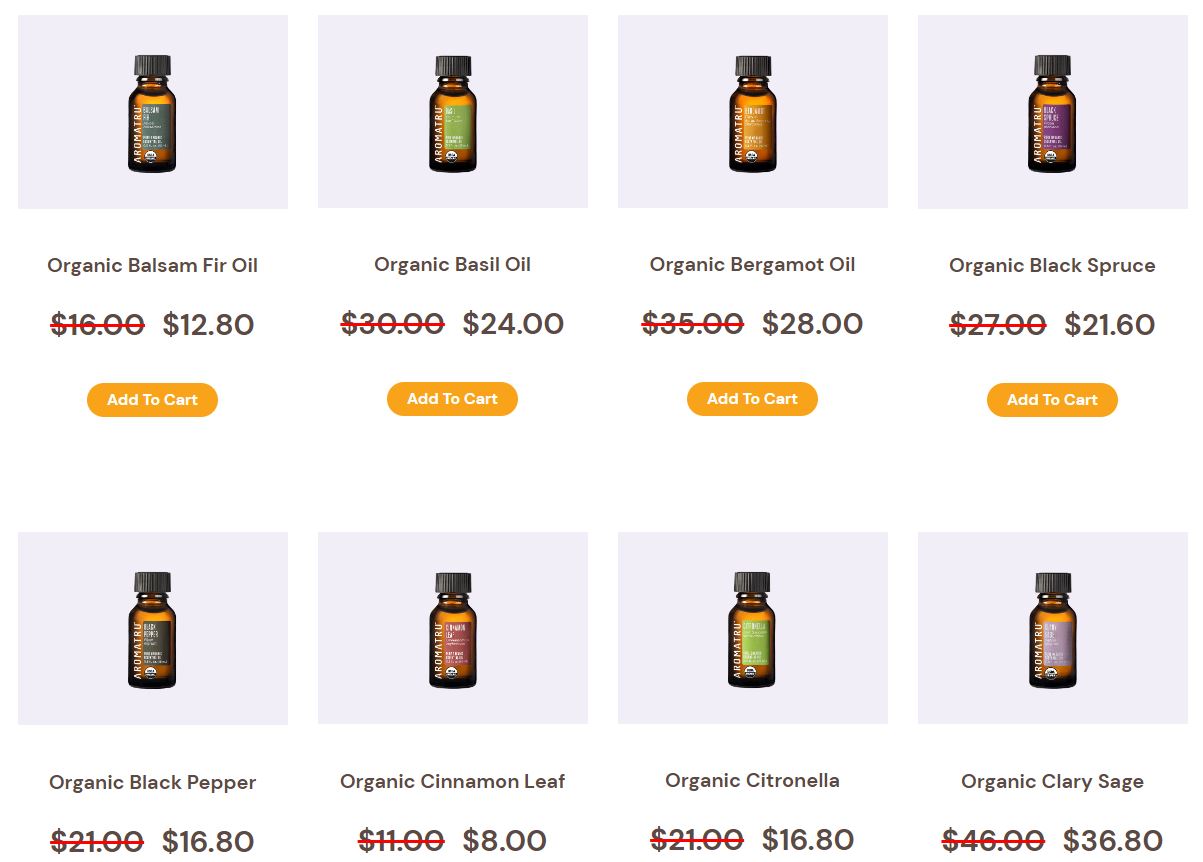 There is a wide range of essential oils available by AromaTru. You can either buy these oils in the form of different oil collections or purchase them individually.
They have a wide range of essential oils made of 100 percent natural ingredients and don't feature harmful chemicals.
There are so many different fragrances available in their offerings. You can go for organic balsamic fir oil, basil oil, bergamot oil, and black spruce oil.
You can choose organic black pepper oil, cinnamon leaf oil, citronella oil, clary sage oil, coriander seed oil, cypress oil, eucalyptus globulus oil, organic frankincense oil, and so many other organic oils.
All of these are extracted using 100 percent natural materials, varying in price. But one thing you need to remember is that these oils are available in 15 ml bottles. These bottles fit well into the diffuser, and you can use any combination based on your preferences.
Moreover, these oils range in price from USD 16 to USD 60. You can opt for different pre-made collections or make your own based on your preferences.
---
Are Aromatru Essential Oils Certified?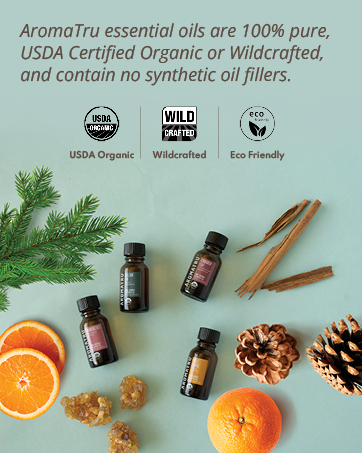 Yes, all these essential oils that AromaTru offers are USDA certified. These essential oils are extracted naturally and have no harmful chemicals or solvents.
The seal of approval by the US Department of Agriculture means that these essential oils are extracted through sustainable means with effective management.
No harmful chemicals or solvents are involved in developing these essential oils. It means these essential oils are 100 percent organic.
In other words, these essential oils are safe to use indoors. The good thing is that there are so many different essential oils available. We have only named a few here.
You can pick the right option based on your preferences and go for the collection or make your own by experimenting. Your AromaTru can diffuse four different essential oils at the same time. The options available in the collections allow you to create your signature home scent for various occasions.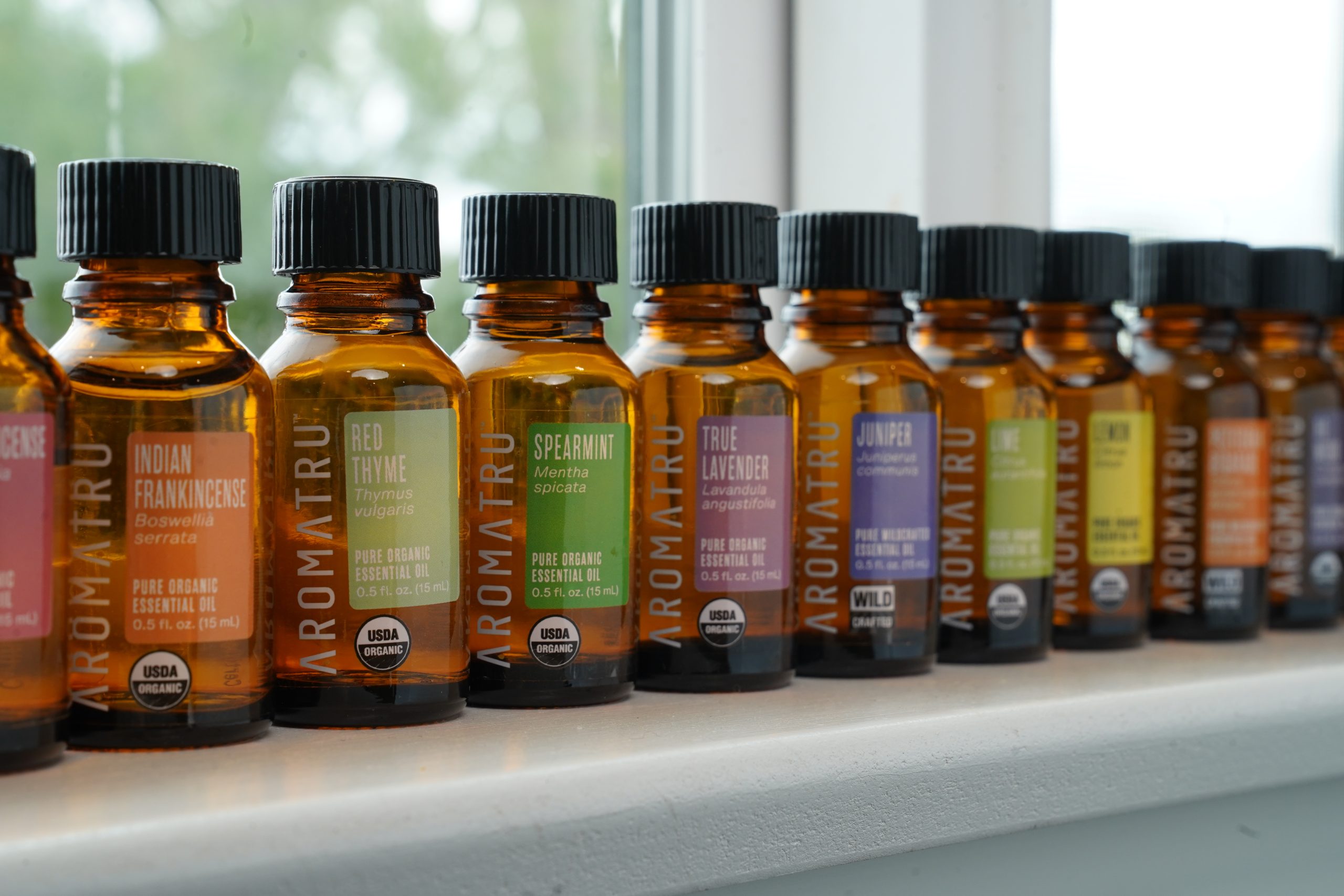 ---
Aromatru Maintenance & Upkeep
Another excellent feature of this AromaTru waterless diffuser is that you won't have to do much regarding upkeep and maintain this unit. It doesn't use water, so you won't have to deal with messes or spills.
Just fit in those 15 ml essential oil bottles and see how the diffuser freshens up your space in no time. You can control the lighting and not even have to touch your diffuser. All you need is your smartphone and wifi.
Just connect the diffuser to wifi and start using it with your phone. When the bottles are empty, replace them with new ones and use your diffuser again. It's all that simple, and you won't have to do much to keep your diffuser in excellent shape to make it work.
---
FAQs
How to Install the Essential Oils Into the Aromatru Diffuser?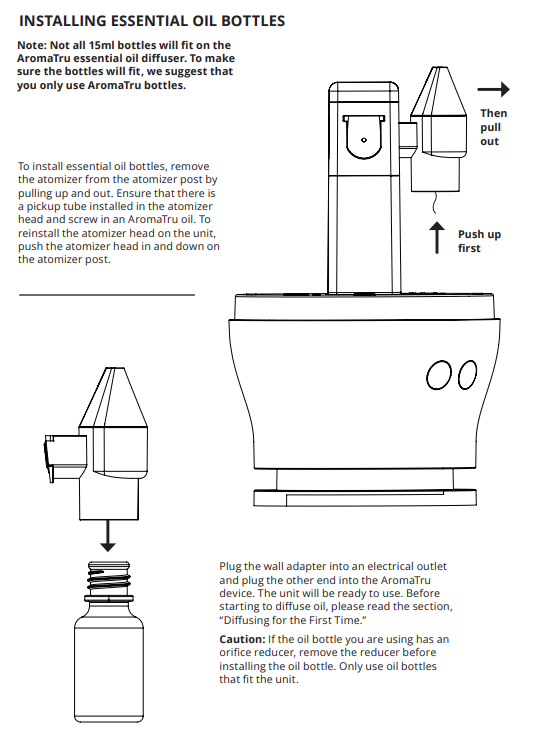 After lifting its cover, you must install the essential oil bottle into the aroma diffuser. You need to place the cone right over the top of the oils. The diffuser will start releasing the aroma from the upper section.
Just remove the upper cover of the diffuser, and you will see the atomized post and head. Take that atomizer head out of its post and put it in the new essential oil bottle.
As soon as you place it in the correct area, press the atomizer head back and down firmly on the post. Now, power the diffuser on and start working on the scent by mixing your favorite aromas.
How are Aromatru Essential Oils Different From Other Essential Oils?
These essential oils are USDA approved and are all organic and natural. They are extracted from natural means and do not contain harmful extracts, chemicals, or solvents. Therefore, they are suitable for your entire home.
How Long Will an Aromatru Essential Oil Bottle Last?
AromaTru has a wide range of organic essential oils available in 15ml bottles; these 15ml bottles contain around 250 drops. Now, if you use 5 drops daily, this bottle will last up to 6 weeks. And the AromaTic diffusers can diffuse up to 4 bottles at the same time.
Is Aromatru Safe to Use Around Children and Pets?
Yes, AromaTru is safe to use around pets and children. The essential oils that these diffusers come with are made of high-quality ingredients that are naturally sourced. It means that they are all organic oils. They don't have any harmful chemicals, so they are safe to use around pets and children.
Can I Use Other Brands' Essential Oils With Aromatru?
You can use other companies' essential oils with your AromaTru waterless diffuser. Just make sure that the size of the bottles is 15ml. Otherwise, they won't fit well into the diffuser. Therefore, your AromaTru waterless diffuser is pretty versatile.
Is it Possible to Diffuse More than One Essential Oil Simultaneously?
With AromaTru, waterless diffusers diffusing more than one essential oil at the same time is possible. You can install four essential oil bottles into these diffusers, simultaneously diffusing them to create a unique blend of fragrances. This feature is not available in many diffuser models out there on the market.
In How Large Rooms the Aromatru Diffuser is Effective?
AromaTru diffuser is pretty effective in any sized room. As long as it keeps running for hours, it will make your entire home freshen up. Of course, these essential oils don't have any artificial preservatives or harmful chemicals. They are derived from natural extracts; therefore, they perform well.
Does the Aromatru Diffuser Include a Warranty?
Yes, all AromaTru diffusers come with a 1-year warranty. But if you are looking for additional benefits, it's best to register your purchase on their website and receive the best customer experience throughout the lifetime of your diffuser.
This is the case even if the warranty has ended. You will have to provide them with your information, including your address and contact number, along with the model number of your AromaTru diffuser and the retailer from where you purchased the appliance.
---
Final Word
The AromaTru waterless diffuser is genuinely a one-of-a-kind diffuser, it doesn't require water to run, so you won't have to deal with any messes. The essential oils used with the diffusers tend to smell highly unsaturated because they don't contain any water. So the fragrance will stay longer.
You can conveniently use the appliance with your phone and don't have to be around it to use it. Apart from all that, there is a wide range of essential oils you can choose from.
AroamTru has a different oil collection that you can try, but if you want to experiment, you can do that too. The unit features lighting and lets you control your room's overall ambiance.