Buying bottled water is not a permanent solution to having clean drinking water. It is not in everyone's budget, and more bottles mean more plastic waste.
A long-term and economical answer is necessary to have fresh, alkaline water, at least for home use. Something that will provide clean water with high pH and require less maintenance. 
Best Alkaline Water Filters 
---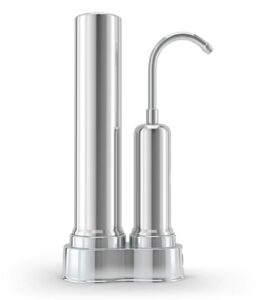 Unlike other faucet water filters with limited filtering abilities, this faucet filter offers you a wide range of features for perfectly purified water.
The filter faucet by invigorated water consists of two pH regenerate filters for best purification. It is designed to deliver high pH alkaline and ionized water without any foul odor or taste. 
It also adds vital minerals like magnesium and iron to make your water beneficial. Not only this, but the pH regenerate faucet filter eliminates heavy and harmful metals while reducing all the pollutants and chlorine. As a result, you will drink and use entirely safe and suitable water. 
Drinking clean and purified water helps you avoid various diseases and allergies. Moreover, because of the audition of essential minerals, the water becomes beneficial for anti-aging and hydration purposes.
The antioxidants it leaves in your water help you improve your immunity while balancing your pH levels. In addition, the removal of odor and taste not only allows you to drink more but also enhances the taste of your food and drinks.
Now comes the modern yet elegant design of this faucet filter. It doesn't look like an old-age filter that spoils the look of your modern kitchen. 
Instead, it gives a touch of elegance to your kitchen or bathroom with its simple sleep stainless steel design.
Pros
Reduces ORP.
Adds minerals.
Removes pollutants.
Eliminates heavy and dangerous metals.
Simple, sleek design.
It prevents allergies and diseases.
Huge filter capacity.
It gives pH alkaline water for drinking and using.
Reduces foul odor and taste.
Cons
Dripping issues.
Limited filtration.
Summary
If you are looking for a filter that saves you from buying one-time-use water bottles, this is the one. With an impressive design, a huge filter capacity that lasts for about 12 months, and a fantastic filter system for healthy water.
---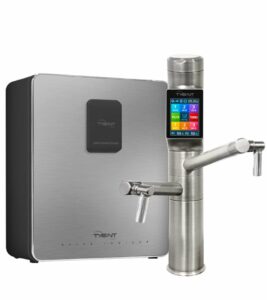 It is not always about buying a traditional water filter; sometimes, we want a purifying solution that also looks fascinating. If this is the case, Tyent UCE-13 plus is the right choice. This under-the-counter water filter is specifically designed to meet all your needs. 
The best part about this impressive filter system is that it comes in two different finishes, satin silver and antiques. The construction is also durable because of professional-grade stainless steel. 
The under-counter filter system is chrome edging with stainless steel front. The cable cover is also provided. To your surprise, there is a touch panel on the faucet for easy accessibility. It is considered to be the most beneficial addition to this filter system.
There are two pipes on the faucet, and both are easy to rotate 180 degrees for convenience. Along With a touch panel, there is a jog dial on the top to select filter methods. 
This luxurious filter system provides you with purified water. It helps you keep an eye on the water you are getting to drink and use. 
You can choose what you want from the water in the future. You can also set the ionizer on automatic cleaning for added convenience.
Availability of eco mode saves energy from waste. But if you are looking for a solution for safe water to be used in food and drinks, you can use turbo mode. 
The smart touch control and technology allow you to know about the water and filtration with warnings and pop-ups. Replacement of filters is quite easy and straightforward, which anyone can use and install without any hassle.
Pros
High-quality purified water.
Extremely convenient usage and installation.
It comes in two different finishes matching your requirements.
Impressive touch panel.
Touch dial for the selection of operational modes.
Highly durable and reliable.
Automatic cleaning is also available.
Eco-mode saves energy.
Easy filter replacement.
Two rotating water pipes.
Warnings and pop-ups for better control.
Summary
Using this system is the best way to get safe drinking water for a healthy lifestyle. Tyent UCE-13 plus knows how to fulfill our hydration and cleanliness requirements.
---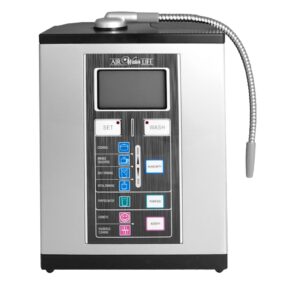 Aqua-ionizer deluxe 9.0 is one of the best machines offered by the brand. The filter works great for safe drinking water with 350 watts of power, nine-strong plates, and perfect water determination. 
The machine is designed to expand hydrogen on several occasions at the drinking level to provide you with the best. Its high-quality build and performance value distinguish it from others.
The ionizer works appropriately with focused hydrogen levels, pH levels, and reduced ionization. Furthermore, the lifetime warranty gives you the satisfaction to use it without any hassle.
The usage of cancer prevention agents helps this machine to offer you hygienic and healthy water. In addition, this raises the antioxidants and sub-atomic hydrogen levels in the water you use and drink. 
In addition, the alkaline water feature of this ionizer helps in better hydration which means your body will absorb the water efficiently. The pH level may also help in the detoxification. As a result, your body enjoys a clean and healthy lifestyle.
The best thing about this filtration machine is that it allows you to set the water options according to your needs. 
It has seven options: alkaline ionized water settings, two presets for acidic ionized water types, and one for the non-ionized but purified water setting. You will be free to choose any of these depending on the water source and your usage.
The machine is suitable for all types of water and modes, not only for drinking but also for basic usage. You can set the machine for specifically drinking water or even on the mode where you can use the water for your skin. 
It will change the cell reinforcements accordingly, making it more suitable for you and your body. The huge capacity of this incredible machine can filter about 4000 liters which is more than enough. The filtration is also unbelievable and offers perfect purification.
Pros
Advanced filtration technology.
Filters 4000 liters of water.
Removes contaminants.
Seven water settings.
High hydrogen levels.
It saves you from single-use water bottles.
Cons
It does Not eliminate chlorine.
Works with a single filter.
Summary
Its advanced filtering technology saves you from allergies and diseases while allowing you to drink and use high-quality water.
---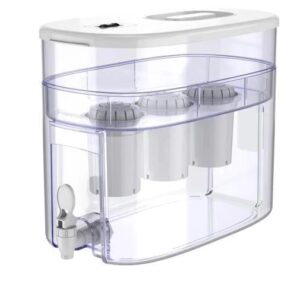 Are you looking for a portable, inexpensive, and huge water filter system? Then an invigorated pH recharge countertop water filter pitcher is the best option for you. 
It is different from other filtration systems requiring technical installation or is very small to handle huge water capacity. This filter comes up with all the possible solutions for your water filtration. 
Moreover, it doesn't require any technical installation or even an electric supply, which allows you to fit it anywhere you want.
Its huge capacity is excellent for serving multiple individuals or large families. It can fulfill the thirsty requirements of all the people in your family without even taking up much space. Yes, you read it right. 
The filter system is quite compact to be fitted anywhere in the kitchen. It is specifically designed for the countertop to save your space while providing you with enough quantity of clean water.
The working is perfect for contaminated waters with low alkaline levels. Its three-stage mechanism removes harmful substances, increases the pH levels, and adds vital minerals to the water for healthy drinking habits.
To your surprise, the huge capacity is around 1090 liters which is quite a good number. It can be equal to 2160 water bottles that you use for a single time. Therefore, it can save enough of your money. 
It is not too expensive compared to single-use bottles, making it a top choice. Combining three different filtrations makes it highly suitable for increased pH levels and hydrogen levels. In addition, the space-saving pitcher eliminates heavy and dangerous metals while removing contaminants from your water.
Pros
Three-stage water filtration
Removal of heavy metals
Higher pH and hydrogen levels
Perfect for healthy drinking water
Massive capacity
Not too expensive
Compact and decent design
Cons
No proper chlorine removal
Summary
pH recharge filtration is excellent for people with low spaces and large families. It removes the water's contamination, foul odor, and taste to offer you purified and healthy water.
---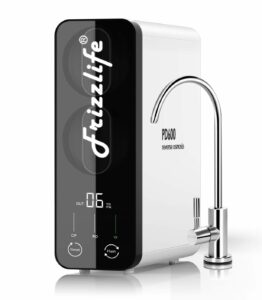 The Frizzlife alkaline water filters guarantee to provide your family with pure, healthy, and tasty water. The system has unlimited features in which generating healthy, alkaline water full of minerals is number one. 
The tap water comes with impurities and has health hazards. The Frizzlife filter increases the pH to 7.5, which makes it alkaline. Drinking weakly alkaline water is very beneficial for your health.
The greatest feature of this Frizzlife water filter is the tankless feature it adopts. The compact design takes up less space while ensuring no secondary pollution is involved. 
It filters and purifies 600 gallons of water per day, ensuring all your water needs are fulfilled. The smart led display has color-coded indicators to remind you of filter changes. At the same time, the TDS system monitors your water quality.
The material in this Ro plant consists of a Pleated Carbon Compound filter, a 600G RO membrane, an Alkaline Remineralization filter, and a stainless-steel faucet with a brushed nickel finish. 
The built-in three filters allow the water to be ultra-pure as it removes 99.99 contaminants from the water. These filters adjust the water PH to 7.5, restore minerals and remove any bad odor. 
Pros
Easy to install.
The filter replacement can be done quickly and easily.
The water is pure and tasty.
Cons
The water can become heavily mineralized if not used for too much time.

 

The RO technology makes it expensive to buy
Summary
The Frizzlife filters are an investment which will never regret. The alkaline water filter has 3 built-in filters that help remove all the impurities from the water. It helps eliminate 99.99 percent of contaminants, including lead, mercury, and arsenic. 
The removal of sand and debris particles ensures prolonged service of the RO filter. The Frizzlife tankless water filter is the perfect and healthy choice for you and your family.
---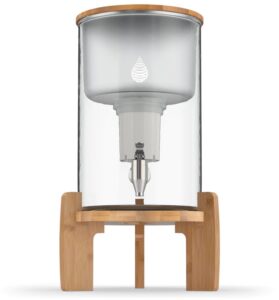 The incredible feature of this dispenser is the addition of the PH001 filter, which is of quality material. 
The filter removes contaminants and adds minerals like zinc, calcium, magnesium, iodine, and other trace elements. It removes the negative potential of water by creating high antioxidant water and neutralizing free radicals.
The body is glass and wood, giving your kitchen a modern and stylish touch. It is super easy to mount as it comes, without the hassle of connecting to a tap or faucet. 
The enormous tap in the filter pours only the amount needed and seals itself shut to avoid contamination. It's ideal to use in offices and homes as it can filter about 8.5 liters of water every day.
The PH001 and PH002 filters together can filter 96 gallons of water. The water from the filter is ideal for cooking, drinking, or even brewing coffee or tea. 
The filter is made from BPA-free, best-quality food materials, and the filters are backed by brand membership of The Water Quality Association. In addition, the Recharge glass alkaline water ensures clean drinking water, which helps eliminate plastic from the environment. 
Now you can get tasty, clean, and ultrapure water on the premises of your homes that beats all the bottled water out in the market.
Pros
Easy to install without hassles of additional pieces.
The built-in filter can clean about 96 gallons of water.
Cons
The built-in tap needs more work as it sometimes leaks.
The PH002 filter has to be bought separately.
Summary
The invigorated water is for providing quality products to all. This dispenser filter comes with a super sleek glass body and ensures clean, pure water. The filter helps make the water alkaline by increasing the pH, adding minerals, and vastly improving the taste and purity of the water.
---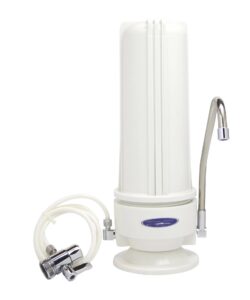 This filter system will provide you with clean and tasty water. The alkaline water will be free of impurities and germs, making your lifestyle healthy. 
It has a multi-stage granular filter which help cleans out the tiniest of sand or debris and removes 93 percent of chlorine and other chemicals. 
The SMART filter technology also removes any foul odor or taste from the water. The built-in ionizer adds magnesium and calcium to water to increase oxygenation and pH.
A valve is present in the filter, which switches between filtered and unfiltered water. The spout is adjustable for the convenience of the users. 
The compact design makes it easy to set on any sink, and the installation takes about five minutes without any tools. 
The counter filter can be added to any faucet. The lightweight makes it easy to carry around and used in hotels while traveling.
Pros
Easy to install.
The seven layers of the filter make drinking water ultra-pure.
Portability allows it to use during traveling.
Cons
The filter has to be changed every three months.
Summary
The Crystal Quest alkaline water filter is perfect for getting clean, tasty, and healthy water. It has a compact body and easy to use design. As a result, the filter takes minimal space without compromising water quality. 
---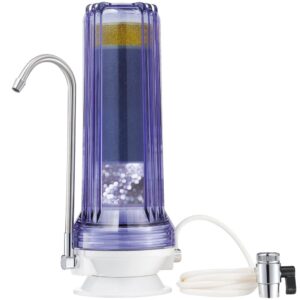 This alkaline filter has a countertop installation mechanism. The faucet adapter screws onto the sink's faucet, leading water to the filter via the waterline. Safe to consume water leads out of the faucet attached to the filter.
The NU Aqua 8 stage Alkaline water filter cleans your water in 8 steps:
First, the water passes through a mesh that stops and holds large particles. Usually, sand, debris, and some contaminants can get trapped.
The next filtration stage is the KDF- Kinetic Degradation Fluxion. This procedure reduces heavy metals, chlorine, and hydrogen sulfide present in the water. This media consists of copper-zinc granules and removes the redox reaction.
The next step uses Silver Nanoparticles for up to 100% bacterial removal. The antimicrobial properties of silver nanoparticles eliminate water pathogens. It also controls and resists fungal growth.
Then there is the activated carbon prefilter. This is a very common filter in a  water purifier as it is an excellent penetrable medium to filter out contaminants. 
There are many sources of activated carbon, but the NU Aqua water filter uses the coconut shell one. This one is way better than others because of its extensive number of micro-pores. These help to strain out more VOCs from the drinking water.
Then ORP (oxidation-reduction potential) balls help in making the water alkaline. This feature reduces acidity in the water and helps remove certain harmful pollutants. 
Then we have the Bio-ceramic filter, which is a natural way of purifying water. It breaks down the water molecules and forms micro chunks, and energizes the water. This energized water results in numerous health benefits. 
And better recovery. The alkaline water with the additional oxygen neutralizes the acidity in our body. It also works as an anti-aging formula and helps keep the body toned and disease resistant.
The following procedure is more of remineralization rather than filtering. The Mineral Stone consists of micronutrients that are added to the water. They may be calcium, zinc, copper, iron, and magnesium. 
All these elements are beneficial to the human body in many ways. They boost the immune system and help the body replenish lost or missing nutrients.
Finally, it's the mesh again, which is also lined at the top. The mesh makes sure that any remaining large particles are held back. Eventually, clean, healthy, alkaline water dispenses out of the filter. 
Pros
Easy to install.
Low maintenance.
Economical.
8-stage filtration in a very compact way.
Remineralizes the water.
5 years unit warranty.
Summary
Amazingly all 8 layers come in a single cartridge for convenience. The cartridge may require replacement between 4 to 8 months of use. The replacement depends on the quality of water entering the filter. 
This water filter is an economical option for your daily water requirements. Use water for cooking, drinking, washing, and routine activities worry-free. 
---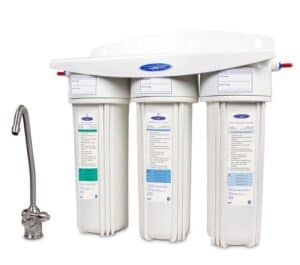 Another option is to provide quality drinking water and filter the water in 3 steps. The system is placed under the sink, and clean water is available through an extra faucet. 
In other words, you have access to both filtered and unfiltered water as per your requirement. 
The setup consists of different cartridges, which can be assembled accordingly. Each cartridge plays a distinctive role in providing different types of filtration.  
The different filtration features are:
The alkalizing water filter cartridge increases the pH value of the water. Usually, tap water is acidic due to chemicals and compounds. Some are even harmful to consume, and acidic water causes other health issues. 
The alkalizer has an ionizing medium that contains calcium and magnesium. The water is ionized, and the overall oxygenation of the water increases. Meanwhile, the pH of the water becomes alkaline which is safe for consumption.
The smart water filter cartridge is a 3-in-1 process of filtration. Filtration through activated carbon, the Eagle Redox Alloys, and anion exchange resin is done. 
Two types of coconut shells, GAC (Granulated Activated Carbon), act as the medium to absorb odious taste and odor. The carbon filters the chlorine and other VOCs. 
Two types of Eagle Redox Alloys treat the water-based oxidation/reduction procedure. It filters chlorine and heavy metals by oxidizing them into easily removable compounds. 
The anion exchange resins make sure that the pH of the water remains alkaline. 
A carbon block water filter cartridge is for any remaining contamination. The microporous media makes sure that any water that channels past the previous filters comes in close contact with carbon. 
It helps in eliminating foul odor, hideous taste, and any VOCs or harmful chemicals and sediment. 
The system also consists of a leak detection valve. This helps in detecting leaks or flooding of the water system.
Pros
Easy to install.
Includes Leak Detection Valve.
Replacement of any cartridge is easy.
No maintenance for years.
Cons
An extra faucet is required.
Summary
The system neatly hides under the sink and comes with all the necessary hardware. Though adding an extra faucet seems a bit of a tedious task, the rest of the installation is a breeze.
Fortunately, you can replace or vary the cartridges in this water filtration system. Each one can be dealt with individually. 
---
Alkaline Water Filter Buyer's Guide
---
Considering that water treatment solutions should be long-term, alkaline water filters are the best option. But with so many brands and types appearing in the market every day, we need a full proof plan to make better decisions. 
Hence the following buyer's guide will help you decide and make better purchases regarding the water filter. 
What Are Alkaline Water Filters?
Alkaline water filters are machines that filter your water. There may be 1, 2, or both major operations involved – purification, remineralization, or both. The aim is to get clean, pure water for drinking, cooking, and more. 
Different filtration processes depend on the water quality to purify. 
And the pH value is adjusted to be alkaline. 7-7.5 pH value is the best for human consumption.
---
How Do Alkaline Water Filters Work?
The main mechanism of a simple alkaline water filter is to ionize the water and bring up its pH to an alkaline level. This may include electrolysis or oxidation and, of course, microfiltration for the contaminants. 
The use of activated carbon ensures the removal of VOCs, insecticides, etc., that may be present. 
Sometimes, the water loses its mineral content; thus, remineralization adds to the system. This, in the long run, is beneficial for your body. 
The alkaline water and minerals boost immunity and help the body become resistant to many diseases. 
Depending on the type, different filter mediums may be used in a single water filter. It can be an all-in-one like the NU Aqua 8 Stage Water Filter or the Crystal Quest one with separate cartridges for separate procedures. 
The result will be safe and healthy water that fits for human consumption. 
---
Benefits of Alkalized Water:
As much as hydration is important for us, clean, alkaline water is the key to good health. Consuming alkalized water provides some and more of the following benefits.
Detoxification Of the Body:
Detoxification is when you get rid of unsafe and unhealthy toxins from the body. Toxic build-up can lead to issues like fatigue, bloating, inflammation, and mental disorders. Drinking alkaline water helps the body detox in a very safe and harmless way. 
Alkaline Water Weight Loss Plan:
Sometimes water with a high pH value can help in weight reduction. Studies have proved that drinking water with a high pH value accelerates weight loss. 
Reduces Acid Reflux:
Alkalinity neutralizes acidity. Suffering from acid reflux due to certain types of food can counter with alkaline water.
Not just for your temporary heartburn but in the long run, water with high pH will keep your body acid-free. Acidity caused by indigestion or high sugar and fatty foods can reduce by alkalized water.
Bone Health and Immunity Booster:
The alkaline water also holds adequate minerals like calcium and magnesium. These elements make the water alkaline and increase the mineral content in the blood. 
The right amount of calcium makes bones stronger and efficient vitamin absorption. The other minerals boost immunity and have multiple health benefits.
Anti-Aging with Antioxidants:
Alkaline water is a natural liquid antioxidant. This helps neutralize free radicals in the body, which cause aging and cell damage.
Essential For Heart Health:
Alkaline water helps reduce obesity. It becomes an active element that helps with blood pressure and weight loss. These and certain other health benefits are favorable for the heart.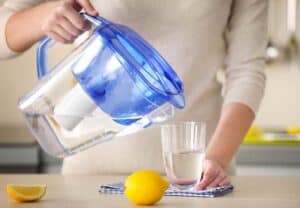 ---
Types of Alkaline Filters for Water:
There is a huge variety of types and sizes of alkaline water filters in the market. From budget-friendly to high-end filters, different types of filtering are available. 
What will work best with your needs, space, and overall expenses is the key to deciding the type of filter.
Pitchers

 
Pitchers are the most portable and accessible alkaline water filters. Various jugs have two halves and an alkalizing filter in the middle. 
The upper half is where you pour the water into the filter, and the lower half collects the alkalized water.
Countertop Alkaline Water Filters

 
This water filter contains cartridges with different filter levels. They can easily fix the sink's faucet and unplug it when not in need. 
They are quite compact and can remove many contaminants like chlorine from the water and alkalize it. 
Ionizers

 
These devices ionize water and can fix on or below the counter. Ionizers are usually an independent system with a faucet for alkaline water.
RO Filters

 
RO filters are capable and accomplish water filters that give the purest form of water. They completely remove impurities and contaminants and produce clean and safe drinking water. 
However, reverse osmosis in this filter makes the water lose its minerals. This reduces the pH value, and so a process of remineralization makes the water alkaline.
Inline Filters

 
These are bigger setups of water filters. Inline Filters are available in sizes that can connect to the main supply of your water resource (POE). 
The smaller versions can serve the purpose of filtering the water for one tap only. They increase the alkalinity of the water, making it fit and tasteful for drinking. 
---
What To Look for Before Buying an Alkaline Water Filters?
Ph Range:
The ph range of water measures the acidic or alkaline nature of water. The range starts from 0 to 14, while 7 being neutral. A pH lower than 7 indicates acidic water, while a pH higher than 7 indicates the water is alkaline. The pH of water determines its quality and taste.
Most alkaline filters do not allow you to choose between acidic or alkaline water, which is not such a big problem. The alkaline filtration provides water with a pH greater than 7.5, which enhances the taste and absorbability of the water.
System Type:
There are a lot of systems available in the marketplace. Every system has pros and cons to it. Some only change the PH of the water, while others remove contaminants and make water tastier. 
Some are difficult to install, while some require more maintenance. The type of system to buy depends on your budget and preference. The more money you spend, the better system you can buy. 
Choose a system that offers you more choices and purifies the water making it healthy and safe. Research properly and read online reviews. 
See the filter's quantity every day and your family of office requirements. Just don't buy a system as it's cheap and easy to install as it can land you in hot water.
Other Contaminants Removed:
Alkaline filter comes in different shapes and sizes. Some come with many features, while others make your water alkaline in nature.
While investing your money, make sure you choose a filter that can also remove a broad spectrum of contaminants from the water. 
The pollutants can include dangerous elements like arsenic, lead or microorganisms like bacteria, or harmful pathogens.
The best option for removing these contaminants is buying a filter that performs the reverse osmosis process. 
The RO water filters are a great option to consider. They maintain the water's taste, remove the contaminants, and make it alkaline. 
The RO systems are usually under the sink as they need more space because of all the pieces they come with.
Some countertop and water bottle filters are also available in the market, which remove this contaminant. However, they are not as effective as RO plants. 
Installation & Maintenance:
The installation process depends upon the type of Alkaline filter you have chosen to buy. The countertop filter system needs minimal installation time, is pretty easy to set up, and can easily be done by anyone. 
The RO systems or inline filters are a little complicated to install. This installation involves cutting the home waterline and attaching it to the water hoses. It is an additional cost, but the resulting water will be much better and healthier.
Just make sure you consider the installation difficulty and the additional amount to be paid when buying the alkaline filter. These also come with an instructional manual. Some have tutorial videos on their website to help you with the installment procedure.
Maintaining maintenance is also an important factor when buying an alkaline filter system. Some systems require more maintenance than others. Some come with filters that can last up to years, while some have to be changed every few months. 
The maintenance of water is an important follow-up process that needs to be given much importance. 
If not taken care of, the water can turn acidic, full of contaminants and foul odor, and hazardous to our health. So check the filter maintenance of a water filtration system before buying one.
Warranty:
The warranty is an important factor to consider while buying an alkaline water filter. Almost all alkaline water filters come with a warranty of 5 years or more. 
Make sure the warranty card comes with the filter, as so much money is being spent when buying the filter. Also, familiarize yourself with the term and conditions before buying the product.
You can often find slip-ups in the manufacturing of these water filtration plants. The warranty card helps you with a smooth process of returning or exchanging the product.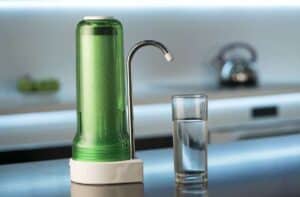 ---
FAQs
Do Alkaline Water Filters Work?
Yes, alkaline water filters help in decontaminating the water and remineralizing it. The result is water that is alkaline enough for safe consumption.
Does Brita Make Water Filters?
No. Though Brita filters provide good quality water, they cannot alter its pH. The final alkalinity of the water depends on its initial pH. Reduction of some contaminants such as chlorine might help increase the pH value.
Is Alkaline Water Good for Kidneys?
Drinking alkalized water helps reduce the overall acid in the body. This goes in favor of the kidneys. 
Additional calcium in water makes it alkaline, and too much calcium in the water cannot be so favorable for the kidneys. With a history of kidney disease, consult with your doctor.
Can Alkaline Water Make You Sick?
No aggressive health disorders are due to drinking alkaline water. There may be some minor gastrointestinal issues due to lower acidic conditions. 
Slight dryness of the skin may also occur, but the benefits majorly excuse the side effects. 
How Do I Make Alkaline Water at Home?
You can apply two easy methods at home to have water with a high pH value.
Add baking soda to the water.

 

Using pH drops
---
Final Thoughts:
A good alkaline filter will eliminate contaminants and balance the pH level of the drinking. In our opinion, the best alkaline water filter is Invigorated Water Ph Regenerate Faucet Water.
Unlike other faucet water filters with limited filtering abilities, this faucet filter is designed to deliver high pH alkaline and ionized water without any foul odor.
It eliminates harmful metals while reducing all the pollutants and chlorine. Furthermore, it adds vital minerals like iron and magnesium to the drinking water. 
For a compact and accessible option, the NU Aqua 8 Stage Alkaline Water Filter is the best. It provides remineralization in a very concise and practical way. In addition, one cartridge performs all the tasks, and no need to add another faucet to your sink.