Crane Drop EE5301 is an ultrasonic cool mist humidifier and can cover up to 250 square feet.
Crane Drop EE5301 has 0.33 pints per hour or 1 gallon of moisture output per day.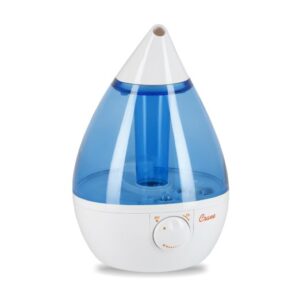 Pros
360-degree mist nozzle
Can choose between various colors
Adjustable mist output
Water refill indicator
To use, easy water refill
No filters
Cons
It makes annoying burbling noise
The areas near the humidifier get wet
Light can't be turned off
---
Crane Drop EE5301 Design and size
Crane Drop EE5301 has a compact round shape design. It has transparent glass, so you can easily see the water level inside.
Crane Drop EE5301 has several great color styles to choose from – yellow, blue, pink, orange, etc.
The size is tiny, only 14.2 by 9.8 inches (36x25cm), and its weight are only 5 pounds (2.3 kg). Yet, it is effortless to carry around and place it everywhere – on the table, countertop, or in any other place.
---
Crane Drop EE5301 Features
This small and compact ultrasonic humidifier has some great features.
One of the best is the Automatic Shutoff. An automatic shutoff sensor shuts off the unit when it goes out of the water to protect it from overheating.

The unit controls the variable control knob. Very simple but effective.

A 360-degree mist nozzle is excellent for pointing the mist right where you need it.
---
Crane Drop EE5301 Noise level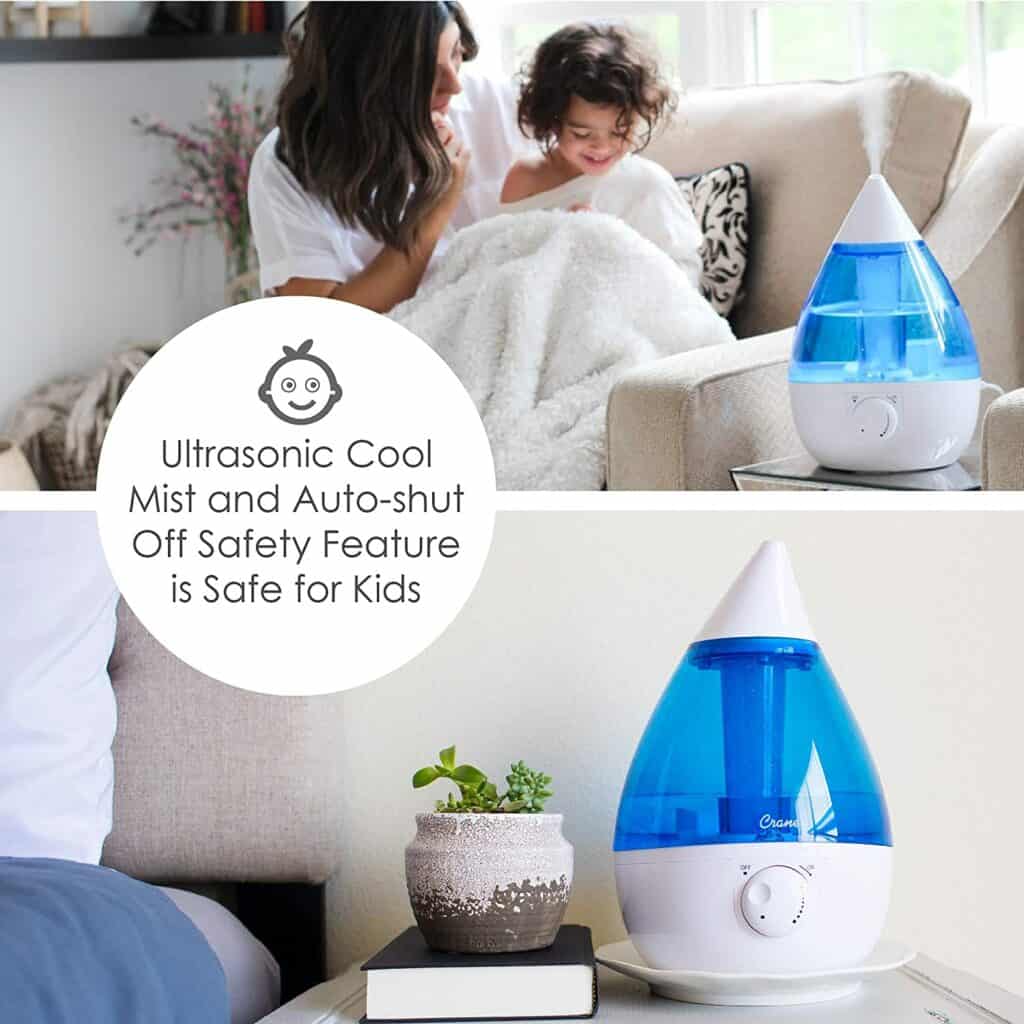 The Crane humidifier makes a low steady hum noise. Most of the time, you will not hear it. The other sounds around are louder.
---
Crane Drop EE5301 Maintenance And Upkeep
Crane Drop EE5301 is pretty easy to set up. Please take off the tank, fill it with the water, and that's it. It is recommended to use distilled or filtered water.
Also, place it away from electronics because areas around the humidifier become wet. 
Crane recommends cleaning humidifiers every week.
The tank size is quite ok, but still not enough. So you will need to refill it a few times a day unless you use it on the lowest setting. On the lowest, it can work up to 24hrs but then the mist output is very low. 
---
Crane Drop EE5301 Vs. Other Humidifiers
Crane Drop EE5301 humidifier is perfect for maintaining the necessary humidifier level in smaller rooms, for example, bedrooms. It doesn't have many features, so let's look at competitors.
By design and features most similar is the Pure Enrichment MistAire™ Ultrasonic Mist Humidifier, but it has a smaller water tank and weaker mist output. Pure Enrichment MistAire Cloud is closer by performance, but the design is more suitable for babies and kids.
Other humidifiers worth taking a look at are:
---
Crane Drop EE5301 Summary
Crane Drop EE5301 is suitable for small rooms; it has a unique, attractive look, is easy to fill, has a very detailed and helpful instruction manual, etc. Overall this is a good humidifier.