If you live in a humid place, you would know the difficulties of having bad air quality. Living in a place with good quality and not overly-humid air has many positive effects on your health and mood, and attitude.
If the air is too humid, it may contribute to the accumulation of mildew and molds. What's more, it will leave your space smelling moldy. On the other hand, when humidity increases, you will feel it on your skin, making you feel uncomfortable. This is when a dehumidifier comes into play.
Dehumidifiers will suck excess humidity from the air and keep it in the form of water in its tank. The best dehumidifier will depend on how humid the air you live in and how large the place you need it to cover.
If you're living in a large area, then a 70-pint dehumidifier can be a great option. Today, there are lots of 70 pints dehumidifiers on the market. To narrow down your options, we will review one of the best 70-pint dehumidifiers today- the RCA RDH705.
Wondering whether this product can be a great investment or not? If so, then read on to find out what this dehumidifier has to offer.
Quick Review Summary
The RCA RDH705 70-Pint Dehumidifier is a nice item to buy for some reason. This dehumidifier operates quietly and removes 70-pint of moisture every day. Retailing for about $200, the RCA RDH705 is indeed a great value for the money. And at just below 40 pounds, it is somewhat light for this size class.
Similar to the other 70 pints dehumidifiers, the RCA RDH705 is also energy efficient. As a matter of fact, it only consumes about 570 watts.
On the other hand, this dehumidifier can remove excessive humidity from rooms up to 4500 square feet.
Further, this product has two fan speeds: low and high. It also has a continuous mode that enables the dehumidifier to run continuously, irrespective of the air's ambient humidity.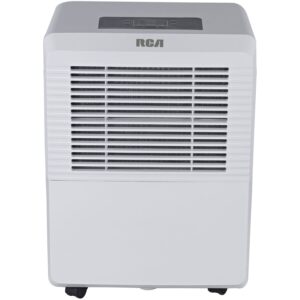 Pros
A one-year warranty backs it.
Operates quietly
It only consumes less power.
It has a defrost and continuous mode.
Has an accurate inbuilt hygrometer
It features a digital control panel that allows you to adjust the settings with ease.
Cons
It doesn't come with an auto mode function.
You will need a separate adapter to use the gravity drainage.
It doesn't feature a pump.
The build quality is quite poor.
---
RCA RDH705 Performance:
As mentioned a while ago, the RCA RDH705 is an energy-efficient dehumidifier. In fact, at 50 percent relative humidity, this unit will only draw 570 watts, unlike other 70 pints dehumidifiers that use 590-watt of power.
With a rated noise level of around 53 decibels, this 70-pint dehumidifier can operate quietly in rooms with minimal impact. Even at a high fan speed, the RCA RDH705 doesn't interfere with normal conversations. Meaning to say this dehumidifier isn't overly irritating.
On the other hand, if you set it on low fan speed, you can expect that the RCA RDH705 will operate silently, allowing you to rest peacefully if you chose to place it inside your bedroom.
The RCA RDH705 can remove up to 70 pints of moisture from the atmosphere every 24-hour in a space up to 4500 square feet.
Unlike other 70-pint dehumidifiers, this maintains moisture levels and lessens humidity from the air efficiently and more rapidly.
---
RCA RDH705 Key Features. Functionality
Humidity Range
This unit can be set as low as 35 percent RH and as high as 85 percent RH. However, some buyers suggest that you should set the humidity range at 42% for better results.
Operating Temperature Range
This dehumidifier's operating temperature range is between 41 degrees and 95 degrees Fahrenheit that is fairly usual for its size class.
However, at the lower end of the temperature range, frost may buildup on the dehumidifier's evaporator coils. But you don't have to worry about this because the RCA RDH705 comes with a defrost mode that will melt the coils for constant operation, even at a lower temperature.
Portability
Weighing at around 40 pounds, the RCA RDH705 is one of the lightest 70 pints dehumidifiers, making it a portable option. This unit also comes with casters that allow you to move it from one place to another without exerting too much effort. Though this dehumidifier doesn't come with top handles, it does have 2 side pocket handles.
Warranty
The RCA RDH705 70-pint dehumidifier is backed with a one-year warranty. However, there is an additional four-year warranty on the sealed system of the unit.
Design
The RCA RDH705 has the same outer plastic shell and appearance as the other 70 pints dehumidifier, like the Keystone KSTAD70B. It also has the same control panel as the KSTAD70B.
Nevertheless, there is also a plastic strap at the back that will hold the power cord.
Value
The RCA RDH705 is one of the most inexpensive dehumidifiers that you will see on the market today. Regardless of its price, this unit can guarantee you efficient and successful moisture removal in a large space.
In addition to that, it also has a defrost mode and continuous mode that is typically seen in higher ends dehumidifiers. 
Water tank
The RCA RDH705 comes equipped with a water tank. It has a size of 16.8 pints, which is typically bigger compared to other units.
---
RCA RDH705 Ease of Use
This dehumidifier is easy to use thanks to its high quality LED display that allows you to adjust the settings and other functions with ease. Removing the filter is also simple because it has a slide-out filter at the bottom.
RCA RDH705 Maintenance and Upkeep
Similar to other dehumidifiers, the RCA RDH705 is easy to maintain as well. All you need to do is remove the filter and wash it properly. On the other hand, you can check the user's manual to see the suggested timeframe for filter replacement.
In addition to that, make sure to clean the water tank periodically. Keep in mind that without an occasional cleaning using a disinfectant or water and soap, your dehumidifier can become the breeding ground for mildew and mold.
Finally, to obtain the best results from RCA RDH705, make sure to place the unit in the right place.
---
Final Thoughts
In general, the RCA RDH705 70-pint dehumidifier is indeed a great product. It has been established to work out better for most people. But aside from that, it comes with many great features that are usually found on more expensive dehumidifiers.
On the other hand, this dehumidifier will extract moisture from the air and reduce nasty smells and prevent mildew and mold build-up.
Now that you already know what the RCA RDH705 70-pint dehumidifier has to offer, what do you think? Is it a great investment or not?
Hopefully, this review has helped you a lot in making a wise decision.