If you search for a suitable device or machine that can improve the air you are breathing, then the Puuri purifier is a great option. It emits some 90 million negative ions every second, and this is not just an air purifier, but it is a mini one that you can take with you wherever you are going. You no longer need to worry about what the quality of the air is going to be when you are traveling or even if you are in your car when you use this machine.
This portable air purifier uses negative ion technology to clean the air around you, eliminating any harmful toxins, dust, and even odors. It has a sleek design that makes it easy for you to carry it around, and it will purify the air and deodorizes and sterilizes it. You can use this in your home, office, and even your car, so make sure to read our review about this device before purchasing it.
---
Puuri Air Purifier Design
If you have been looking for an air purifier that you can carry around with this, then this model is the right one to go with. It is made of the highest quality aluminum alloy that looks great, and it would fit with any décor that you have in the area where you are going to be using it. There are holes on both the top and bottom of the Puuri air purifier to bring in the air and then let it out after being cleaned.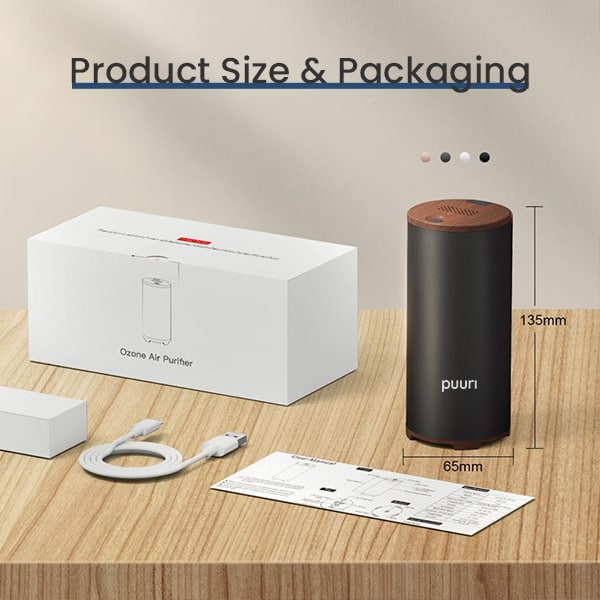 The USB port for charging it is located on the top, but it is covered with a plastic lid to keep it hidden and keep it clean. You can choose this device in 4 colors, including gold, silver, gray, and even black, to fit whatever needs you might have. This will look like another speaker or just an item you have placed in your home, and nobody will even know what it is due to the clean and elegant design.
---
Puuri Air Purifier Features
You will need to know plenty of features when it comes to the Puuri air purifier before you buy it. Some of the core features to be aware of includes:
The unit can sterilize, deodorize, and purify the air.

Affordable model

Eco-friendly that can be used while traveling or in your office or home
Neutralizes all odors that are unpleasant and effectively get rid of bacteria, mold, and germs
Compact, portable, and lightweight made of aluminum alloy of the highest quality

Feature to automatically shut it off, so you don't have to worry.
These days you can take the device anywhere you want since it only weighs 400 grams, which means you can carry it with you daily, and it can easily be powered by one button. This can also be powered by either the USB port that is on the top, or you can use the battery, which is 1200mAh, which is convenient for wireless usage.
You don't need to worry about charging it before you go, especially if you have the battery and the cable with you. There is also an indicator light that flashes gently to know when it is ready to be charged.
---
Puuri Air Purifier Performance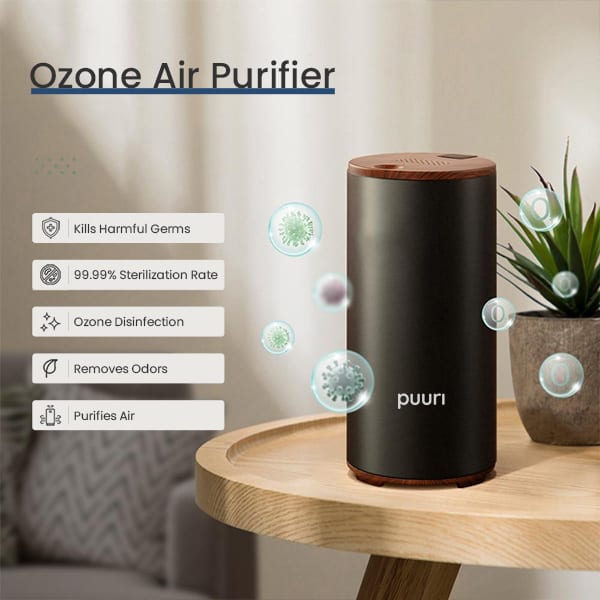 Another thing to know about is that this multi-purpose unit cleans the air around you and will sterilize it and even deodorize it simultaneously. Just because this is a smaller model, it doesn't mean that it isn't strong, and it can filter the air at a rate of 400m³ per hour. This means that all of the bacteria and any germs that might be floating around your home would be gone, including dust mites, mold, pollen, and much more.
It uses a system made of many internal fans that would be used for filtering the air by getting rid of any pollutants or particles in the space where you are using the device. The machine intakes all of the air in the area and then spits out the fresh air to feel better about breathing. This will be perfect for a small apartment or even your office or your car if you aren't sure about the air that you would be inhaling.
---
Puuri Air Purifier Maintenance
There isn't a lot of maintenance for this device, primarily since it uses a HEPA filter. This means that you will have to remove these filters, which are made using thin glass fibers that have activated carbon materials inside to trap the dirt and other irritants. However, when you purchase this machine, you will want to ensure that you have an extra filter on hand to change it out every 6 months or so.
You will also want to ensure that you are wiping down the machine regularly to ensure that you aren't allowing dust to collect. If dust collects, it won't be able to intake the air as quickly, so make sure to wipe it down with a slightly wet cloth every few days. If there are fingerprints on the exterior, then you can wipe it down using a bit of soap and warm water to get rid of them as needed.
---
Summary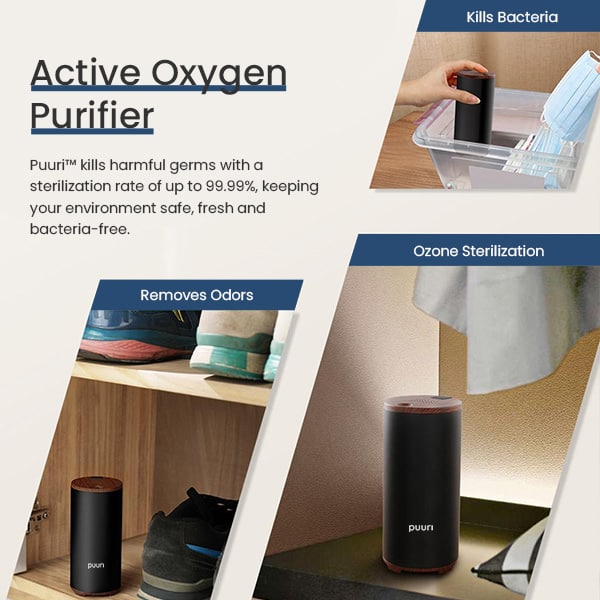 If you want to find and purchase an air purifier, then the Puuri mini model will be perfect for you. This means that you can carry it with you wherever you are going without feeling like you are being burdened, and it can be used in different areas. It is perfect for smaller homes or bedrooms or even your office or car while driving around. It will clean out everything in the air and make sure that you are breathing in only the cleanest air without any irritants.