No one is safe from dust, whether it's a skyscraper apartment or a house. And if you have a pet at home, the concerns are double. With a hectic schedule, it might not be possible to deep clean your house every single day.
But getting rid of hair, dust, pollen, and airborne bacteria is also important. To make your life, easier air purifiers are the best choice. They work in one corner, efficiently purifying the air and giving you a safe environment.
With innovations day by day, one brand always stands out. Introducing the Okaysou Cayman 608 Air Purifier. A device to keep your home air fresh and lively. Best for office use as well.
Here is an insight into this extremely outstanding Air Purifier. See the greatness of this valuable and competent device.
Pros
Enhanced 3-stage H13 Filteration
Saves up to 50% on bills compared to AC air purifiers
Designed for small and large rooms
Lightweight
Excellent customer service
Cons
Filter needs removing and cleaning regularly
It needs to be placed with free space around
---
Okaysou Cayman 608 Air Purifier Design and Size
A white cylindrical machine with 18.6 x 11.1 x 10.4 inches' overall dimensions. The air purifier weighs around 8.18 pounds only. The round and sleek design body encourage air intake from all around the room. This circular design even reduces the filtration time.
The surface area is drastically increased, and air distribution is uniform. The air passing through the purifier is well exposed to the filter and then let out from all around. The vertically standing Okaysou air purifier is also a great addition to your home decor.
---
Okaysou Cayman 608 Air Purifier Portability
Homes without centralized air conditioning systems might need portable air purifiers. This purifier had a standard weight of around 8 pounds which is light enough to shift around.
This also cuts the cost of buying an air purifier for every room. The filtration can be done in every room in turns or in the space used most. Depends on your surroundings or whether you own a pet or not.
Homes that do not house a pet can schedule the use of the air purifier. Whereas with hair and fur flying in the air at home, you may keep it running for long. This air purifier is easy to carry around the house without significant obstructions.
---
Okaysou Cayman 608 Air Purifier Purifying Power
Electric air purifiers create an electric charge to capture dust and air-borne particles. Some even include UV radiation to kill germs and bacteria. And some have a carbon filter to remove odors.
All this, however, comes down to the power of a purifier. The speed and the capacity of filtering the air of any given space help you decide the overall performance.
The Cayman 608 can purify 1,000 square feet in one hour, 600 square feet in 30 minutes, and about 300 square feet in 15 minutes. Perfect for larger rooms or small apartments.
You can manage your electricity costs by knowing the number of hours your air purifier needs to operate.
Secondly, the filtering the air purifier carries out. This air purifier comprises 3 layers filtration system. The first one is a non-woven fabric-free filter. The second one is an H13 True HEPA filter, and lastly, the Honeycomb Activated Carbon Filter.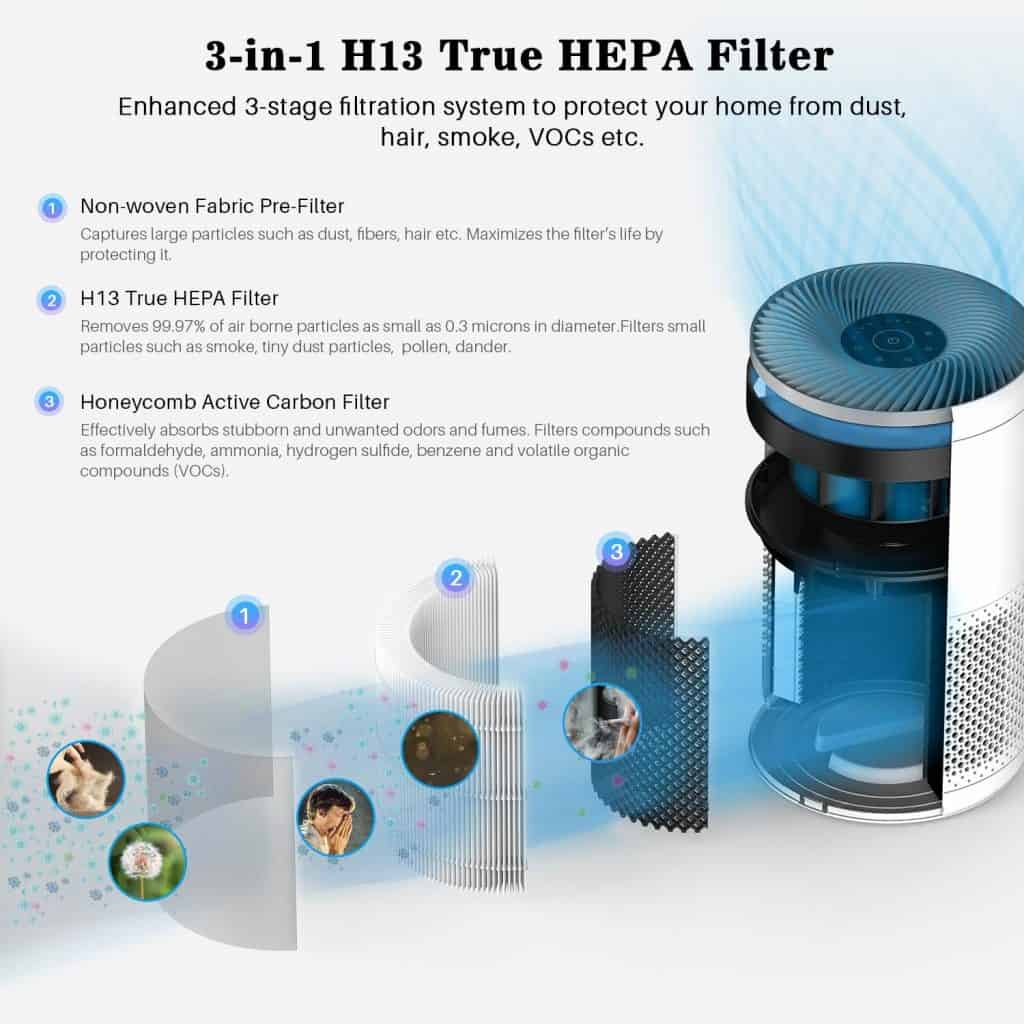 Both together work to filter 99.97% of the harmful airborne particles. The HEPA – High-Efficiency Particulate Air can filter up to 0.3microns in the air. This figure even guarantees the eradication of microorganisms and pathogens.
H13 is the highest grade of HEPA and works perfectly. It is medical-grade quality, hence the best feature so far.
The activated carbon filter is for the odors and the gases accumulating in the air. Hence a complete and remarkable filtering system is available. All filters together guarantee superb air quality.
---
Okaysou Cayman 608 Air Purifier Key Features
An air purifier is excellent for its filtration ability and power consumption. The Cayman 608 has enhanced key features to help you achieve clean air in very simple steps.
4 fan speeds can adjust with one-touch options. You can set timers for the working hours of the purifier. This feature is useful when you plan on leaving it on while going to bed.
It even becomes handy to leave the air purifier running for a specific time when not at home.  The sleep mode lets you set the timer in advance, and the purifier works silently.
Another exciting feature is the child lock. Apply this mode to avoid kids messing with the settings on the purifier. The display also alerts you to replace the filter, and the lights can be turned off. Enjoy your night's sleep without the annoying light illuminating the device.
---
Okaysou Cayman 608 Air Purifier Noise Level
Nothing is more charming in any continuously running appliance than it being noiseless. The Cayman 608 outputs 22dB of noise level only. Moreover, it comes with the latest technology of Silence Boost 2.0.
It becomes great for home and office use because it is very quiet and discreet. There are no disturbing sounds or whirring of fans, just peaceful cleaning of the air.
Place it anywhere in the house or office at any time of the day. The purifier works silently and does not interrupt any of your activities. It maintains the noiseless environment, especially when set on sleep mode.
---
Okaysou Cayman 608 Air Purifier Power Consumption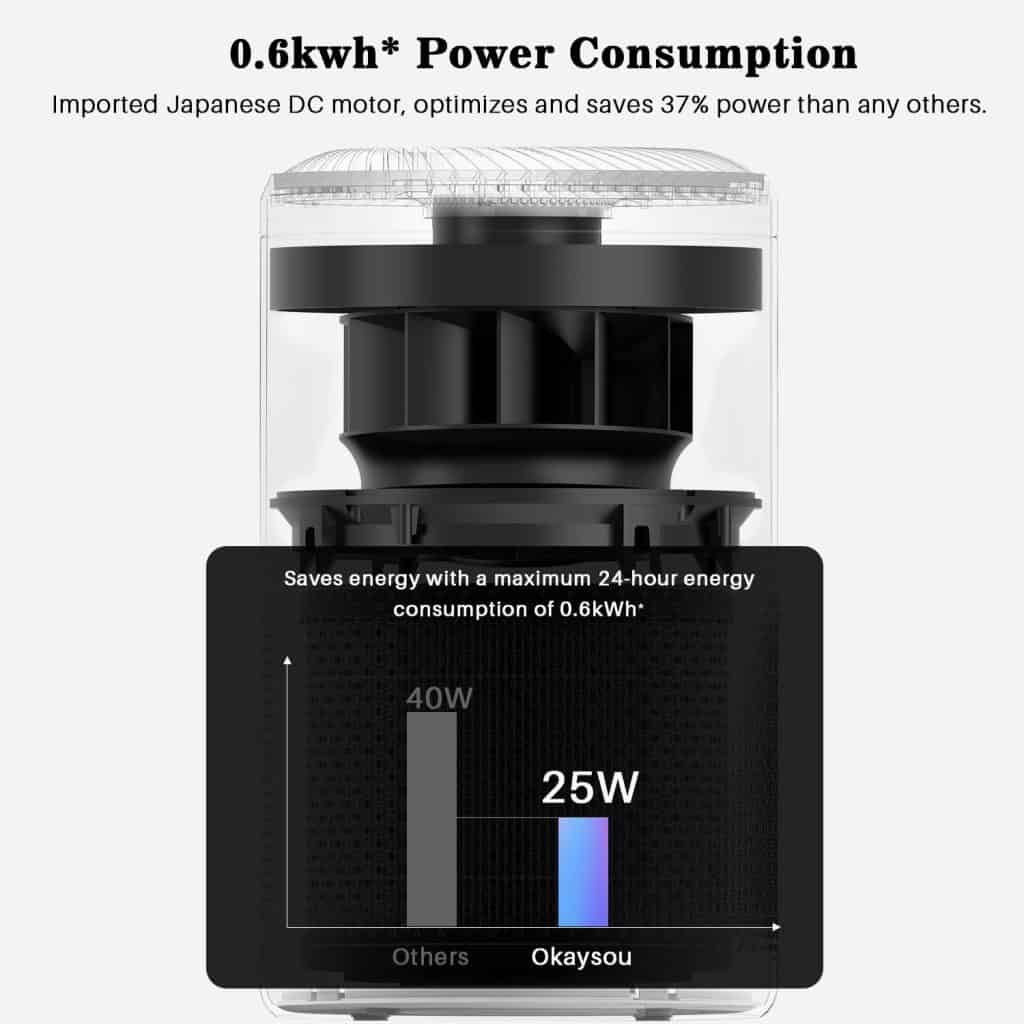 Air purifiers usually run on AC, and their power consumption increases with speed. The Cayman 608 comes with an innovative DC-filter system, limiting power usage. It uses about 25 Watts only even at the highest speed setting.
The power consumption lets you calculate the forthcoming bills. Here the efficiency of the purifier also plays an important role.
If you cover the largest area in less time, the running of the purifier can limit to a certain number of hours. No need to run the air purifier for 24 hours. The power consumption is only 25 watts, even at the highest speed. Thus, Cayman 608 is not only energy-efficient but also a cost-efficient choice.
---
Okaysou Cayman 608 Air Purifier CADR, ACH, Room Coverage
This is one of the initial factors before buying an air purifier. From portable to large, air purifiers come in different sizes. Choosing the right one according to your room size is the catch.
A small one won't work well, and a large one will consume more electricity. Therefore, one must know the exact area and should pick one accordingly. Moreover, the number of pets in the house will also alter the decision.
Similarly, you will also need to consider the ACR and the CADR. The ACR is the rate at which the air purifies in an hour. The Cayman 608 can purify  1,000 square feet in one hour, 600 square feet in 30 minutes, and about 300 square feet in 15 minutes.
This is because it has a high CADR of 153.8 CFM / 260+ m³/h and 360° air intake. The CADR or the Clean Air Delivery Rate speaks of the air purifier's efficiency. The higher the CADR number, the better the purifier is at cleaning the indoor air.
An air purifier with a HECP filter usually has a high CADR. Luckily Cayman 608 comes with an H13 true HEPA filter.
---
Okaysou Cayman 608 Air Purifier Maintenance and Usage
You need to be sure the purifier you are planning to purchase is feasible in the long run. Dealing only with brands that are experts in the field and checking out the replacement parts. Both availability and cost of the parts are important to know beforehand. Similarly, best after-sales and customer service matter too.
The Cayman 608 is under 2 years of warranty, and Okaysou provides excellent customer service. This makes it easier to clarify doubts soon after purchasing and in the long run. It becomes easier to keep your device up-to-date.
Besides, they are also;
FCC certified
ETL listed
CARB certified, which means they comply with California's safety standards.
100% ozone friendly
A brand that is completely aware of environmental and safety issues is a certified manufacturer.
---
Okaysou Cayman 608 Air Purifier FAQs
Does Okaysou Cayman 608 remove mold?
An air purifier with a HEPA filter is effective in removing mold spores. Using air purifiers to remove or reduce mold growth is a long-term measure.
However, you will need to clean the already growing mold for visible results physically. Preventing moisture and seepage that cause the mold to grow will help too.
Does Okaysou Cayman 608 Air Purifier get rid of smells?
Yes. Cayman 608 purifies the air of odors, smoke, and VOCs, volatile organic compounds. All are responsible for different smells in the air.
Does Okaysou Cayman 608 help with dog hair?
Cayman 608 filters 99.97% of air pollutants, including pet dander and hair.
Do Okaysou Cayman 608 air purifiers work against Covid?
Though Cayman 608 can filter up to 0.3 microns of microorganisms, it's not a foolproof measure to prevent Covid-19. Coronavirus spreads via contact. Hence places can remain contaminated even if the air-borne virus is filtered.
---
---
Final Thoughts
Deteriorating the quality of air due to numerous reasons has forced people to grab an air purifier for at least their homes. Moreover, pet owners too usually rely on air purifiers to keep their homes dander and hair-free or considerably reduced to a minimum.
Though the results may not be 100% with the prevailing health issues, these air purifiers keep things under control. Allergens, viruses, smoke particles, dust, chemicals, etc., all are drastically reduced. So, if you decide to get one, make sure it is worth the buy.
The device's power consumption, the working efficiency, and the brand itself all need to be considered. And Okaysou Cayman 608 is by far a great product to consider, with all the features ticking the right boxes.