Meaco DD8L Desiccant Dehumidifier Review
Meaco first started in 1991 by Chris and Michelle Michael with their aim was to specialize in control and monitoring equipment for art galleries and museums. Nowadays, they built a range of products which include Thermo hygrometers, thermohygrographs, and other museum oriented measurement instruments.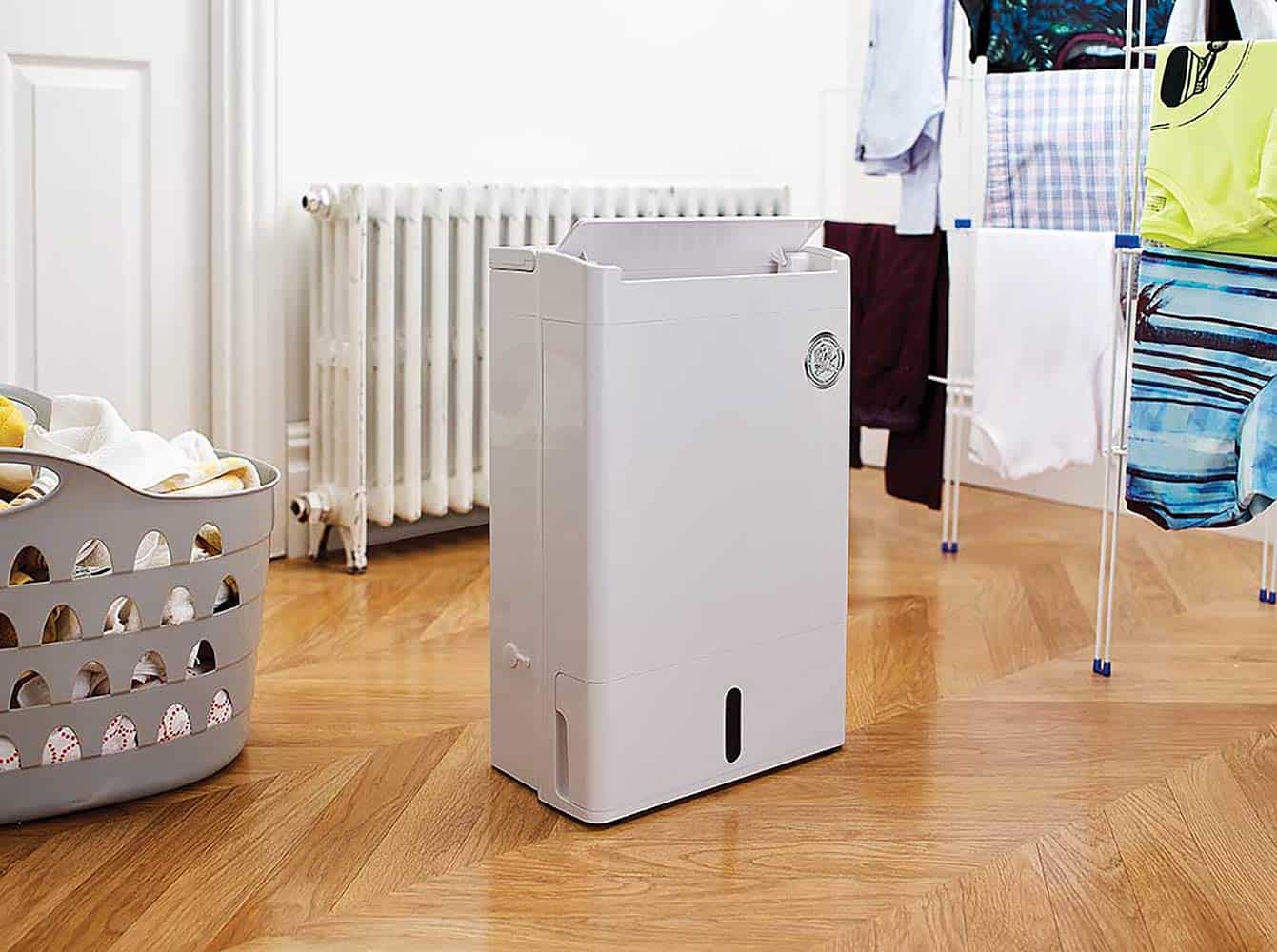 However, they also manufacture a line of reliable domestic units of humidifiers and dehumidifiers. This includes the Meaco DD8L Desiccant Dehumidifier— one of the best Meaco's dehumidifiers to this day and part of their exclusive Platinum Range of dehumidifiers.
Pros
Quiet Mode
Unique DC motor for low energy consumption
Memory Function
Advanced Function Modes
Great for drying clothes and any other items
Safety features
Cons
Hose for continuous drainage is not included
Some users complained that the unit creates some "Ticking" noises on Quiet Mode
---
How Does It work?
This dehumidifier is designed in order to reduce humidity from the air in your home, office, or any building space. The purpose is to prevent condensation, musty and moldy air, help in drying laundry and other issues related to high humidity.
This dehumidifier functions according to the condensation principle and heat recovery. Its fan takes in the humid air from the room and moves it across a filter then through an evaporator. From here, the air is cooled below the dew point where the water vapor of the air creates a condensate on the coils that flows into the unit's internal container ready to be poured away.
The dried and cooled air is then heated again by the condenser. By doing this process over and over again through the dehumidifier, the moisture content, and the room relative air humidity is reduced.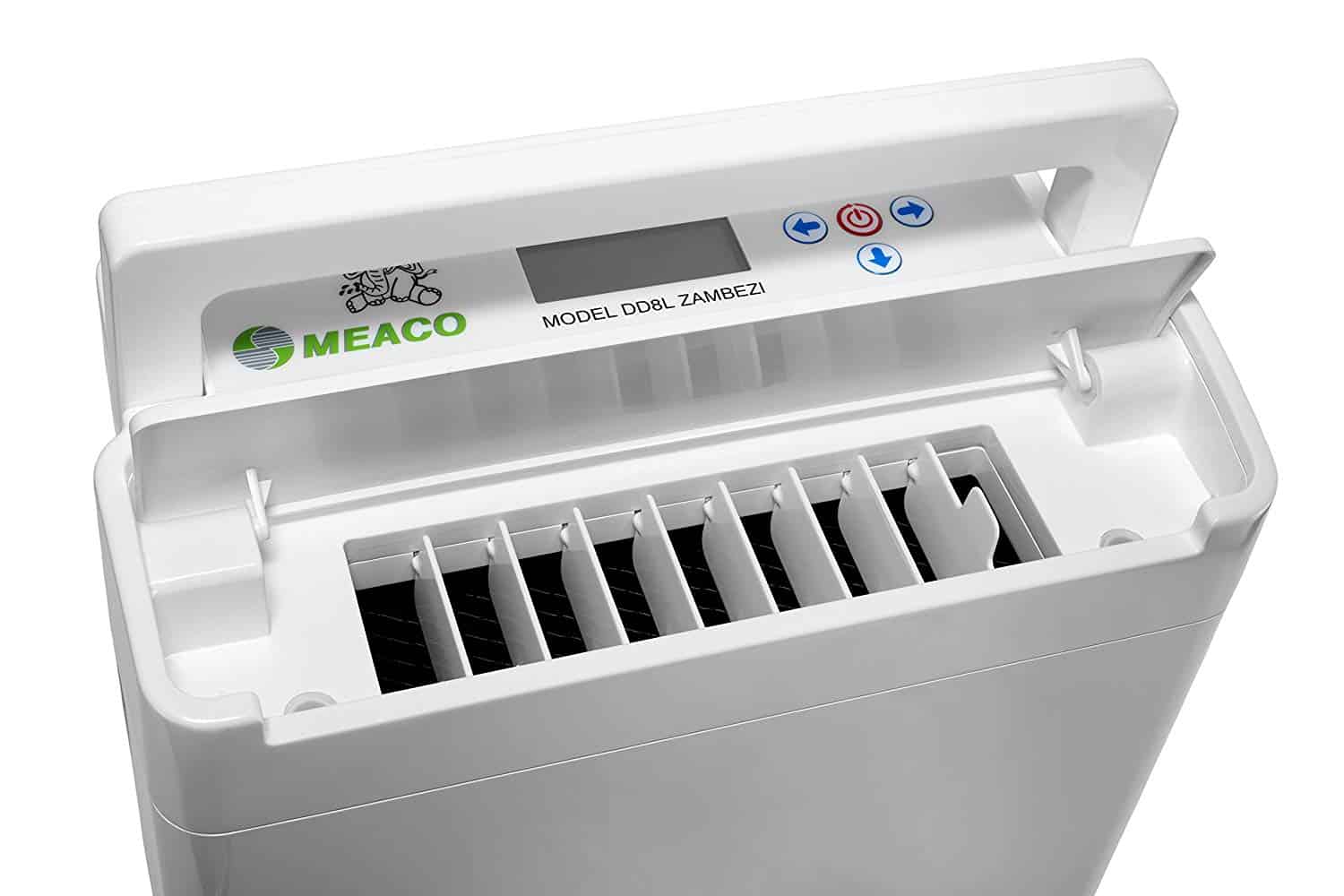 Features
Advanced Modes
The Meaco dehumidifier comes with advance and smart modes including:
HUMIDISTAT: Used to set the target relative humidity between 30 – 80% RH with 5%rh steps. There's also an option of CO that stands for continuous operation so that the machine will continue to operate regardless of the room's relative humidity.
LAUNDRY: This one is used to help dry the laundry or anything that requires quick drying. In this mode, the fan speed increases to the highest 4th speed which is key to drying things faster.
AUTO: This mode allows ultimate control of the room relative humidity. It uses the MeacoEasyRH Control program that automatically maintains the optimum relative humidity for you.
QUIET: Controls the noise level of the dehumidifier by dropping to low fan speed in order to reduce noise and stops bleeping.
Useful Functions
In addition to the advanced modes, this dehumidifier also features useful and safety functions including:
OFF TIMER: Allows you to run the machine for a set number of hours (between 1 and 12 hours) and automatically shuts down on its own.
FAN SPEED: It allows you to choose one of the 3 fan speeds while in humidistat mode only.
LOUVRE SWING: This one is more convenient when on Laundry mode where it turns the swing mode on or off. This allows the air moving across the surface in order to be dried up easily.
CHILD LOCK: This mode stops the functions of the unit from being change. This is especially useful for those with curious kids who like to press on buttons.
Memory Function
When the dehumidifier is turned off whether due to a power interruption or pressing the Power button, it will turn back on with the same settings that you left it in. This is useful so that you do not have to take time in setting it up all over again.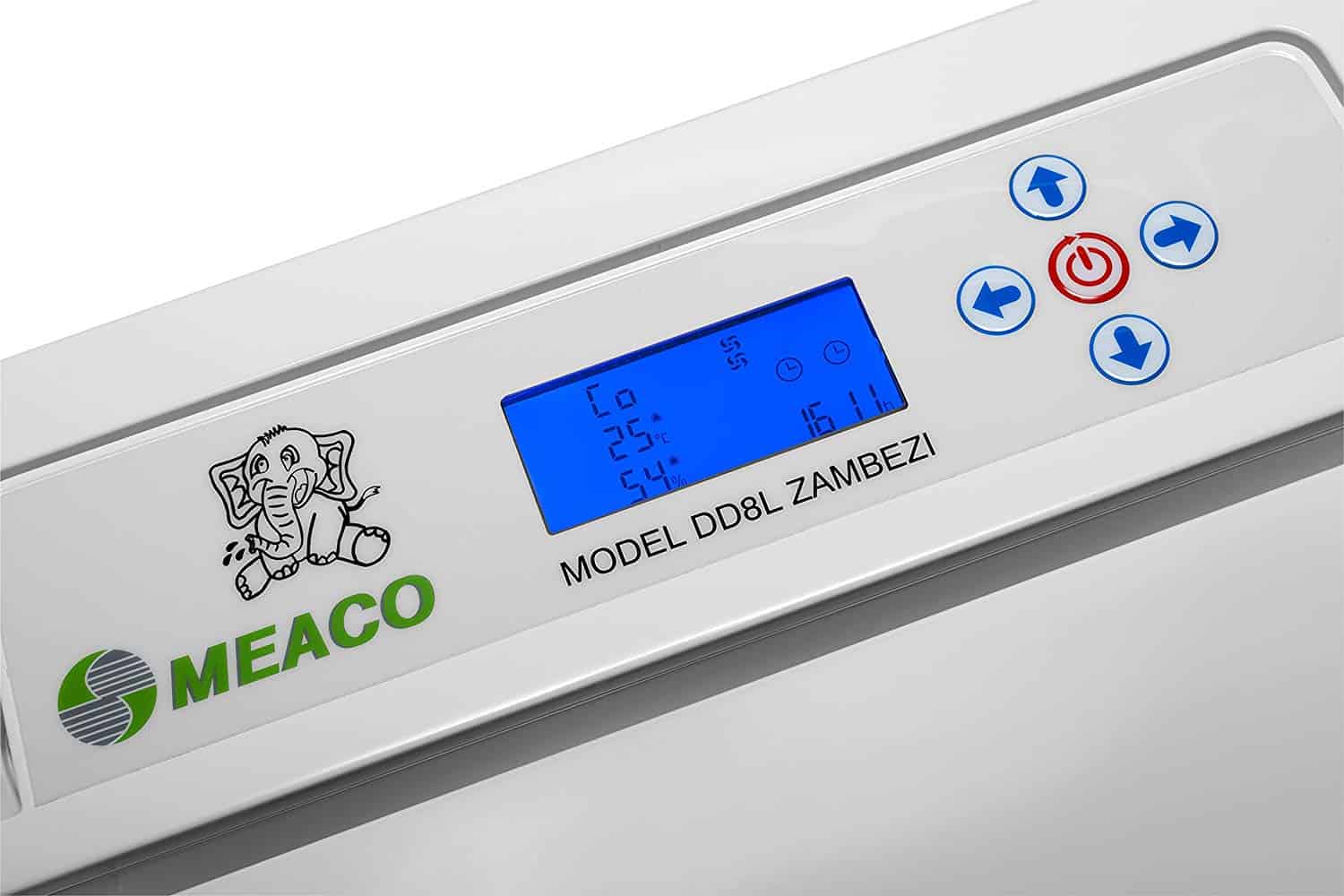 Automatic Defrosting System
The unit is also equipped with an auto hot-gas defrosting system. When the dehumidifier is operating in low temperatures, the evaporator's surface will accumulate frost and affects the efficiency of the unit. When this happens, the unit will automatically go into a periodic defrosting, preventing damage to the unit and ensuring efficient performance.
Optional Continuous Drainage
The dehumidifier features an internal tank that collects up to 8L of water. Once full, the unit automatically switches off. However, if you wish a non-stop operation and need to drain the collected water continuously then you can just attach a 12mm diameter garden hose to the rear outlet. This way, you do not have to worry about draining the device every now and then and leave it to operate as long as you want to.
Low Energy Consumption
Featuring a unique DC motor which is first of its kind in Europe, this dehumidifier offers some great advantage on your electricity bill and energy consumption. One of its greatest advantages is that the harder you work the unit, the more energy-efficient it becomes.
This is also why when using it in Laundry Mode, the unit collects more water for you more quickly, but uses less energy.
Noise Levels
The Meaco DD8L Ultra Low Energy Dehumidifier already works at a low noise level. But with the advanced quite mode operation, this unit guarantees that you will have a quiet night while you sleep or will not disturb you when doing a movie marathon with the whole family.
It sits silently in the corner while doing its job— removing excess moisture and removing molds and bacteria from the air.
Maintenance
Before performing any maintenance procedure, it is important that you always turn the unit off and disconnect its main cable.
You need to inspect the electrical cord for any damage at regular intervals. In addition, you need to check the filter at least once a week. The working performance of the unit will be greatly realty if its filter is blocked with dust.
When replacing or cleaning the filter, you just need to remove the filter. Use a vacuum to remove any debris from the filter and wash it with mild detergent and water. Allow to air dry and then re-install it into the dehumidifier.
For storage, unplug the dehumidifier. Prior to storing, you need to clean the filter first and drain the water from the unit. Wrap it with a plastic cover in order to protect it from dust, debris, and strong sunlight.
Conclusion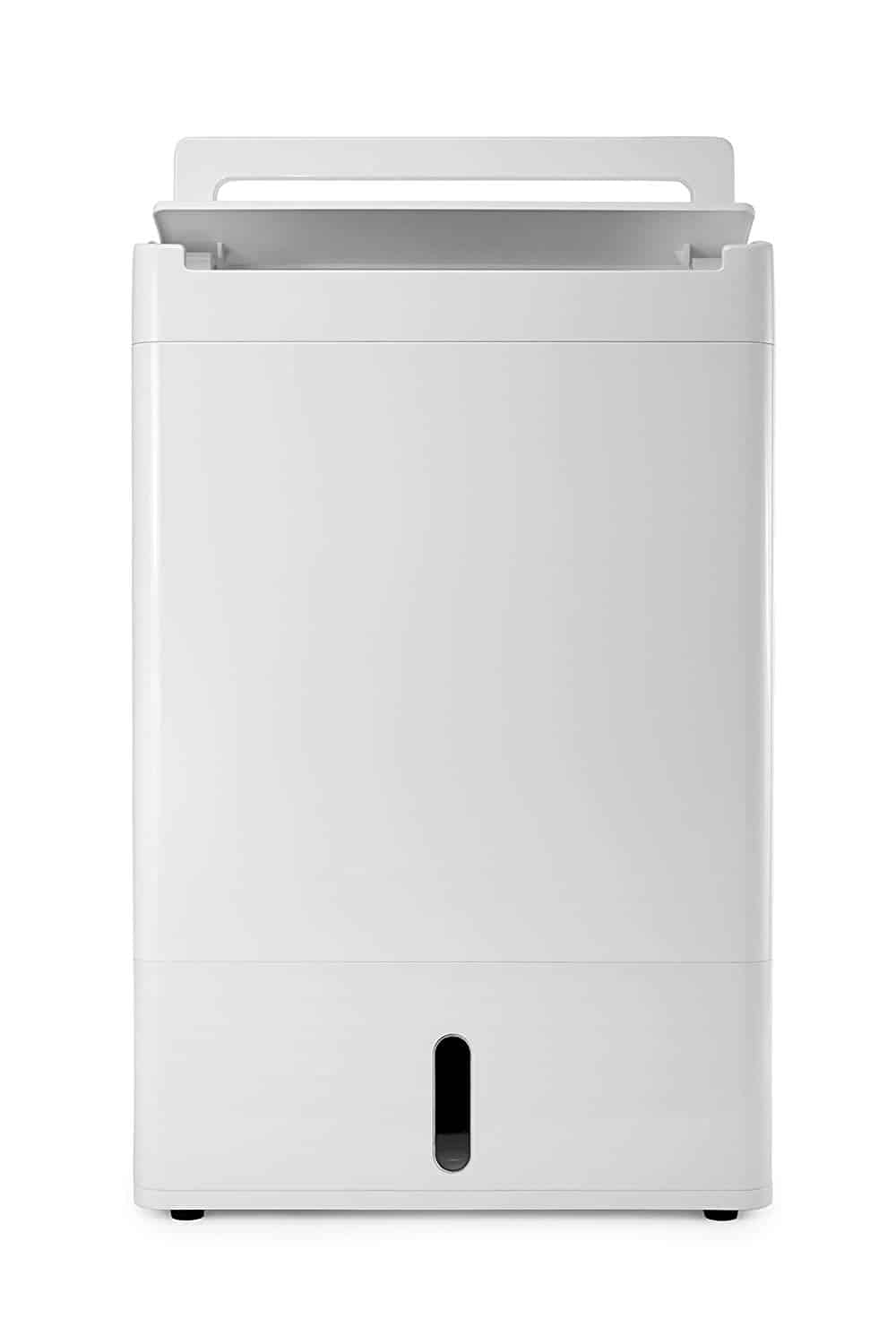 The Meaco DD8L Dehumidifier is great at extracting moisture and humidity from indoor environments and is super easy to program with its intuitive controls and design features. It is one of the best units in the market today and proves especially useful in drying your clothes— doing it a lot faster and cheaper than your regular stumble dryer.
---
Read also: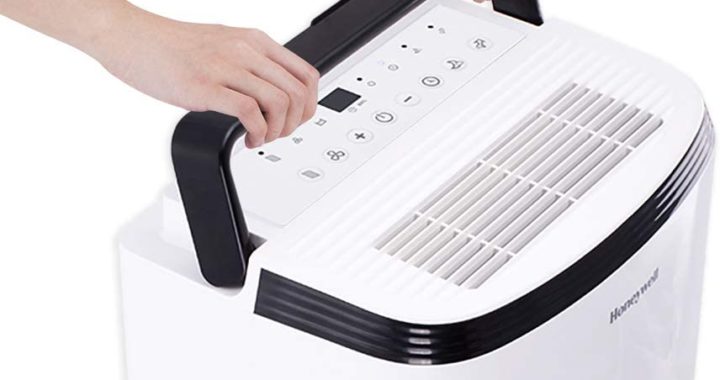 The fact that people prefer to make purchases under more renowned brands and companies is somewhat amplifying these days. And why not? You get to be assured about the quality, services as well as the features of a product to a greater extent. Honeywell is one such popular brand that has plowed in many fields […]
0 comments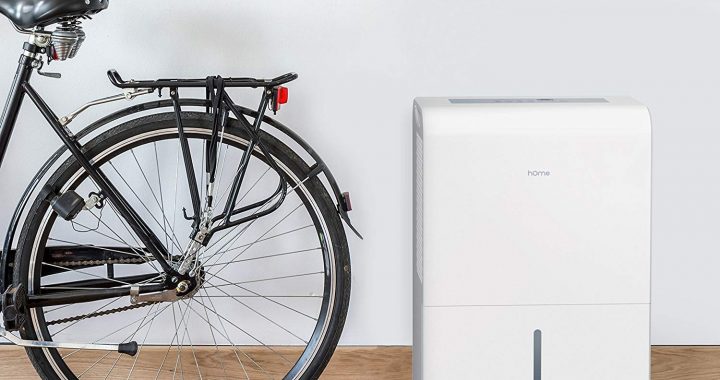 There are so many 30-pint dehumidifiers that you need to be aware of, and this will help you to make the right choice for your needs. We will talk about each of the top 5 options and give you general information about them so that you can make the right choice for your needs. These […]
0 comments
Sunpentown SD-31E 30 Pints Dehumidifier is an excellent choice for small areas up to 200 square feet. It will operate too in as big as 500 square feet spaces. Continuous drain capable, low-temperature operation and other features for less than $200. Pluses: Minuses: Design and Size Sunpentown SD-31E design is simple. It has an air […]
0 comments