Sometimes the air that surrounds you feel too heavy. This is true, especially if you live in an area that features a humid climate. Whether it is because of dust, allergens, or humidity, there is a need to clean the air (literally), and a dehumidifier allows you to do so.
A dehumidifier works by reducing the atmosphere's humidity level and making the environment much less hospitable to allergens. The next big hurdle you will face is maintaining it effectively for those of you who already have a dehumidifier. Here are some tips that might help you on your journey.
Cleaning Is Essential
Let's begin with the most obvious thing you will have to do – cleaning the dehumidifier. You can't expect any equipment, including a dehumidifier, to provide you with optimum performance if you don't clean it regularly.
Whether it is its water collection tank, grills, or air intake, all the dehumidifier elements should be thoroughly cleaned. For instance, merely emptying the water tank now and then will not do the trick. Instead, it would help if you washed it with soap or disinfectant to make sure it doesn't turn into a breeding ground for bacteria.
Remember that there is nothing worse than a dirty dehumidifier. This is because such a product develops mildew and mold on the inner elements. As a result, when you turn it on, rather than dispersing fresh air, it will be giving off bacteria and germs.
Strategic Placement
Where you place it, your dehumidifier is immensely talented and plays a massive part in its maintenance. Why is this so? Well, how impressively the dehumidifier performs on various factors like room temperature and closeness to the wall.
Ensure that the room you put the product is at least at a temperature of 65 degrees Fahrenheit (18 degrees Celsius). If you live in a colder area, make a point of purchasing products tailored to cold climates. Most dehumidifiers lose their functionality when used at low temperatures.
Similarly, the closer to the wall you place the product, the more blockage its air intake element will experience. Since its functionality is all about taking in humid air and giving out fresh air, this mistake can severely hamper the dehumidifier's purpose.
To maintain the product, you should place it at least six inches (15 cm) away from a wall and in a room with the required temperature.
Frosty Coils Are a Bad Sign
Yet another thing you need to keep an eye out for is the condition of the coils. A dehumidifier tends to have quite a build-up of ice on its coil if the element is not cleaned daily. Make a point of cleaning the frost so that the efficiency of the product is not threatened.
Most dehumidifiers come with troubleshooting tips in their comprehensive guide about what to do when the coils get frosted. Some are even equipped with defrost technology. A great way to maintain a dehumidifier is to peruse such guides and follow them to the tee.
Now, in some dehumidifiers, checking whether or not the coils within have frosted is not a possibility. In such cases, when you feel that your dehumidifier is not working as it used to and you suspect ice build-up to be the reason, you should contact a professional or the manufacturer of the product. Please don't leave it be.
Keep Your Room Humidity in Check
This might seem ironic considering the product's function is to reduce humidity, but too much moisture can hurt a dehumidifier. You can say that the very thing it serves to kill can get a little too overwhelming for the product at times.
Apart from keeping the room temperature in check, it would help if you also did the same with humidity. Most products work with a range of 40-50 thickness. Guarantee that the field is maintained. You can do so by installing a humidistat. A humidistat works by adjusting the humidity level of the room to the desired range. Once this condition is satisfied, the dehumidifier will offer its services for a long time.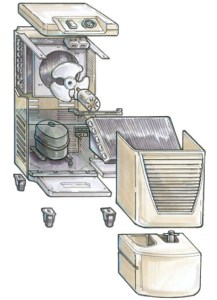 Summary
While there are various other ways you can maintain a dehumidifier, the factors we mentioned above are incredibly crucial. Each of these factors can make or break the functionality of the product.
Merely getting a quality dehumidifier is not enough. It would help if you catered to its needs regularly to ensure that it provides you with clean air. Unless you want to spend your hard-earned money on a new dehumidifier now and then if you are planning to get a dehumidifier, be prepared to maintain it as well.
Check also our Commonly Asked Questions About Dehumidifiers and Common Mistakes When Searching For a Dehumidifier blog posts.