We all know that high humidity levels can make our homes and even offices uncomfortable and less attractive. One way to avoid this from happening is by installing a reliable dehumidifier in your space like Keystone70B 70-Pint dehumidifier.
Wondering what this dehumidifier has to offer? If that's the case, then read on.
Quick Review Summary
The Keystone KSTAD70B dehumidifier can get rid of 70 pints of humidity in the air. It can also dehumidify up to 4500ft2, which is more compared to other 70-pint dehumidifiers. On the other hand, this dehumidifier can be used in homes, garages, workshops, and basements.
Though its water reservoir is small, it allows continuous water drainage. Meaning to say you can skip discharging the container altogether. In fact, you can connect a garden hose to the drain sprout.
The Keystone KSTAD70B also comes with a 2-speed fan. There is a Clean Filter alert as well. Thus you will be able to preserve the quality of the air in your room.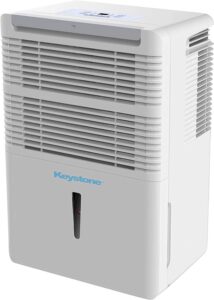 Additionally, it has an automatic restart function that will turn on the dehumidifier after a power outage. The good thing about this model is that it can remember the humidistat's programmed level; thus, you don't need to adjust the control settings again once the power comes back.
Pros
Energy efficient
Portable
Versatile
Easy to use
It only requires minimum maintenance.
It comes with an LCD that is simple and easy to use.
The moisture removal rate is above average
It has a defrost mode
It's equipped with casters for easy movement
Operates quietly
It can dehumidify a space up to 4500ft2
Cons
The LED display has a low quality
You need to install a separate adapter to use the gravity drainage
It doesn't have a pump
The size of its water bucket is not as much its capacity
---
Keystone KSTAD70B Performance
The Keystone KSTAD70B is one of the most energy-efficient 70-pint dehumidifiers in the market today, making it ideal for basements.
Even though this product has a rating of 720W, the truth is it will only draw 590-watt. However, in places or situations that have severe humidity problems, this will operate at high power. But if you utilize it for mild jobs, then the Keystone KSTAD70B can prove to be a great choice for energy efficiency.
Aside from being energy-efficient, the Keystone KSTAD70B is also known as one of the quietest 70-pint dehumidifiers today. As a matter of fact, this dehumidifier has a maxim noise level of 56 decibels.
The Keystone KSTAD70B has a good moisture removal rate. Actually, it can get rid of 70 pints of moisture from your air within a single day, as it is specially designed to eliminate excess moisture.
Nevertheless, this dehumidifier will perform well in a high humidity setting when low humidity is needed.
Many people think they will need to sacrifice some functionalities when they buy this dehumidifier at its below-average price tag.
If you're one of them, you need to think again because the truth is you will not need to sacrifice not a single functionality when you invest in this device. As a matter of fact, this dehumidifier possesses very similar functionality as almost any other 70 pints dehumidifiers.
---
Keystone KSTAD70B Key Features

Fan Speeds
This dehumidifier comes with two fan speeds. But unlike other models, its fan speeds aren't marked "low" and "high." Instead, the low fan speed is discernible by the "turbo" indicator light not being irradiated on the unit. Simultaneously, the high speed is discernible by the "turbo" light illuminated in the dehumidifier's control panel.
Drainage system
One of the most delicate features of this dehumidifier is its drainage system. The Keystone KSTAD70B comes with a hose for the gravity drainage or attachment to connect to the usual garden hose.
This will require you to plug in a separate adapter to use the gravity drainage feature. You will also need a screwdriver and screws for the purpose, which we think a negative point.
Warranty
The Keystone KSTAD70B is backed with a one-year warranty. However, the sealed system, such as the condenser and compressor, comes with a 2 to 5 years warranty.
Design
The Keystone KSTAD70B sports a square design with a white glossy finish. But unlike other white dehumidifiers, this one is not an off white color.
Price
For most customers, the price will be the number one factor pushing them to invest in Keystone KSTAD70B. This dehumidifier is actually one of the most affordable 70-pint models. For as low as $200, you will have a dehumidifier that is easy to use, versatile, portable, and energy-efficient.
Defrost Mode
The Keystone KSTAD70B has a defrost mode that is pretty surprising considering its price tag. When this mode is enabled at a lower temperature, the compressor of the unit will turn off. Simultaneously, the fans will keep running to melt the frost that might have accumulated on the dehumidifier's evaporator coils. It also features a defrost light that illuminates once the defrost mode is enabled.
Operating temperature range
This dehumidifier has an operating range of 41-degree to 95-degree Fahrenheit.
Additional features
Though it doesn't feature a handle, the Keystone KSTAD70B comes equipped with easy transportation wheels. It also has an automatic restart option that will save the settings when a power outage happens.
In addition to that, if you are one of the many buyers who are worried about emptying the water tray each time it gets full, you will be happy to know that the Keystone KSTAD70B dehumidifier allows continuous drainage.
---
Keystone KSTAD70B Ease of Use
You would be happy to know that the Keystone KSTAD70B is straightforward to use. This dehumidifier has a small and basic LED display that is easy and simple to use, with a few hassled involved. Moreover, entering the settings to this dehumidifier is simple and easy as well.
The Keystone KSTAD70B comes equipped with a slide-out filter that helps in easy removal and cleaning. This is actually an advantage, but you wouldn't be cleaning your filter often.
Also, due to the small tank size, emptying it can be a problem. But fortunately, this issue wouldn't persist if you take advantage of its gravity drainage feature.
---
Keystone KSTAD70B Maintenance and Upkeep
The Keystone KSTAD70B 70-pint dehumidifier is tailored to offer an efficient and reliable performance with minimum maintenance. Yes, you read it right; this model only requires little maintenance. This dehumidifier has a removable filter that you can easily clean by either vacuuming or washing it.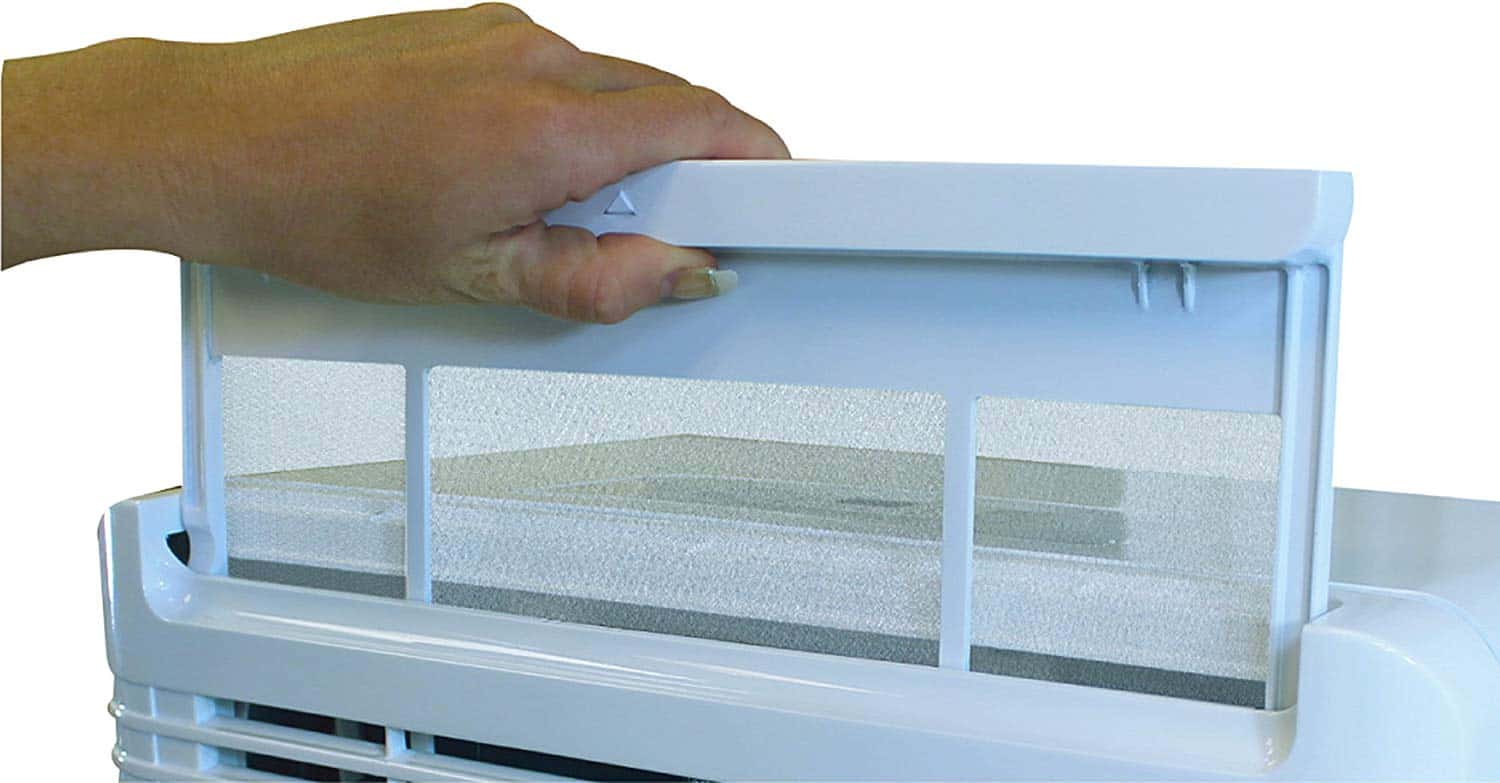 ---
Final Thoughts
Without a doubt, the Keystone KSTAD70B is an impressive dehumidifier that is designed for convenience and comfort. It can pull 70-pint of moisture from a room up to 4500 square feet. What's more, it comes with several automatic features.
Now that you already have an idea of what this dehumidifier has to offer, what are you waiting for? Invest in a Keystone KSTAD70B to dehumidify the air in your space without any problem.