Honeywell DH70W 70 Pint Dehumidifier Review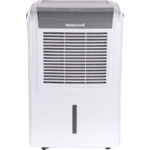 Honeywell DH70W 70 Pint Dehumidifier can handle spaces as large as 1200 square feet (111 square meters). It is quietest in class (between 70 pints dehumidifiers) with a maximum of 50 dB noise. Honeywell DH70W also has a lot of features, electronic controls. It is great to keep healthy and comfortable humidity year-round.
Pros
Low-temperature operation
Auto defrost
Humidistat
Electronic controls
Auto-restart on power failure
Carrying handle and casters
Energy star qualified
24-hour timer
Water level indicator
°C/°F set controls
Water tank full indicator light
Cons
Small water container
Drain hose not included
Only 2 fan speeds
Poor design metal to plastic water hose connections
---
Honeywell DH70W Design and Size
Honeywell DH70W looks like other dehumidifiers in class. Nothing special in the design. Control panel and air exhaust on the top of the unit, handles on both sides on the top, air filter, and moist air intake in front of the dehumidifier. Water container with water level indicator. The unit also has casters, so it is portable.
Honeywell DH70W weighs 43 pounds (19.5 kg) that are close to competitors' weight. Height x width x depth is 24 x 15 x 11 inches.
Honeywell DH70W Features
Honeywell DH70W is equipped with several features.
Electronic control panel with the display. Power on/off controls, fan speed control with 2 fan speeds.

Timer controls allow us to set it automatically on or off after a selected period of time. (max 24 hours interval).

Temperature/ timer display and humidity display. The temperature display can be switched between Celsius and Fahrenheit.

Humidity control. You can switch a value between 30% to 90%, so the room is comfortable with humidity. Humidity can be adjusted in increments of 5%.

Full water tank indicator light illuminates when the water tank is full of water, placed incorrectly, or empty.

Defrost light indicates when the room temperature is too low.

Restarts automatically after an energy outage.

Eco-Friendly Refrigerant uses R-410A refrigerant. It is eco-friendly and won't produce ozone.

Washable Air Filter.
Honeywell DH70W Noise level
Honeywell DH70W is the quietest in the class. It produces 50dB of noise at high fan speed.
Honeywell DH70W Maintenance and upkeep
For 70 pints, the dehumidifier 14.4 pints water tank is tiny.
A dehumidifier is a continuous drain capable, but a drain hose is not included. If you want to drain moisture upward or over longer lengths, then buy an external condensate pump.
It is recommended to clean the air filter every 2 weeks.
A dehumidifier is Energy Star-qualified
---
Summary
Overall, Honeywell DH70W 70 Pint Dehumidifier is a great choice for managing high moisture in large kitchens, bathrooms, laundry rooms, and basements. 
---
Honeywell DH70W Specifications
 

 

Dehumidifier

Honeywell DH70W

Pints

70

Price

Low Temperature Operation (41 degrees F and under)

Practical room size (sq.ft./m2)

1200 / 111

Water container

14.4 pints / 6.8 liters

Removable water container

Internal condensate pump

Continuous drain capable

Drain hose included

Drain hose length

–

Controls type

Electronic

Number of fan speeds

2

Humidistat

Humidity range

35% – 85%

Automatic defrost

Programmable timer

Auto shutoff

Carrying handle

Casters

Filters

Filter price

–

Filter cleaning and (or) replace

Washable, clean when needed

Noise level

50 dB

Energy usage (max)

820W

Voltage

110-120V

Energy star

Size (inches / centimeters)

Height: 24 / 61

Width: 15 / 38

Depth: 11 / 28

Weight (pounds / kg)

43 / 19.5

Warranty

1 year on parts, 5 years on sealed
system parts

Overall Rating (max 5)

15% Price/performance

5% Design

35% Performance

15% Features

10% Noise level

20% Maintenance & Upkeep

[usr 4 size=12