Honeywell 17000-S QuietCare True HEPA Air Purifier Review
The Honeywell 17000-S QuietCare True HEPA air purifier is made for small rooms up to 200 square feet (18.5m). The price is around $100 that makes this unit approachable.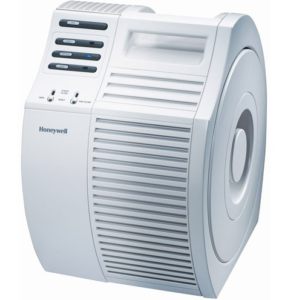 Pros
Does the job well, you will feel a difference on the first day.
The carrying handle is handy.
Easy to change filters
Filter replacement indicator
Cons
Noise. Yes, I know, noise means it is working, but I think that air purifiers should be quieter.
No HEPA replacement filter for this model. You will have to buy 2 other filters to adjust with this unit.
---
Honeywell 17000 Design, size, placement
The Honeywell 17000-S has a really nice and attractive design, white color. The unit is of medium size. Height 15in (38cm), width 13in (33cm), depth 17in (43cm). Built-in handle and lightweight 13.7lbs (6.2kg) make it easy to move it from space to space.
The best place for Honeywell 17000-S may be the floor, but you can place it on the table or anywhere you want; just remember not to block the air outlet. Leave 3 feet (1 meter) in all directions.
How it works and what sources of indoor pollution destroy
The Honeywell 17000-S works with a fan. A fan sucks dirty air through filters to clean it. The permanent True HEPA filter removes 99.97% of particles – dust, dirt, pet dander, smoke, pollen, mold spores. Pre-filter is placed all around the HEPA filter, and it assists in removing common household odors, helping extend the life of the HEPA filter.
Honeywell 17000 Features 
The control panel has 4 electronic push buttons – off, low, medium, and high mode. Looks way better than digital controls.

Filter replacement indicator and filter clean indicator eases you the job.

The carrying handle helps you easily maneuver the air purifier.

5 years warranty
Honeywell 17000 Noise level
Even at its lowest setting, the Honeywell 17000-S is quite loud. The specification says a minimum of 47 decibels and a maximum of 57 decibels. In the decibel equivalent table, I found that 50 decibels are like heavy rainfall. Yes, just hitting your metal window sill.
Honeywell 17000 CADR 
Dust Rating: 130 CADR

Smoke Rating: 130 CADR

Pollen Rating: 130 CADR
Room size 200 square feet, ceiling height 8 feet.
200×8 = 1600 cubic feet.
As all CADR ratings are the same, 1600/130=12 minutes. That is the time how fast all air in your 200 square feet room goes through Honeywell 17000-S.
Honeywell 17000 Maintenance and upkeep
The pre-filter should be replaced at least every 3 months, and it costs $20. That's $80/year. If you are a smoker, you may need to replace the pre-filter more often.
The primary HEPA filter should remain effective for 1 to 3 years, depending upon the air purifier's circumstance. Honeywell recommends changing the HEPA filter based
upon operation conditions-every 3 years for light usage, 2 years for normal usage, and 1 year for heavy usage. The bad thing is that there is no HEPA filter for this model, so you will need to put together 2 smaller filters. One costs $30, so for both, $60.
Both filters are easy to change. You need to unscrew just one bolt without any instrument.
Power usage is 58 watts at the lowest setting and 80 watts at the highest, which is ok.
---
Honeywell 17000 Summary
The Honeywell 17000-S QuietCare True HEPA is a good working air purifier for small rooms at affordable prices.
---
Honeywell 17000 Specifications:
| | |
| --- | --- |
| | |
| Capacity | 200 sq. ft. / 18.5m2 |
| Height | 15 in / 38 cm |
| Width | 13 in / 33 cm |
| Depth | 17in / 43 cm |
| Weight | 13.7 lbs / 6.2 kg |
| CADR: Pollen Score | 130 |
| CADR: Dust Score | 130 |
| CADR: Smoke Score | 130 |
| Number of fan speeds | 3 |
| Controls | Electronic |
| Filter change indicator | |
| Programmable timer | |
| Voltage | 110-120V |
| Energy star | |
| Ozon emission | |
| Warranty | 5 years |
Photos:
---
---