Hamilton Beach 04383A Air Purifier Review
Hamilton Beach 04383A is one of the best-sold air purifiers. The price is under $50, which is really cheap for 160 square feet (15m) size room. Does it really work? Read more below.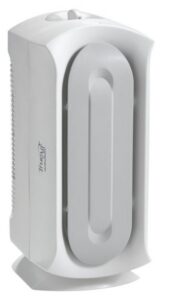 Pros
Permanent filter never needs replacing (I recommend change it once a year. That's cheap)
Compact, stylish
Works horizontally or vertically
Cheap price
Cons
Filters 99% of particles as small as 3.0 microns while a true HEPA filter is 0.3 microns
Don't filter tobacco smoke and odors
---
Hamilton Beach 04383A Design, size, placement
The Hamilton Beach 04383A is a very small air purifier. It looks like a speaker in both – black or white colors.
Dimensions are:
Depth 8.5in / 21.5cm
Width 6in / 15cm
Height 13.5in / 34cm
The best place for it should be somewhere on a shelf or table. For user convenience, this unit can be placed vertically and horizontally.
It will not break your shelf because the weight is only 5.7 lbs (2.6kg).
How it works and what sources of indoor pollution destroy
The Hamilton Beach 04383A works with a fan. A fan draws air through the sides of the front panel, then the air goes through a filter and is then released through the back of the unit.
Hamilton Beach calls this HEPA filter, but it is actually not. True HEPA filters particles as small as 0.3 microns, but the filter used in this unit filters only 3 microns sized particles. What does it mean? It filters dust mites, mold spores, pollen, pet dander, but it can't filter tobacco smoke, household pesticides, germs, odors.
Hamilton Beach 04383A Features
Digital controls on the top of the unit. Using the switch, you can turn the air purifier on low, medium, or fast mode.

The air purifier is very simple without special features.

One year warranty
Hamilton Beach 04383A Noise level
The low setting is barely audible. The middle setting is also quiet; you could use this while sleeping. The highest setting is not very loud but disturbs your sleep. Overall I could say the noise is not troublesome.
Hamilton Beach 04383A CADR
The manufacturer doesn't say anything about CADR, but I found on the internet CADR estimates of 40-50. These are estimated because the filtration system is not good enough to make small particle measurements and probably doesn't qualify for CADR. If we take CADR 50, then with recommended room size 160 square feet and ceiling height 8 feet, the unit makes 1280 cubic feet per minute. 1280/50 = 25 minutes. I think that full air change in room 2 times in an hour is inferior.
Hamilton Beach 04383A Maintenance and upkeep
The manufacturer says you don't have to change a filter; clean it every 3-6 months. As there is no pre-filter, a filter can be filthy shortly. For easier cleaning, I suggest cleaning it often. The front panel opening is effortless; push the knob.
As this filter is cheap, only $15, I recommend changing it once a year for the best results.
The Hamilton Beach 04383A consumes only 9 watts on quiet mode, 18 watts on medium, and 38 watts on high speed. That is really nothing, the same as a home internet router.
---
Hamilton Beach 04383A Summary
The Hamilton Beach 04383A is a good stylish, compact, and cheap air purifier for small-sized rooms. And it really works, but not for everyone. Before you buy this unit, make sure you understand what purpose you need it.
---
Specifications:
| | |
| --- | --- |
| | |
| Capacity | 160 sq. ft. / 15m2 |
| Height | 13.5 in / 34 cm |
| Width | 6 in / 15 cm |
| Depth | 8.5in / 21.5cm |
| Weight | 5.7 lbs / 2.6kg |
| Controls | Manual |
| Warranty | 1 year |
---