GE ADEL70LR 70 Pint Dehumidifier Review: Is It A Good Value For Your Money?
General Electric is a household name all over the world and they produce a large number of products with operations in almost every corner of the economy. Furthermore, they are so popular being behind design & engineering operations that produce advanced products available in so many sectors. Commonly, their products offer a great balance of convenience, price point, and performance. One of which is the Pint GE ADEL70LR 70 Dehumidifier.
The GE ADEL70LR is a 70-pint dehumidifier. The device is on-point and works so well in most testing categories and has performed so well in most of the real-world tests. Nevertheless, its high price might hold you back from buying it.
If value and price isn't really a top priority for you, the GE ADEL70LR might well fulfill your requirements. This review will cover the different important bases to look at buying this device. You will know what the unit excels in and what it doesn't do so well.
Before you even purchase this product, we recommend that you read our review first in its entirety, as anyone specific feature or lack of a certain feature, even the performance of the unit in one specific test, might persuade you in sticking to your decision or consider some other alternative choices.
So without further ado, let's get started!
GE ADEL70LR 70 Pint Dehumidifier: Pros & Cons
The GE ADEL70LR 70 Pint Dehumidifier is a heavy-duty, but quiet dehumidifier, which may pull a significant amount of moisture from the air, while using lesser energy than any comparable units. It truly is a great option if you are looking for a dehumidifier for the whole house.
Furthermore, it is also a large dehumidifier, weighing around 47 lbs., with a height of 2 feet. Nonetheless, it may pull 70 pints of moisture from a certain area –a maximum of 1500 sq. ft. In addition, it utilizes 690 watts of energy, which is almost 100 watts less than other dehumidifiers in the market. Plus, it is Energy Star certified too!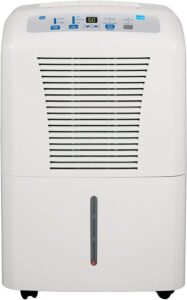 Pros:
A washable air filter that provides cost savings, since you don't need to buy any additional filters.

Automatic shut-off function that helps in avoiding spills & messes once the water bucket gets full.

Top panel digital control panel that allows you to set the humidity level you want and the unit controls and monitors the surroundings automatically based on your own preference.

It has a very large condensate bucket –17.5 pints.

Features an extra fan speed.

Constructed solidly with amazing customer reviews.
Cons:
It has a terrible value at a regular retail price.

Rated average/below average in all real-world performance tests.

It only has a one year warranty –this isn't common in dehumidifiers, but since it is made by GE, it may offer a bit more backing behind it.
---
Performance
Energy Efficiency
The GE ADEL70LR 70 Pint Dehumidifier is one of the lesser energy-efficient dehumidifiers available in the market. In real-world power usage tests, the unit can draw about 630 watts of power. This is high compared to the 590 watts of power that best-performing units like Danby draw –this is at similar relative humidity.
However, note that depending on the relative humidity of the ambient air, the unit may draw more or less power. In austere conditions, you may expect power that draws closer to the specified 745 watts of the manufacturer.
Noise Level
The GE ADEL70LR 70 Pint Dehumidifier sure is a quiet unit, but it isn't the quietest unit there is on the market. You may notice that it doesn't produce any perceivable compressor sound on its three fan speeds.
Further, even on its low fan speed, you will not hear the compressor making any buzzing noise. This just means that the unit, even though substantial, is certainly a clean fan noise.
Moisture Removal
The GE ADEL70LR 70 Pint Dehumidifier does its job of removing moisture at an average level. It can outperform various dehumidifiers out there, but not the higher or best performing units. Well, it was just at least seconds slower than the best performing dehumidifiers.
---
Key Features& Functionality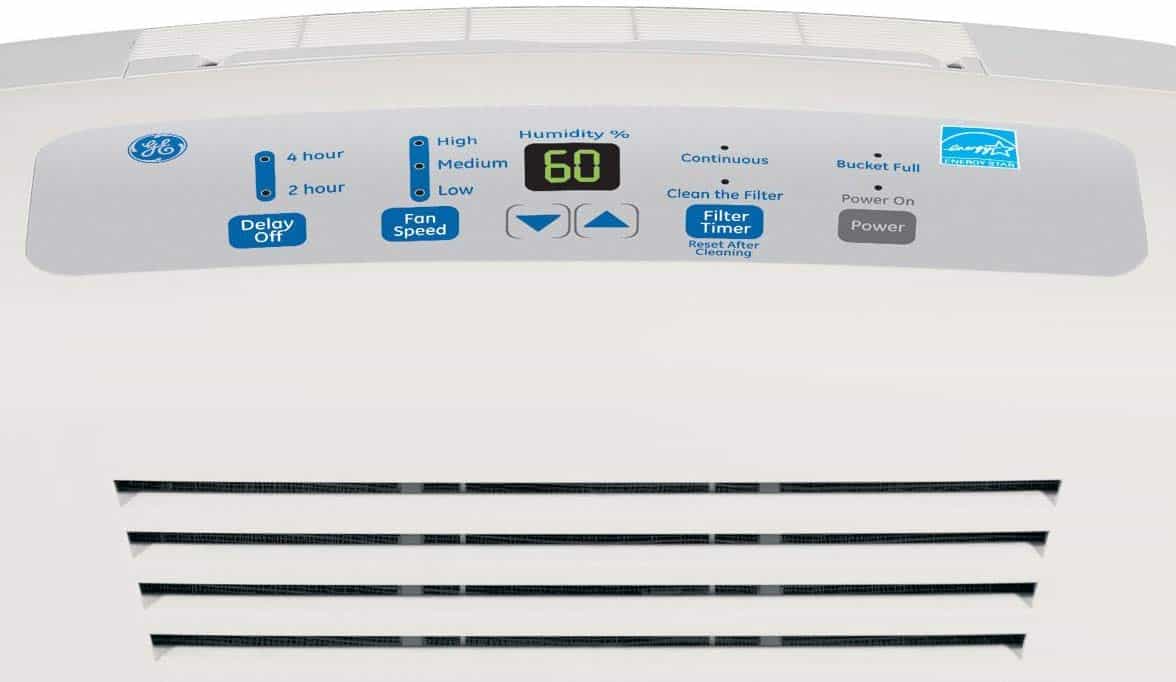 Build Quality
The bucket that comes with the unit has a brace, which helps in stabilizing the bucket itself. There is no fault in its design or construction. It appears to be well-built and has a solid construction. Further, it has received amazing consumer feedbacks, and GE is a reliable brand –its build quality is 10/10.
Adjustability
GE ADEL70LR 70 Pint Dehumidifier's humidistat may be adjusted in 5% increments, which is a standard among the large capacity dehumidifiers. Further, its timer is distinctive yet more limited than other humidifier timers. While its timer's adjustability is below average, it actually has an above-average fan speed number. The fan can be set to low, medium, or high fan speed, contingent on the application.
Versatility
The unit has an industry-standard set range of humidity. It can offer gravity drainage like any other 70 pint dehumidifiers. However, it does not have any built-in pump, considering it drains through the side of the device and needs a bit more effort in connecting a draining hose than other units.
Some other key features of the GE ADEL70LR 70 Pint Dehumidifier includes:
Washable air filter

Automatic shut-off feature

Digital top-located controls

High-Performance –capable of removing 70 pints every day

Check filter light

Defrost mode

Temperature display
---
Ease Of Use, Maintenance, & Upkeep
The GE ADEL70LR 70 Pint Dehumidifier gas a basic, yet effective 2-digit LED display, just like most dehumidifiers. Its LED display is more sunken on the unit with a plastic window. This is dissimilar with other units, which have their LED display near the control panel's surface.
Furthermore, its input settings are so easy. Though its timer lacks some features unlike other units, it's so easy to set the time delay. All other settings may be input with the same ease with other units.
In terms of the removal of the filter in the GE ADEL70LR, it will be easy, as it's almost the same as other dehumidifiers. You'll need to detach the collection bucket so you can get the filter for cleaning.
What's more, the unit comes with a clear and organized manual. You will not have any issues in looking up particular settings to see how you can input them properly. The ADEL70LR also has an above-average 17.5-pint water tank capacity.
Overall, the GE ADEL70LR 70 Pint Dehumidifier is very easy to use. Perhaps, you will not even need to open its manual to operate it properly. This unit has the largest water tank capacity. For ease of use, it sure is a great deal!
---
Final Say
Just like any other General Electric products, you will not get surprised by a modern design, yet you will surely be blown away with a straightforward quality of their product. The GE ADEL70LR 70 Pint Dehumidifier is a quality performing unit that does what it's intended to do –remove moisture from the air.
It has some amazing features that a lot of users will surely find beneficial and it carries a competitive price to some other models, which have the same features. Do we recommend it? Well, there is no problem for us recommending it to consumers –it is one of the best considerations you will have in buying a new dehumidifier!
---
Read also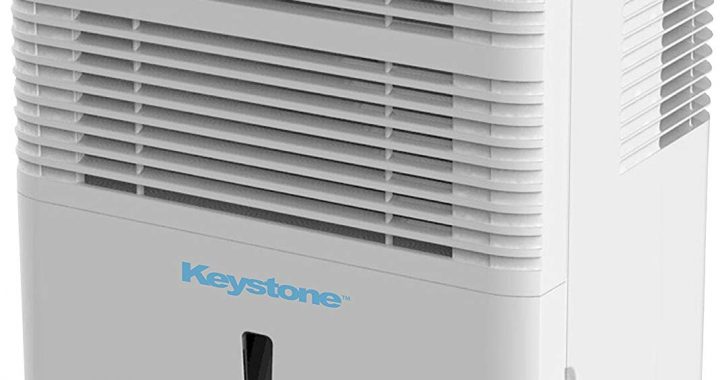 We all know that high humidity levels can make our homes and even offices uncomfortable and less attractive. One way to avoid this from happening is by installing a reliable dehumidifier in your space like Keystone70B 70-Pint dehumidifier. Wondering what this dehumidifier has to offer? If that's the case then read on. Quick Review Summary […]
0 comments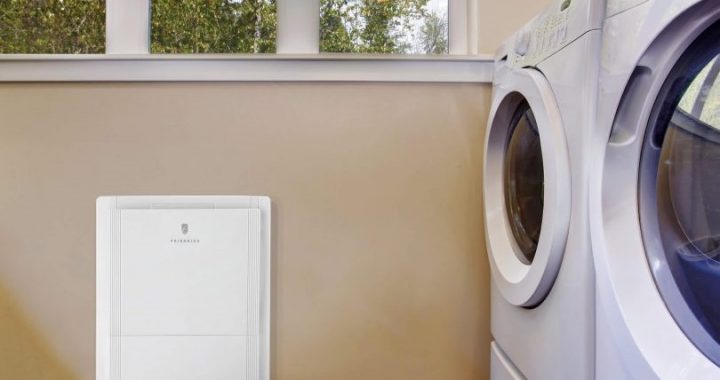 No matter it can be a hard task to find the right dehumidifier for your home, especially if you need to have a larger space taken care of. If you are aware of some of the reviews that are available for these machines, then it can make the choice easier. If you are interested in […]
0 comments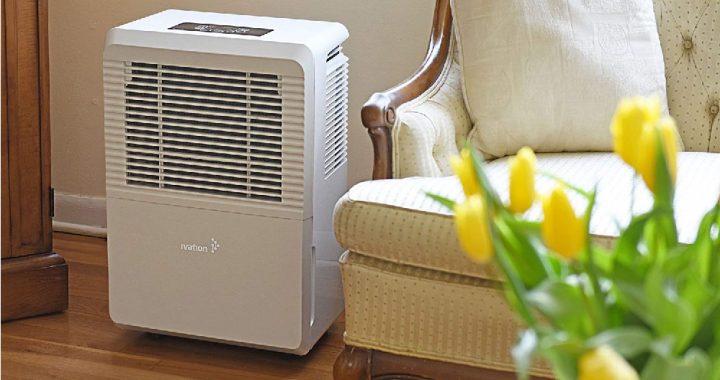 Every single home at one point or another is going to have to deal with battling moisture at one point or another, which is why you need to have a dehumidifier. However, one of the things that you should think about is the size of the dehumidifier that you are going to buy when you […]
0 comments