If you live in coastal areas or small apartments, you might have experienced the annoying high humidity levels that will not go away regardless of how many doors and windows you open.
This is because humid air sometimes gets trapped in enclosed rooms, particularly in the bathrooms, kitchens, basement, and others where there is non-existent or poor ventilation.
The good news is, there are hundred o dehumidifier models available out there. These amazing devices help improve the entire atmosphere within your home or office while ridding of mildew, mold, algae, allergens, and any other unpleasant moldy and dusty odors and excess moisture that plague your home.
One of the best-rated dehumidifiers for larger spaces in the market today is the Garrison 60-Pint Dehumidifier.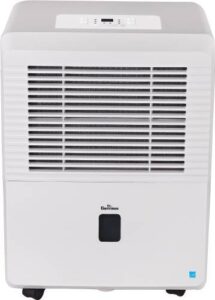 Pros
Portable and Compact Design
Auto Shut Off Feature
The water bucket is super easy to use and remove
2 drainage options
Auto defrost protection
Indicator lights and intuitive control panel
Cons
Clicking sounds when a dehumidifier turns off
The draining hole can cause water leakage
Not as quiet as other dehumidifiers
---
How Does It work?
The Garrison Dehumidifier uses R-410A Refrigerant to dehumidify areas of up to 4,000 square feet. The fan takes in humid air and moves it through the filter and an evaporator. The air is then cooled below the dew point, and the water vapor creates a condensate on the coils, which flows to the unit water bucket.
The dried air is then released, and the process is repeated again and again until moisture and humidity levels are reduced.
Garrison 60-Pint Dehumidifier Features
Intuitive Control Panel
The Garrison 60-Pint Dehumidifier features an easy to read and use, soft-touch control panel. It features various modes and functions, including:
FAN SPEED: You can choose from Normal, Turbo, and Auto, where the unit automatically adjusts the fan speed according to the relative humidity of the room.
HUMIDITY SETTING: Here, you can choose from Manual Set, Continuous, and Auto-Dry function. You have total control in the manual setting and select your desires humidity from 35 to 85 percent and fan speed. For Auto-Dry, the unit auto-adjusts the fan speed to reach your desired humidity levels. Lastly, the dehumidifier will continuously operate in the continuous setting even when the optimum humidity is met.
LIGHT INDICATORS: The control panel also includes convenient light indicators. The Empty Bucket Light means that the dehumidifier is not running, and you will need to see if the bucket is full. It may also mean that the bucket is out of place, and you might need to reinstall it. The Timer Indicator light and the Clean Filter Indicator light notifies you when the filter needs cleaning or replacing.
DIGITAL READOUT: This dehumidifier provides crucial information such as humidity levels, the modes, and the timer setting for your convenience. It even has a backlight so that you can adjust the settings even at nighttime.
Large Capacity
Garrison's dehumidifier features a whopping capacity of 60 pints of moisture per day and makes an ideal unit for a larger space of at least 4,500 Square Feet.
You can place this dehumidifier in the living room and kitchen area or middle to large-sized homes. It also works well in basement areas to remove moldy and dusty smells due to trapped humidity.
Given its large capacity, you can even use this dehumidifier in large offices, a whole floor of a building, or even warehouses that require low humidity levels.  
De-Icer System
When a dehumidifier is operating at a lower temperature, sometimes the evaporator's surface accumulates frost and affects the unit's performance. This dehumidifier features a de-icer system that automatically turns off the compressor if low-temperature conditions occur.
When the de-icer system senses a correct operating temperature, the compressor will then cycle back on. This system is essential in ensuring an efficient performance as well as preventing damage to the unit.
Auto-Restart
Each time you unplug the dehumidifier or when there is a power interruption, the control will return to its previous settings when the power is restored. This prevents you from taking the time to set the unit all over again.
Continuous Drain Operation
If you hate checking on the dehumidifier now and then to see if the bucket is full, then you will love that the Garrison Dehumidifier can allow continuous draining with the use of a hose. The unit features a draining hole at the back where you can connect a hose for continuous draining, so you can leave it to operate as long as you want.  
Auto Shut-Off Feature
The Garrison dehumidifier also features an auto shut off function that not only saves more on your electricity bills but also ensures you and your family's safety. When the water tank is full, this function ensures that there will be no overflow of moisture that can damage your floorings and even prevents overheating of the unit. So, you do not have to worry even if you forgot to see if the water level is nearly full.
Portable and Convenient Design
The Garrison dehumidifier comes fully equipped with 4 caster wheels, so you can easily move this huge beast from one room to another. Also, the dehumidifier features an easy-access front water tank that can be easily removed for emptying.
Certifications and Warranty
The Garrison dehumidifier features Energy Star certifications, meaning that the device allows more savings on your electricity bills. Also, Garrison ensures this unit's longevity and offers a 1 Year Limited Warranty on the Entire Unit and a 5-Year Limited Warranty on Sealed System.
Garrison 60-Pint Dehumidifier Noise Levels
This dehumidifier from Garrison has an acceptable noise level for its huge size that will not disturb you in your sleep or when watching your favorite TV shows. It even has less noise level when using low fan speed settings, making it a great device to use even in your kid's bedroom.
Garrison 60-Pint Dehumidifier Maintenance
When cleaning the dehumidifier, you can wipe it down with a clean cloth or dust the side grill with a soft brush.
The air filter also needs to be clean at least once every 2 weeks to ensure that the units efficient. When cleaning, you need to turn off the humidifier, remove the air intake grill, and take out the air filter.
Use the vacuum to clean the filter or wash it with mild detergent and water. Air-dry the filter and reinstall it to the unit.
---
Conclusion
The Garrison 60-Pint Dehumidifier comes at a premium price, but worth every penny. One of the largest units suitable for spacious homes and commercial buildings in the market today, this dehumidifier is superb at extracting moisture and comes with a variety of customizable programs with its intuitive control panels.