Are you looking for the best air conditioner on the market today? Then, Frigidaire 12,000 BTU is the best option. A portable conditioner that is easier to install and use. Furthermore, this unit has a unique sleek design that enables it to blend in any room.
The major benefit of using this smart air conditioner is that it offers remote control. All you need is a smart device, and then instal
---
l the Frigidaire app for iOS or Android. This app allows you to cool your room remotely. You can turn your unit on or off, alter the temperature, and regulate the fan's modes and speeds.
Another advantage of using this unit is that its performance is great. It provides 12,000 BTUs cooling power that is enough to cool a room with 550 square feet. Also, it produces less noise and has a 360-degrees airflow. Air circulation is through an upwards continuous spiral, ensuring a quick supply of cool air in your room.
This smart air conditioner works well with Google and Amazon Alexa's voice commands if you are a voiceover. In fact, you can decide to use either to control your device.
Pros
The Frigidaire app has an easy-to-understand user interface.
Setup and installation are super easy and quick.
Offers remote access via a smartphone.
Sleek design and works quietly.
Fast cooling.
Cons
It has a compact size, but it is heavy.
---
FRIGIDAIRE 12,000 BTU Portable AC Design, Size, & Warranty
The air conditioner has a stylish cylindrical design, ensuring it fits rooms of up to 550 square feet. It comprises three fan speeds, a built humidifier, and an ionizer, and LED lighting. This stylish design has an attractive white mesh finish. Furthermore, the design includes two pairs of wheels that facilitate movement to your desired place. In regards to size, this air conditioner is 12.6 inches wide and more than 3 feet tall.
It comes with a guaranteed 1-year warranty. Therefore, if your air conditioner fails to work as expected within one year, you will get a replacement from the manufacturer.
---
FRIGIDAIRE 12,000 BTU Portable AC Features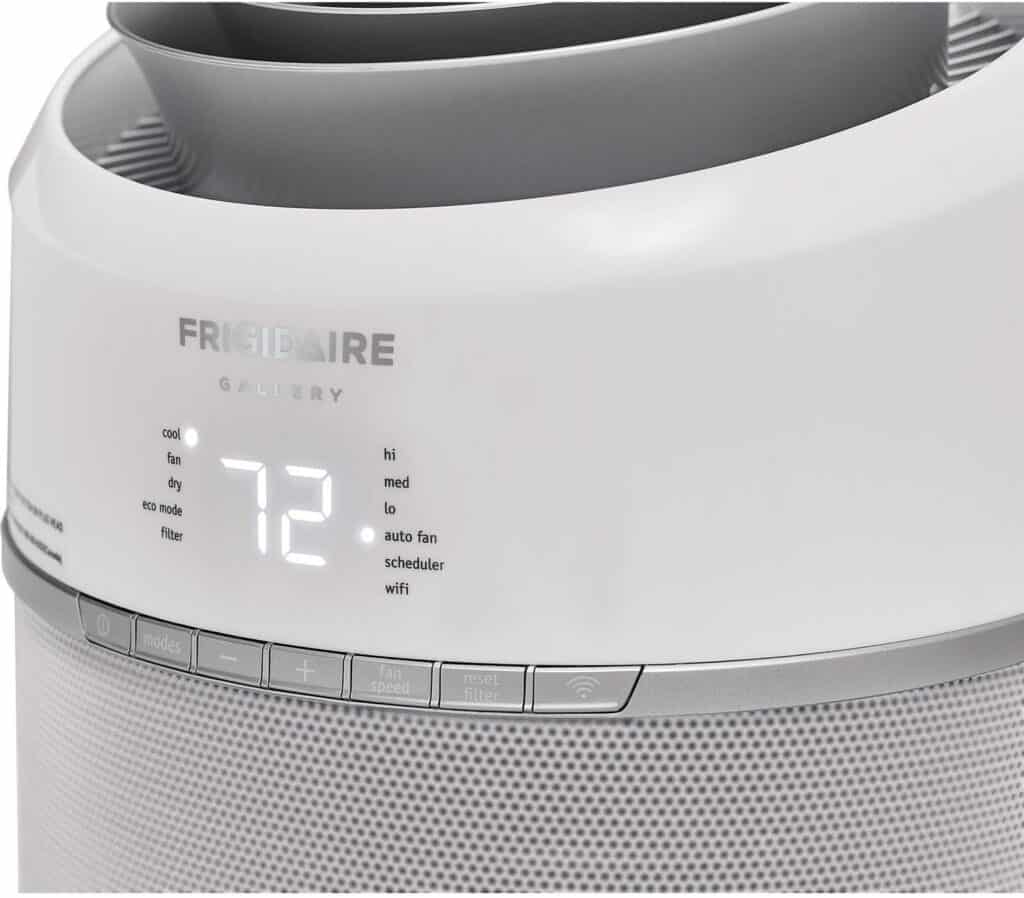 This feature energizes the electronic air purifier to ensure it removes all impurities and pollen from your air. In short, it enhances your comfort by cleaning the air. From this, it is true to say this air conditioner suits even anyone who suffers from an allergy.
To offer you sufficient cooling flexibility, this air conditioner has three fan speeds with different cooling speeds.
The Frigidaire 12,000 BTU cool connect conditioner has a stylish design that features a mesh grille and LED lighting. This stylish design ensures it easily blends in any room.
You can remotely monitor and cool your room from any location using a smart device. It is WiFi ready connected from the box. This increases your convenience, as you can turn on or off, regulate modes, and alter temperatures to your comfort levels. Besides that, it has a Frigidaire smart app for both iOS and Android. This easy-to-use app sends alerts on all main notifications—for example, clean filter alerts.
This smart air conditioner has voice command functionality. In addition, it works well with both Amazon Alexa and Google Assistant. Thus, you can turn it on and off or regulate the temperature through voice commands.
Antibacterial mesh filter
This AC features a magnetic closure that enables you to easily remove the antibacterial mesh filter for easier cleaning.
The window kit is easy to install, and it has insulated side panels. These panels' work reduces air leaks and makes sure the cool air stays in your room. This saves your utility bills as energy consumption is reduced.
The air conditioner features an innovative slanted grill at the top. Its main purpose is to discharge cool air upward in a circular continuous motion for faster and even cooling of your room.
The front of this unit features a control panel that holds an LCD. This LCD shows you the present temperature in normal operation and when changing your settings.
---
FRIGIDAIRE 12,000 BTU Portable AC Noise Level
Unlike most AC portable air conditioners, the Frigidaire 12,000 BUT cool connect air conditioner has lower noise levels. In fact, it is a high-performing unit, but it works quietly at a noise level of DB-53. Its quiet operation is facilitated by the auto cool function and the three cooling speeds. These ensure your unit does not overheat. However, some models are quiet then this unit.
---
FRIGIDAIRE 12,000 BTU Portable AC Energy Efficiency Ratio(EER)
This air conditioner is energy certified. Therefore, it utilizes less energy compared to standard air conditioners. In turn, it lowers your energy usage and utility bills. It has a 12.0 energy efficiency ratio.
---
FRIGIDAIRE 12,000 BTU Portable AC Installation and Usage
The setup and installation of this air conditioner are easy. After you unbox and place it in your room, you need to install your window sliding kit. To do so, cut the foam and attach it to your window sash. Next, use the double-sided tape in the box. After that, unlock the slider and do the fitting to the sash, then lock it in place.
If there is a gap between your window and slider, use the extra double-backed foam to fill the gap. Once you are done, attach the exhaust tube to your air conditioner and then to the window slider port.
To use this air conditioner, you need first to download the Frigidaire app on your smart device. Next, create an account and then turn on your conditioner. Next, go to your Android or iOS Frigidaire app and click the "Add Another Appliance" button. Once you are done, press and hold the WiFi button of the conditioner for some seconds. Go back to your app and enter your home WiFi password to get connected.
---
---
Final Thoughts
Frigidaire 12,000 BTU Smart Portable air conditioner offers great cooling performance. Although it is heavy, this unit is portable and has wheels that help in its movement. It connects with WiFi to provide remote control using the Frigidaire smart app. Also, it accepts voice commands from Alexa and Google Assistant.
However, it is expensive for most users, irrespective of this air conditioner having a stylish design and great cooling performance. If you want value for your money, this is the best portable conditioner on the market.