Choosing which air purifier to buy can be difficult; especially now, there are many options to choose from. Air purifiers are not created the same; some are made for bigger spaces while others are for smaller rooms.
To help you in your acquisition, in this content, we will be reviewing one of the best air purifiers that you can get on the market, the Dyson Pure Cool Link TP02. Want to know more about this product? If yes, then keep on reading.

Pros
Awarded the PTPA seal of approval. The seal of approval families trust.
Certified Asthma and Allergy-friendly
Voice control
Remote control
Safe and easy to clean
Cons
Expensive
It can be quite loud 
---
Dyson Pure Cool Link TP02 Key Features
One of the best features of this product is controlling it either through the Dyson link app or remote control.
The Dyson link app is straightforward to use and will only take about five minutes to set up. With the help of this app, you can set weekly or daily purification schedules. You can also use it to:
Adjust other settings

Obtain updates for the air purifier itself

Monitor the air quality outside and inside your home

Control all features and settings

Voice control through different platforms like Alexa.
In addition to the Dyson Link app, you can also control it using a remote control. However, the remote control doesn't have a visual interface; thus, you will have to watch the device itself while looking at the display screen.
As you go through the settings and menu options, you will notice that the screen modifies accordingly.
With the remote control, you will be able to adjust any settings on the Dyson Pure Cool Link TP02.  The only downside of the remote is that it does not give a lot of information.
Unlike other models with a three-stage filtration system, the Dyson Pure Cool Link TP02 only uses one big round HEPA filter that covers all the way around the unit's base. On the other hand, the filter is made to get rid of 99.97 percent of airborne particles.
This air purifier comes with various operating modes like:
An auto mode will automatically sense the air quality and decrease or increase the fan speed to maintain high-quality air.
A night mode that will turn on a sleep timer. Actually, it is a useful feature if you do not want to worry about switching off the air purifier as you are preparing in the morning.
If you want to control the device manually, all you need to do is adjust the oscillation and fan speed depending on your preference.
The air purifier is very easy to use and operate thanks to its simple and clear interface that allows you to cycle over its nine-hour off timer and ten fan speeds.
Setting this up is pretty easy as well. Remove everything from the box, install the filters by sliding to the base, plug it on, and switch afterward.
This air purifier comes with a one-month return policy, which includes free shipping. Dyson also offers a two-year warranty on labor and parts.
With Dyson Pure Cool Link TP02, you'll get up to 300 ft.2 of coverage for air purification, making it ideal for space like office spaces, workshops, garages, unfinished or finished basements, open floor plans, living rooms, and bedrooms.
---
Dyson Pure Cool Link TP02 Design
This air purifier is an oval and bladeless tower that comes in white and silver. It also sports a modern and minimal design. There is an embedded panel on the front part of the base where you will see an LED indicator that will display various symbols. There's also a power button here.
Size
The Dyson Pure Cool Link TP02 air purifier is a slender and, at the same time, a tall device. In fact, its design will allow you to fit it in any corner of your room with ease. Nevertheless, this air purifier is 7.7 inches wide and 40 inches tall.
Moreover, this air purifier weighs 7.9 pounds. Thus you can place it from one place to another if needed easily.
Placement
Given its size, the Dyson Pure Cool Link TP02 air purifier should be placed in a somewhat spacious area.  
Dyson Pure Cool Link TP02 Noise Level
Unlike most air purifiers with 3 to 4 fan speeds, the Dyson Pure Cool Link TP02 has 10. With the lowest setting, this device is virtually silent. What's more, if you set this on 5, it will produce a low whining sound that's detectible but can easily blend into the background. However, if you set it to the highest setting, remember that it is too loud for an air purifier, though it is somewhat quiet for a big fan capable of shooting air 20ft.
Dyson Pure Cool Link TP02 CADR, CFM
The CADR (clean air delivery rate) will represent the airflow of clean air from your air purifier. It is worth mentioning that the higher the CADR, the bigger coverage area it can clean and vice versa.
Even so, Dyson lists the CADR of this air purifier as 70. Further, the air purifier can deliver 410L for every second of airflow, or it is equivalent to 868 CFM (cubic feet per minute)
Dyson Pure Cool Link TP02 Maintenance and Upkeep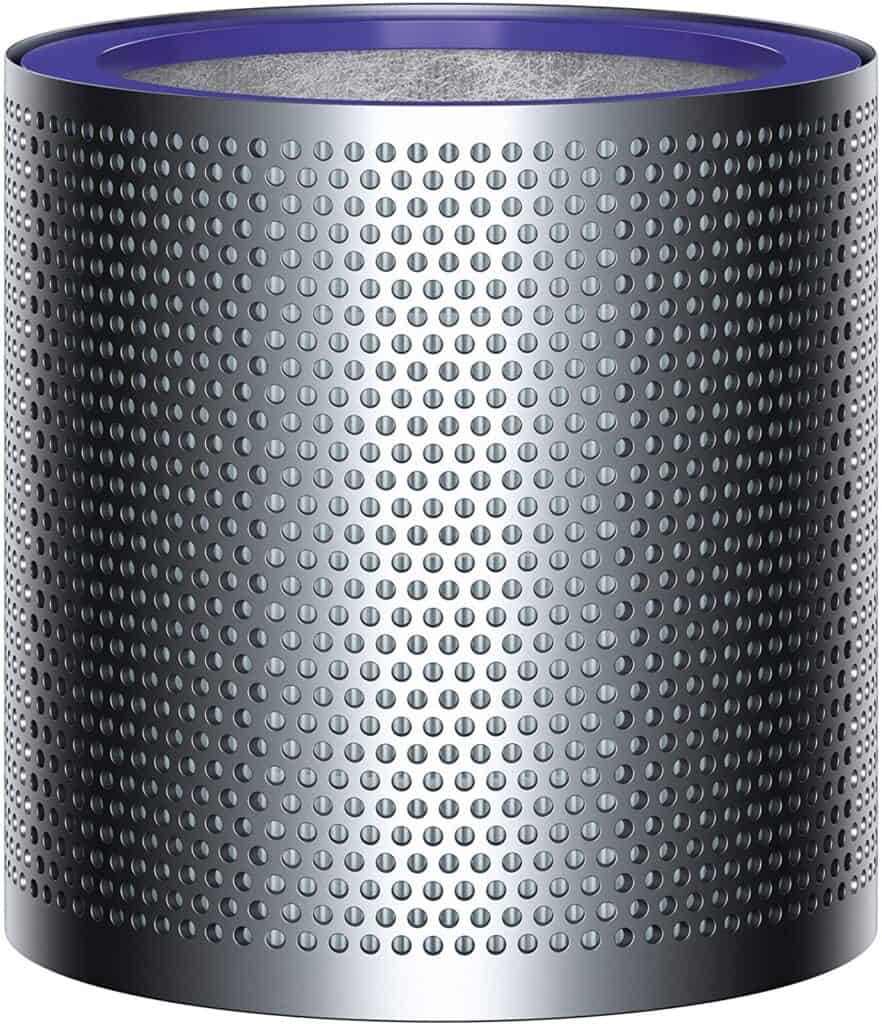 Keep in mind that all air purifiers need maintenance. But usually, the majority of the price will be tied up in the replacement filters.
When it comes to how often you should replace the filter, this will greatly depend on how hard and how often you run the device.
On the other hand, Dyson doesn't offer a strict recommendation on how often you should change the filter. But the typical recommendation is that you will need to change them every six months or annually.
Besides changing the filter, you will also need to wipe the amplifier and air in-take once in a while. Use a dusting cloth or a basic microfiber to eliminate built-up dirt and dust on the outside.
---
How Does Dyson Pure Cool Link TP02 Air Purifier Works and What Sources of Indoor Pollution It Can Destroy?
The Dyson Pure Cool Link TP02 Air Purifier works like any other product. This device will suck the untreated air through its base, and then this air will go through the HEPA filter. The HEPA filter will then trap the particulates that pass through it. Lastly, the air purifier will force out the air that is already purified through the top amplifier.
On the other hand, Dyson claims that the TP02 can eliminate 99.97% of pollutants and allergens as tiny as 0.3 microns like solvents, pet hair, mold, dust, pollen, bacteria, pet dander, and fumes from cleaning.
---
Summary
If you are looking for a new air purifier, there is a lot to love about the Dyson Pure Cool Link TP02. As a matter of fact, it effectively works in removing pollutants and allergens from the air in your office, home, bedroom, and even in your garage while offering a constant and fresh breeze at the same time. What's more, this device looks rather fashionable.
Nevertheless, we highly recommend this air purifier to:
Light smokers

Asthmatics

People with allergies

Those with various chemical sensitivities

People are exposed to a high level of air pollution.

Anyone to lessen the food odors while cooking

People who want a safe and effective air purifier for their small basements, office spaces, living rooms, and bedrooms.

Those who want to remove pet odors, dander, and hair.