You should make sure that you are thinking about whether or not you will need a furnace humidifier in your home. This is a system that will be in your home that would help deliver some moist air into space, and it can help you keep the right humidity levels. Here is everything that you are going to want to think about when it comes to whether you should have one in your home, including which models will be the best.
Why Do You Need a Furnace Humidifier?
During the winter, when the heater is going to be on, and the furnace will be higher than the rest of the year, you will want to have moisture in the air. This would protect yourself and your family during this time, and you can get the right level of humidity in the space. There are a few reasons that you might want to purchase one of these, such as:
Helps to keep your family healthy during the winter, including those with allergies and even asthma

Having the right humidity level in the home can help make the entire space feel warmer without spending more money on heating.

Protection of your home during the winter months and it would keep any wood-based flooring and furniture from drying out or cracking from the heat
Ensure that you are thinking of these few reasons for purchasing one of these machines when you are starting to think about if a furnace humidifier is something you would need. Think about how it will protect your family and your home during the warmer months and what you would be able to get from it.
Which Furnace Humidifier is the Best?
Another question that you are going to need to make sure that you are asking yourself is which of the many furnace humidifiers models will be the best for your needs. Here are 5 of the top models, and you can compare the features, pros, and cons to help you decide which one will be ideal for your needs. Here are our reviews of a few of the most popular models, including:
The Aprilaire 400 drainless bypass humidifier is great if you have a large home, which needs to get some extra air. It would work for your entire space without you having to have a separate machine in each room. It has a manual system that allows you to set the level to what you want, and it covers an area of 4,00 square feet with 17 gallons of moisture output daily.
Pros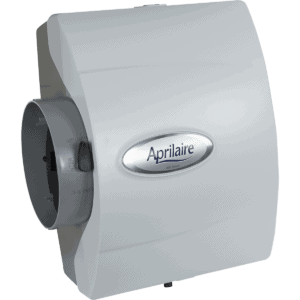 Doesn't require professional installation

Filters need to be replaced two times every year

5-year warranty

Drain free

Dual sensor 24/7 mode

Manual system for setting the humidity levels
Cons
No control for mist output

No WiFi or remote controls

No automatic safety shutoff

Expensive when compared to other models
---
If you are searching for a machine with an automatic humidistat, then the GeneralAire 900A humidifier will work great. It has automatic and manual operation modes for setting humidity levels that let you change it when you want to and leave it at a set level when you aren't home. It works for homes that are up to 2,800 square feet in size, making it ideal for any home.
Pros
Comes with numerous water valves, a transformer, and a humidistat

Lets you change the humidity manually

The company includes extensive instructions for self-installation

Easy to use machine

Has an outdoor sensor for automatic settings
Cons
No water line or wire included

Installation can take hours
---
For those who have a larger home, then the GeneralAire RS25 elite steam humidifier would work great. If your home is around 6,000 square feet, then it can receive around 25 to 35 gallons of water output per day using this machine.
Pros
Immersed electrode design that is self-contained

Smart monitoring for pump drain assembly that is integrated

Numerous installation methods, including remote mount and room mount

Drain tempering

The LCD with icon and number drove menu

Constant control diagnostics and monitoring

5-year warranty
Cons
---
If you are looking for something extremely affordable, then the Honeywell HE120A is one of the top options for your needs. This is a drum style furnace humidifier, and it can handle a 4,000 square feet house easily, and it can add plenty of water to the air daily.
Pros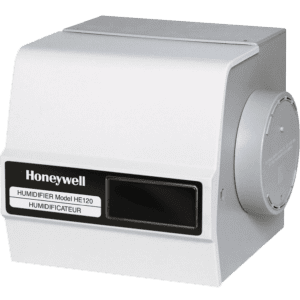 Quick installation that you can do yourself

Humidistat for control of relative humidity

Installation can be done without the drain for any room in the house

The thermoplastic cabinet that is durable and warping, corrosion and rust-resistant

An installation kit is provided with the machine

Easy to find support online for the machine
Cons
Only has a 1-year warranty

Very noisy
---
Another great furnace humidifier you can pick from is the Honeywell HE360A, which is also great for a larger home. It is the power flow through style, and you can easily control the humidity level in your home with this machine, which is very easy to install.
Pros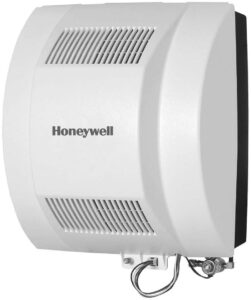 Straightforward installation since it would be mounted on your duct for warm air

Ideal for the variable speed systems

Installation video gave

Humidity control is easy to use
Cons
Installation kit must be purchased separately in the US

Only has one year of warranty
---
These are just a few of the main options that you can pick from when it comes to the furnace humidifiers, so ensure that you compare all of the features of these machines. Not only should you look at the features, but you should also consider the pros and cons to help you make the right decision.
What to Know About the Cost of Furnace Humidifiers
There will be a huge array of different costs that you might end up having to pay when you are purchasing a furnace humidifier. If you know what you will have to purchase when you are looking at these machines, it would be easier for you to create a budget. You would want to make sure that you are aware of what they are, such as:
Materials – There will be various materials that you are going to need when it comes to installing these machines. The experts would be able to take care of all of this, but you should think about whether they will come with the machine or if you would have to purchase these separately.

Furnace humidifier – There are different levels of furnace humidifiers that you will want to think about. There are basic models, middle models, and the best models, and each of them will have a different price tag. Check out the models that are currently available and decide which ones are going to fit your budget.

Installation – If you haven't ever installed one of these or don't know what you are doing, you should hire the experts. You will want to think about how much this is going to cost before you decide which model to go for. You can figure out this cost by getting a few estimates from the heating experts who take care of this type of work.
These are all part of the cost of purchasing one of the furnace humidifiers, and you need to take all of this into consideration. After you have decided what your budget is, you can start to look for the perfect machine and the expert to handle the installation for you. Make sure that you compare all of these to find the right price for your needs, which includes the materials, the machine, and the installation.
---
Maintaining a Furnace Humidifier
Before you purchase a furnace humidifier, another of the things you are going to have to consider is the maintenance that should be done monthly. You should make sure that you are aware of what it includes and if you would be able to take care of this yourself or if you are going to need to hire an expert. There are different machines that you can pick, and here are a few steps that would be part of the maintenance for the drum style, such as:
Turn off the power to your furnace.

Shut off the humidifiers water supply valve

Remove the clips or remove the nuts, which is dependent on the type of machine you have

Remove the cover from the humidifier.

Remove the drum and inspect the pad for any mineral deposits that may have hardened.

Take out the foam pad in the drum by removing any clips or fasteners that hold the center shaft in place and pulling the drum apart.

Make a solution of 1:3 water and vinegar or a commercial fluid for calcium removal on the foam pad. Soak it until all of the deposits have dissolved and repeat if required, but if the pad isn't completely clean or torn, it would need to be replaced.

Replace the new or cleaned pad and then replace the drum so you can check for the proper water level. Make sure to know what the proper level is if it isn't marked, which can be found in the user manual.

Turn on the humidifier's water supply.

If the drum starts to rotate and dips into the reservoir for water, and if the levels rise to the correct one, it is done properly.

Lower or raise the water level as required and adjust the floating arm, which is often done by an adjusting screw attached to the float lever arm.

Turn the power on for the furnace.

Let the humidifier run for an hour and check the water level against the recommended level.
This is just one of the types of machines you would have to do the maintenance for, so if you don't know how to do this or can't do it, hire the experts. They would help you with this maintenance, and you would need to do it regularly to keep the machine functioning properly. However, most of these steps will be similar for all types, so ensure that you know what they are and what should be done and when it needs to be completed.
---
Features to Look For
There will always be different features that each machine would have, and you need to be aware of which features you need to look for. Some of the top features that you want to make sure you are considering are:
Indicator for water reservoir – You would want to have an indicator on the machine that would let you know whether the water reservoir would need to be emptied or filled.
Cutoff for low water – Another feature that you need to think about is if the machine would have a cutoff when the water is low. There should be an automatic shut-off when this happens on the machine.
Automatic operation – Also, you will want to see if the machine would have let you set your own settings to the levels you want, including the humidity level.
Mounting frames – You should think about the mounting frames that the machine has, making installation much easier with the ductwork that is there.
Overflow protection – When the water evaporates from the reservoirs, it will be replaced by new water, and you need to make sure that there is a feature that will shut the machine off when it reaches a certain level.
Corrosion-resistant – Another thing that you need to make sure that you are considering is whether or not the machine's housing is going to be resistant to corrosion.
Reversible side panels – The final feature you might want to think about is if the machine has or allows for reversible side panels that would let the machine be placed on either the left or the right side of the ductwork, depending on the ideal placement.
These are just a few of the main features that you need to make sure that you are thinking about when it comes to which furnace humidifier would work the best. Think about which of these features will be the most important and which ones you can do without when it comes to picking the right machine for your needs.
There are also a few other things that you are going to want to consider when you are trying to make the right decision about which furnace humidifier is going to be the right one for you. Some of the things that you should consider includes:
Brand

Price

Fittings

Size

Style

Customer service
These are simple things, but these are also going to help you when it comes to deciding which one is going to be the right one for all of your needs, no matter what they might be.
---
Final Thoughts
You will always want to ensure that you are picking the right model for your home, which includes how much moisture it will put into the air and much more. You will need to think about the features that each machine has, along with the price and the style of operation. Go ahead and look at all of the machines that you would pick and choose from that would make the air in your home easier to live in during the warmer months.
You would want to check out everything that these machines would have to offer you and ensure that you are comparing them to ensure that you pick the one that would fit all of your needs. Any of these that we have listed will work in a home that starts in size around 2,800 square feet, and some can handle more space. These are some of the best ones that we would recommend for you, so go ahead and compare them to decide that would be best for your home and your requirements.
---
Read Also: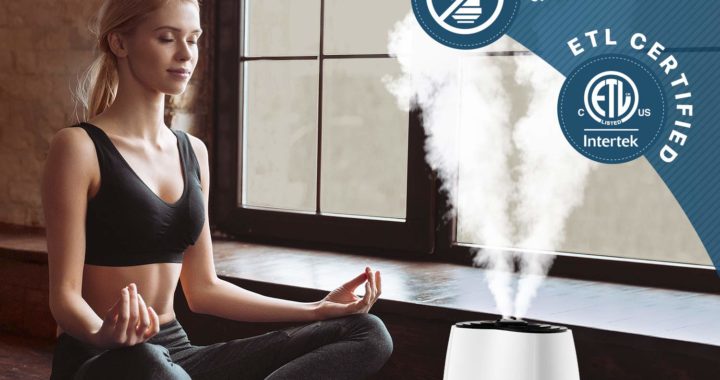 For those who have high levels of green leaves where they live or are in a tropical location, you would see there is cool or warm humid air circulating throughout. All plants need to have a good amount of humidity to grow properly, so if you have warm air without any humidity, you want to […]
0 comments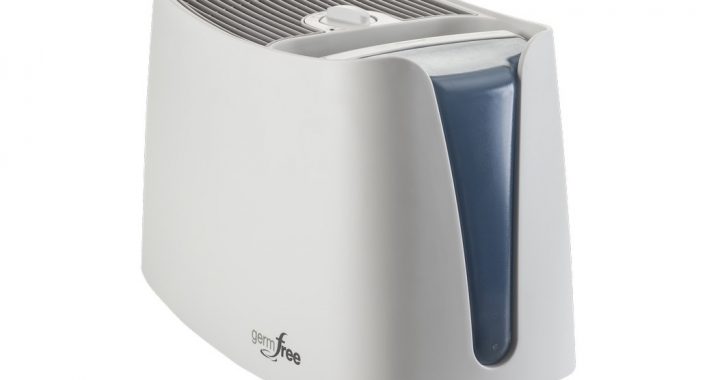 Honeywell HCM-350 is Germ-Free Cool Mist Humidifier is portable, disperses 2 gallons (7.6 liters) of mist per day, and covers up to 360 square feet (33 square meters). Pros Cons Design and size Honeywell HCM-350 has a stylish design. The water tank has a smooth bottom design, and the handle is one of the most […]
0 comments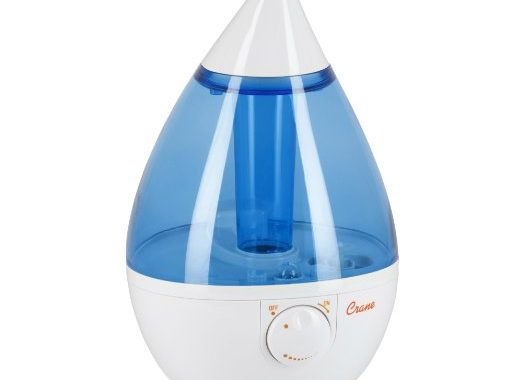 A leading consumer reporting magazine has best-bought crane Drop EE5301. It is an ultrasonic cool mist humidifier and can cover up to 50 square feet (23 square meters). Crane Drop EE5301 has a great 2.3 gallons (8.7 liters) of moisture output per day. Pluses Minuses Design and size Crane Drop EE5301 has a compact round […]
0 comments