Are you wondering how you can deal with air humidity? If yes, then you're in the right place.
In actual fact, there are lots of ways that you can do to deal with air humidity, and one is using a dehumidifier.
Dehumidifiers are units that are solely made to keep the humidity levels in certain places in check. Thus the air is more comfortable. What's more, with these units, you will notice fewer damp air signs like condensation in the windows and mold on walls.
However, if you do not have a dehumidifier, you may expose yourself and other people to too many health risks and unnecessary discomfort.
This article will guide you through the benefits of using a dehumidifier when dealing with air humidity. But before that, we will first show you our top 5 recommendations for the best dehumidifiers you can use in your home. 
---
The 5 Best Home Dehumidifiers
---
It is a high-quality dehumidifier that features a quiet motor. This unit gives off a low 52db noise level, which means you will not notice it is there. If you're living in an urban area where structures are too close, this is also for you.
The TOSOT 70 will make sure that the humidity in your home won't go above 60 percent. In fact, it is a great way to keep your place free from mold and mildew.
Pros
Works quietly
It has a digital display for easy reading
Energy-efficient
Cons
It can't be used in areas measuring more than 4500 square feet.
---
It is a versatile dehumidifier that is perfect to use in bigger areas. The Keystone KSTAD50B features various settings making it ideal for garages, basements, and other spaces in which humidity is a big concern.
On the plus side, it is a certified Energy Star. Meaning to say you don't need to worry about deteriorating energy or increasing your electric bills excessively.
Pros
It can remove about 50-pints of water every day
Comes with several settings
Versatile
Easy to clean
Cons
You need to buy the hose separately that is needed for constant drainage.
---
Another Energy-star certified humidifier that can be used in areas measuring up to 4500 square feet.
This unit can clear 70 pints per day and comes with fan wheels and a drain hose. It will also keep your area dry without increasing your electric bills.
Design-wise, it sports a modern and sleek look that has inbuilt wheels for easy movement. Also, it comes with a quiet fan. Thus, you're certain that it will not disturb you. Lastly, it is great for eliminating moisture and odors with a maximum of 188 CFM.
Pros
Easy to use
Durable
Two years warranty
Sleek and modern design
Cons
The humidity level can't be adjusted
---

Another compact and powerful dehumidifier that can remove up to 30 pints every day. You can use this unit in your closet, bedroom, restroom, cabinet, as well as the kitchen. It also has an automatic shutoff feature and operates quietly at 50 decibels. It means you can sleep soundly while it is working.
Actually, it's highly rated online and best used in areas measuring 100 to 250 square feet.
Pros
Operates quietly
Powerful
Compact
Automatic shutoff feature
Cons
It doesn't come with a warranty.
---
This humidifier is lightweight and compact, making it easier to transport. The Pro Breeze is perfect to use in small areas such as in the bathroom, bedroom, and RV.
Further, it comes with an auto-shutoff feature that inhibits spilling as well as water damage. When it comes to the tank, removing and emptying it is pretty easy. It also has an LED light that will notify you if the tanks need to be emptied.
Pros
Easy to use
Lightweight
Compact
Works without a compressor
Quiet
Cons
This unit doesn't have the option for constant drainage
It can be used in open spaces like in basements
---
What Are the Benefits of Using A Dehumidifier When Dealing With Air Humidity?
Using a dehumidifier can offer you a lot of benefits. So if you're a bit hesitant to invest in this device, then keep on reading.
The following are some of the benefits that you may reap when you chose to use a dehumidifier.
Get rid of mildew and mold.
There is no better area than your damp home for the development of mildew and mold. As a matter of fact, these two are primary causes for many different health-associated issues such as allergic reactions as well as asthma and other breathing difficulties. But aside from these, constant exposure to mildew and mold can cause problems in the nervous system and even depression.
Though repairing leaky pipes and faucets is a nice idea, keep in mind that this won't help in the short run. Meaning to say you still need to get a humidifier. And the correct type of dehumidifier will help get rid of mildew and mold in just a short span of time.
Minimizes Condensation
One of the most common problems in most homes is condensation. In fact, even baths, showers, cooking, and water heating may cause condensation.
While the early indication is restricted to streaming mirrors and windows, it will surely result in damp patches on your walls, peeling of wallpapers, and wood reduction. Thus, eliminate and minimize it as early as possible with the help of a humidifier.
Eliminate Moldy Smells
One of the outcomes of high humidity is a moldy odor. Actually, this will help in the development of mildew and mold. Such fungi give off foul odors or gases that your surrounding furniture, fabrics, and walls may absorb. Take note, this really damaging and annoying to your home's comfort.
But luckily, simply putting a dehumidifier in places that smell musty, like in the laundry room, basement, and crawl spaces, will do the trick. What's more, it will absorb the superfluous humidity and tweak unsolicited smells in the bud.
It will protect your property.
Too much moisture may corrode metal, fade pictures, warp wood, and peeling paint. Therefore, if you get a dehumidifier, you will be able to save your property from further damage.
Energy Efficient
Dehumidifiers lower energy costs since they will aid your conditioner to run more effectively. Remember that if the air in your house is more humid, the air conditioner should do the work of cooling the air and getting rid of moisture, meaning it needs to work harder. Further, this will cause the air conditioner to wear out faster; it means you'll need to repair or change it often.
You will have a drier and cozier place.
Living in a cozy and warm home is everybody's dream. Thus, the very last thing that you want in your place would feel uncomfortable and damp.
Dampness in the air is the worst type of dampness in reality since the air may dampen almost everything it comes in contact with. What's more, it will not pity any of your favorite stuff, from your costly books to costly and vintage furniture.
Mostly, that is when a dehumidifier comes into play. This device will reduce the level of humidity by simply absorbing the excess humidity with ease. As a result, this will bring you back to a more comfortable and drier air.
Tips on Using A Humidifier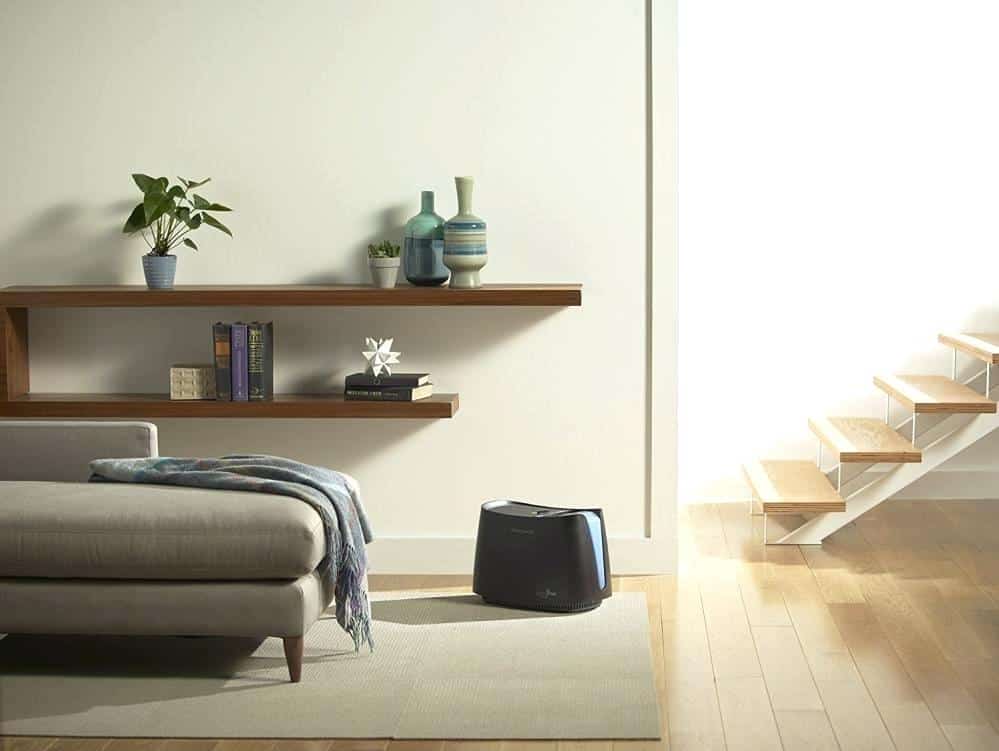 Before using a humidifier, make sure to vacuum the area so that the dust will not spread around your home and block the dust filter. In fact, this is very crucial, especially if you have allergies.

When the dehumidifier is running, make sure that all your windows and doors are closed. Because if they are open, the device will be functioning harder to dehumidify a bigger area.

We know that your main reason you may want to use a dehumidifier is to protect your curtains, walls, and furniture. However, when placing the device, make sure not to place it close to them so that the air will circulate properly, and it will remove the humidity from the air.
Signs That You Need to Use A Humidifier
Apart from experiencing constant signs of allergies, there are still other signs that you need to watch out for, including:
A high humidity room with no or poor ventilation, for instance, a bathroom with no window.

Water stains on the ceilings and walls

Small mold spores or black spots are developing in high humidity areas, like shower and bathtub.

Mildew and must smells.
Conclusion
Dealing with air humidity doesn't have to be difficult. As long as you're aware of what you're doing, rest assured that you will solve this issue, and hopefully, this content has helped you a lot.