High humidity is a common problem during the wet season. Then it is a must to use a dehumidifier.
A dehumidifier removes moisture and helps keep the desired humidity level in your home. Keeping a balanced humidity limits mold growth reduces uncomfortable muggy conditions, and protects your home from damage.
As many dehumidifiers are available in the market in various sizes and moisture removal capacities, I thought writing an article about some basic mistakes to bypass when buying a dehumidifier would be great.
The Wrong Capacity Choice
A dehumidifier's size is defined by its total ability to remove moisture. Capacity is rated in pints of moisture removed per day or 24-hour period.
All dehumidifiers have stated how many pints of moisture they can remove. For example, the unit that accumulates 30 pints per day is suitable for a 1000-square-foot moderately damp room.
And here comes the tricky part. Many manufacturers have stated how many pints their dehumidifiers can accumulate in a little damp place (50-60% humidity), and they don't state damp, wet, or a little damp place.
So there is a chance that a dehumidifier that can remove 30 pints of moisture in a moderately damp place can only remove 20 pints in a very damp space.
So you have to know or at least guess approximately how damp the space where you will use your dehumidifier is.
My advice is to choose the model with a higher capacity than necessary.
Why?
Firstly, even if the dehumidifier is more expensive, it will pay off later because the higher capacity dehumidifier will work fewer hours to collect all moisture without using the maximum capacity. That will reduce your electricity bills and increase your dehumidifier lifespan.
Secondly, higher-capacity dehumidifiers usually have bigger water containers.
Usually, dehumidifiers are divided into two categories – Basement dehumidifiers (which can be used for bathrooms and other spaces in the home) and whole-house dehumidifiers.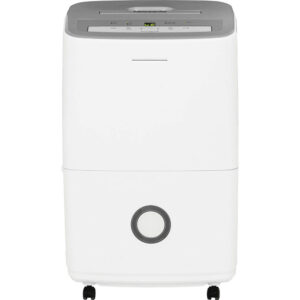 The Frigidaire FFAD7033R1 removes about 70 pints of water from the air daily. It is the most recommended dehumidifier due to its high moisture removal. 
The FFAD7033R1 has many key features that make it so good. The FFAD7033R1 has a humidistat for adjusting humidity levels, a check filter light, a full tank alert system to remind you to empty the tank when it's full, a removable and washable filter that prevents bacteria from being released into the air and defrost mode that ensures frost does not build up on the evaporator coils.
Overall, FFAD7033R1 is one of the best 70-pint dehumidifiers in the market. The FFAD7033R1 is also durable due to the high-quality material used in manufacturing, meaning you wouldn't have to worry about its breakage or leakages during use.
Pros
Removes moisture much faster than most 70-pint dehumidifier models
Energy efficient
Adjustable timer
Quiet during operation
Durable due to high-quality make
---
The Aprilaire 1850 is a ducted dehumidifier and works with your central air. It's very effective and efficient.
Space coverage is about 3000 sq ft to 5000 sq ft. It removes about 95 pints of water from the air daily and operates within a temperature range of 41 degrees to 104 degrees F.
The Aprilaire 1850 has an auto shut-off and restart option to protect the coil during cooler temperatures. A defrost mode prevents frost from building up in the compressor and inhibiting the dehumidifier's performance, and a built-in humidistat enables you to set an actual humidity level to maintain.
Aprilaire 1850 is durable and has a 5-year warranty that is only valid if installed by a professional. Aprilaire 1850 is a great whole-house dehumidifier that saves cost and dehumidifies your house effectively.
Pros
Energy efficient
Humidifies large areas effectively
Quiet during operation
Durable due to high-quality make
Cons
Bulky in size
No built-in pump; gravity drained
---
A Dehumidifier Is Too Big And Heavy
That could be a nightmare to lift the heavy dehumidifier from one floor to another or from room to room. Also, heavy and big dehumidifiers occupy a lot of space in your home.
When choosing a heavy dehumidifier, the big solution is picking the unit with casters and carrying handles. That will ease your life a lot. Casters will also help you save effort when cleaning the floor below the unit.
---
Dehumidifier Noise
Because of the compressors and fans, most dehumidifiers make noises and vibrations when working. That is normal because that means your dehumidifier is working. But there are, of course, quieter and louder models on the market.
Some have a quiet operation (at least they present themselves as quiet). With these models, manufacturers have taken several steps to reduce noise by isolating the fan or using a smoother-running fan, for example.
Choosing the higher capacity model helps because you will run it on middle fan speed, not max, and the middle fan speed will be noticeably quieter.
The good news is that most of you will use a dehumidifier in a basement, and then you are less likely to hear your unit working while you are upstairs, for example.
---
Dehumidifier Features
Many features are pompous and are not necessary. But there are some features I think are a must for every dehumidifier.
One of them is an automatic shut-off function. With this function, the unit turns off when the water bucket is full. Without this function, water leaks may occur, which is dangerous and could cause an electrical fault. So please don't buy a dehumidifier without this feature.
Casters and handles are a must for heavy dehumidifiers. We already discussed this thread previously in this article.
You will make a huge mistake if you buy a dehumidifier with, for example, 70 pints capacity and only 20 pints water bucket. Pay attention to this. I bet you don't want to empty the water tank five times a day.
A great alternative is to choose the device that uses the water drainage system. This requires no energy to clean the water tray.
Some dehumidifier models have a unique feature that automatically turns the devices off when the air is dry enough, saving more energy. This feature is called an automatic humidistat. A humidistat automatically maintains your desired humidity level by triggering the dehumidifier to run only when needed.
---
Conclusion
There are a lot of dehumidifiers on the market. And it is hard to pick the one that best fits you. I hope this article helped you a lot. Feel free to read also our full in-depth dehumidifier buying guide.
You will find useful information about prices and where to buy the units. More information about the product can assist you in saving serious money down the road.