You need to make sure that you are considering everything when deciding which of the many dehumidifiers you will buy. You want to consider each one's pros and cons and what features they have that you might want. Our review about the Colzer PD223A 70 Pints Portable Dehumidifier makes sure to keep reading on to find out more about this option.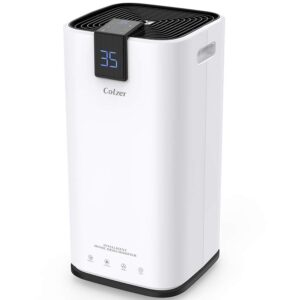 Pros
Stylish and sleek design that would fit in any room
Laundry drying mode for things hung inside the home.
Advanced and easy to read control panel
Easy to read and large numbers for the humidity level
Easy to hold and simple to move around the room
Small in size, which means it can fit anywhere
Manual and automatic drainage control
Fast and slow speeds for the fan
Automatic restart after any power outage
Perfect for small spaces
Cons
The fan is on top, so you have to remember not to put anything on it.
Can heat a small room quickly
---
Colzer PD223A Performance
One should always consider the performance levels of any machine when they are considering purchasing one, so here is everything to know, such as:
Energy Efficiency – This is efficient for energy since it can turn itself off, and you can even program when you want it to turn on and off. It doesn't use as much energy as other models, makings it perfect for those on a small budget.
Noise level – If you are searching for a machine that is going to be quiet and perfect for home use, then this is the best one. It isn't loud, which means you can use it in the bedroom while sleeping without worrying about being woken up during the night.
Moisture Removal – This machine is great for removing moisture from the air, and it can remove 70 pints from a large space. It is great for smaller spaces, but it can also handle a 4,000 square foot area.
---
Colzer PD223A Key Features
One of the top things that you will want to make sure that you are checking out is the Colzer PD223A 70 Pints Portable Dehumidifier features. There are so many that are unique to this machine, including:
Large water tank – The tank on this machine is 4.5 liters, which means that it can hold enough water that you might need to empty it once or twice a day. It is easy to remove, and it can be held easily and put back in without any issues.
Continuous drainage – If you don't want to deal with emptying the bucket, you can use the included hose to set up the continuous draining option. This is great if you will be placing this near a drain or putting the hose directly into the sink to let the water drain out on its own.

Large space is also great for a large and small space since it can handle up to 4,000 square feet. This means that if you buy it when you are in a small apartment, you can still use it in a bigger space without purchasing a new one.

Timer – Another great feature of this machine is a 24-hour timer that you can set. This is great if you want to turn it off at specific times, including when you aren't home and if you want it to start running before you return.
Air filtering – It can not only remove the water from the air, but it can also help to filter the air. This would remove all of the bacteria and other dust and disgusting items in the air to keep it clean and help you breathe and feel better.
Large display – There is also a large display on the front of the machine so you can easily see the current humidity levels. This is great if you are sitting down and you don't want to have to get up and check it, but you can see it from where you are.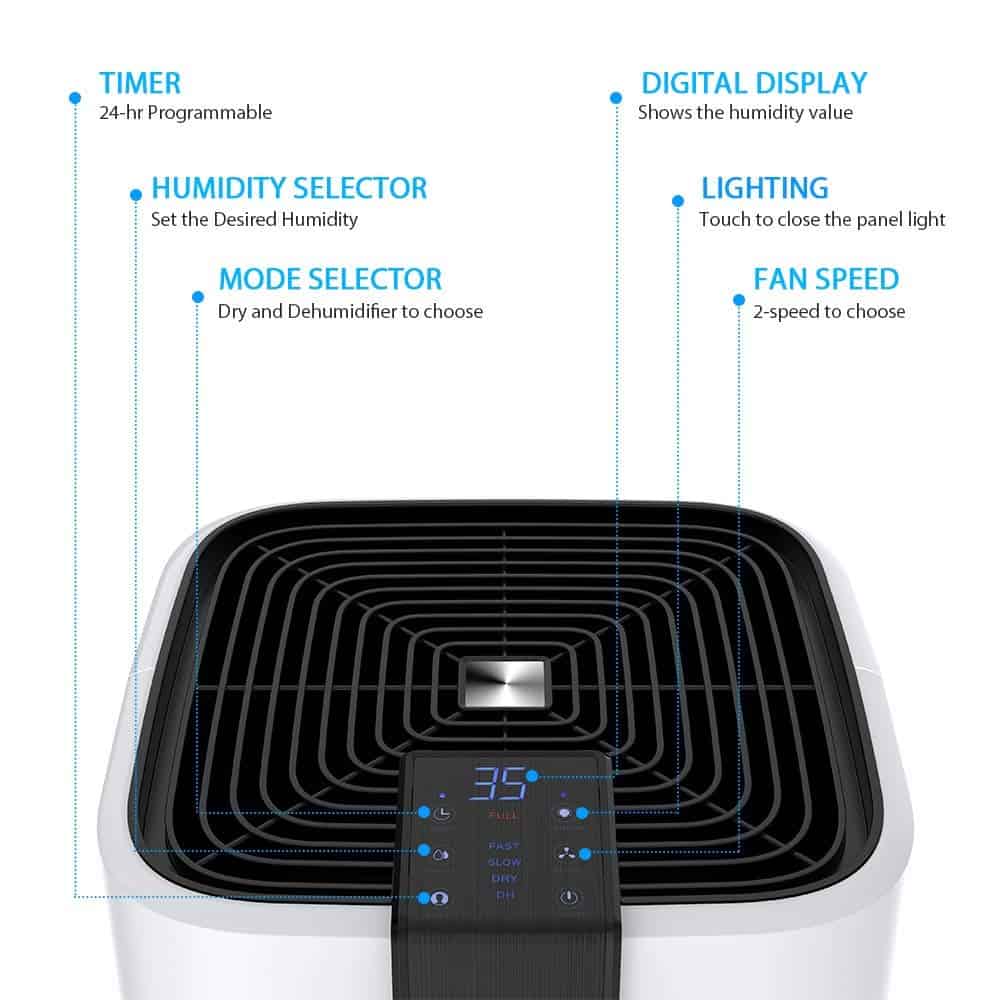 Laundry drying – Also, if you are drying your laundry in the house, this machine has a setting that will help you with that. Just turn on the setting, and it will adjust the required levels to help the clothes dry much faster.
These are only a few of the best features you can get when you buy the Colzer PD223A 70 Pints Portable Dehumidifier, so make sure you are thinking about this. Some of these are found on all devices, but not all, so it is easier for you to choose the laundry drying feature.
---
Colzer PD223A Ease of Use
For those searching for something that is going to be simple to use, then look no further. This machine is straightforward to use, and you need to push a few buttons to create the perfect setting that would fit your needs. Make sure that you are reading the user manual to figure out some of the more complicated settings that you might need, especially if you are going to be setting the timers.
This one also has a remote, making it simpler to turn it off or even adjust the humidity level without leaving your desk or the bed. The tube for continuous draining is also easy to install, and you can move this machine around fast since it only weighs 29 pounds. This is one of the simplest machines to use, which means it will be extremely popular with people looking to purchase.
---
Colzer PD223A Maintenance and Upkeep
For those who want something simple to use and maintain, this will be an ideal option. However, the filter will need to be rinsed off and put back into the machine every 2 weeks or a month to ensure that the machine is working properly and cleaning the air. Not only can you take it out and run some warm water over it, but you can also use the vacuum cleaner on the filter to remove all of the dirt and debris, which would make the job even faster than if you were to wash it with water.
---
Final Thoughts
This is a great machine, and the Colzer PD223A 70 Pints Portable Dehumidifier will be a good idea if you want something quiet and easy to use and that you can fit anywhere in your home can handle a small or large space. It has a remote, which makes operating this machine easier than many others, and it has a low level of maintenance. If you were to ask us, the sleek design, small size, and even the noise levels make this a big contender in what we would buy, especially since it also has the laundry drying feature.