Gone are the days when the air was pollution-free and healthy. Over the years, the journey towards development has cost to lose out on fresh and clean air. With trees cut down drastically and our surroundings becoming a concrete jungle, clean air has become scarce. This being the outdoor air condition, the indoor air, if not equally, is also impure.
Wondering how? The indoor air that we think is clean because we keep the living spaces clean is a myth. Air is such an element that it can carry the minutest particles of dust and allergens. In addition, the carbon dioxide we release, the fumes released because of cooking, and the allergens released out of pet dander, and more contribute to indoor air pollution.
I never knew this, right??? That's why having an air purifier indoors has become the need of the hour. Complementing this demand, there are many air purifiers out there in the market. However, here we bring you a close look at one known air purifier, i.e., Blueair Blue Pure 411 Air Purifier, an entry-level air purifier with high-end competency.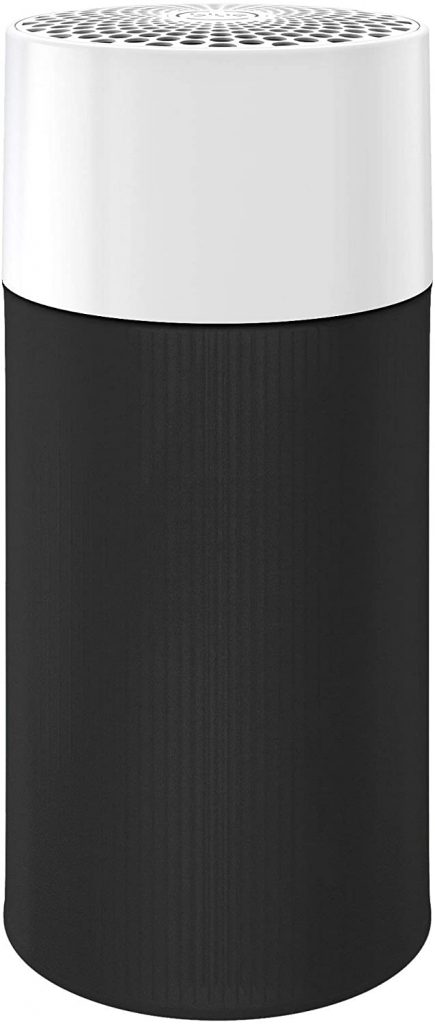 Pros
The performance is impressive compared to the cost paid
simple and classy design aesthetics
Power consumption is low
Comparatively a silent performer
The pre-filters come in different colors
Cons
Doesn't have a timer feature
The dust filter is not upto the mark
---
Blueair Blue Pure 411 Air Purifier Design, Size & Portability
The purifier is a compact design that is cylindrical in shape. It could be mistaken for a bolster.
The purifier is 16.7 inches in height and 3.4 lbs in weight
The purifier is one button design.
The design is sleek and is smoothly blends into the living space interior aesthetics.
---
Blueair Blue Pure 411 Air Purifier Purifying Power | What Sources of Indoor Pollution Destroy?
Has a 360 degrees air intake system.
The machine has a big fabric pre-filter that comes in different colors like black, blue, yellow, grey, and pink.
The machine has a single button on the outlet grill with an LED light that acts as the fan speed indicator and filters replacement indicator.
The purifier houses a three-stage filtration setup.
There exists a fabric pre-filter which is on the outer side of the purifier. Thus, you can easily check the status of the vacuum.
Then there is a particle filter, a polypropylene fibers filter that helps remove allergens like dust, dust mites, pet dander, pollen, and fungi.
The third filter is the Activated Carbon filter inside the particle filter that removes pollutants released from smoke, odors, gases, and VOCs.
---
Blueair Blue Pure 411 Air Purifier Key Features
It uses HEPASilent technology, which is an advanced combination of both mechanical and electrostatic filtration.
The Polypropylene fibers used in the particle filter are free of chemicals and naturally anti-bacterial
The machine's power consumption is 10 watts at maximum.
The purifier comes with a one year warranty
---
Blueair Blue Pure 411 Air Purifier Noise Level
The machine has 3 fan speeds
The noise level is 40.6 dB in the lowest setting and 67.5 dB in the highest.
---
Blueair Blue Pure 411 Air Purifier CADR, ACH, Room Coverage
It is suitable only for small rooms with a size of 161 square feet
The CADR figures are 120 Dust/ 105 Smoke/ 120 Pollen (cfm)
---
Blueair Blue Pure 411 Air Purifier Maintenance and Usage
The purifier is a single button operating style with no remote control or app control.
Press once for fan speed 1 and twice and thrice for increasing fan speeds.
As the machine doesn't have an auto mode, it is suggested that you keep an eye on the air quality indicator and adjust the fan speed.
All you need to do is unbox and plugin. Ideally, placing the purifier in a corner that is close to your seating space is suggested.
As the purifier intakes air 360 degrees, keeping it away from the wall would give better results.
The filters must be replaced every 6 months. Changing filters is quite simple and can be done by anyone personally—no need for an expert. You can see the manual and easily replace it.
To change the filter, you must first rotate the top part of the cylinder counterclockwise.
You would find the fabric pre-filter, which is washable. Simple wash it and dry it thoroughly before you put it back.
The particle and carbon filter can be easily pulled out by removing the filter.
Once the filter maintenance is done, remember to reset the filter change indicator. Hold the button for 5 seconds and reset.
---
Frequently Asked Questions
Does Blueair Blue Pure 411 Air Purifier have a HEPA filter?
No, it doesn't, but it has effective filters and serves the purpose, i.e., it can remove 99% of the airborne pollutants.
Can I leave Blueair Blue Pure 411 Air Purifier running the whole night?
Yes, you can, for sure. However, if you are sensitive to light while sleeping and prefer zero light then, it is suggested that you use a night sticker on the LED light on the panel as it is at times too bright.
I have an asthma problem and want to buy an air purifier, does Blueair Blue Pure 411 Air Purifier suit my requirement?
Blueair Blue Pure 411 Air Purifier is equipped to clean the air 99%, so in that way, it is suitable. However, if you are extremely sensitive to the air quality, it is better to go for our next-level products.
---
---
Final Thoughts
Blueair Blue Pure 411 Air Purifier is definitely a good buy for the amount you pay and its performance. This is a good deal for a small family looking at a simple air purification solution. However, there are certain points that you must remember before making your choice. First, this purifier is not meant for big space; if you have someone at home with breathing problems, it may not clean the air at that medical level, and lastly, if you are someone who is looking at a smart machine, then Blueair Blue Pure 411 Air Purifier is not your cup of tea as the purifier follows a basic functioning style.