Best Basement Dehumidifier Buying Guide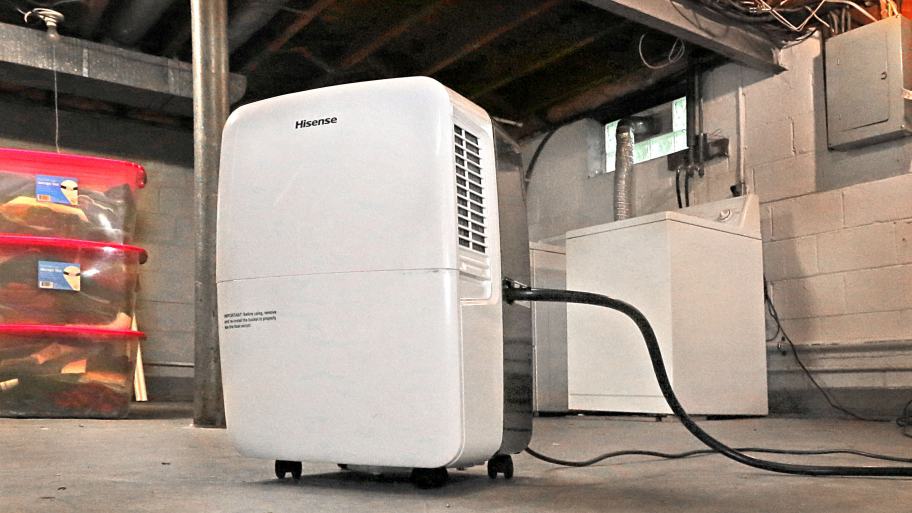 Basement dehumidifiers are simply devices capable of reducing the humidity levels of your basement thereby leaving a more pleasant environment. Unlike humidifiers, dehumidifiers remove moisture from the air, preventing the unpleasantness that comes with damp air.
High humidity levels can be caused by some factors including several structural related factors like plumbing leaks, inactive exhaust fans and cracks in the foundation. Below is our comprehensive buying guide to picking the best dehumidifier for your basement. But before we move on the guide, check our top 5 basement dehumidifier picks. 
5 Best Basement Dehumidifiers
The Frigidaire FFAD7033R1 is a large capacity dehumidifier removing about 70 pints of water from the air per day. This dehumidifier is the most recommended dehumidifier due to its high moisture removal. The FFAD7033R1 unlike its predecessor the FAD704DWD draws air through the back of the dehumidifier and exhausts air through the side, this results in the FFAD7033R1 been less noisy and more effective than the previous model.
The FFAD7033R1 has several key features that make it more durable and easier to use compared to the previous model. The FFAD7033R1 has a humidistat for adjusting humidity levels, a check filter light, a full tank alert system to remind you to empty the tank when it's full, a removable and washable filter that prevents bacteria from being released into the air and defrost mode that ensures frost does not build up on the evaporator coils.
The FFAD7033R1 also has three fans which control how fast the humidity levels in the basement is reduced, you can select any one of the three fans speeds and your desired humidity level on the control panel, you can also set a timer if you want to run the dehumidifier continuously  
One of the downsides of the FFAD7033R1 is its tank capacity. For such a dehumidifier with a high moisture removal rate, the tank capacity is quite small. its 13.1-pint bucket is much smaller than the FAD704DWD which features a 16.3-pint bucket, this means that you'll be emptying the water tank more frequently, although it shouldn't be a problem if you are draining the tank via its external drain.
Overall, FFAD7033R1 is one of the best 70-pint dehumidifiers in the market. The FFAD7033R1 is also durable due to the high-quality material used in manufacturing it, meaning you wouldn't have to worry about it breakage or leakages during use.
Features
Tank Capacity: 1.6 gallons / 13.1 pints
Humidistat: Yes
Timer: Yes
Auto Restart: Yes
Continuous mode: Yes
Defrost mode: Yes
Weight: 46 pounds
Warranty: 1 Year
Filter Type: Anti-Microbial
Type: Free-Standing
Pros
Removes moisture much faster than most 70-pint dehumidifier models

Energy efficient

Adjustable timer

Quiet during operation

Durable due to high-quality make
Cons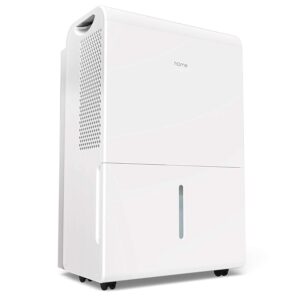 Covering a space of about 4000 sq ft, the hOmeLabs HME020031N is one of the most effective dehumidifiers and one of the best alternatives to the Frigidaire FFAD7033R1.
The HME020031N is a large capacity dehumidifier ideal for large rooms and basement, the dehumidifier is also quite effective removing about 70 pints of water from the air per day although it is much slower than the Frigidaire FFAD7033R1.
The HME020031N has several key features including a 1.6-gallon water tank capacity, a humidistat that can be adjusted to the desired humidity level, auto-start and auto-off modes, an auto-defrost mode to automatically lower temperatures and a timer.
Compared to the FFAD7033R1 features 3 fan speeds for adjustability, the HME020031N has two fan speeds – normal and turbo – which features a continuous mode.
The HME020031N is more affordable than the Frigidaire FFAD7033R1 and the lower cost certainly means it is lower in quality. The HME020031N is not as durable as the FFAD7033R1 as certain parts of the dehumidifier are made with thin pieces of plastic that could crack or break when dropped or mishandled.
The HME020031N can be drained manually by removing the water tank and emptying the water (the dehumidifier should be turned off during this operation) or continuously through the standard hose connected to the back of the dehumidifier. The latter is more convenient and prevents condensation from collecting in the water tank.
A downside of the HME020031N is noise production; the HME020031N is a compressor dehumidifier. During use, you would hear the fan noise which is nothing much to worry about, but you will also hear a compressor buzzing noise. In the FFAD7033R1, you will only hear silent pleasant fan noise.
Features
Tank Capacity: 1.6 gallons / 12.8 pint
Room Coverage: 2500 to 4000 sq ft.
Room temperature: 41°F to 95°F
Humidistat: Yes
Timer: Yes
Auto Restart: Yes
Continuous mode: Yes
Defrost mode: Yes
Weight: 40 pounds
Warranty: 2 Years
Pros
Costs less than the FFAD7033R1 model

Energy efficient

Adjustable timer

Lighter and more portable than the FFAD7033R1
Cons
Small-sized water tank

Quite noisy during operation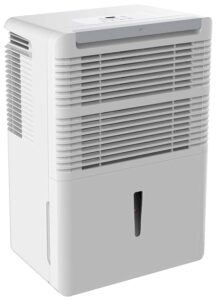 The Keystone KSTAD70B is another amazing 70-pint dehumidifier on our list and it is one of the most affordable and best alternatives to other 70 pint dehumidifiers like the hOmeLabs HME020031N and the Frigidaire FFAD7033R1. The KSTAD70B covers a room space for about 4500 sq ft which are 500 sq ft wider than the HME020031N, however, the KSTAD70B comes packed the features and functions you would find in other 70 pint dehumidifiers.
The KSTAD70B's key features include an auto-restart that saves your settings during a power outage, an auto-defrost mode, automatic shutoff, a timer, a humidistat, a transparent water level indicator, and a full bucket alert. The KSTAD70B is also a super silent dehumidifier producing a noise level of about 56 dBA on high settings and 54 dBA on low settings making it a great choice for users who seek to use them in their bedrooms. However, some users have cited the KSTAD70B is could get a little noisy during use. It's nothing to worry about if you won't have running all the time.
When it comes to performance, the KSTAD70B performs quite adequately depending on your humidity settings. Most user reviews on Amazon praised its high moisture removal rate which makes it a great choice considering its low price.
One of the downsides of the KSTAD70B is building quality. Durability is one of the main things to consider when settling for a dehumidifier and the KSTAD70B seems to be one of the bad choices, which might due to the low price attached to it. The KSTAD70B seems to have to been made with notably quite thin plastic compared to that used for some expensive models. We suggest you handle it with great care especially when handling the water tank.
The KSTAD70B has 2 fans speeds for adjustability; the high fan speed is called "turbo" while the low fan speed is called "normal".
Features
Tank Capacity: 1.3 gallons / 10.4 pint
Room Coverage: 4500 sq ft.
Humidistat: Yes
Timer: Yes
Auto Restart: Yes
Auto shutoff: Yes
Continuous mode: Yes
Defrost mode: Yes
Weight: 40 pounds
Warranty: 1 Year
Pros
The high moisture removal rate

Quiet during operation

Weighs lesser than most 70 pint dehumidifiers
Cons
Low build quality

Lacks a top extendable handle for mobility

Small water tank size

Lacks a built-in pump
Unlike other dehumidifiers on our list, the Pro Breeze FBA_PB-03-US is an electric mini dehumidifier best for people who wish to dehumidify small spaces like a kitchen, RV, bedroom, and basement. The dehumidifier covers a room space of 2200 cubic feet (220 sq ft.).
The FBA_PB-03-US is quite efficient for its small size removing up to 18 ounces (1 pint) of water per day. It comes with a 52-ounce (3-pint) water tank capacity which is great news as you won't have to empty the tank daily.
The FBA_PB-03-US comes packed with features and functionality you would find in most dehumidifiers, although you would expect it to lack some key features due to its small size and low price. However it's most distinct feature is an auto-shutoff that indicates that the water tank is full and needs draining,
The FBA_PB-03-US uses Thermo-electric (Peltier) cooling technology which ensures it operates silently making it a great choice for those who want to dehumidify their bedroom. For durability, it got at 4.6 ratings on Amazon citing generally favorable reviews, although you want to be careful when emptying the water tank.
Although the FBA_PB-03-US is quite great, it still has several cons you should consider before settling for the model. The FBA_PB-03-US lacks an in-built pump which means you have to drain the water yourself, many users also complained that the dehumidifier doesn't meet up to its specifications as its unable to cover 2200 cubic feet, although more users commended the performance and moisture removal rate of the dehumidifier with 68% of giving a 5-star rating on Amazon.
Features
Tank Capacity: 52 ounces / 3.1 pint
Room Coverage: 2200 cubic feet (220 sq ft.)
Auto shut off: Yes
Full water tank LED light indicator: Yes
Weight: 4.9 pounds
Warranty: 1 Year
Pros
The high moisture removal rate

Quiet during operation

Light and portable
Cons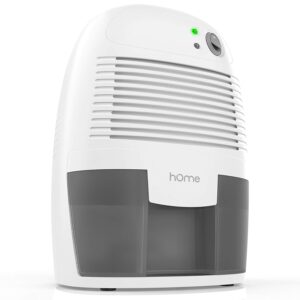 The hOmeLabs FBA_HME020018N is a dehumidifier that works great for small rooms and spaces like your bathroom, closet, bedroom, and closet. The dehumidifier covers a space of 150 sq ft and removes 9 ounces of water per day.
The FBA_HME020018N has a 16-ounce water tank capacity which means you won't have to empty the water tank daily, but it also lacks a built-in pump and you will have to empty the water yourself. The FBA_HME020018N has the same basic features as the Pro Breeze FBA_PB-03-US although it covers a much smaller space than the FBA_PB-03-US. The most distinct feature of the FBA_HME020018N is its auto-shutoff function which shuts off the dehumidifier automatically and triggers a LED indicator light when the water tank is full.
The FBA_HME020018N also uses thermoelectric cooling which means it's quiet during operation. For performance, most users commended the effectiveness of the FBA_HME020018N as it does its job pretty. It also consumes less energy according to several user reviews on Amazon.
Features
Tank Capacity: 16 ounces / 1 pint
Room Coverage: 150 sq ft.
Auto shut off: Yes
Full water tank LED light indicator: Yes
Weight: 2.6 pounds
Warranty: 2 Years
Pros
The high moisture removal rate

Quiet during operation

Light and portable
Cons
---
Best Dehumidifier for Basement Buying Guide
Today, there are so many brands of dehumidifiers in the market offering different prices and features which could make it more difficult to decide on a particular dehumidifier model. Our buying guide will point you in the right direction as we list things you should look out for when picking a dehumidifier for your basement.
How Do Dehumidifiers Work
A dehumidifier works by moving air over refrigerated (condenser) coils through the aid of a fan. The movement pulls moisture from the air and drips it into a tank, and then the dried air is pushed into the basement. By continuously performing this action, the humidity level of the room is reduced to a healthier level. The dehumidifier's operating system is simply the opposite of the operating system of a humidifier which sole purpose is to increase the humidity level of a room.
Signs You Need A Basement Dehumidifier
A humid basement is quite unpleasant and could lead to several health problems, trigger allergies, breed dust mites, mildew, and mold. Below, we have listed some signs that signal the need for a basement dehumidifier.
A musty odor in the air
The first sign that would be easily noticeable is a musty odor in the air. This smell is caused by the presence of mold and mildew in the air. You can spot mold and mildew growing on the ceilings, walls or items in your basement.
Condensation
Condensation is another noticeable sign of high humidity levels. You may notice a build-up on the floors, windows, and walls. If the humidity levels are extremely high, you would notice the condensation forming puddles on surfaces. You can also notice condensation through as fog on the glass (if present) or on the walls.
High Humidity levels
Rather than waiting for the signs, you can simply get a hygrometer and measure the humidity of your basement. Humidity levels greater than 50 to 55% signal abnormally high levels of humidity, therefore you would need a dehumidifier.
Other signs of high humidity levels include; the presence of dust mites, visible rot, and decay (if you have wood stored in your basement), peeling or cracking paint, etc. In some cases, you would find frost or ice build-up on cold surfaces in the basement.
Dehumidifiers prevent the growth of mold and mildew and the action of condensation by removing the excess moisture in the air, thereby reducing the humidity levels.
---
Types of Dehumidifiers
There are two types of humidifiers and their working systems depend on the ambient temperature in your basement. Both types of dehumidifiers are effective in reducing humidity levels by warming the air they process.
Desiccant Dehumidifiers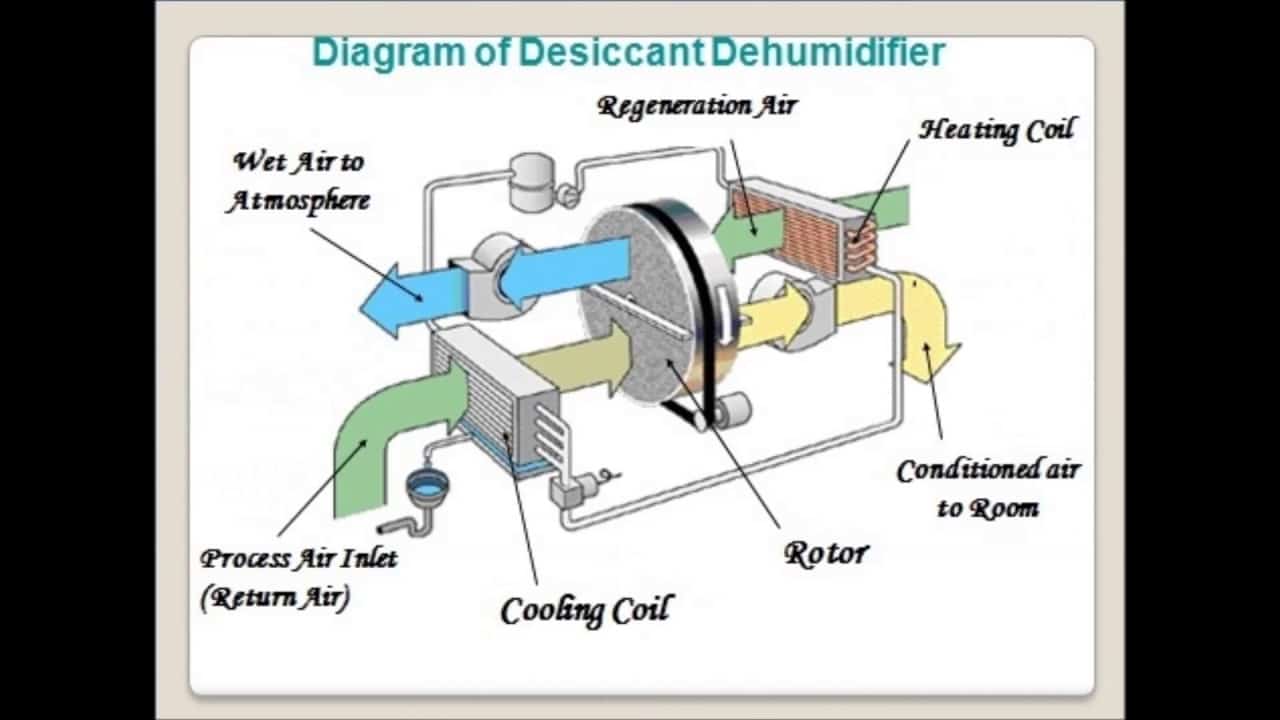 Desiccant dehumidifiers are the perfect choice for basements colder than 500 F (100 C). This type of dehumidifier removes moisture from the air by adsorption. Desiccant dehumidifiers consist of a desiccant which is a chemical that absorbs moisture, a large rotating drum which removes moisture from incoming air, a condenser which condenses warm moist air, a heater which reheats the air, and a blower (fan) which ensures air circulates throughout the system (some models might have more than one blower)
Desiccant dehumidifiers are quite effective at removing exactly the amount of moisture during a period as stated by the manufacturer. However, this can only happen if you operate the dehumidifier according to the manufacturer's instructions.
Compared to compressor dehumidifiers, desiccant dehumidifiers are quite efficient and can be operated in very cold temperatures (about 340 F). On the other hand, compressor dehumidifiers can't go below temperatures of about 410 F.
Pros
Removes moisture consistently at both high and low temperatures

No frost build-up

Wider operating temperature range

Very quiet during operation
Cons
Reduced moisture removal rate compared to the compressor based dehumidifiers.

Gives out a pungent odor during operation
Compressor Dehumidifiers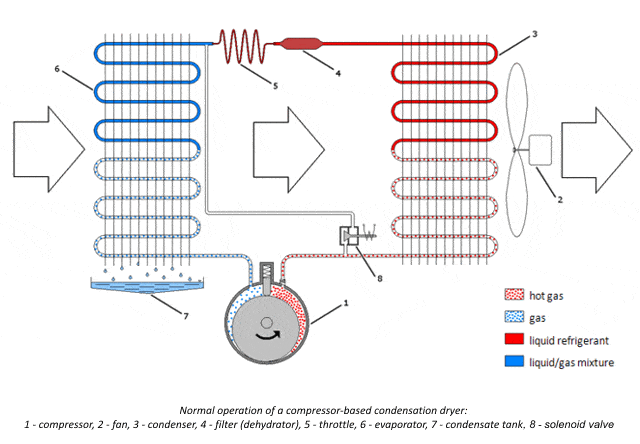 Compressor dehumidifiers are more effective at removing moisture from the air than desiccant dehumidifiers and this might be because they remove moisture from the air by condensation rather than adsorption.
This is the main reason why compressor dehumidifiers are highly recommended as they perform the sole purpose of a dehumidifier effectively.
Cons
Frost Build Up

Noisy operation due to the compressor and the fan in the dehumidifier
---
Water Removal
The moisture removal rate of a dehumidifier will depend on its room coverage. Dehumidifiers like the HME020031N which covers a space of 4000 sq ft can remove 70 pints of water a day and do this effectively. Small space dehumidifiers like the Pro Breeze FBA_PB-03-US remove about 1 pint a day which is effective enough as it covers a space of just 220 sq ft.
Many models also have two or three fan speeds which let you control the moisture removal rate. It is important to check if the moisture removal rate of a dehumidifier suits your need as the sole purpose of a dehumidifier is to extract moisture from the air.
Operating Temperature Range
Every dehumidifier operates a certain temperature range. For basements, it is important to get a dehumidifier that can operate at low temperatures.
Energy Consumption
Most dehumidifier brands claim that their models consume small amounts of energy thereby saving energy costs. The only way to find out for sure is to check user reviews and the energy star certification so you won't buy a dehumidifier that would skyrocket your electricity bills. You can also check out the dehumidifiers we listed above as they among the most energy-efficient dehumidifiers you can find in the market.
Cost
Dehumidifiers could cost less than $50 for those with small room coverage and above $150 for those covering more than 2000 sq ft. When settling for a model it is important to note that being expensive doesn't necessarily make it a better choice although expensive models like the Frigidaire FFAD7033R1 are energy efficient, perform effectively and are durable.
Size
It's quite obvious that you need to pick a properly sized dehumidifier that could fit into the available space. It is also imperative you get a dehumidifier with top extendable handles or caster wheels for mobility as some dehumidifiers with large room coverage can be quite heavy.
Noise
No one wants a dehumidifier that makes a loud buzzing sound during use so it's best to test-run the dehumidifier before finalizing the purchase. However, if you are buying from Amazon it could be quite tricky and you have to depend on user reviews.
Fortunately, you can simply pick a dehumidifier from our 5 best dehumidifier list as they all operate quietly.
Tank Capacity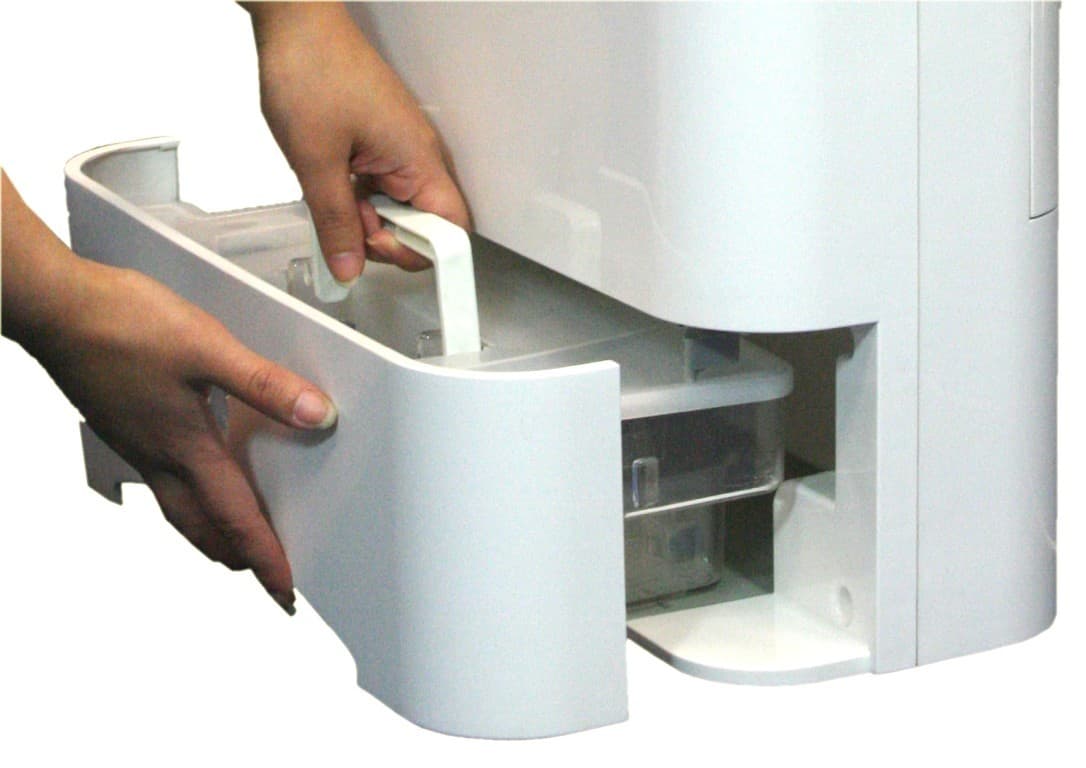 A dehumidifier with a small water tank capacity can be quite annoying as you will be required to empty the tank frequently when it gets filled up. This is why it's best to pick a dehumidifier with a large tank capacity or one which drains via an external drain. However, dehumidifiers with these features are quite expensive so you should be ready to spend a little bit more for convenience
Features
Some dehumidifiers come with some added features which make them much better and more convenient than other models. It is important to also check out for these features when settling for a model.
Built-in pump: Dehumidifiers that make use of built-in pumps are more convenient when it comes to draining the water tank. Compared to some dehumidifiers which require you to empty the tank yourself, built-in pumps drain the dehumidifiers continuously and simply require you to press the "pump" button on the dehumidifier to drain the tank.
However, if your dehumidifier does not have the built-in pump option it is possible to carry out pump drainage by simply purchasing a condensate pump and hosing.
Defrost mode: Defrost mode is a feature that prevents your dehumidifier's compressor from freezing. It is important to consider this feature if you are looking to operate your dehumidifier at colder temperatures.
Humidistat: A humidistat allows you to automatically monitor and control the humidity level of the dehumidifier. Buying a dehumidifier with a humidistat allows you to choose the desired humidity level and the dehumidifier will automatically maintain it.
If you're going for a dehumidifier that lacks this feature, then you would need to buy a hygrometer to measure the humidity level of your basement.
Auto shut off: The auto shut off feature is a very important feature in dehumidifiers which indicates that the water tank is full and requires draining. This is important if you are want to run your dehumidifier at night or while you're away. However, most dehumidifiers irrespective of the room coverage comes with this feature.
Washable filters
Most dehumidifiers are fitted with filters to trap bacteria, mold, and mildew, so they won't enter the air. It is important to buy a dehumidifier with washable and reusable filters to save cost on replacements. How often you wash the filters will depend on how you use the dehumidifier but generally, you should clean the filters about twice a month.
Final Notes
Above, we have listed our 5 best dehumidifiers for the basement based on their functions, moisture removal rate, and energy efficiency. We also considered reviews on Amazon and made sure we pick only the ones that had the highest positive ratings and reviews. You pick any models listed above based on your room size and give it a try.
---
READ ALSO: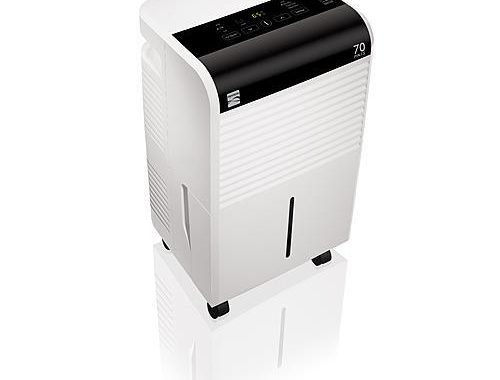 Who wants living in an ill-smelling home full of mold, mildew and allergic and unhealthy environment? Absolutely, no one! But what to do if you have a big basement or live in an area with annoyingly high humidity levels? If mildew, mold, dust mites and the unhealthy environment is bothering you, then this is the […]
0 comments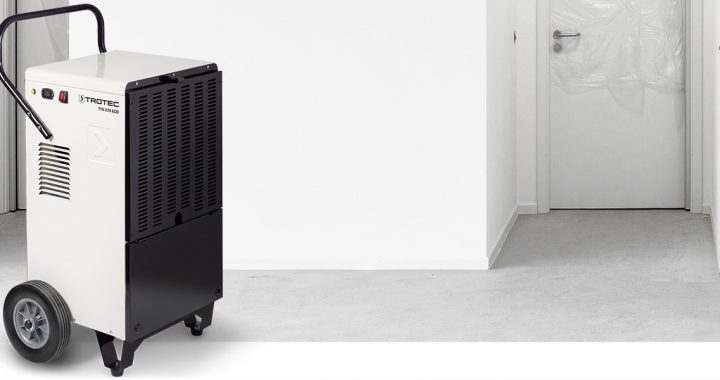 Business owners should offer their employees as well as clients a safe and comfortable environment. Nobody wants to deal with moisture problems. So if your workplace is uncomfortable, for sure, this may result in productivity problems. Further, moisture problems because of bad ventilation make spaces more susceptible to mold development, and you don't want that […]
0 comments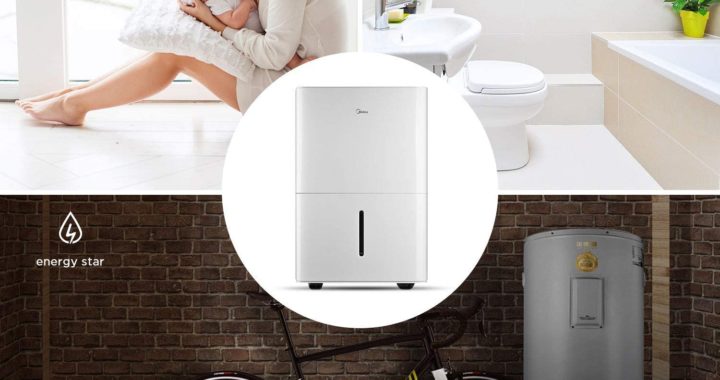 What's better than a subtle hiss that sucks all the undesired moisture out of your sticky drenched room to offer you a clean, warm and dry breeze to inhale! Sounds overwhelming, right? So, here comes one of the most powerful and reliable dehumidifiers of all time, the MIDEA MAD50C1ZWS. It is a 70-pint humidifier with […]
0 comments