Cigarette smoke is not what anybody will love others to perceive when they come visiting, no matter how much of a smoker such a person might be. You may not be a smoker; let's say you share a room with a smoker; you can't spend most of the time outdoors because you do not like cigarette smoke. It would be best if you were looking to get rid of it; one way you can is by getting an Air Purifier. There are many air purifiers available, so you need to research properly to get the best to handle cigarette smoke. To aid you, below are the top 5 air purifiers you can opt for.
---
Top 5 Air Purifiers for Cigarette Smoke Relief
---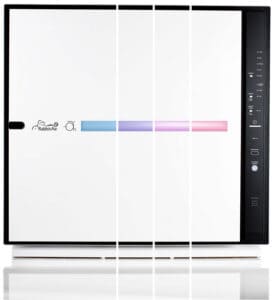 ---
This Air Purifier performs various functions, and among them is that it removes odors from cigarettes and cigars. It is a big sized Air Purifier as it can purify a room up to 700ft when setting at two changes per hour when increased to 4 changes per hour, it cleans up to 350ft. This Air Purifier does not make much noise, and it is not hard to maintain as the air filters can last up to 2 years.
Pros
Perfect True HEPA filter
One of the advanced filtration process between all Air Purifiers
Unique design with several design options
It's possible to mount on the wall
---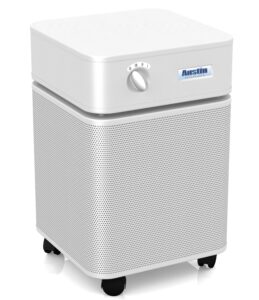 ---
The Austin Air HealthMate Standard Air Purifier takes the air in your room through 4 filtration stages to ensure that it is completely purified. It has three fan speed levels, and the filters work very well in doing away with cigarette smoke. This Air purifier has wheels for portability, so moving it around the house will be just a breeze.
Pros
Superb performance
Mighty fan
360-degree air intake
Build of high-quality materials
Large room coverage
5-year warranty
Cons
Not many features
The highest fan speeds are very noisy
---

Guardian Technologies did an excellent job when they manufactured this 3 in 1 full room Air purifier. With a True HEPA filter UV-C technology and a charcoal filter, this Air purifier can handle any air purifying task. It is AHAM certified, so it is CADR rated, and also, it is Energy-star certified, so it does not consume much energy. The GermGuardian Air purifier can clean a room up to 167 square feet in size.
Pros
Good price/performance ratio
True-HEPA filter
Awesome value
3-year warranty
Cons
Noisy on the highest speed
---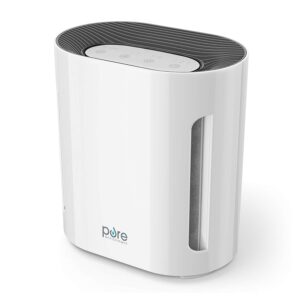 Apart from the fact that this Air purifier performs very well, you would love it also because of its luxurious look. This Pure Enrichment Air Purifier is trusted to eliminate smokes and odors from cigarettes and other sources. It features a 3 in 1 filter technology, a Pre-filter, a HEPA filter, and a carbonated filter. This device also uses UV-C technology and 3-speed levels. The filter change indicator alerts you so you change your air filters at the ideal time.
Pros
Great price
Quiet performance
Low operating costs
Cons
Mediocre power
Lacks of features
---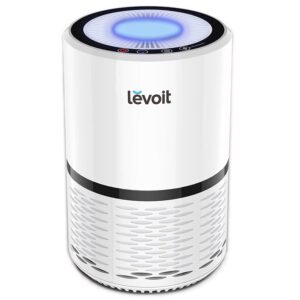 Loved and recommended by many customers, the Levoit Air Purifier is one that can deal with any air issue you may be experiencing at home. It makes sure that you breathe pure air; anything that is not air will be filtered out. It features an activated carbon filter, a HEPA filter, and a Preliminary filter, three of them handle the air-purifying task perfectly. The air filters last for over six months, so that maintenance won't be that expensive.
Pros
Powerful performance
Good price/performance ratio
Small, space-saving machine
Cons
No light notification on filter replacement
No auto shut-off feature
---
Best Air Purifier for Cigarette Smoke Buying Guide
Common Reasons for Getting an Air Purifier
The reason why you may need an Air Purifier will be different from that of another person. But there are common reasons why you should buy an Air purifier;
You should buy an Air Purifier if you or anyone in your home is suffering from specific allergies. Air purifiers help remove allergens and other pollutants in the air, which will help manage your allergies.

You should buy an Air purifier if you or anyone in your home has asthma. Asthmatic patients need to breathe pure air, and with the help of an Air purifier, that can be achieved.

It will help if you bought an Air Purifier if you or anyone in your home is a smoker. Others may find it uncomfortable if your room smells strongly of cigarette smoke. Most air purifiers are capable of neutralizing and getting rid of cigarette smoke odors.

You should buy an Air purifier if you have a pet in your home. Pet dander and pet hairs are common air pollutants associated with having an indoor pet. By purifying the air in your room, an Air purifier reduces the amount of pet dander and pet hairs in the air.

It would help if you bought an Air purifier if you often encounter dust in your home. Dust and dust mites go hand in hand, and neither is suitable for anyone's health. A quality Air Purifier can help you get rid of both.
You should buy an Air purifier if you are dealing with mold in your home. Mold particles are not good for the health; the smell is enough to make you want to get rid of it, with an Air purifier that can be achieved.
Features
Air purifiers have different features; below are some of the features you should look out for;
Pre-filter; A pre-filter comes before the primary filters. Its work is to filter out the most particles, so the primary filters are left with very little work to do.
Filter replacement indicator; This indicator notifies you when it's time to change your air filters. It is a common feature among modern Air Purifiers.
Adjustable fan speed; This feature is essential so you can adjust your fan speed from high to low as you please. Most Air purifiers do function at 3 or 4 adjustable fan speeds, which is ideal.
Air quality sensors; Air quality sensors help your air purifying device perform better. It detects the number of pollutants in the air then automatically adjusts your Air purifier to the level where the device can quickly deal with them.
Carry Handle; A carry handle is useful for portability so that you can move your Air Purifier from a room to another quickly.
Digital controls; This is how you control the functions of your Air Purifier. An Air purifier needs to have a digital control or, better still, a remote control.
---
CADR AND ACH RATINGS
Clean Air Delivery Rate (CADR)
This is the volume of pure air a particular air purifier can deliver in about a minute. An Air purifier with a high CADR rate will perform better in purifying air than one with a lower, purifying larger areas. CADR rating was created by the Association of Home Appliance Manufacturers (AHAM), so before an Air Purifier acquires CADR ratings, it must have been tested and certified by the association. AHAM tests air purifiers for CADR ratings based on handling three major pollutants; Dust, tobacco smoke, and pollen. This is why CADR ratings are displayed in three figures, i.e., 230/200/190. With the CADR ratings, you would also know the room size a particular air purifier can cover. The CADR rating of an Air purifier is critical as it gives you first-hand information on the Air Purifier's usability.
Air Changes Per Hour (ACH or ACPH) Ratings
This is another rating you would come across, most people do mistake it with CADR ratings, but they are two entirely different ratings. ACH ratings tell you how many times a particular air purifier can completely change the air in a room in about an hour. It is usually displayed like this; x2, x3, x4. If an Air purifier has an ACH rating of x3, it means that such an Air purifier can completely change the air in a room three times in an hour. It is essential to compare two or more Air purifiers because the higher the ACH rate, the better. With the ACH rating, you would even know if a particular Air Purifier will be capable of cleaning your room size. You are likely to see Air purifiers with ACH ratings than CADR ratings.
---
The right size of Air Purifier
How do you choose the right size of the air purifier to buy? That is a question many customers do ask, especially when it is there the first time. The truth is just that you should buy an Air Purifier that matches your room size because that is where you are going to install it. Supposing the room (or rooms) you intend to use your Air Purifier is about 200 square feet, and then you purchased an Air Purifier that can cover just 160 square feet, you would agree with me that it will not serve you well as it is not the right size for your room. The space that an Air Purifier can cover is usually stated by the manufacturers (likely to be found in the product label); you should check to know if it is the right size you need. Sometimes, manufacturers are not honest (Yeah, it happens); you may buy an Air Purifier and find out that it doesn't cover as much space as it said it could. To avoid this, you should get an Air Purifier with a room square footage more significant than your room; in this case, you can adjust it the way you want.
Noise level
The noise made by an Air Purifier should also be one of the things to consider when making a purchase. Though you might get an air purifier that perfectly fits your room size, it is still not the best one for you if it's a very noisy device. The fans that Air purifiers feature are the primary sources of the noise you hear. When you run your Air purifier at a breakneck fan speed, the sound is relatively much than when running at a slower fan speed. Sometimes, you may have just to run it at a slower speed, so the noise is minimal, especially when you want to go to bed. If your device is run at high speed at night, you will find it more than challenging to fall asleep. That's why it is advised to get an Air Purifier with a room square footage bigger than your room size so that even the lowest of its fan speed will be capable of doing the job.
Best Location
If your Air purifier is the type that can cover multiple rooms, you should place it closer to your doors and windows where the air comes in from. Air purifiers for a single room should be placed in the room where you spend most of your time. Also, it should not be close to other objects or furniture that may obstruct sufficient airflow. Other purposes should at least be 1 – 2 feet away from the sides of your Air Purifier. If your air purifier can be mounted on the wall, then you can install it. Air purifiers that take in air from all sides should not be mounted or even placed near a wall; the room's middle is best for them. For you to worry less about where you put your Air purifier, you should try to get a portable one, either with a carry handle or caster wheels. It will make it easy for you to move your device to any point of your choice and change the location when you wish.
Energy Consumption
Air Purifiers are devices that use electricity to operate, so buying an Air purifier will undoubtedly add to your electricity bills. You should check how much energy an Air purifier consumes before purchasing it, not buy something that you can't pay for. Some air purifiers consume more energy than others; the difference is usually the device model and size. Also, power consumption is related to how long you run it. If you are the indoors type of person, you will likely have your Air purifier on 24/7. Do try to switch off your Air purifier when you are not indoors, not just for saving power but also for safety. To worry less about how much energy your air purifier will consume, you should go for an Energy Star certified air purifier. Energy-star certified Air purifiers are power efficient; they do not consume much energy and help you save money.
Maintenance and Upkeep
In buying an Air Purifier, maintenance is one of the things you should watch out for. For most Air Purifiers, you will have to spend money on maintenance to keep it functioning correctly. If you have an Air Purifier that uses a HEPA filter (which is the most you would come across), you would need to regularly replace the Air filters, notably when they get clogged with air pollutants. What should be your concern is how durable the filters are, how long do they last. Some Air purifiers have filters that last up to 6 months, while some for as little as three months. Though the filters are not too expensive, you should look for those that last long, so you spend less money. Some other Air purifiers have filters that are washable and reusable; these filters are non-degradable, so you do not need to replace them entirely. 
---
Frequently Asked Questions about Air Purifiers
Q: Are there side effects of using an air purifier?
A: People have been using Air Purifier for years and have not recorded any significant side effects, both health-wise and otherwise. Air purifiers help improve your health so that it won't harm you.
Q: How does an air purifier work?
A: The way an Air Purifier works is straightforward; once switched on, it draws in air from your room; the air is then filtered through the air filters to eliminate pollutants and other particles. After that, the device releases the purified air back into the room for you to breathe.
Q: How often should I run my air purifier?
A: Most of the time, if you are an indoor person. Breathing pure and clean air is very advantageous to health, so you should run your Air purifier whenever you are in the house. You can turn it off when you are going out, so you save energy and money too.
Q: Are all air purifiers noisy?
A: Not all air purifier is noisy; some ultra-silent ones make very minimal noise. However, an Air purifier's noise level has to do with the fan speed it is operating on. Running an air purifier at a higher fan speed generates much noise than when running at a slower pace.
Q: What size air purifier do I need for my room?
A: To know the right size of the air purifier you need for your room, you must first understand the size of your room. An Air purifier with a room square footage equal to or higher than your room size is perfect for you to buy. The room square footage of an Air purifier is usually stated on the product label